I'll start this post with a statement some people will find controversial: I didn't consider the Oludeniz Blue Lagoon among the best beaches in Turkey, at least not the first time I set foot on it. At ground level, the beach just didn't live up to the majesty it exuded in aerial photos I'd seen of it.
Oddly, it was only after seeing the Blue Lagoon from above with my own eyes, during the first half of my hike along the Lycian Way, that I was able to appreciate Oludeniz beach for how wonderful it is. (That, and genuinely needing a day at the beach after one where I hiked nearly 20 km!)
No matter what your current expectations are for beaches in Turkey, I hope you'll continue reading to see my list of the best ones!
My Turkey Beach Odyssey
My search for the best beaches in Turkey began a few feet from one of them. Specifically, at Oludeniz's awful Durak Hotel, which was so bad it made me wish I had stayed in Fethiye instead. As I hinted in the introduction, it took me some time to warm up to Oludeniz—the beach, this is. The "town," if you can call it that, never really did much for me, which you should keep in mind if you're thinking about where to base yourself on your own trip.
From Oludeniz, I hiked along the aforementioned Lycian Way to Butterfly Valley and then Kabak, two other beaches that have made this list. Following three days along the coast of Mugla, I rode the bus to Antalya, which was my base for exploring the last two on the list. I ended this particular trip to Turkey along the Black Sea coast, though I was notably more concerned with terrestrial activities than maritime ones while I was there.
My Favorite Beaches in Turkey
Oludeniz Blue Lagoon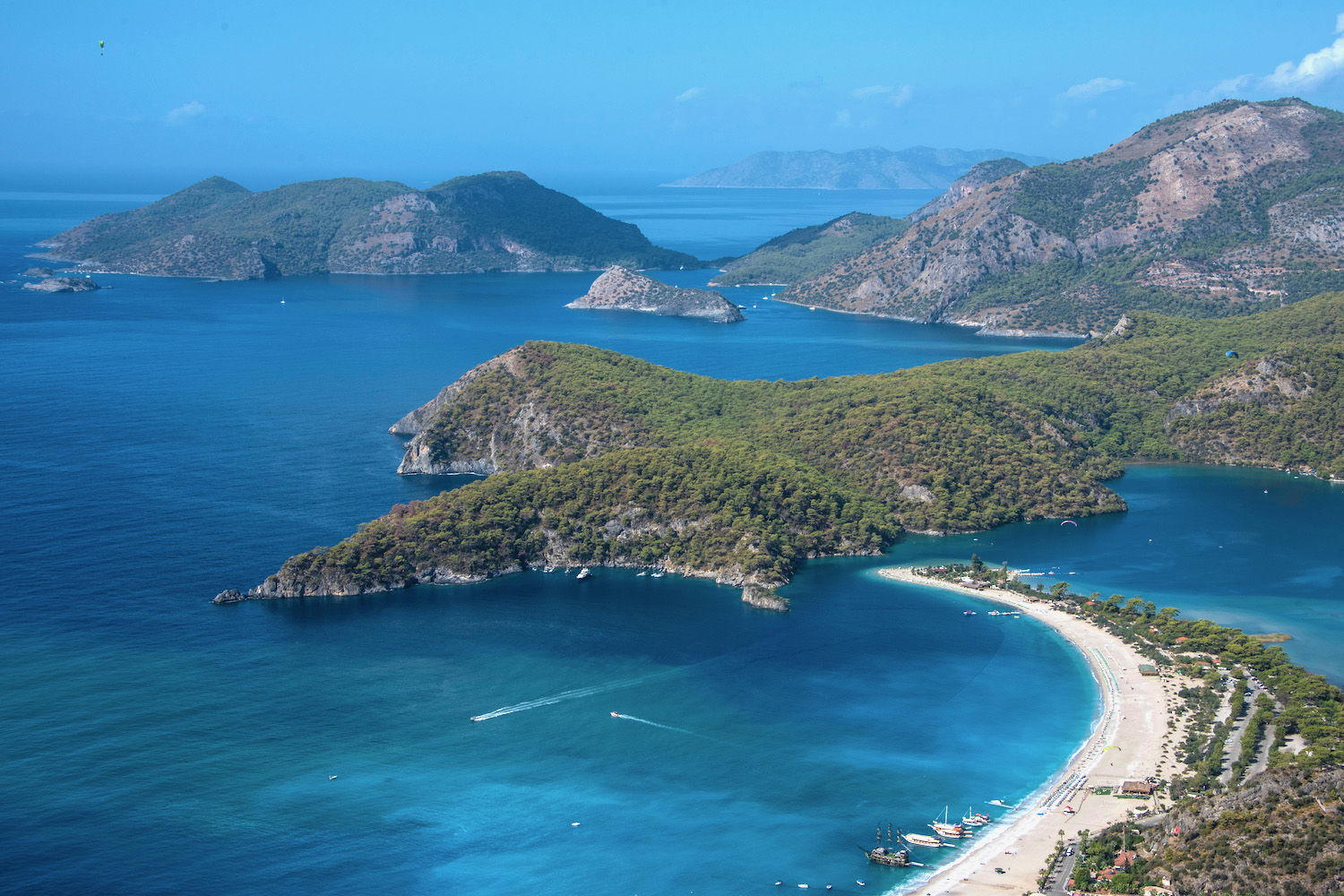 Don't be fooled by what I said earlier: The Blue Lagoon of Oludeniz is absolutely beautiful, no matter what perspective you see it from. However, I stand by my previous statement, that you can only truly appreciate how otherworldly it is from above, whether hiking along the Lycian Way or paragliding above the beach. Another great way to explore the Turkey beaches near here is to avail one of the many boat trip options travel agents sell.
Butterfly Valley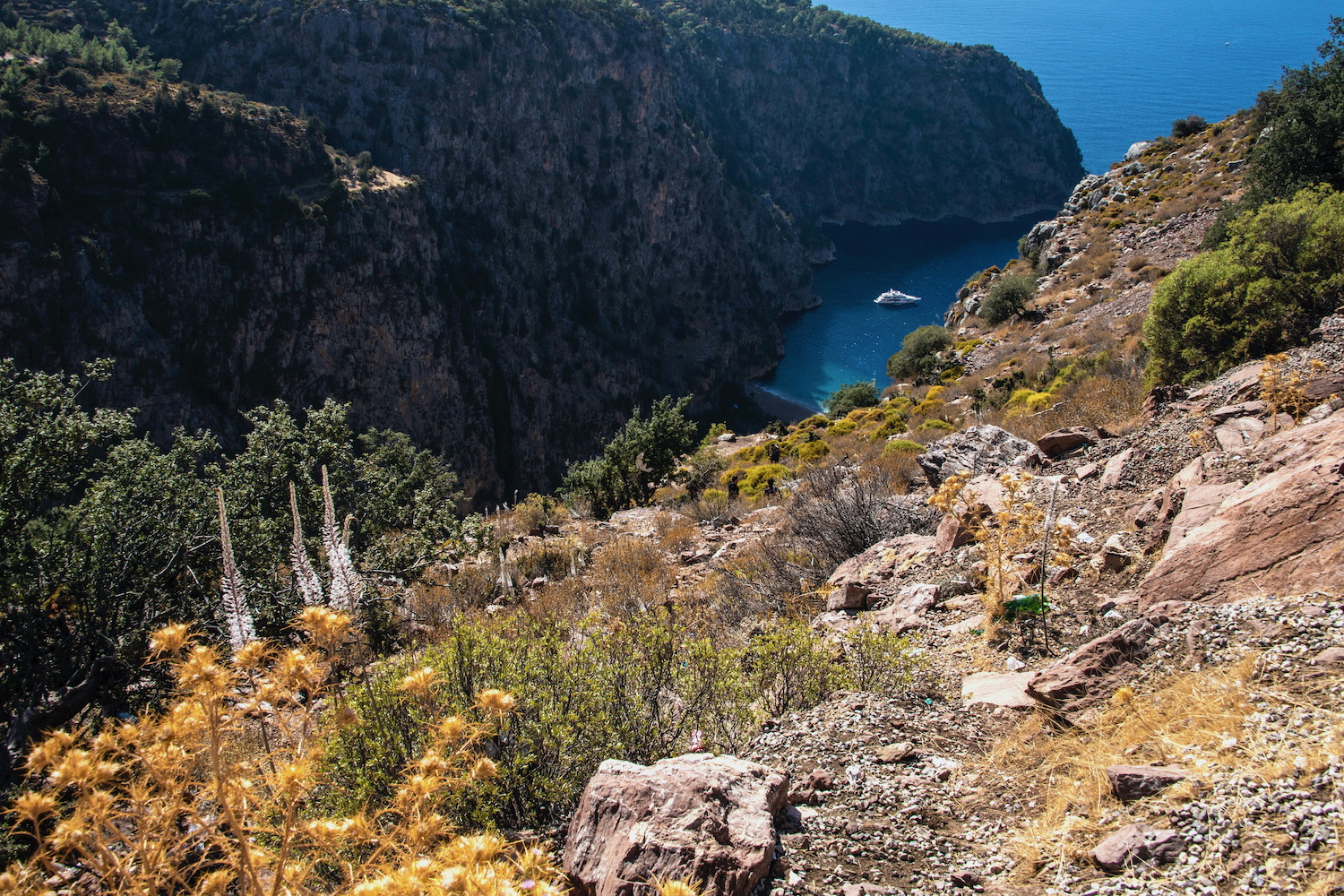 Speaking of places that are most beautiful from above, that is definitely the criteria by which Butterfly Valley qualifies as being among the best beaches in Turkey. Which is not to say it's anything but beautiful at sea level, even if you can only reach it from one of the aforementioned boat trips. Disclaimer: I saw no butterflies in Butterfly Valley, but plenty of trash, which is unfortunately not uncommon in Turkey as a whole.
Kabak Beach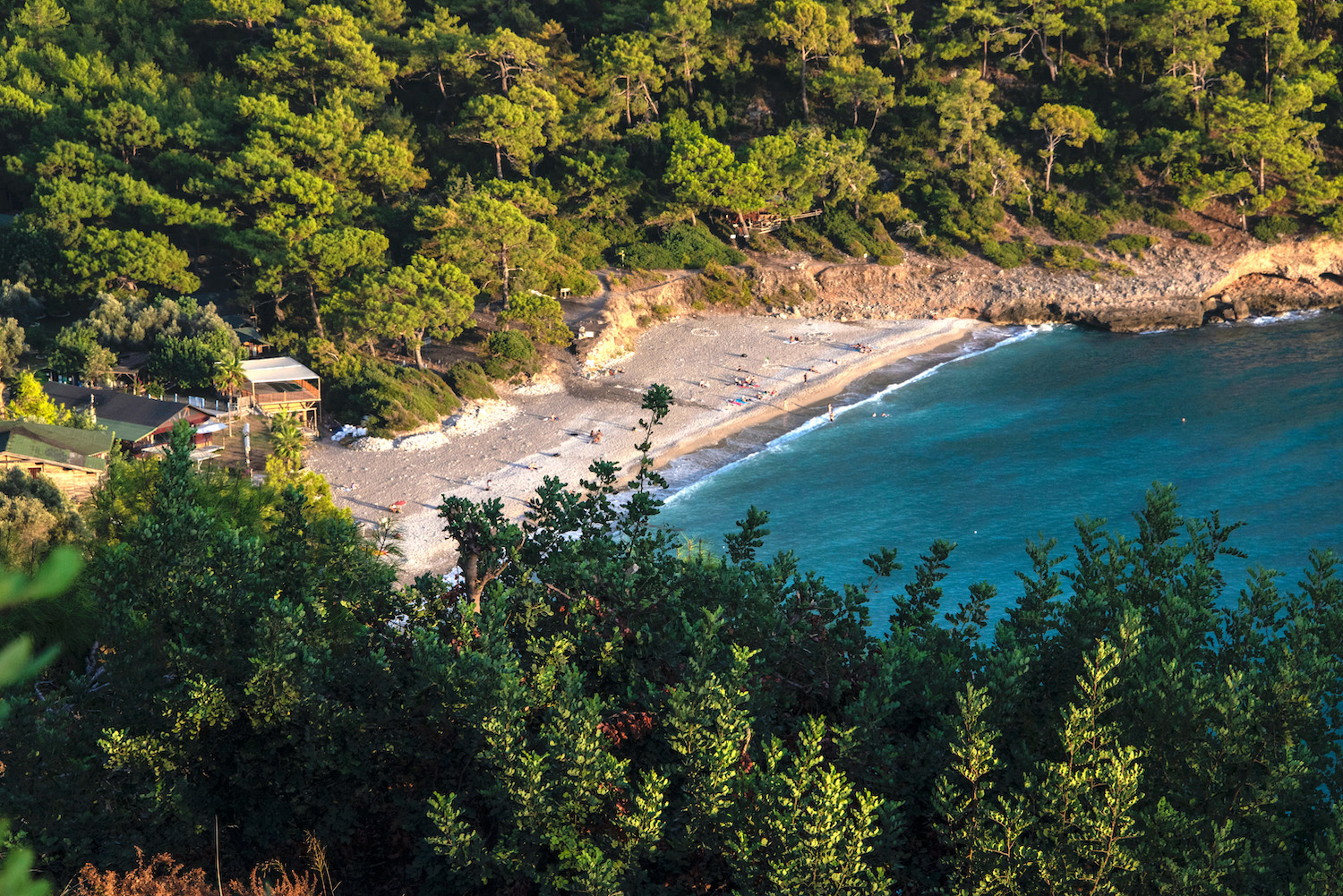 I visited Kabak Beach more or less by accident. A couple I met while hiking along the Lycian Way from Oludeniz to Butterfly Valley had previously stayed in a hotel just above this beach; we returned there for sunset drinks and dinner. Kabak is a more forlorn beach than others on this list, with decidedly different scenery. The pine-covered mountains nearby almost make it feel like the California coast!
Mermerli Beach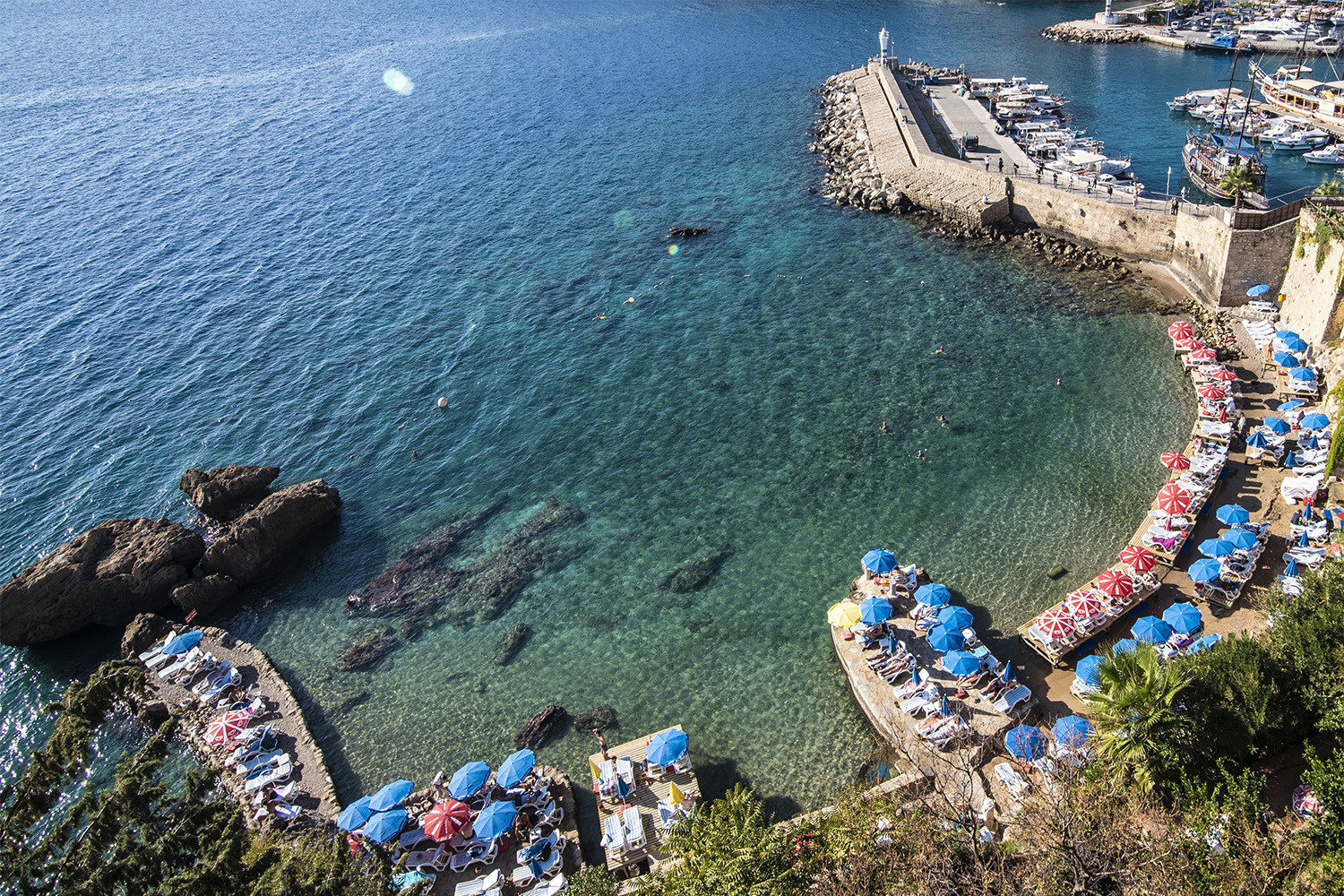 Antalya isn't a "beach city" in the traditional sense, but it's still home to some of the best beaches in Turkey. Mermerli Beach, which sits right inside the marina of the Old City of Kaleiçi, is literally steps from some of the best hotels in town. For those who are able to escape the charm of Kaleiçi more than momentarily—this doesn't describe me, not really—Konyaalti Beach just to the west is another great option for Turkey beaches.
Cirali Beach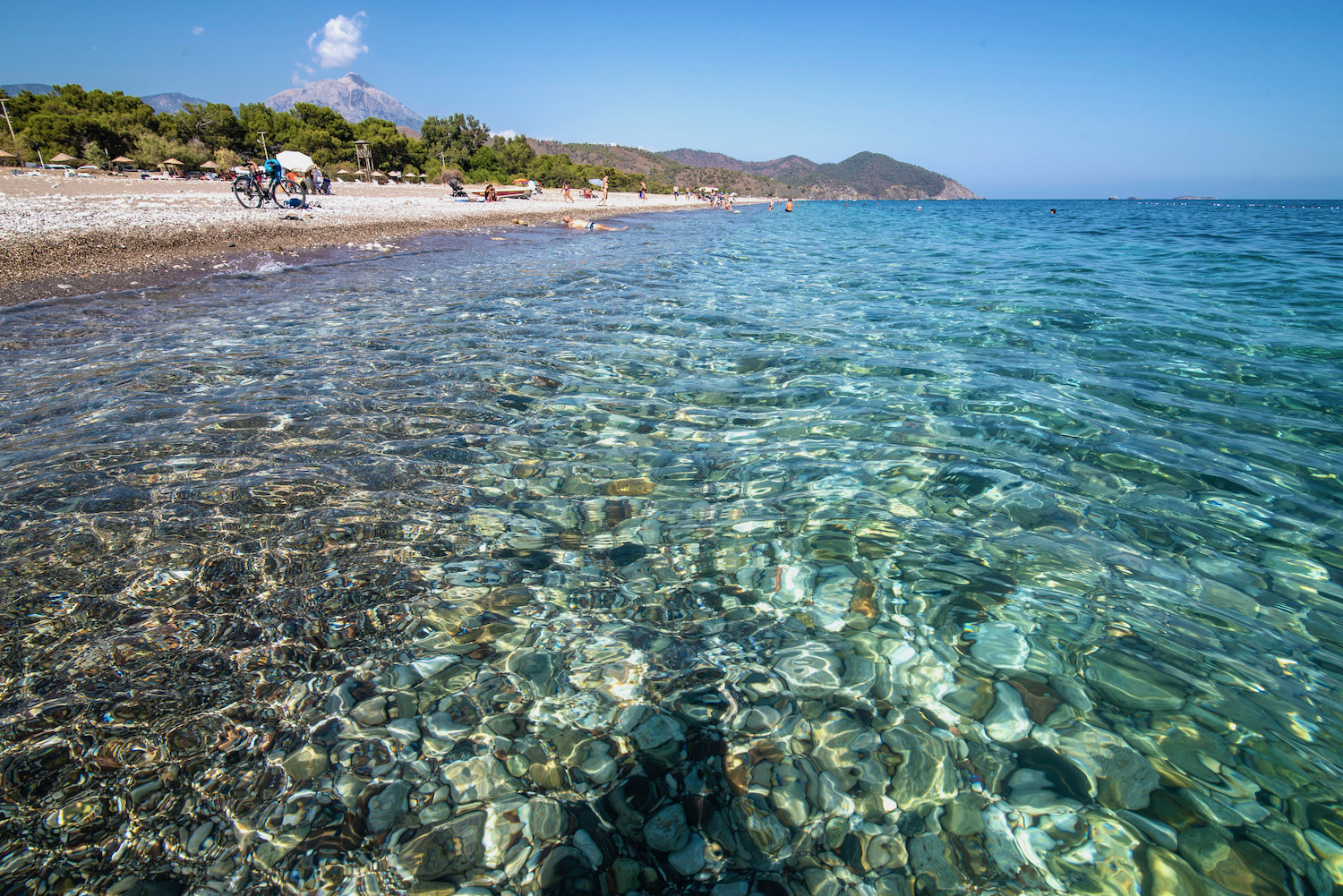 Speaking of the boat trip I mentioned earlier in the context of Oludeniz (TIP: It's also available from nearby Fethiye, including an incarnation that travels into the Greek Islands), you can take one from Cirali Beach, which is even farther to the west of Antalya than Mermerli. In addition to the beach itself, Cirali is home to the ruins of Olympos, as well as an "eternal flame" I was too sun-poisoned to walk to (even though I did hum the song to myself).
The Black Sea (and Beyond)
As I mentioned a few paragraphs up, I didn't enjoy much beach time along the Black Sea coasts, instead preferring to focus on mystical mosques and verdant tea fields. Whether here or elsewhere in Turkey, here are some honorable mentions:
Camel Beach in Bodrum
Içmeler Beach in Marmaris
Ilica Beach in Izmir (name specific ones)
Sile along the Black Sea near Istanbul
Do keep in mind that since Turkey has 5,000 miles of coastline, it's almost certain that some of the best beaches in Turkey are as-yet undiscovered, certainly by English speakers!
Other FAQ About Beaches in Turkey
Which part of Turkey has the best beaches?
Most travelers regard the coast of Mugla province, which stretches from Bodrum, to Marmaris, to Fethiye and Oludeniz, as being home to the best beaches in Turkey.
Is the sea clear in Turkey?
Sea conditions vary in Turkey, but waters (in aforementioned Mugla province, anyway) are clear, blue and crystalline, particularly (but not exclusively) at Oludeniz Blue Lagoon.
Are there any sandy beaches in Turkey?
Most of the best beaches in Turkey are a combination of sand and rocks: Rocks where the land meets the sea; sand where lounge chairs and cabanas are. The rocks can be painful to walk on, but undergird the clarity of the water, so I prefer rocky beaches.
The Bottom Line
This list doesn't include all of the best beaches in Turkey, but it's an excellent start on your search for them. Personally, I see beaches as an opportunity to bask in nature, to relax and/or to exercise, so I've curated ones that suit these goals. Certain beaches in Turkey, however, are more about the experience of luxuriation; the hotel or resort you choose is as essential (or even more so) to your enjoyment as the beach itself. Want to select the perfect beach to complete your Turkey beaches itinerary? Hire me as your Travel Coach—and let me sweat the details!