The Caucasus region is a hot travel item right now—that's no secret. What many people miss (oddly, considering the region's namesake) is what an incredible opportunity the Caucasus Mountains themselves provide for travelers. In fact, you might even go so far as to characterize them as a more accessible version of the Alps, whether you come to ski in the winter, hike in the summer or enjoy some of Europe's most majestic scenery 365 days per year.
On the other hand, while the Caucasus Mountains are indisputably a better value than the Alps, it's derogatory to paint them as the poor man's Alps. And it's inaccurate: The Caucasus Mountains are home to all six of Europe's highest peaks—France's famous Mont Blanc is a lowly #7.
To be sure, visiting Georgia's high-altitude paradise Kazbegi is about a lot more than basking in the glory of the fifth-tallest mountain in Europe. Here's why it should be on your bucket list.
Where to Stay in Kazbegi
There are a large—and growing—number of affordable, high-quality accommodations in Stepantsminda (this is the actual name of the town, even though it's often simply called "Kazbegi" by tourists), but only one hotel in Kazbegi is really worth staying at: Kazbegi Rooms Hotel.
As its name suggests, this hotel is all about views of Mt. Kazbek (and Gergeti Trinity Church—more on that in a minute), but also the hotel itself, which has an inviting design and a luxurious ambiance that would fetch several times more in the Alps than it does here: You can regularly find rooms for under $100 per night, regardless of which Kazbegi hotel you choose.
Things to Do in Kazbegi
Hike to Gergeti Trinity Church
Whether you not you stay at Rooms Hotel Kazbegi, you're probably wondering how to get to Kazbegi church and where to get the best views of it. Well, you can see Gergeti Trinity Church (as it's officially known) from any of the mountain-facing rooms at Rooms Hotels; when it's clear you can actually see the peak of Mt. Kazbek rising over it, offering one of the best photo opportunities in the Caucasus region.
As far as hiking to the church in Kazbegi is concerned, it's pretty self explanatory, since you can see it from most anywhere in Stepantsminda. The trail is moderately difficult, and hiking to the summit takes between 1-2 hours, depending on how fast you go. Keeping this in mind, and considering you'll spend at least an hour at the summit, I would budget a minimum of six hours, beginning-to-end, for your Kazbegi church adventure.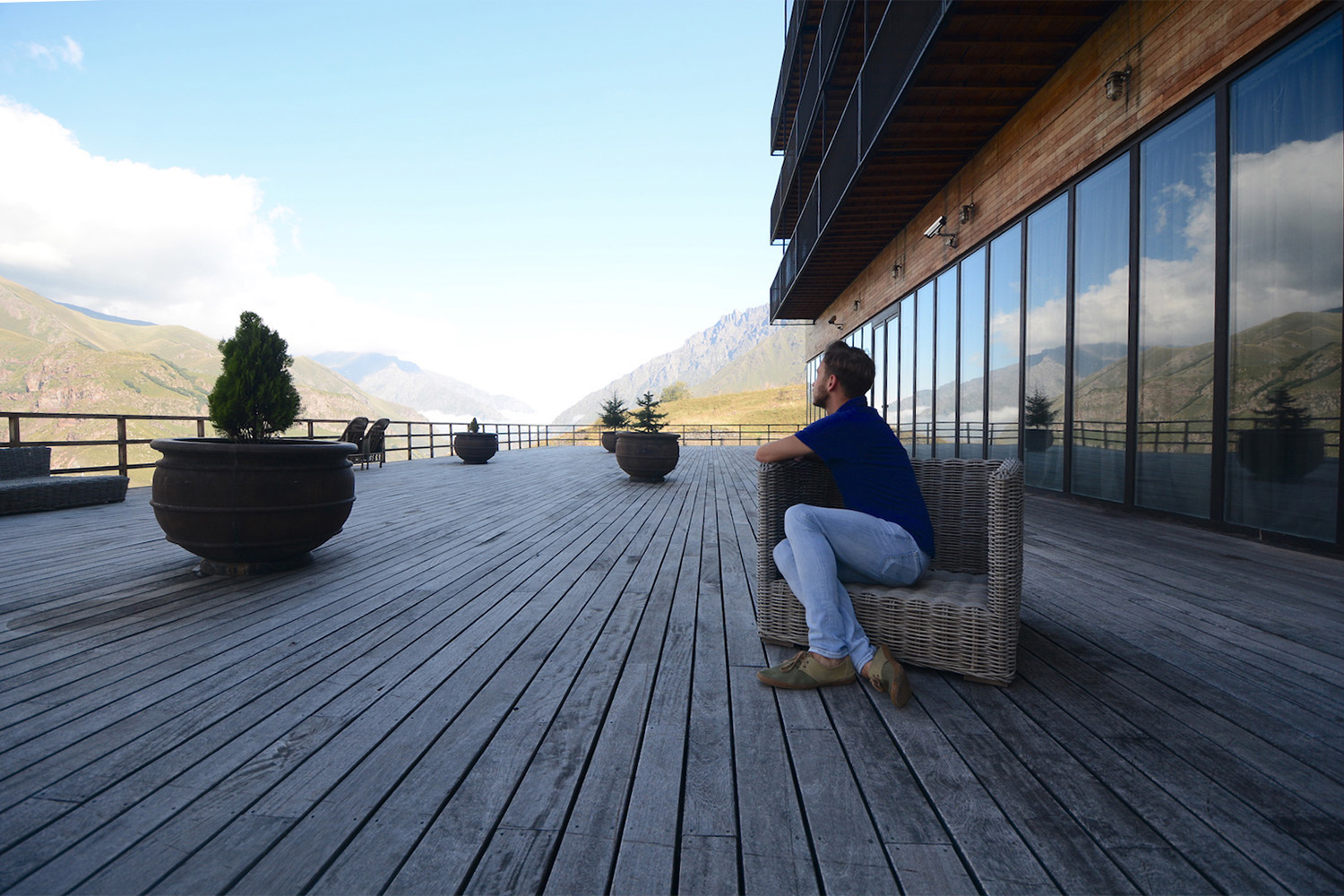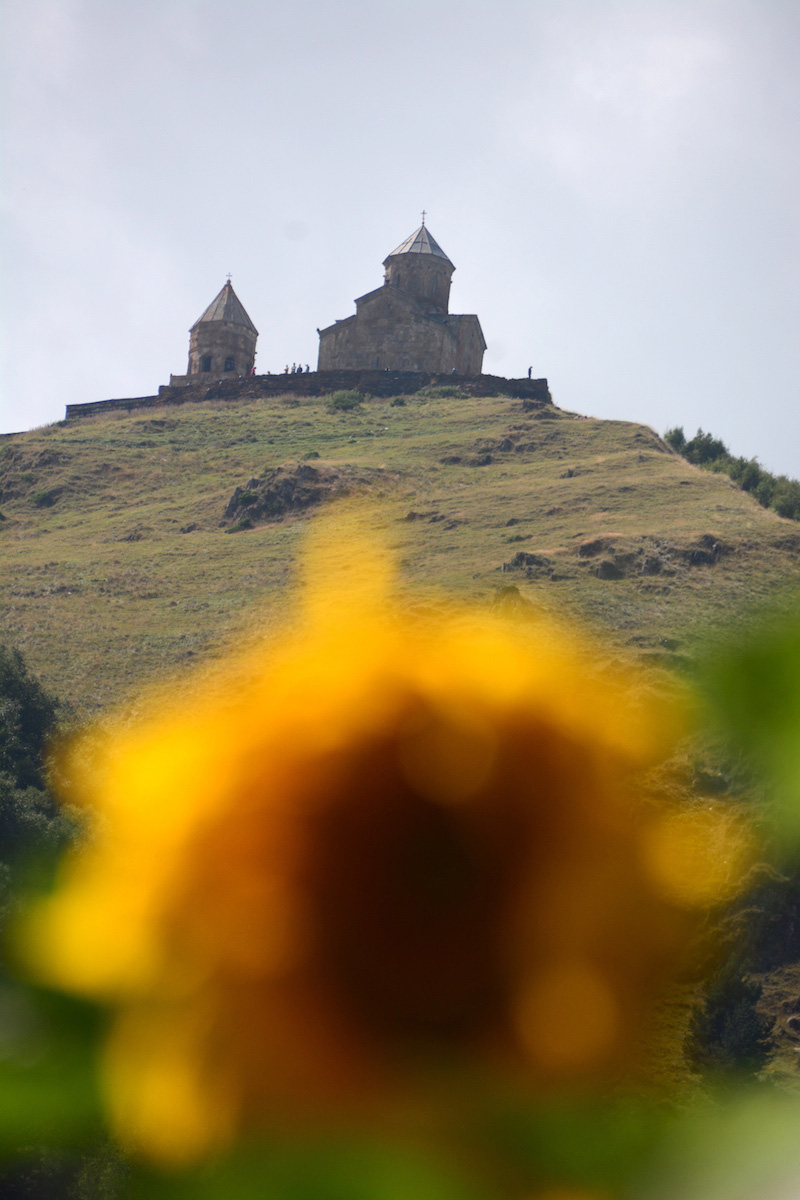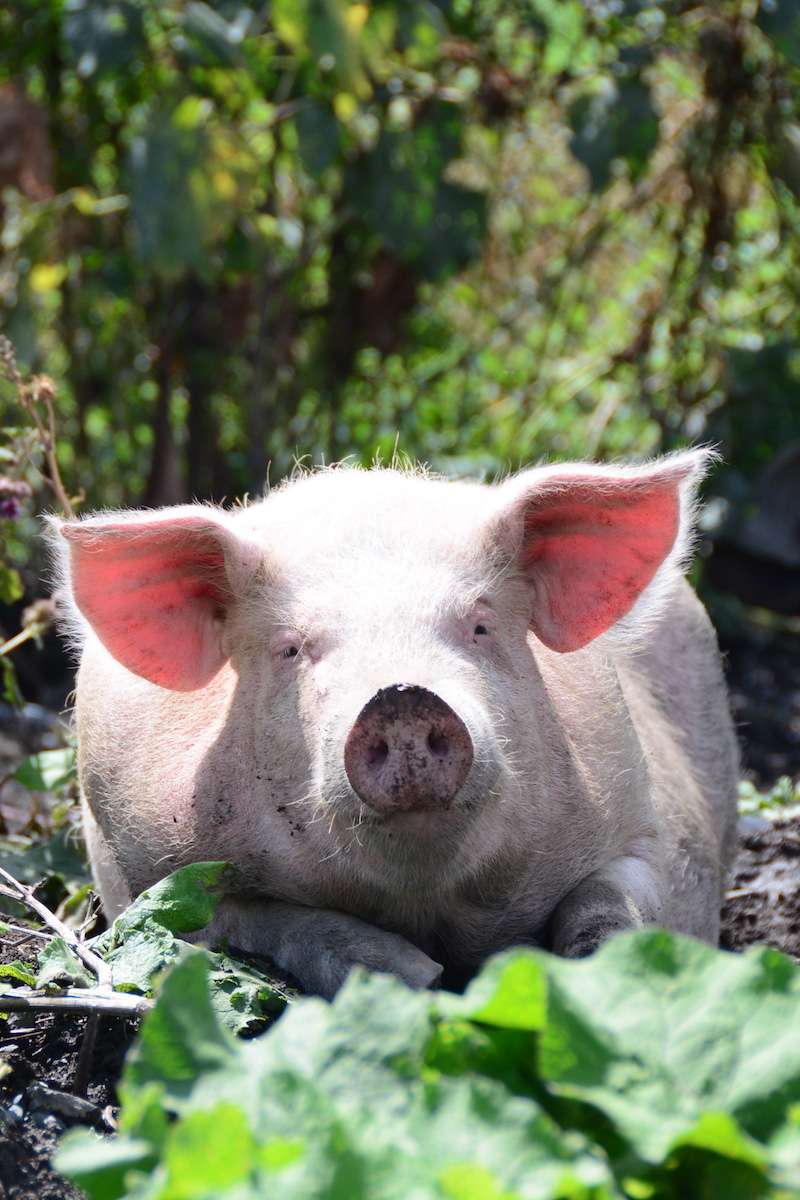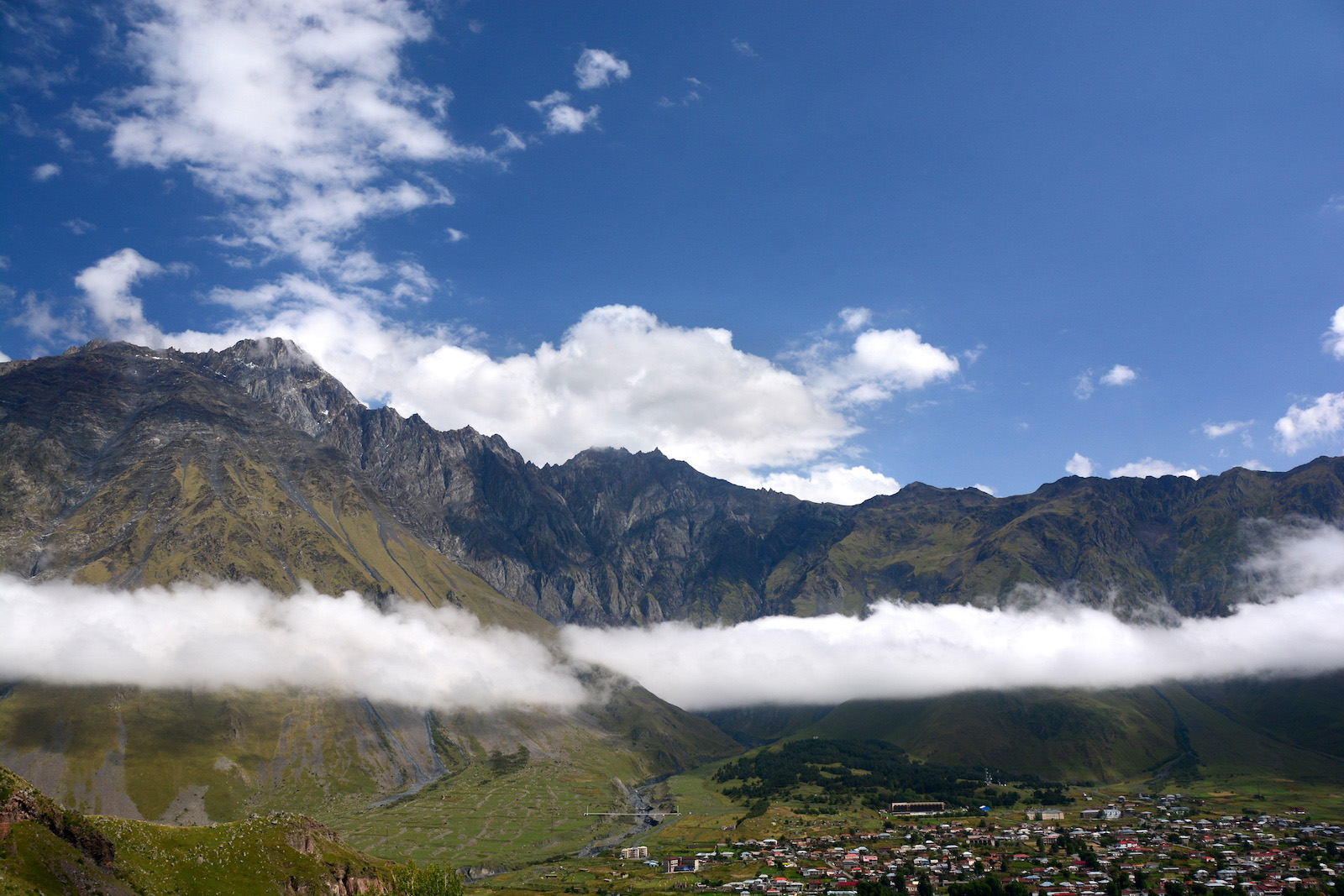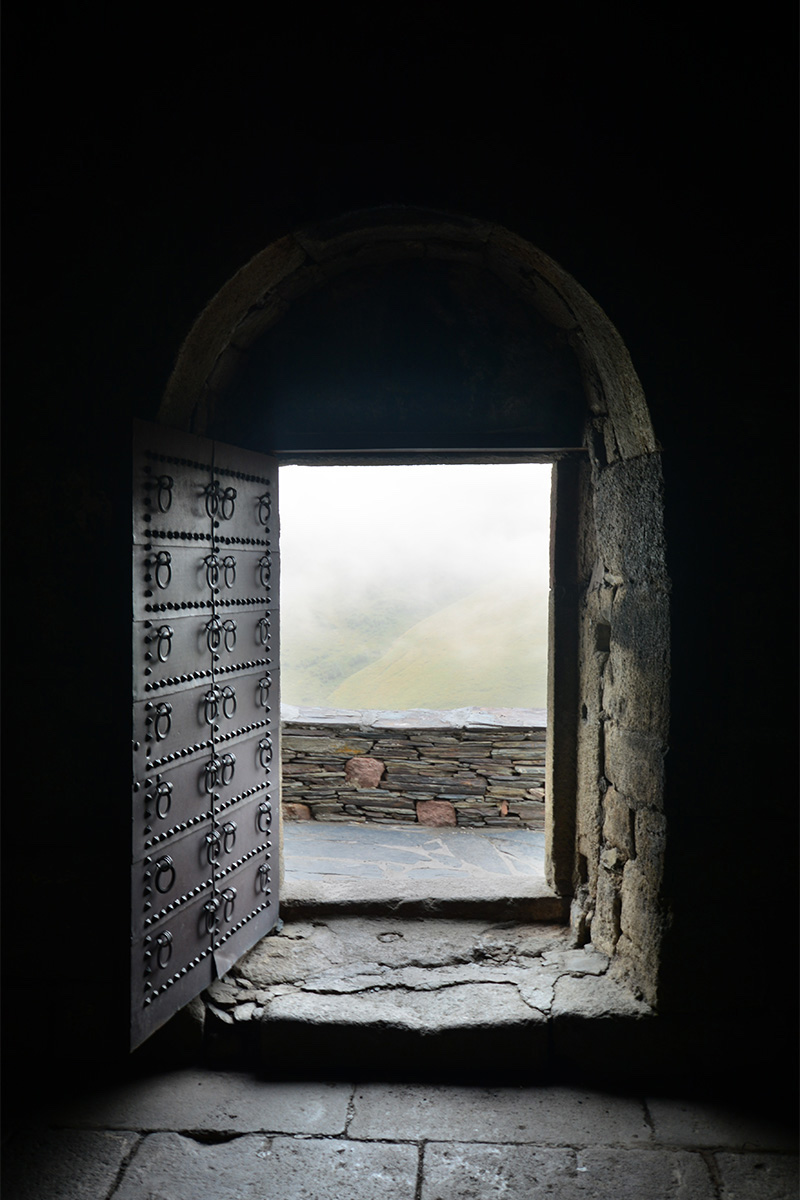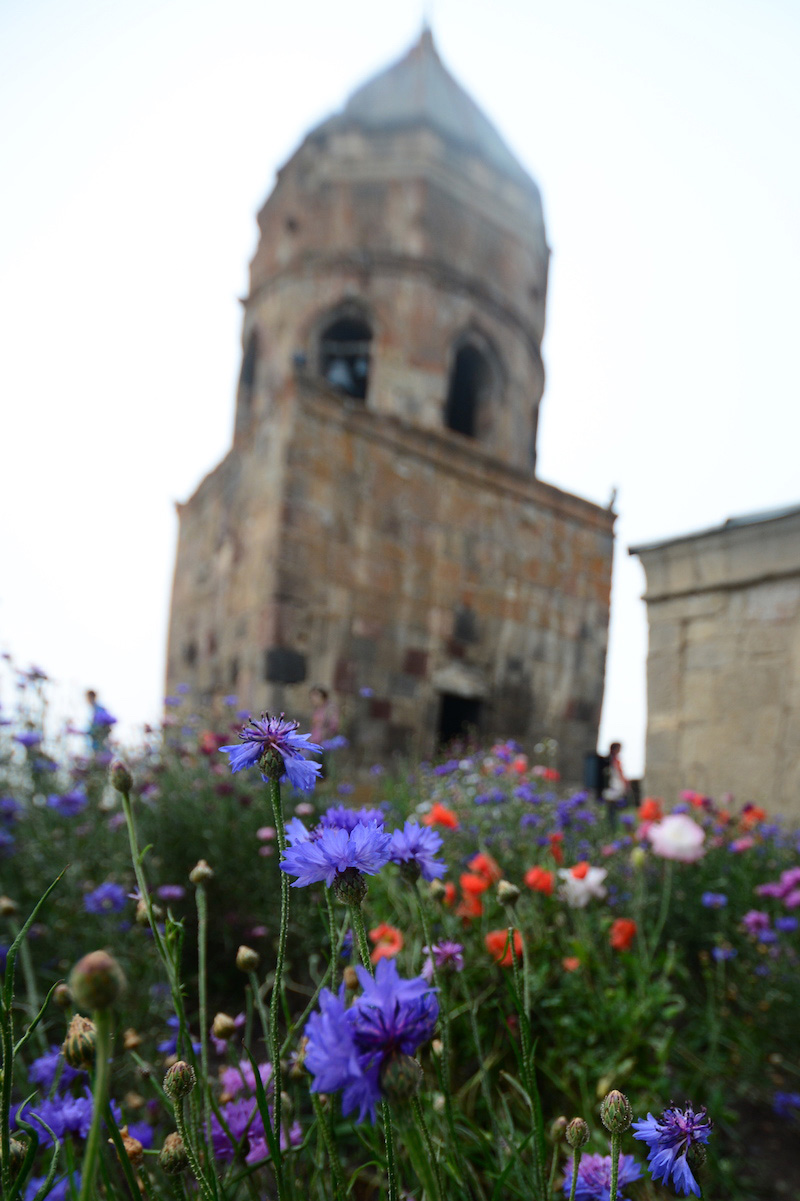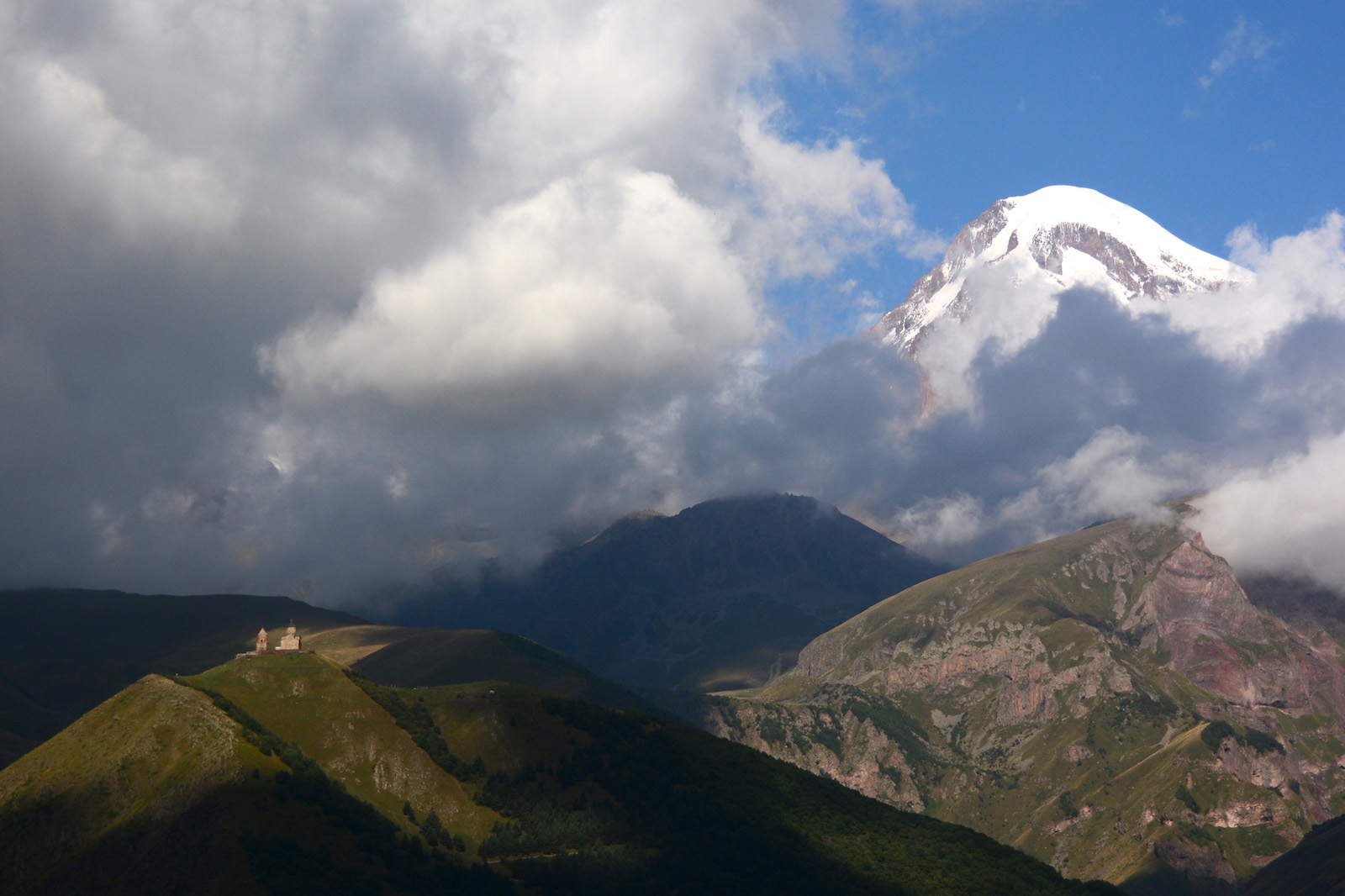 Ski in Kazbegi National Park
Keeping in mind the Kazbegi altitude, which for Stepantsminda town is 5,709′ or 1,740m, it's no surprise that some of the slopes around here have become skiing hot spots. Especially not when you discount the availability of high-value hotels, the picturesque Gergeti Trinity Church and how close the area is to Tbilisi—less than three hours direct by bus.
On the other hand, I'm not really much of a skiier, so while I can tell you some of the best places to ski in the Caucausus— Quadrum Ski Resort and Yoga Resort to name just one. I'd recommend you speak to a skiier for opinions RE: snow and facilities that are worth considering!
Can you climb Mt. Kazbek?
While Mt. Kazbek is "only" around 16,000′ high (I put that in quotes because it's only about 55 per cent as high as Everest), climbing it is still incredibly difficult. You can climb Mt. Kazbek, absolutely, but not without extensive mountaineering experience, or a tour operator who has it. Fun fact about Mt. Kazbek: It has a long history within Georgian folklore, where is has to do with the Georgian analogue to Prometheus, who stole the fire of the Greek Gods and gave it to mankind.
Some companies whose services you might want to consider include Climbing Georgia and ClimbBigMountains.com. Kazbegi weather is highly seasonal, so you should also consider this as you decide if and when you climb.
How Many Days Do You Need in Kazbegi?
The topic of how many days in Kazbegi really relates to how long you spend in Georgia. For example, if you spend a week in Georgia, then around 2-3 days in Kazbegi is probably all you'll be able to spend. This will give you a full day to hike and reach the famous monastery, as well as a day to enjoy creature comforts at the Rooms Hotel (assuming you stay there).
On the other hand, as Georgia has grown in popularity as a destination for digital nomads, more and more people are spending longer in the country. If you decide to stay in Georgia for several weeks or months, you could rent an Airbnb in Kazbegi and enjoy the scenery and majesty of the mountains for a week or even longer. The shape of your Kazbegi trip is really up to you!
Other FAQ About Visiting Kazbegi
Do you need a car in Kazbegi?
You don't necessarily need your own car in Kazbegi, but having a set of wheels will better help you navigate this part of Georgia, where public transport is minimal. If you don't have your own car, I recommend hiring a taxi to take you where you need to go.
Is there snow in Kazbegi in May?
The tops of mountains will still have snow in May, but Stepantsminda town should be rather warm during most of the month, particularly the end. If you're coming to Kazbegi to ski, it's probably best to come earlier in the year—no later than March, ideally.
Is Kazbegi worth visiting?
Kazbegi is absolutely worth visiting—for my money, it's probably the most satisfying place in Georgia. If you have a week in Georgia, I recommend spending 2-3 days in Kazbegi after 1-2 days in Tbilisi, and then a few days
The Bottom Line
Is Kazbegi worth visiting? Well, personally, Kazbegi blew me away—and all I did there was pamper myself at the Rooms Hotel Kazbegi and hike to Gergeti Trinity Church. If you're a skiier or a mountain climber, I can imagine the Kazbegi region being even more fulfilling, particularly because no matter what you do here it's way cheaper than the Alps or comparable mountains regions, while being at least as beautiful and even higher in altitude. Of all the Kazbegi things to do, simply being there is the most fulfilling.