My Dolomites road trip gave me anxiety, even after it had already begun. Part of this was out of my control: The traffic on the expressway out of Venice was literally stand-still, and turned the 130 km/h expressway into a parking lot.
Part of it was my own error. I'd set the GPS for the town of "Laste," where my Airbnb was located, not realizing there were several towns with some version of this name in Italy's South Tyrol region. By the time I realized this, I was already over 100 km off course.
The good news, since you're reading my words and looking at my pictures, is that I lived to tell about my experience. The better news? I'm here not only to recount my travel tales, but to help you answer practical questions, such as how many days you need in the Dolomites.
The Logistics of Visiting the Dolomites
It should go without saying, but the most important preparation to make before your Dolomites road trip is renting a car. I would personally recommend doing this at Venice Airport, even if you don't arrive here by plane—just take a bus from Santa Lucia station. Car rental outlets near Venice Mestre station in in the Dolomites themselves will likely have fewer vehicles, and at worse prices.
Once you have your car, I'd recommend setting your GPS for wherever you're staying. Many travelers base themselves in Cortina d'Ampezzo, a convenient but snobby city that feels more like it belongs in Switzerland or Austria than Italy. Alternatively, if you simply type "Dolomites" into the search engine of Airbnb or Booking.com, available accommodation in this area will populate your screen.
Where to Go in the Dolomites
Tre Cime di Lavaredo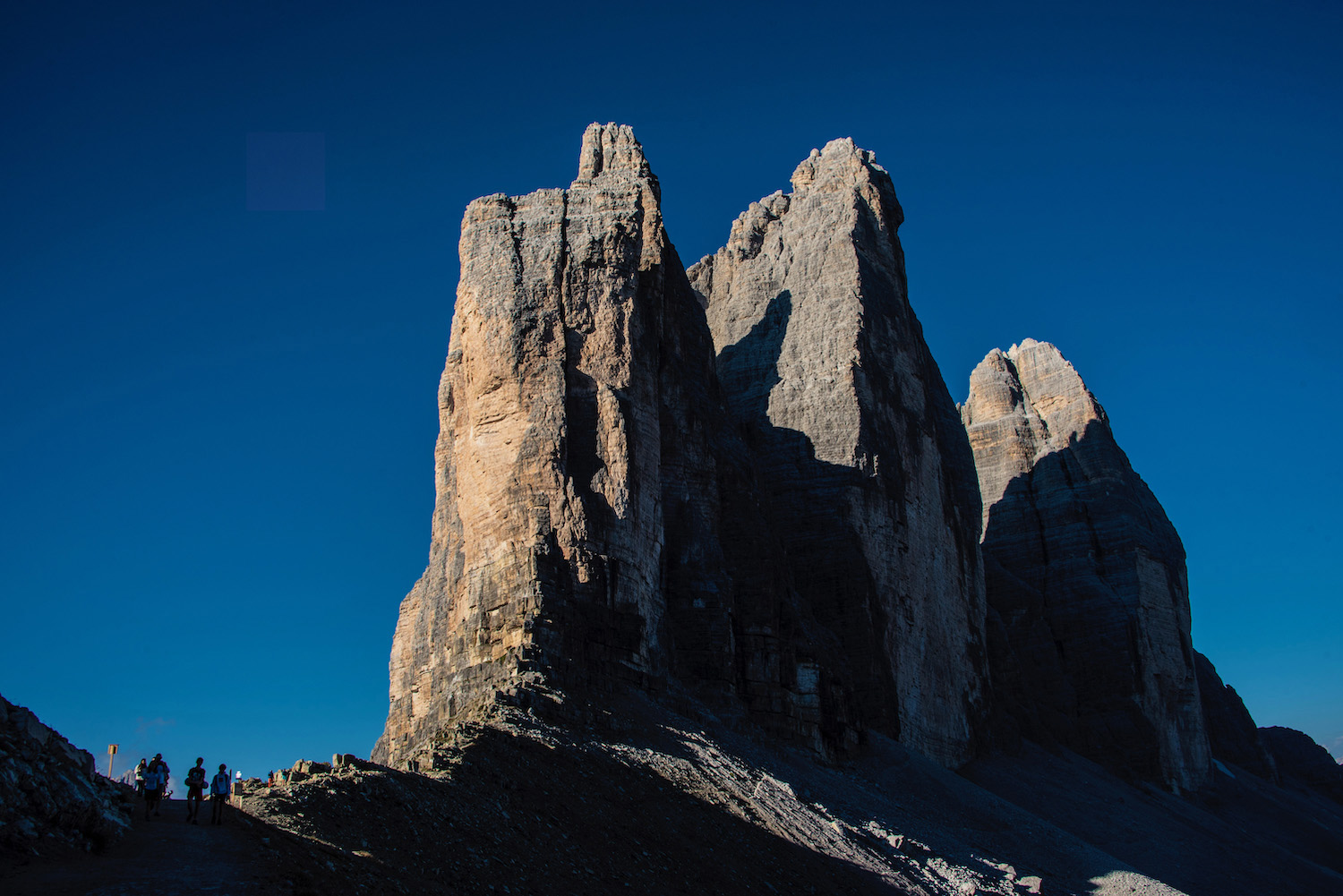 To me, these three adjacent mountains are the most impressive scenery in the entire Dolomites. Moreover, the trail that goes around them is relatively easy, which makes Tre Cime di Lavaredo accessible to the majority of travelers. Note that you'll need to pay a whopping €30 fee in order to park here; get here early if you don't want to have to walk far from your 30-euro parking spot.
Lake Sorapis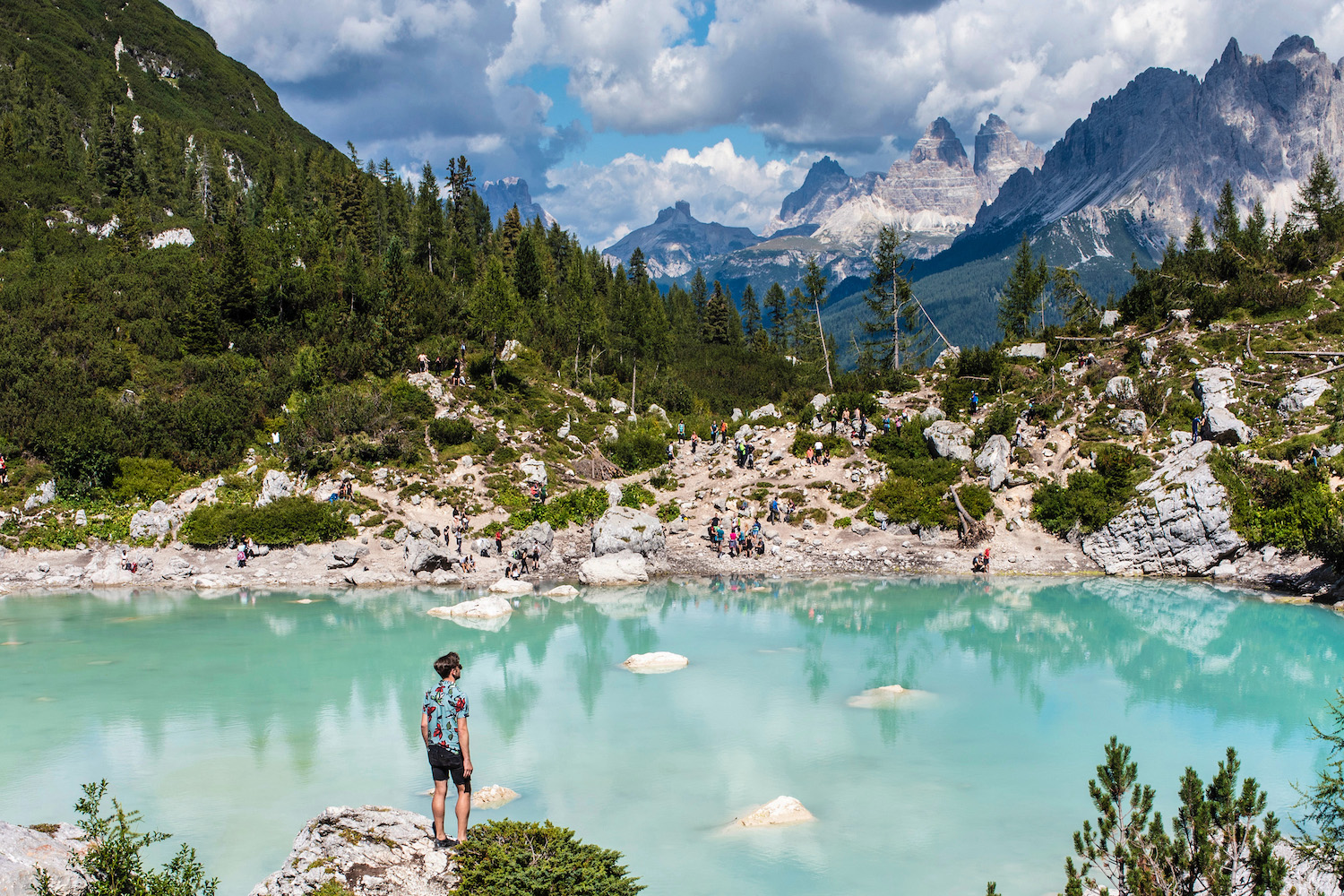 Another must-see spot on your Dolomites road trip Lago di Sorapis. Although the hike from the parking area to this jewel-colored lake only takes 90-120 minutes, it's known as a rather harrowing one, requiring the use of ropes and often seeing travelers at or near the edge of cliffs. I didn't personally find it difficult or scary, but this largely a matter of personal opinion.
Val di Funes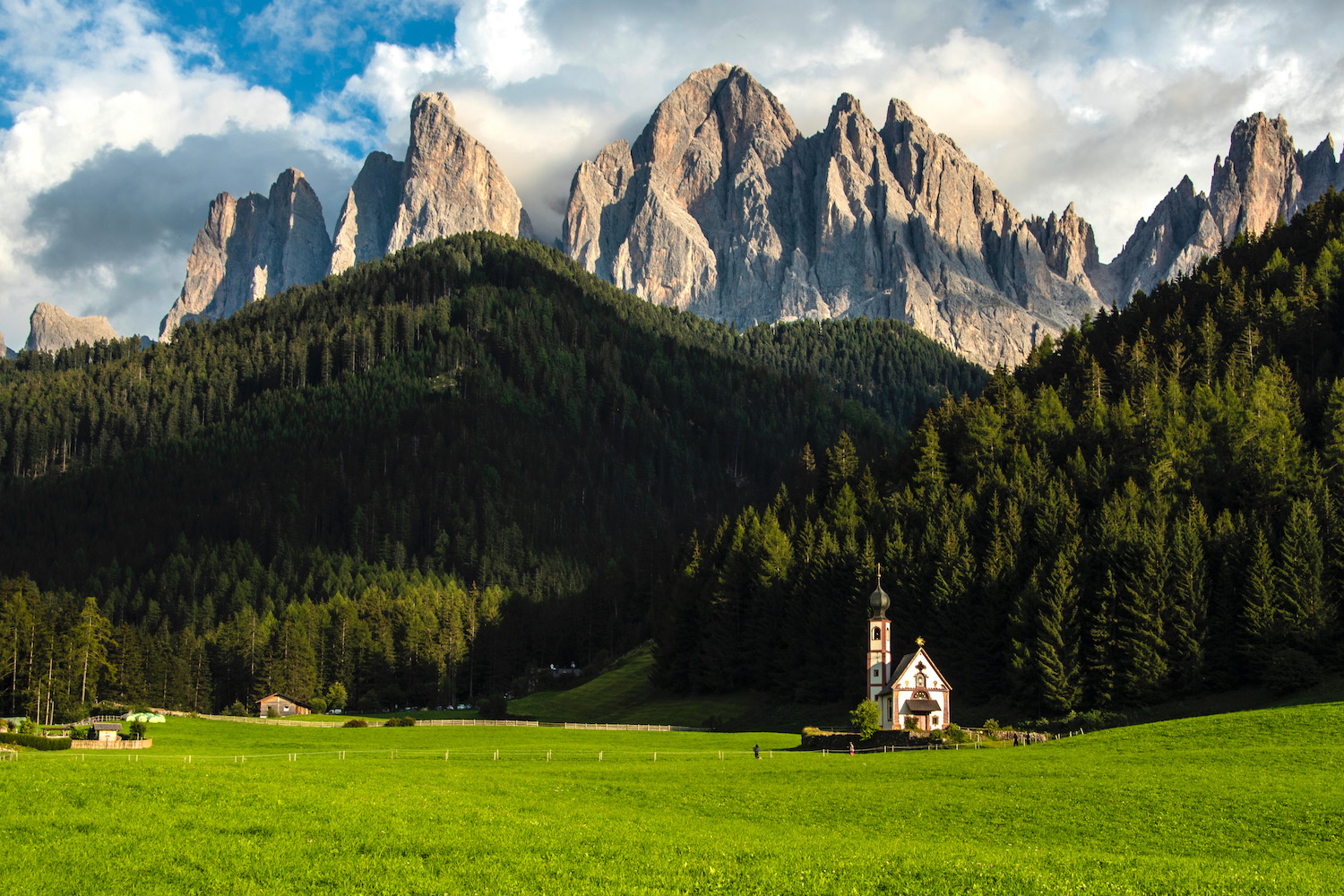 The good news? Seeing the famous Dolomites church above is basically a matter of setting your GPS for the Val di Funes town of Santa Maddalena, and following the instructions. The trick? The Church of Santa Maddalena isn't the one you're looking! Rather, you'll want to focus on the San Giovanni Church, a smaller one closer to the mountains that rise behind both churches.
Moena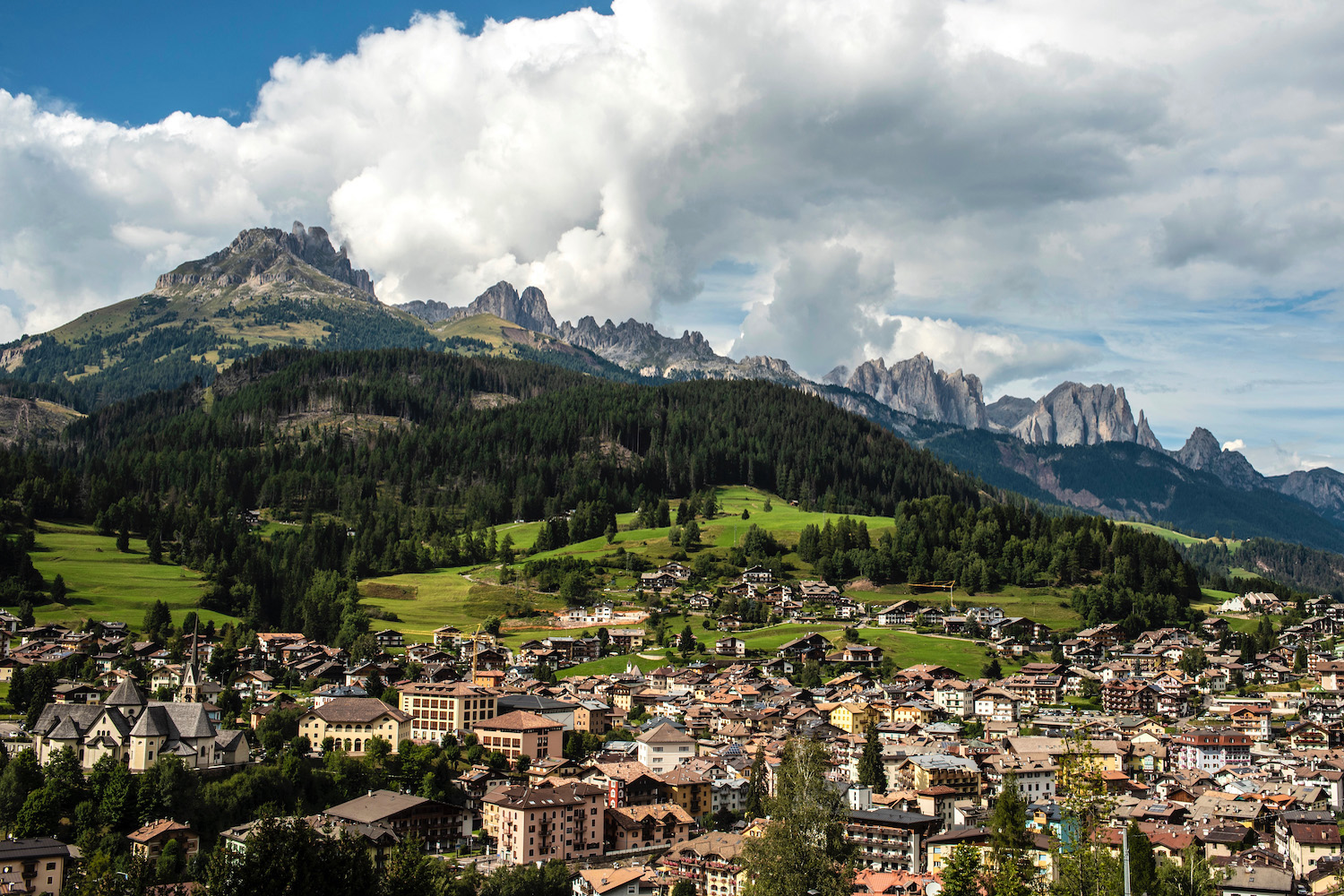 When I first drove into the town of Moena during my Dolomites road trip, I assumed I'd made a wrong turn and had accidentally arrived in Austria. No matter which country this settlement actually belongs to, one thing is for sure. It's going to be among the most beautiful places you see as you drive through the Dolomites, particularly if that's near the beginning of your trip.
Passo Giau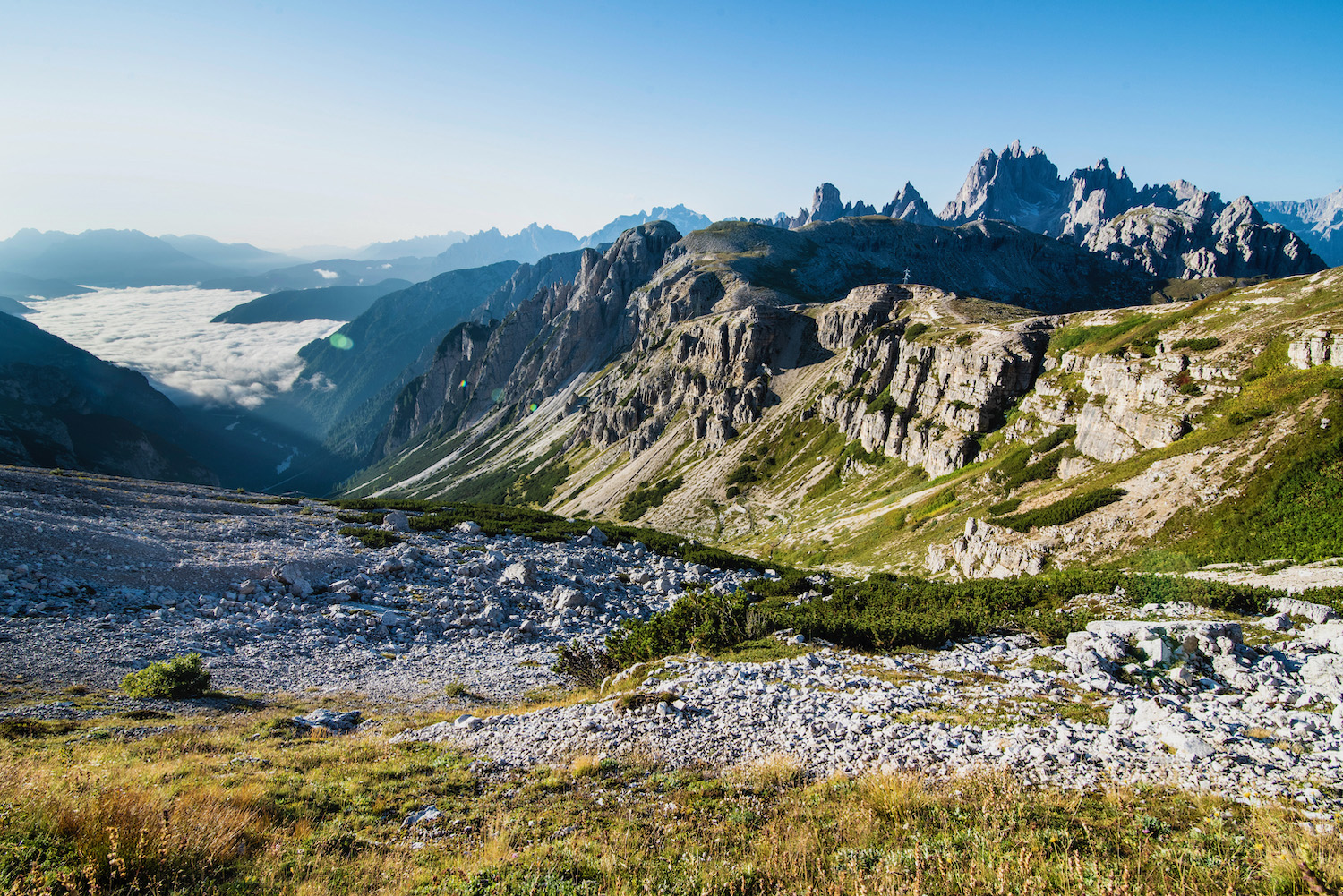 Because I stayed pretty far west of Cortina d'Ampezzo, I actually had the privilege of traversing Passo Giau twice—one on my way to Tre Cime and Sorapis, and again on the way back, However, even if you end up having to go out of your way to visit this stunning mountain pass, I assure you: It's worth any effort you need to expand to see it with your own eyes.
So, How Long Should I Spend in the Dolomites?
Depending on how much you want to hike or climb, and the pace at which you generally like to travel, I'd say that most travelers can get by spending 2-3 nights in the Dolomites. This allows you to take most of the first day to reach your Airbnb, set out early on day two (potentially doing two hikes in a single day) and spending your third day (if you have one) as you see fit.
On the other hand, it's entirely possible that your Dolomites road trip will last a week or longer, particularly if you plan to continue northward into Austria's Tyrol region. This would be logically concordant, given that the Italian Alps have more in common, culturally speaking, with the Alpine regions of Austria and Switzerland than they do with anywhere else in Italy.
Other FAQ About Visiting the Dolomites
Is it easy to drive in Dolomites?
For me, driving in the Dolomites was really harrowing. In addition to being very twisty, with frequently poor visibility, roads in this part of Italy are often not made for two cars, let alone two modern-sized cars. When you add to this the high speed at which local people tend to drive, it's not a pretty picture for anyone who hasn't driven a lot in Italy.
What should you not miss in the Dolomites?
The most iconic mountain vista in the Dolomites is Tre Cime di Lavaredo, three stone "chimneys" that absolutely tower above the landscape where they stand. Other famous Dolomites destinations include the milky, blue waters of Lake Sorapis, and the famous Dolomites church in Val di Funes.
When should I visit the Dolomites?
I personally love visiting the Alps (both in Italy, as well as in Austria and Switzerland) during the summer, when skies are blue, the air is hot and sunlight is plentiful. However, the Dolomites are also beautiful amid the autumn colors of late September and early October, as well as during snowy winter months. Keep in mind that the trade off of seeing Dolomites scenery covered in snow is much more difficult driving conditions—you'll need snow tires!
The Bottom Line
How many days should I spend in the Dolomites? I hope I've answered this question for you—and many others. Once you set out a clear list of attractions and experiences, and make sure it's right-sized to the length of your trip, exploring the Italian Alps quickly goes from hellish to heavenly. The most important thing to remember is that getting places here takes time—almost all worthwhile sights required hours-long hikes; driving can be slow due to narrow, winding roads and not-so-great drivers. Still don't feel confident to do it all by yourself? Consider hiring me to plan your trip to Italy.