Ethiopia is a country I'd wanted to visit for a long time before I finally arrived there. From its history—it was, at the outbreak of World War in the 20th century, the last independent black country in Africa—to its delicious food, to pictures I'd seen of its otherworldly landscapes, Ethiopia was calling me. I just needed an Ethiopia itinerary.
When I finally answered, to be sure, the voice on the receiver was more complicated than I'd expected. Ethiopia was beautiful, both its people and its scenery, but it was also a country in transition from poverty to wealth, with everyone clamoring for a piece of the pie. This usually took the form of annoying (but innocuous) street hustlers, but was sometimes more extreme, such as the schoolchild who robbed me at an archaeological site outside the city of Axum.
(And I haven't even mentioned the food poisoning, the infrastructure and the often extraordinary unfairness of prices for travelers.)
Cynicism—and complaints—aside, Ethiopia is a beautiful country, and I do ultimately feel like my trip there was rewarding. But it's not a destination for beginners, neither to Africa nor to travel in general, so do tread carefully once you finally hit the streets (or mud paths, as it were). This Ethiopia itinerary 2 weeks in length is for northern Ethiopia, which is in my opinion the most special and rewarding part of the country to visit.
NOTE: Visiting Ethiopia is currently difficult due to the ongoing conflict in Tigray. Contact your country's embassy in Ethiopia for official advice about where and where not to go.
Practical Matters
When to Visit Ethiopia
The most important thing to know about when to spend your 2 weeks in Ethiopia is that you should avoid the northern hemisphere summer—June, July and August are the rainy season in northern Ethiopia, which produces deluges that make already bad roads impassable. If you plan your Ethiopia itinerary 2 weeks (or longer) during the first few months of the year, like I did, you'll look upon more arid landscapes, while scenery in September and October tends to be more lush, both in terms of nature and people: Many Ethiopian festivals occur during the autumn months, which means that as far as the best time to go to Ethiopia is concerned, fall is up there.
Where to Stay in Ethiopia
If you're accustomed to backpacker's quarters, this Ethiopia travel itinerary will be a walk in the park for you. If you prefer luxury, or even boutique accommodations, good luck. Even many of the "nice" Ethiopia hotels in large cities lack amenities like air conditioning or mosquito nets, and farther afield, you'll be lucky if you can find a comfortable place to stay at all. Sorry!
How to Get Around Ethiopia
If you can spend only 2 weeks in Ethiopia, you should fly whenever possible—and you should wait until you arrive in Ethiopia to book your flights. I know it sounds counterintuitive, but tickets are much cheaper when purchased from a local agent. Another way to make your tickets cheaper (I'm talking an additional 50 per cent discount, or more!) is to arrive on Ethiopian Airlines.
If you do need to travel by land, the good news is that many of the country's main roads are now paved (thanks to the Chinese), which makes journeys less agonizing, if still quite long. Like many countries in Africa, Ethiopia offers a variety of public and private ground transports, from full-size buses, to minibuses, to taxis and tuk-tuks, which are called bajaj around these parts. Many Ethiopian cities, meanwhile, are quite walkable, though you should be careful crossing the street—traffic incidents are one of the primary Ethiopia travel safety impediments.
Money, Costs and Communication
Ethiopia is expensive—more expensive, at least, than it should be. That's less due to ordinary expenditures, such as long-distance and city transport, hotels and meals, and more due to the excursions you'll want to take, namely to the Semien Mountains and Danakil Depression. Any time you need private transport, you can expect to pay a minimum of $150 per day for the vehicle, and probably as much for your guide and driver.
As far as communication, I was surprised how good it was. Prior to my 2 weeks in Ethiopia, I'd read that internet outside of Addis Ababa was almost nonexistent, but most every hotel I stayed at had it, everywhere in Ethiopia, even if it was slow. Likewise, my ethio telecom SIM worked basically everywhere in the country, with only brief interruptions, such as at the top of Erta Ale volcano. Impressive!
Where to Go With 2 Weeks in Ethiopia
Addis Ababa
Unless you arrive in Ethiopia by land from another African country, your trip will begin in the capital, Addis Ababa. For me, Addis Ababa was basically indistinguishable from any other East African capital (most specifically, it reminded me of a larger version of Kigali), and it certainly doesn't live up to the translation of its name, which means "New Flower" in English.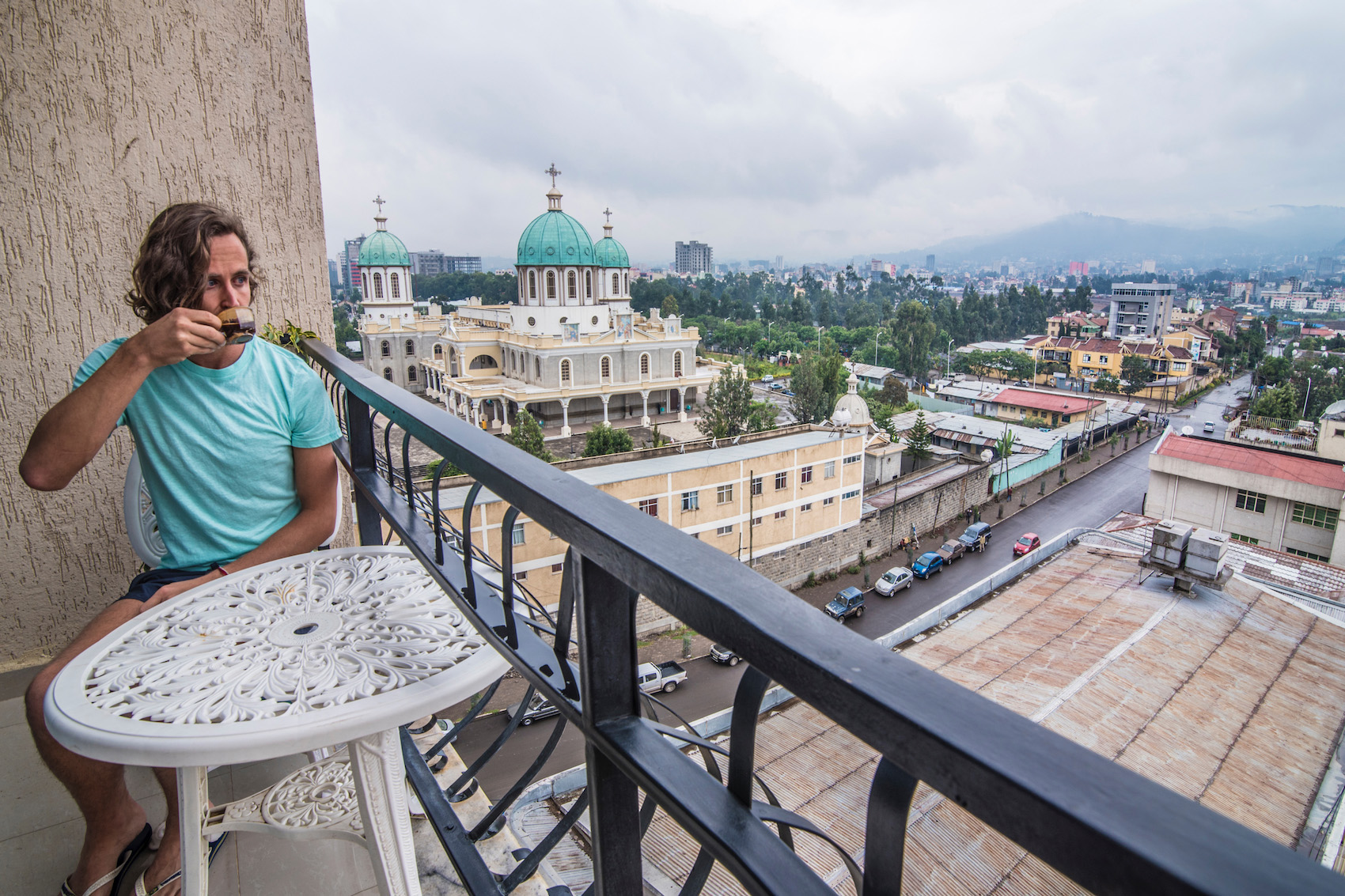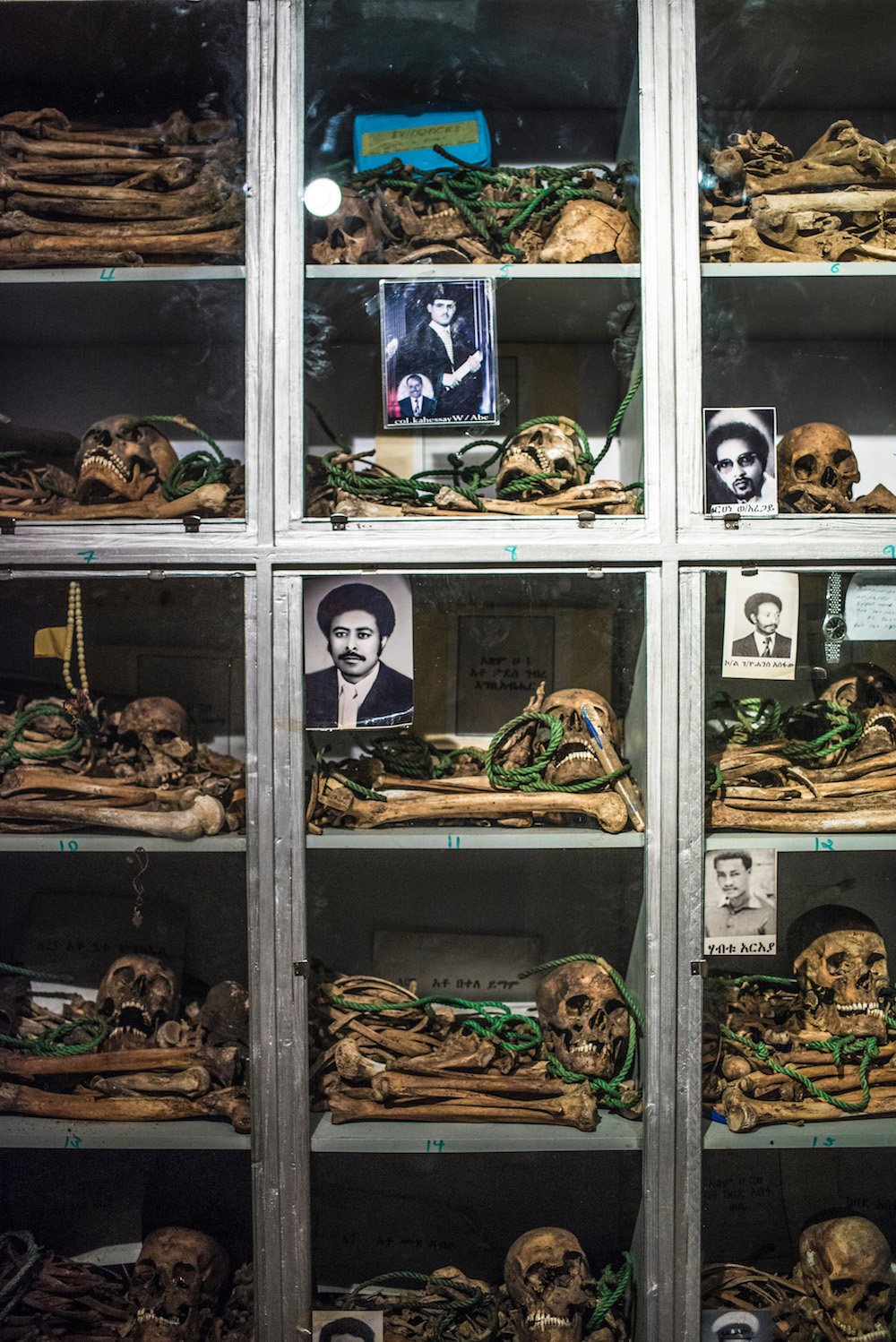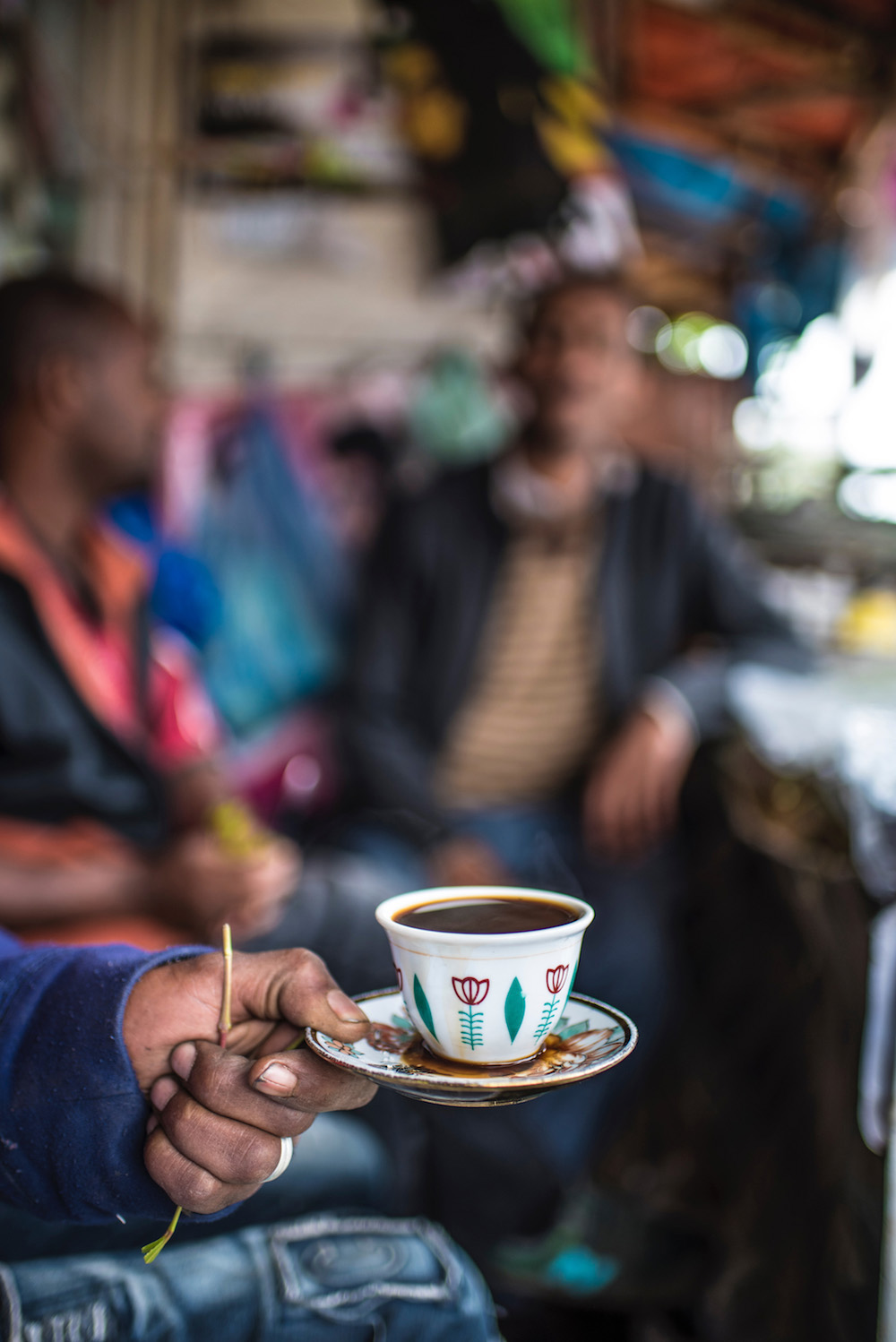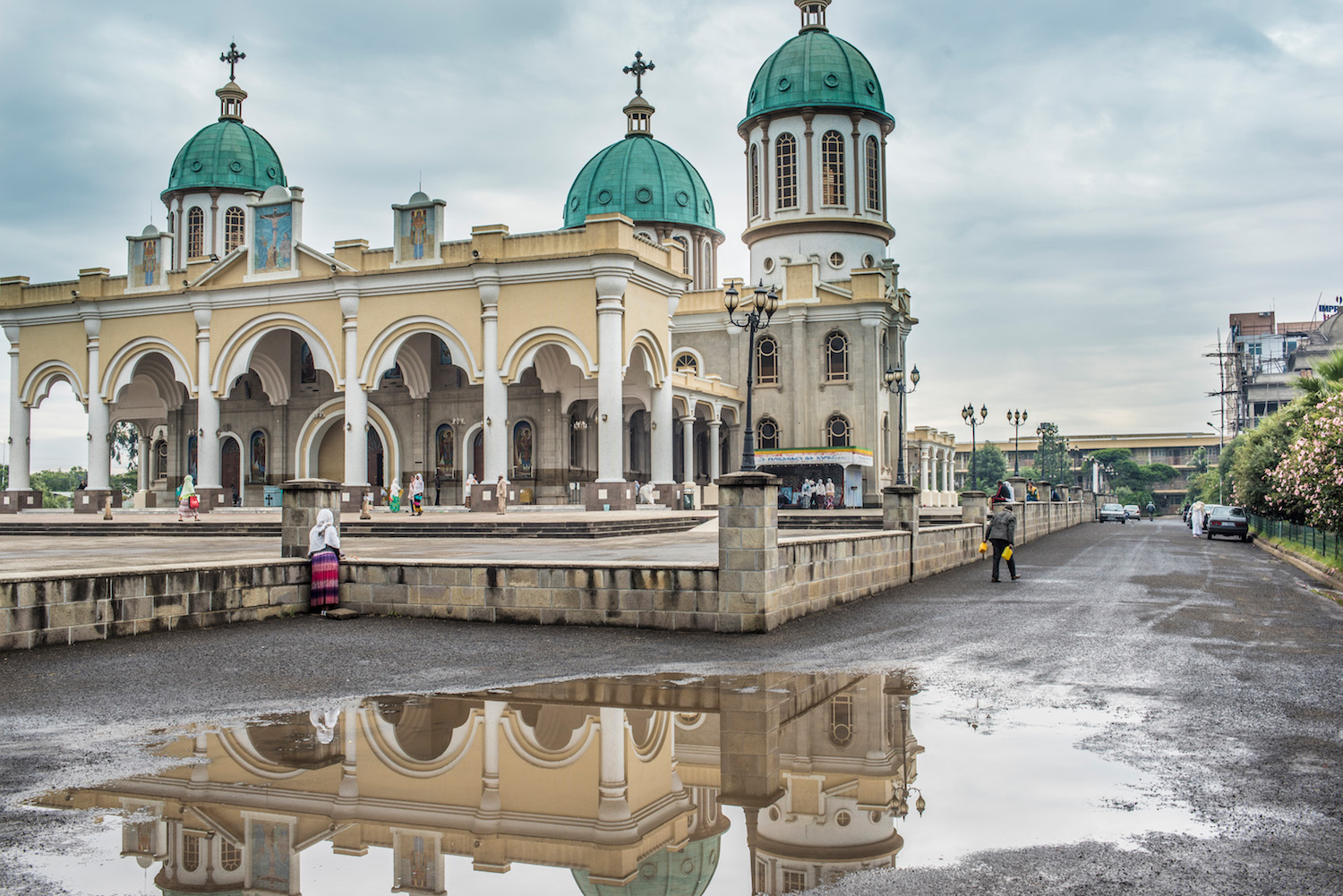 With this being said, you can definitely spend a full day of your two weeks in Ethiopia enjoying the sights of Addis (to which the city's name is often shortened), from churches like Holy Trinity and Medhane Alem, to the Red Terror Martyr's Museum, to the sprawling, wild Mercato market. As my Ethiopia travel blog reflects, Addis Ababa was one of the most interesting places I visited in the country.
Bahir Dar and Lake Tana
The majority of travelers continue on to Bahir Dar less for the city itself, which is dusty and frankly lacking in character, but for Lake Tana, on whose shores it sits, and is near the top of the where to visit in Ethiopia list. And, more specifically than that, the monasteries of the lake, some of which date back almost to the time of christ. It's easy to book a half- or full-day boat trip from the lakeshore in Bahir Dar, although you should note that many of the monasteries don't allow entry to women.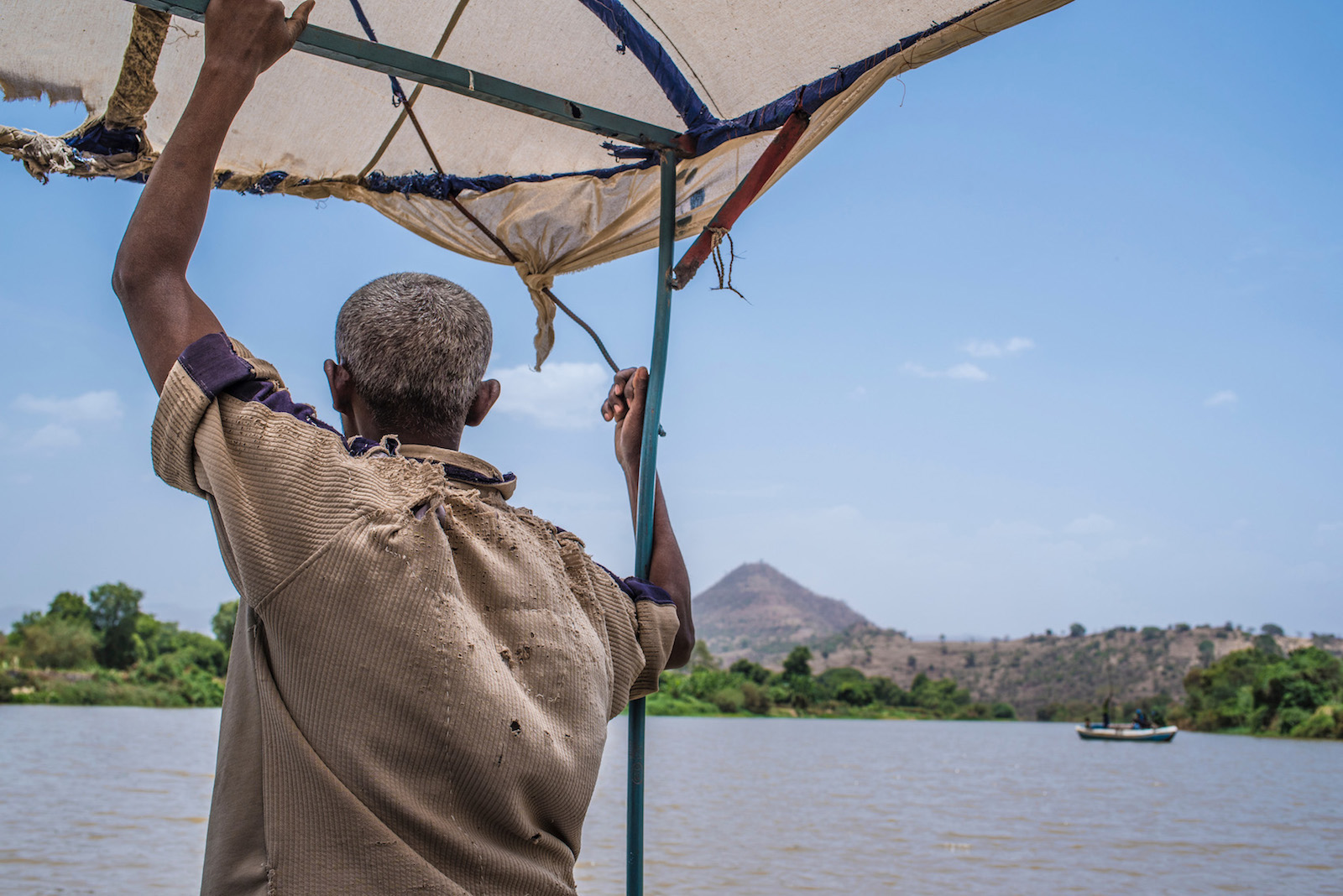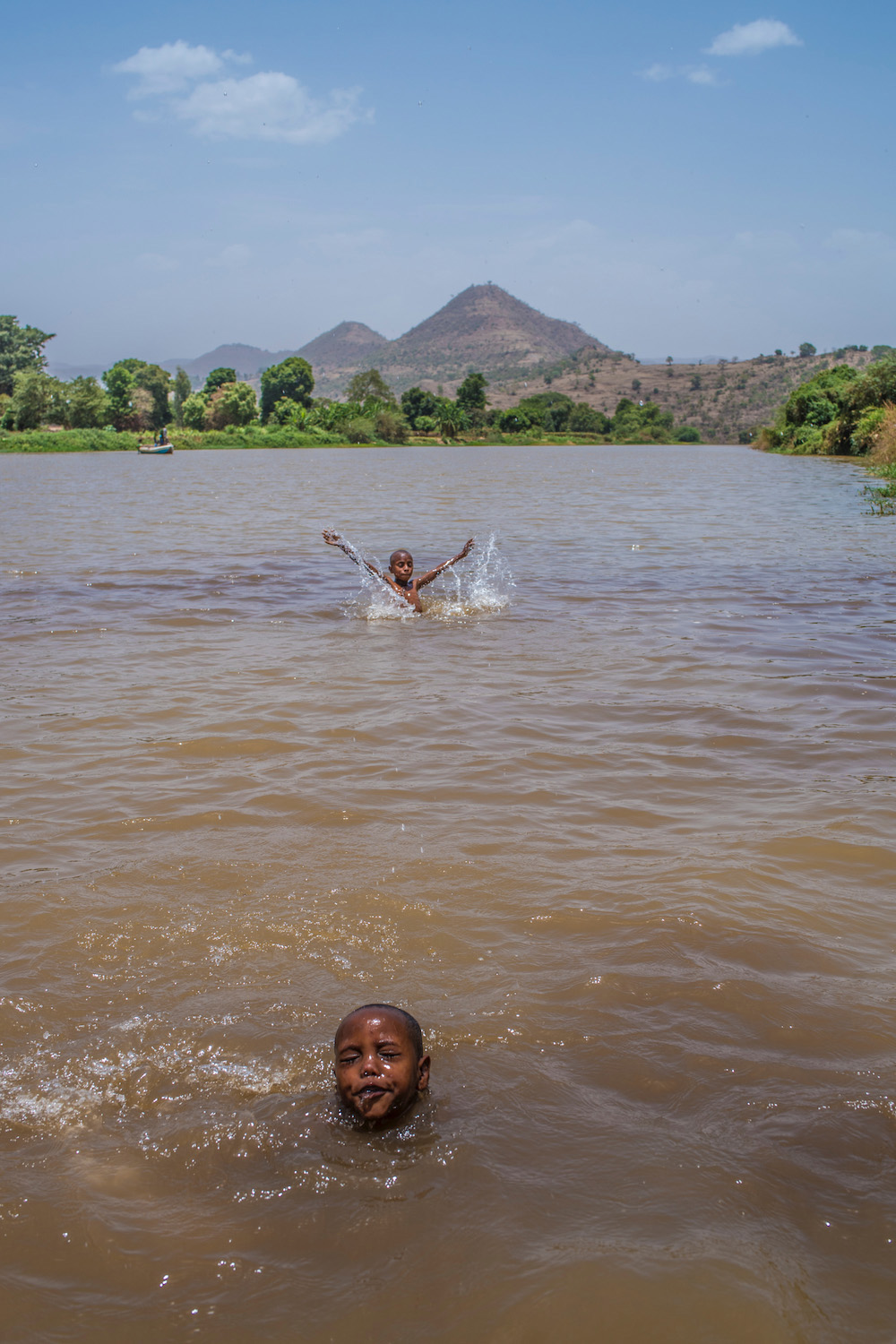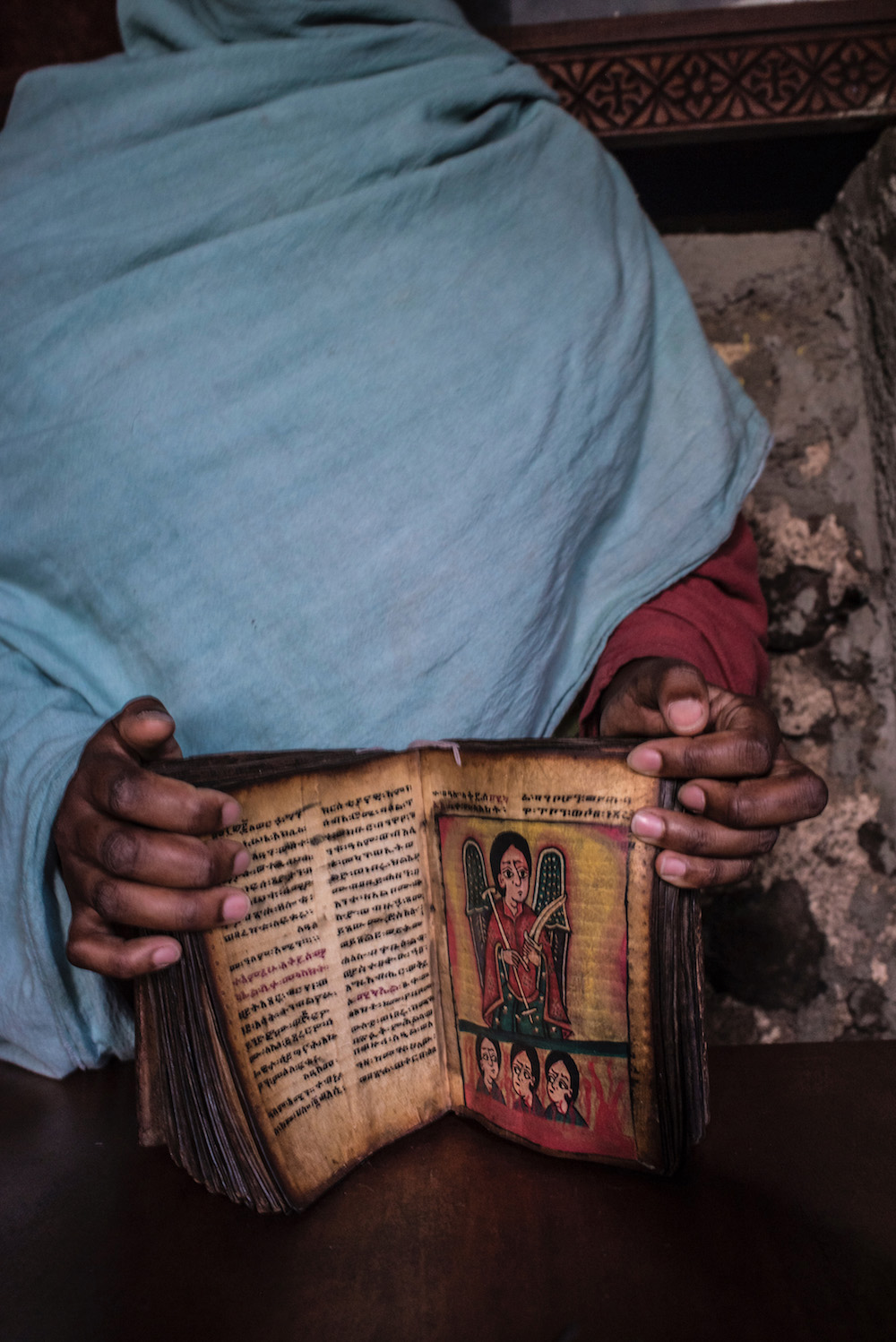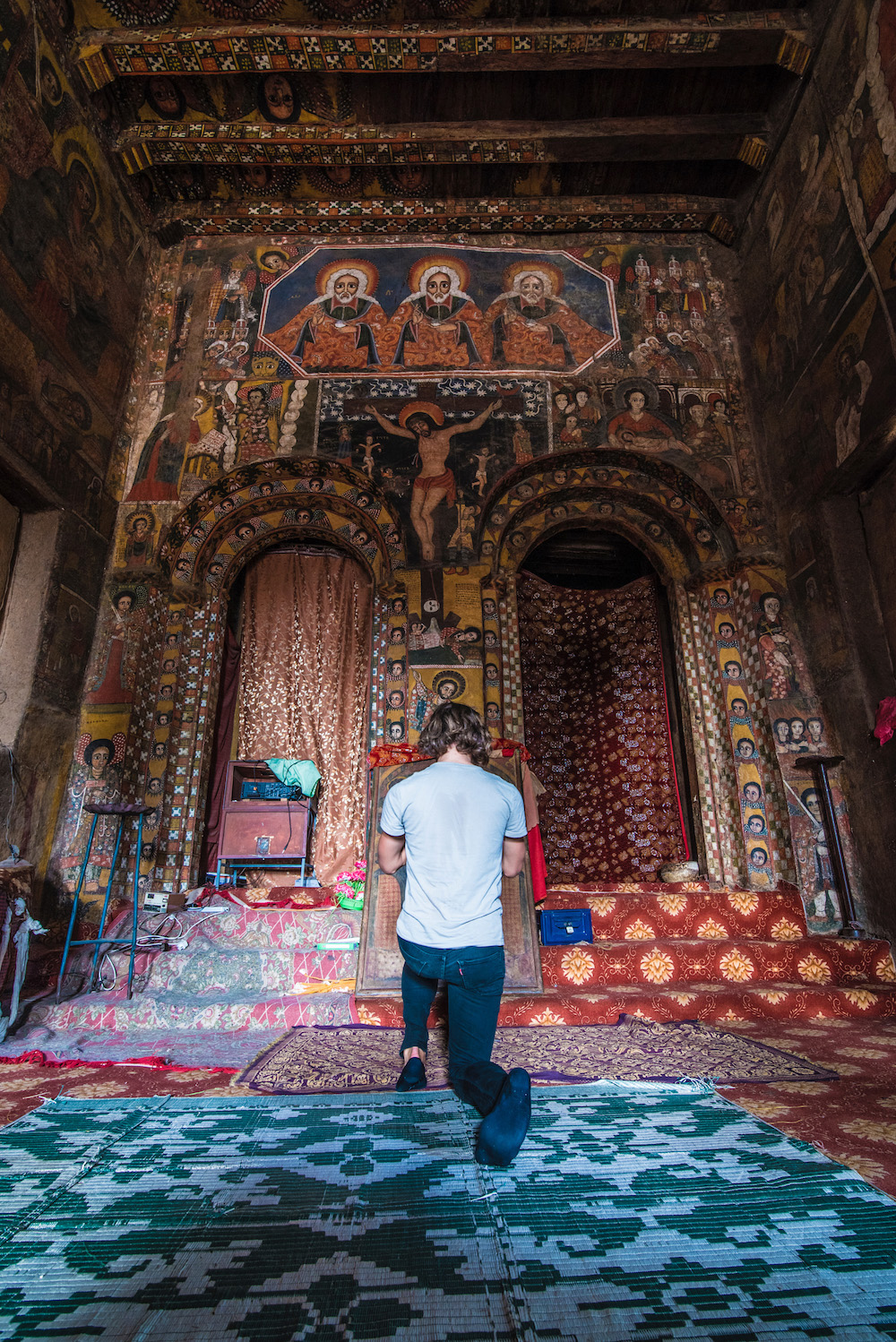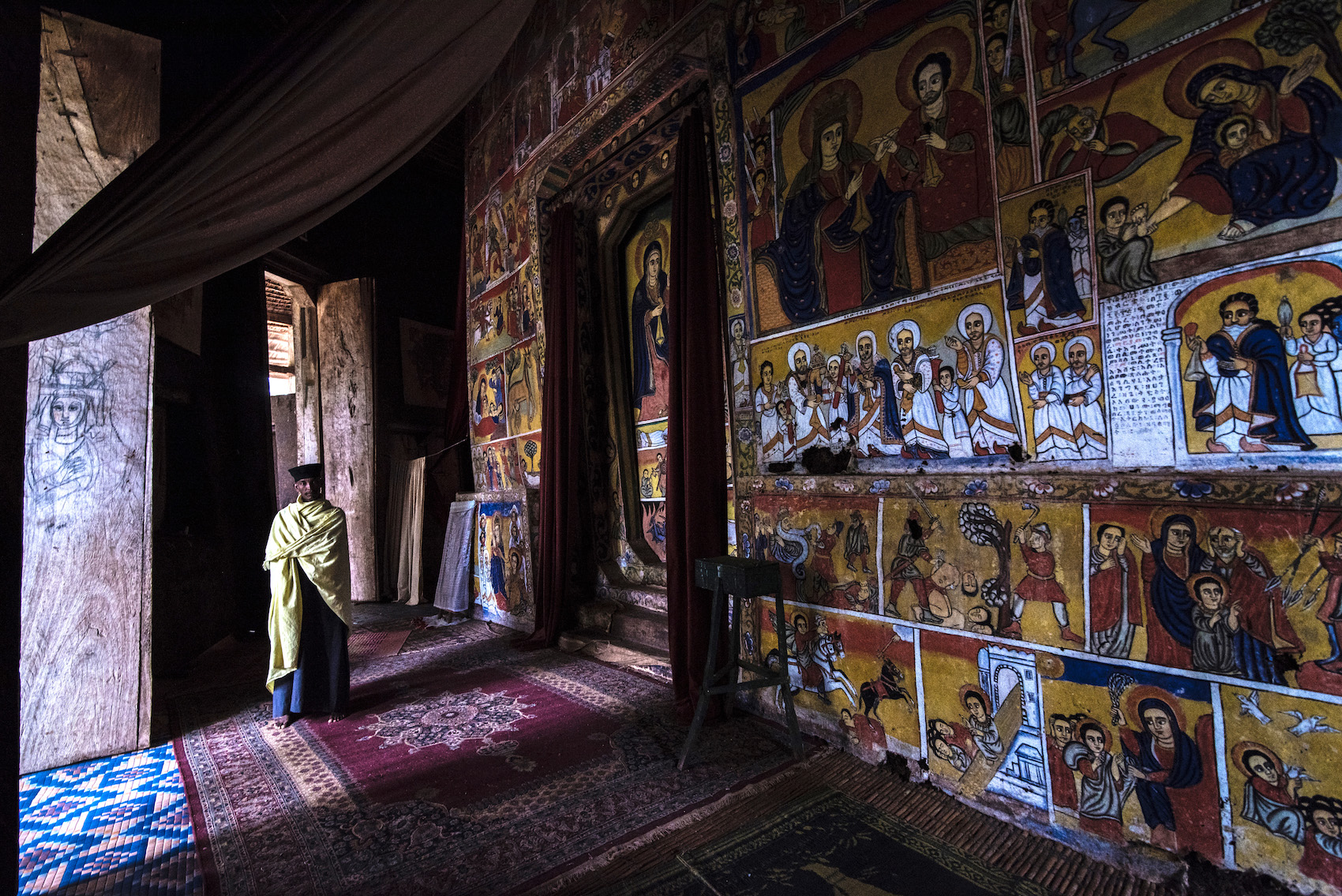 The other main attraction in the vicinity of Bahir Dar is Blue Nile Falls, which is only 35 km away, but takes about 4 hours roundtrip thanks to the condition of the road. To be honest, I would only consider the falls worth a trip if you visit just after the rainy season, when they'll be roaring, and if your Ethiopia 2 week itinerary isn't too packed otherwise. Spend between 1-2 days of your two weeks in Ethiopia in (and, mostly, around) Bahir Dar.
Gondar and the Semien Mountains
For me, Gondar is where my trip to Ethiopia really began. That's because while Gondar Castle is incredible, the city built up around it is very picturesque and has loads of character in its own right, to say nothing of secondary tourist attractions such as Debre Birhan Selassie church and Fasilides Bath, where ancient King Fasilides used to bathe, which are just as interesting as the castle.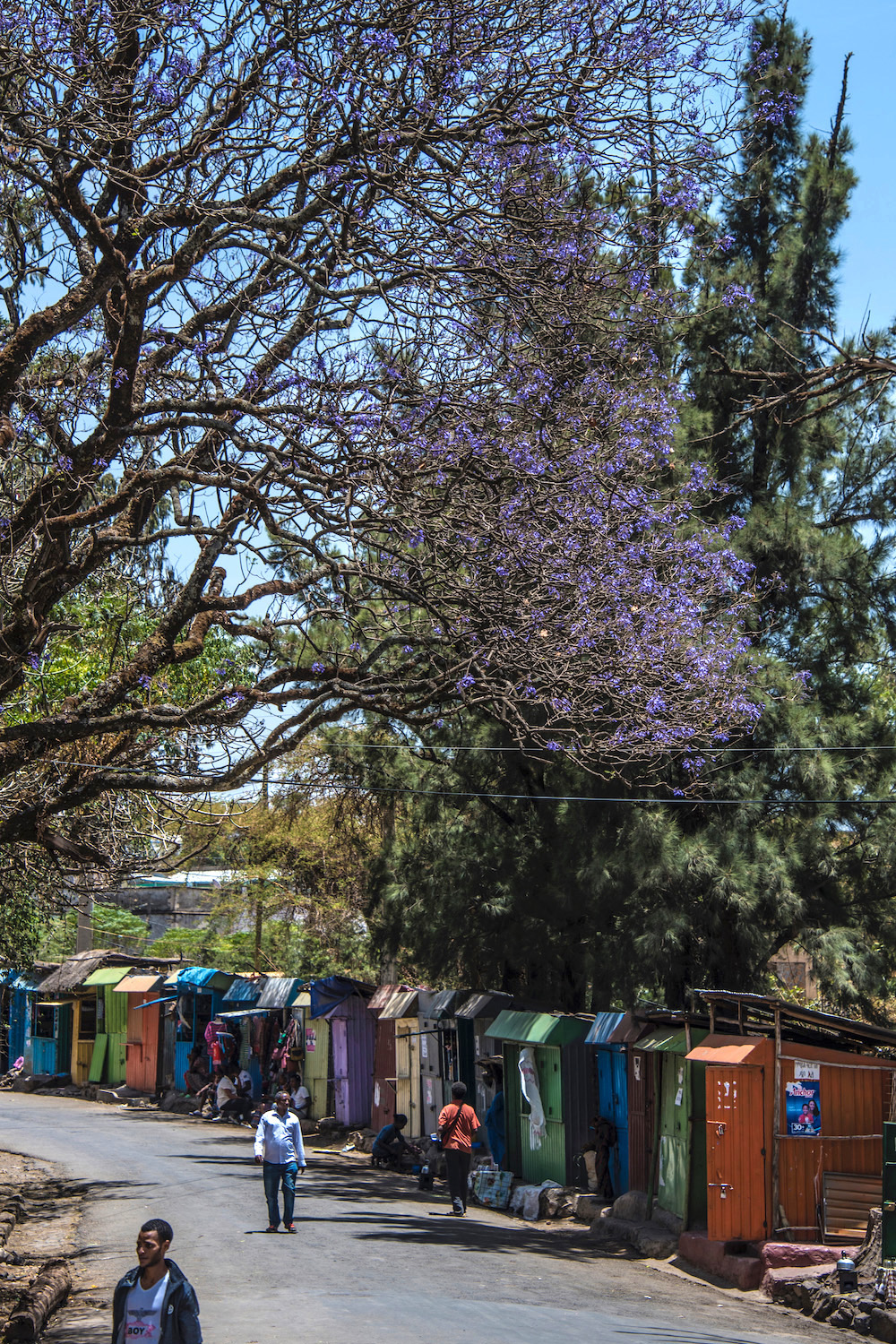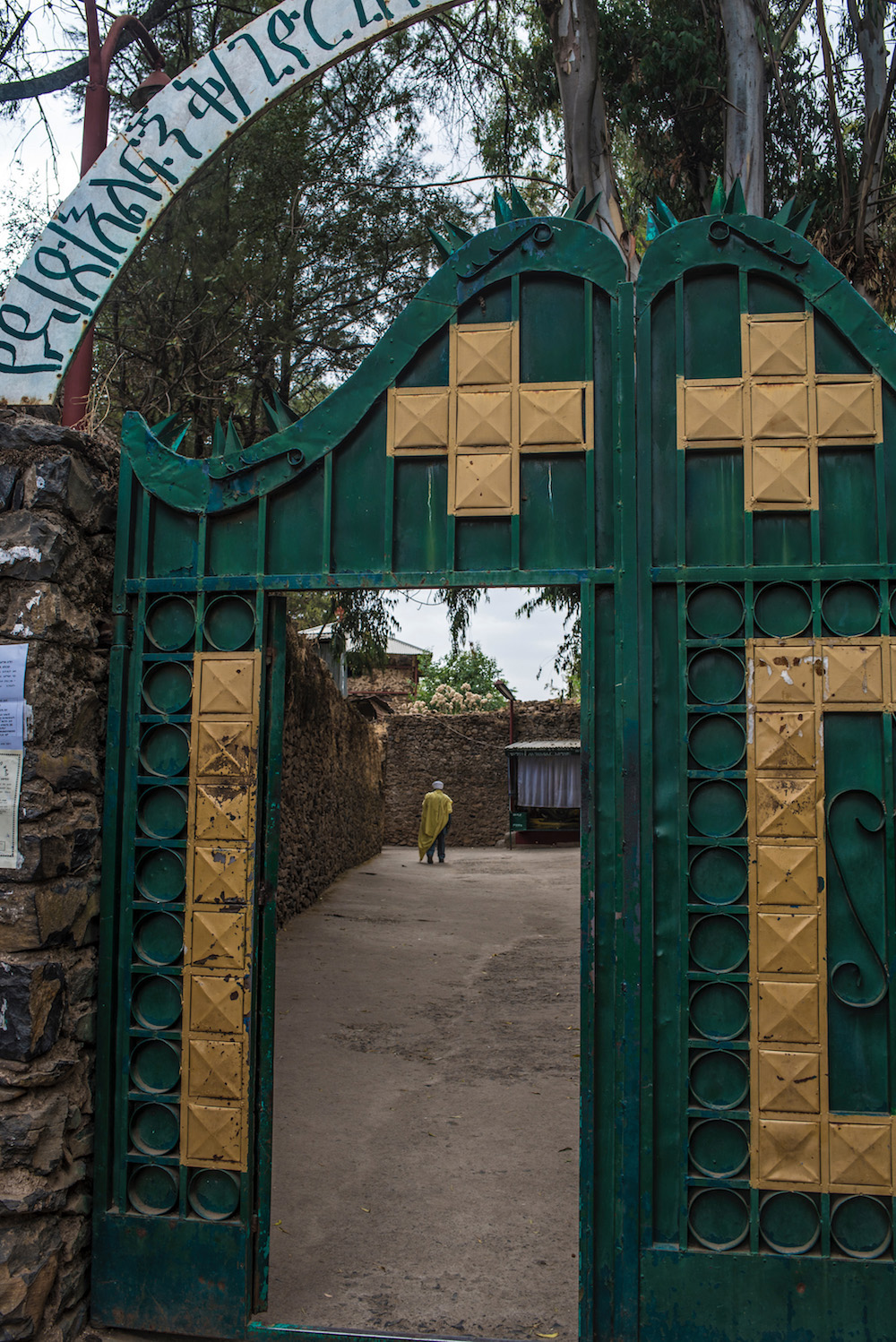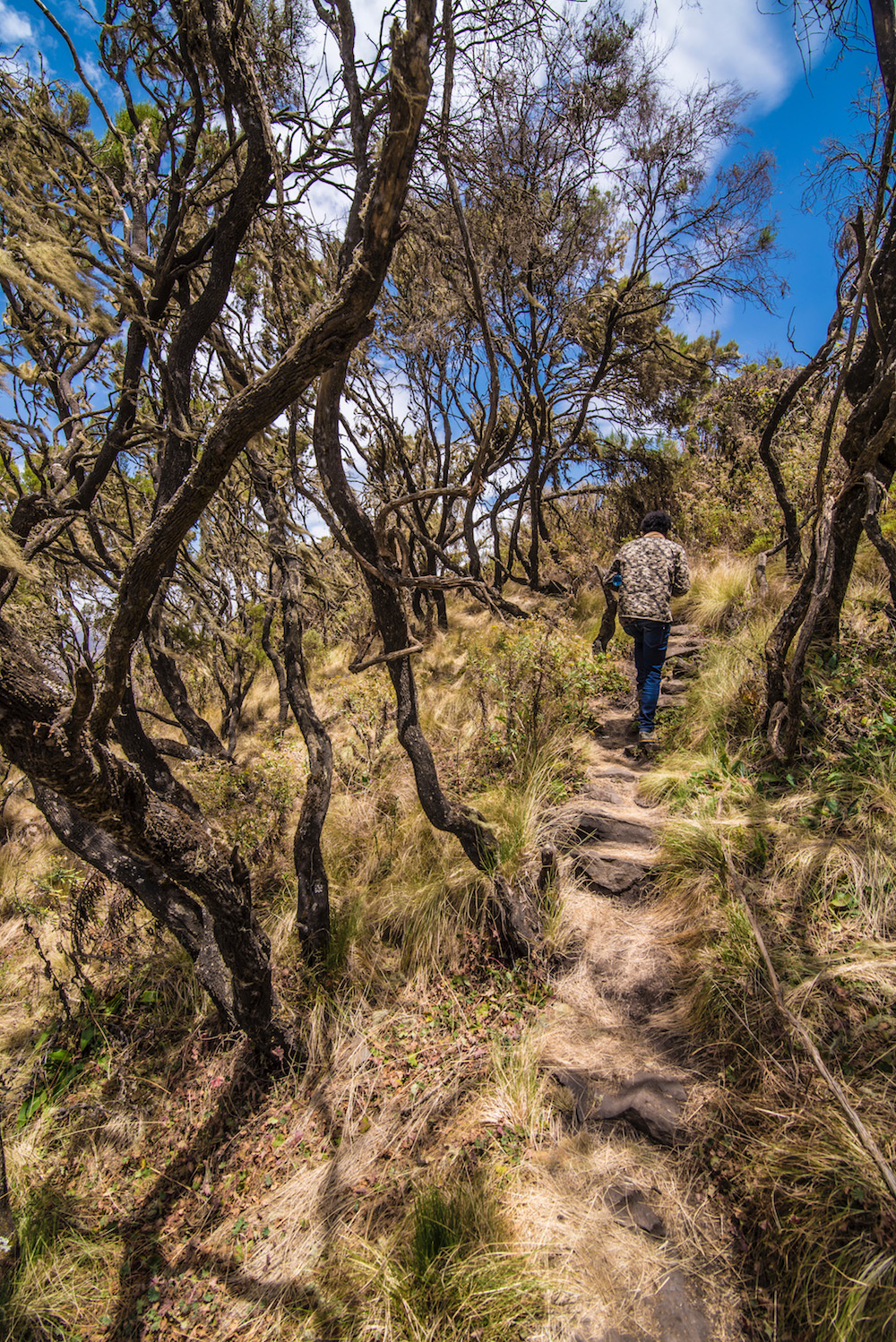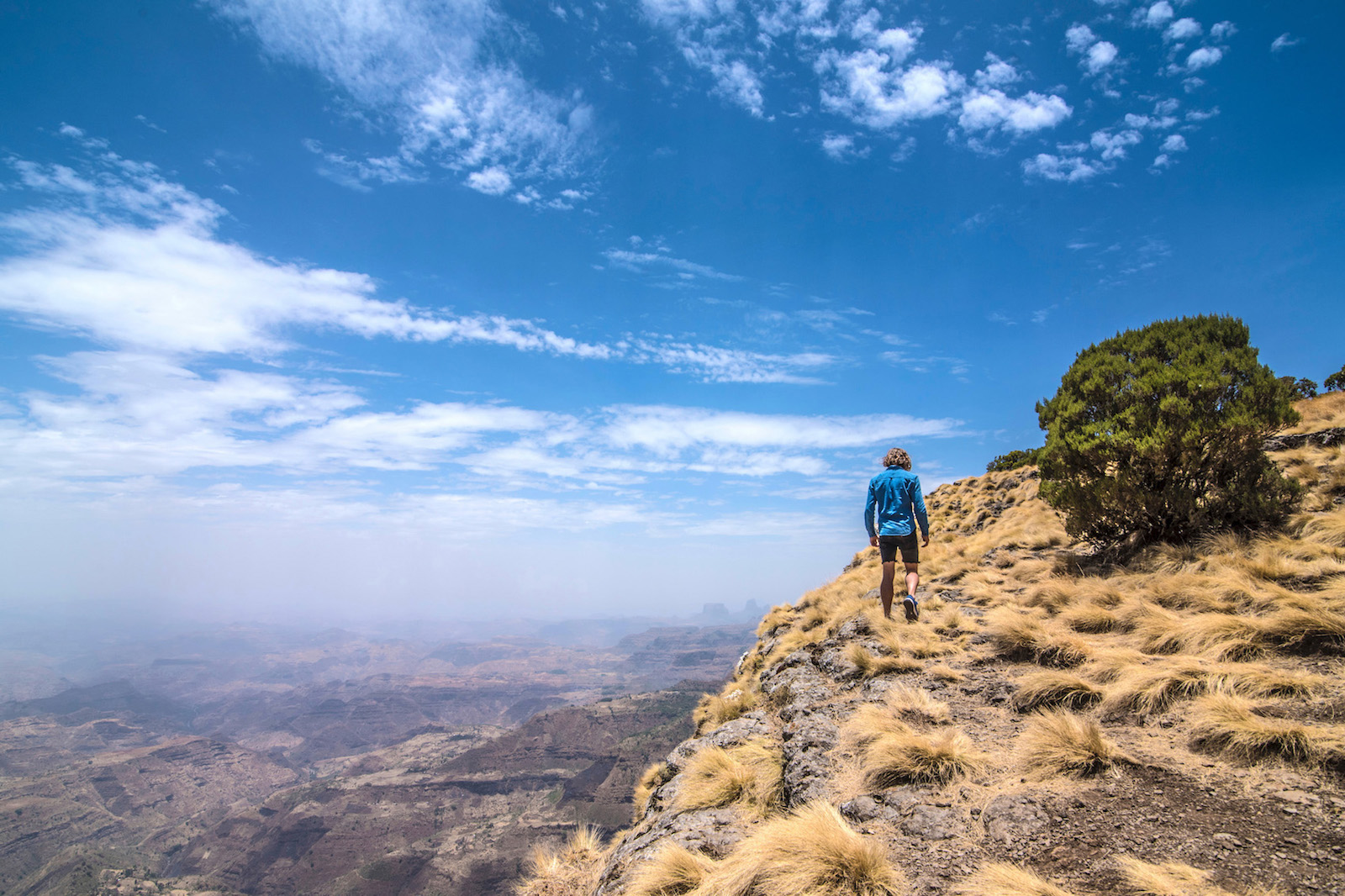 Gondar also sits in close proximity to the Semien Mountains—and touts on the streets of Gondar know that. If you haven't already booked a tour in advance (and, frankly, you don't need to), you can arrange trips that range from day excursions, to four-day, three-night trekking expeditions. Depending on how long you want to stay in the mountains, a key piece of Ethiopia travel advice is to spend between 3-5 days of your 2 weeks Ethiopia trip in Gondar.
Lalibela
Lalibela, on the other hand, was a huge disappointment. While the main attraction (the rock-hewn church of Bet Giyorgis) was amazing, and worth the price of the $50 ticket to enter the religious complex, the rest of the churches ranges from underwhelming to downright boring, and the town had zero character at all.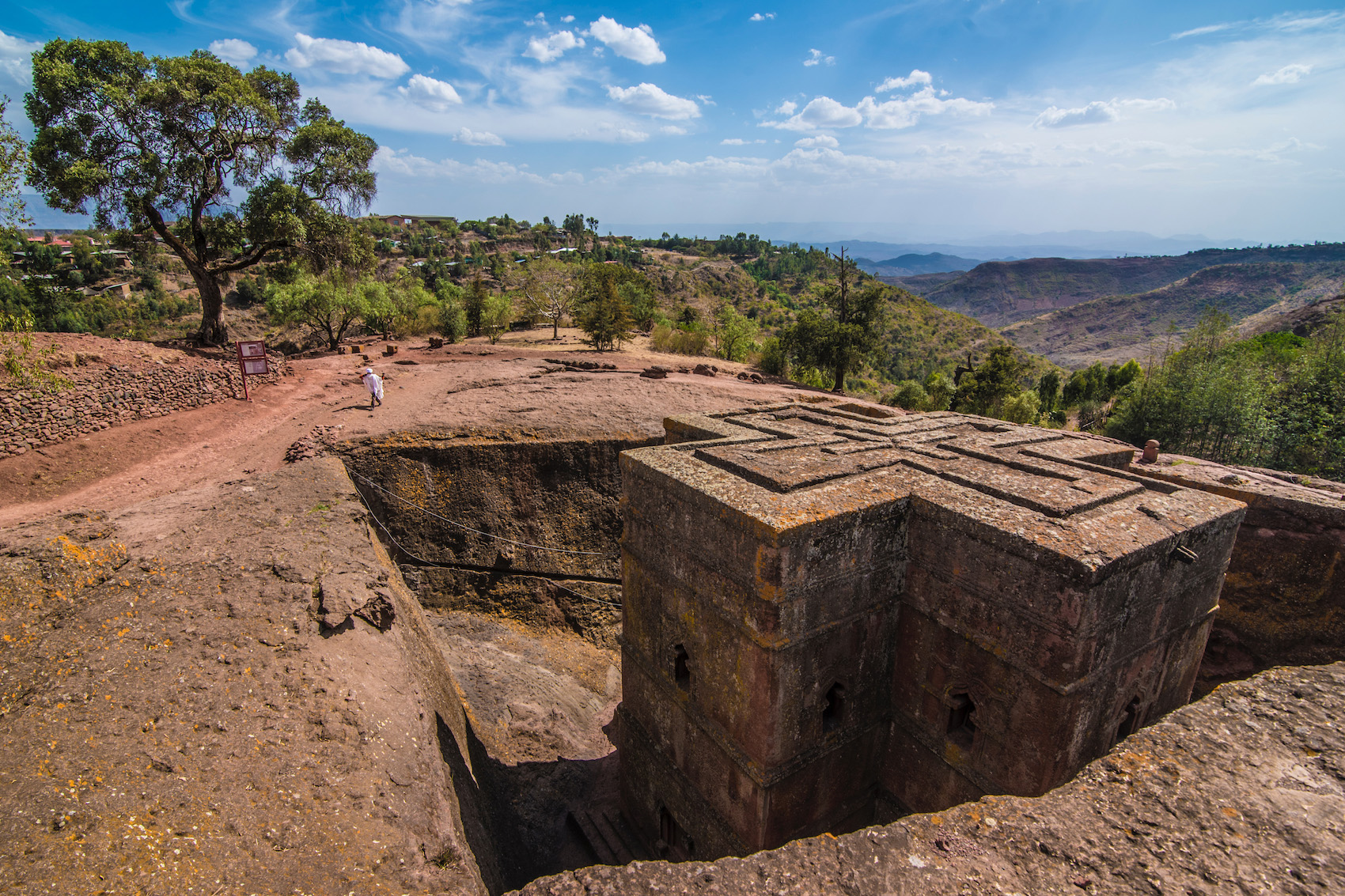 I honestly wouldn't recommend spending more than a full day of your 2 weeks in Ethiopia in Lalibela. And to be frank, if getting to Lalibela takes you too far out of the way, you wouldn't be any worse for skipping it (which I might actually recommend, unless you plan to travel with an Ethiopia itinerary 3 weeks or longer).
Axum and Tigray State
For my money, the ancient sites of Axum were more impressive than those in Lalibela, namely the Church of St. Mary of Zion and the Northern Stelae Field, which sit inside the city. The Palace of the Queen of Sheba required a bit of imagination to enjoy, while the hike to the Lioness of Godebra (an archeological site) was more interesting than the rock painting itself (until I got mugged by my school-aged guide, anyway).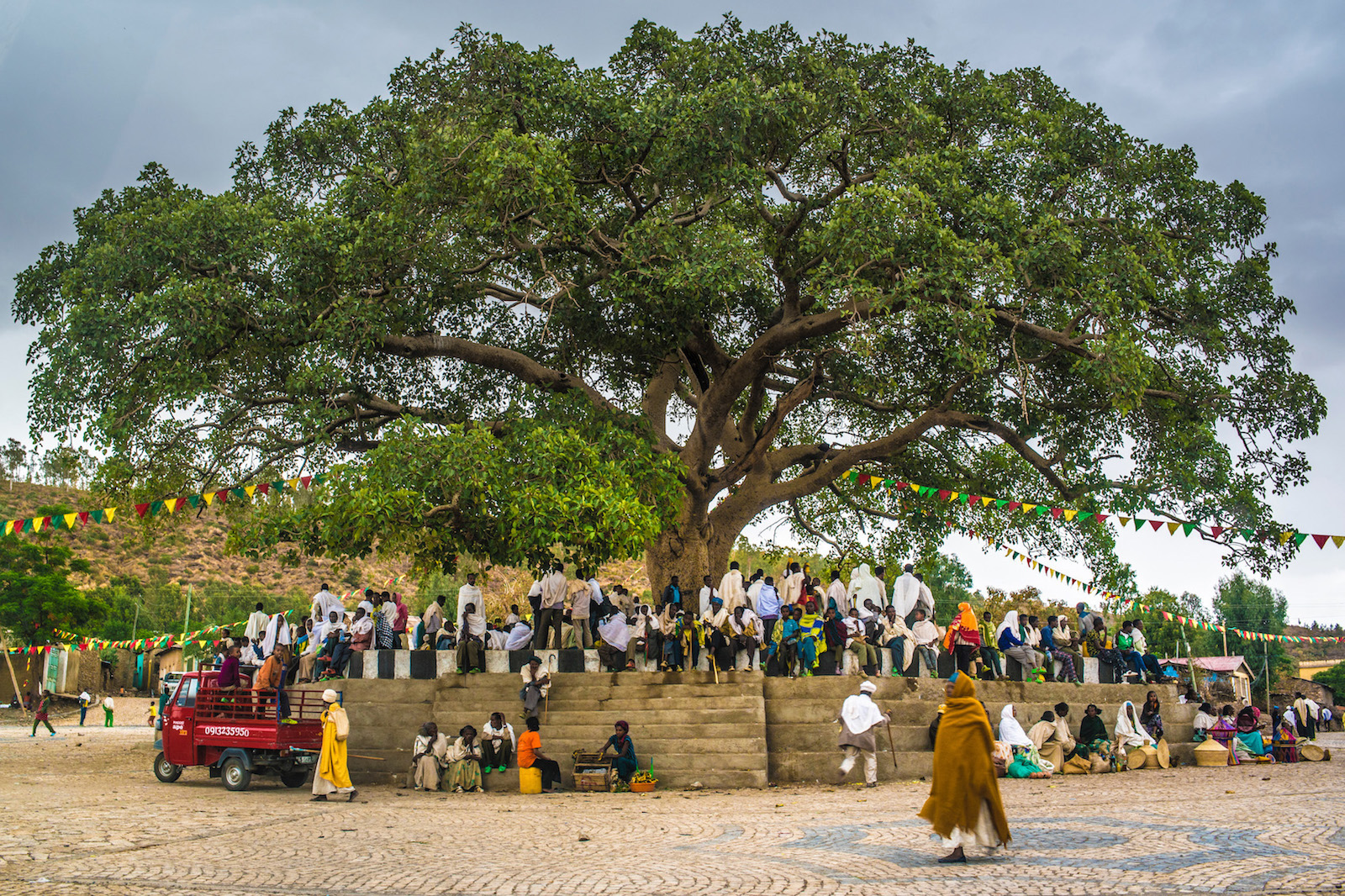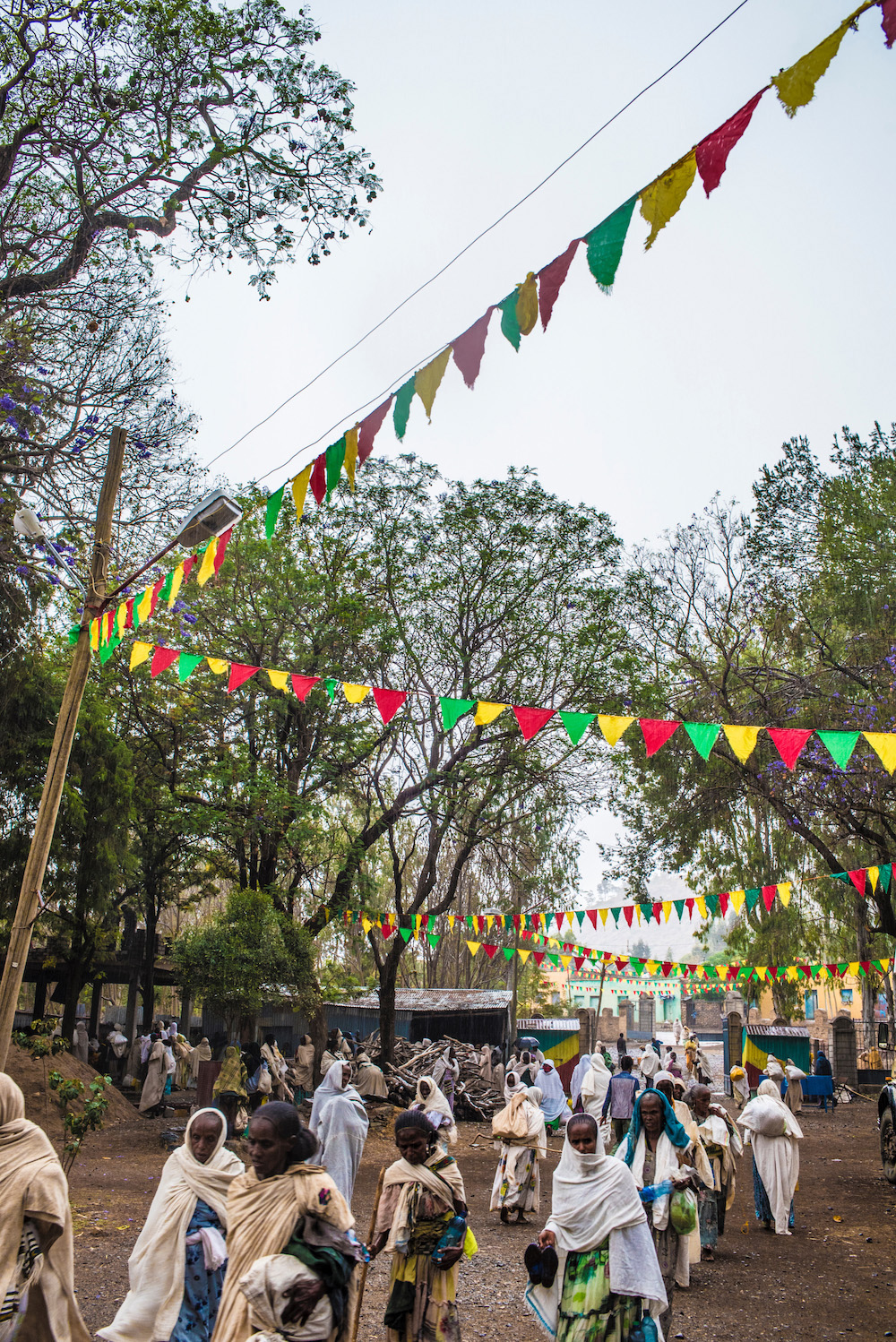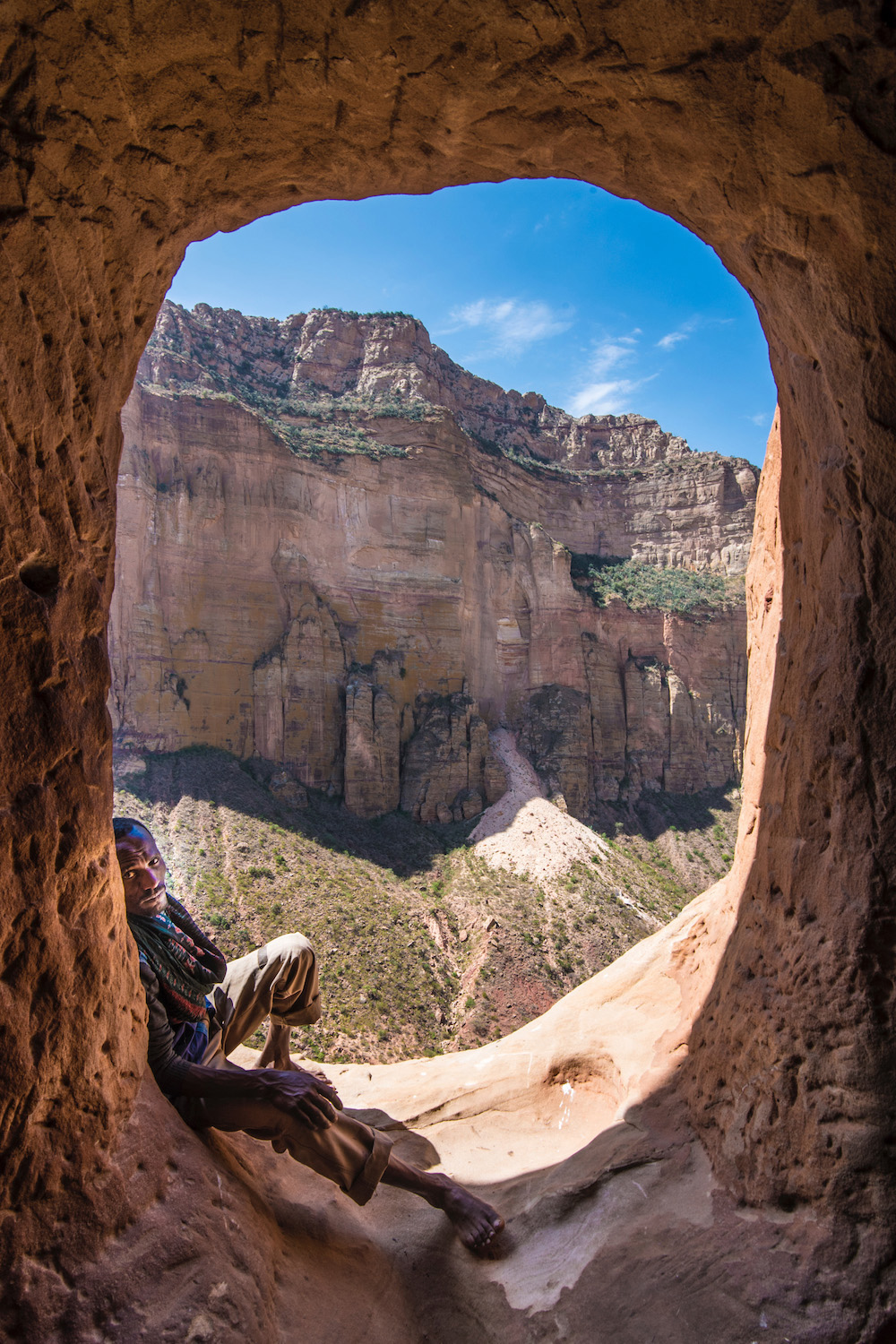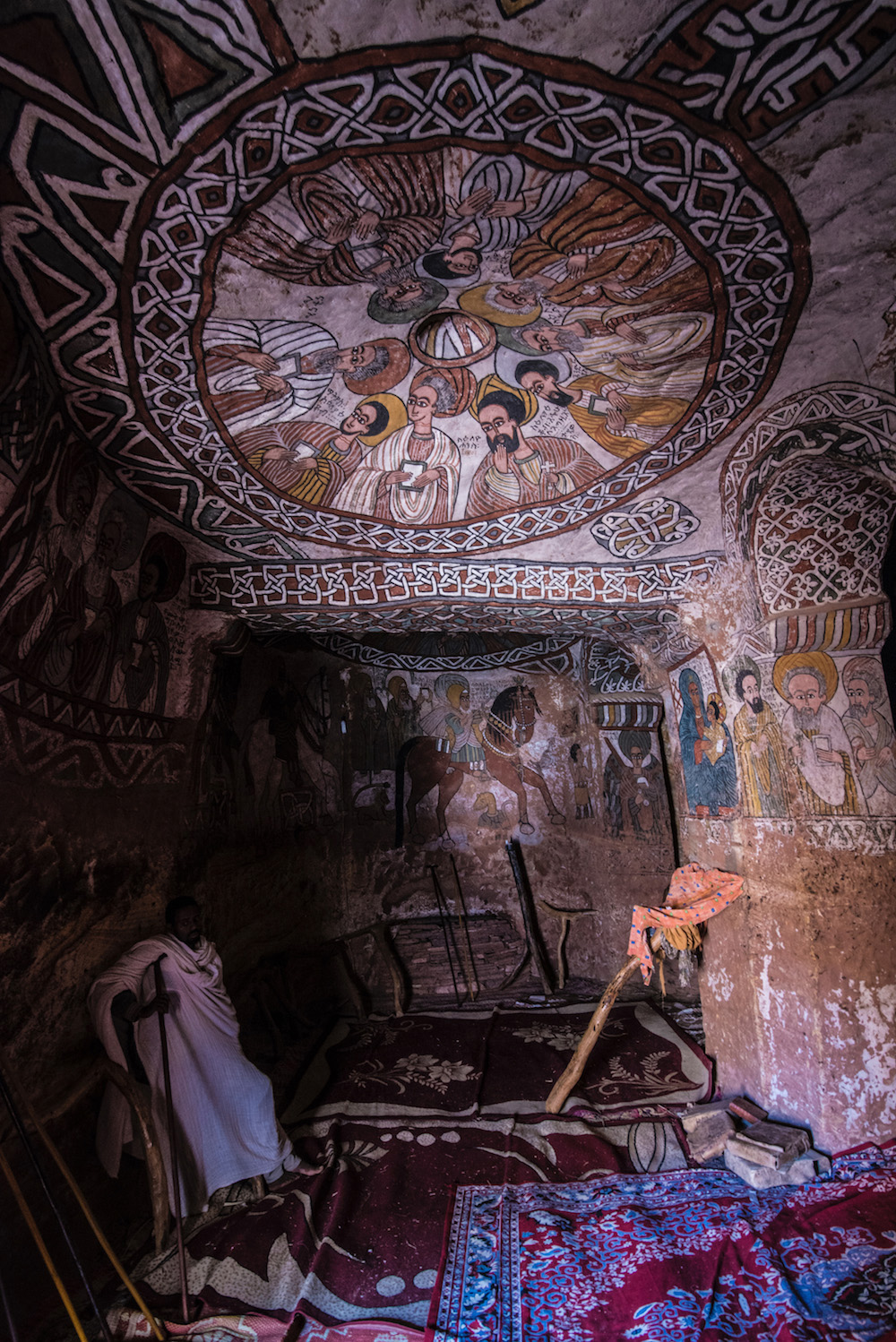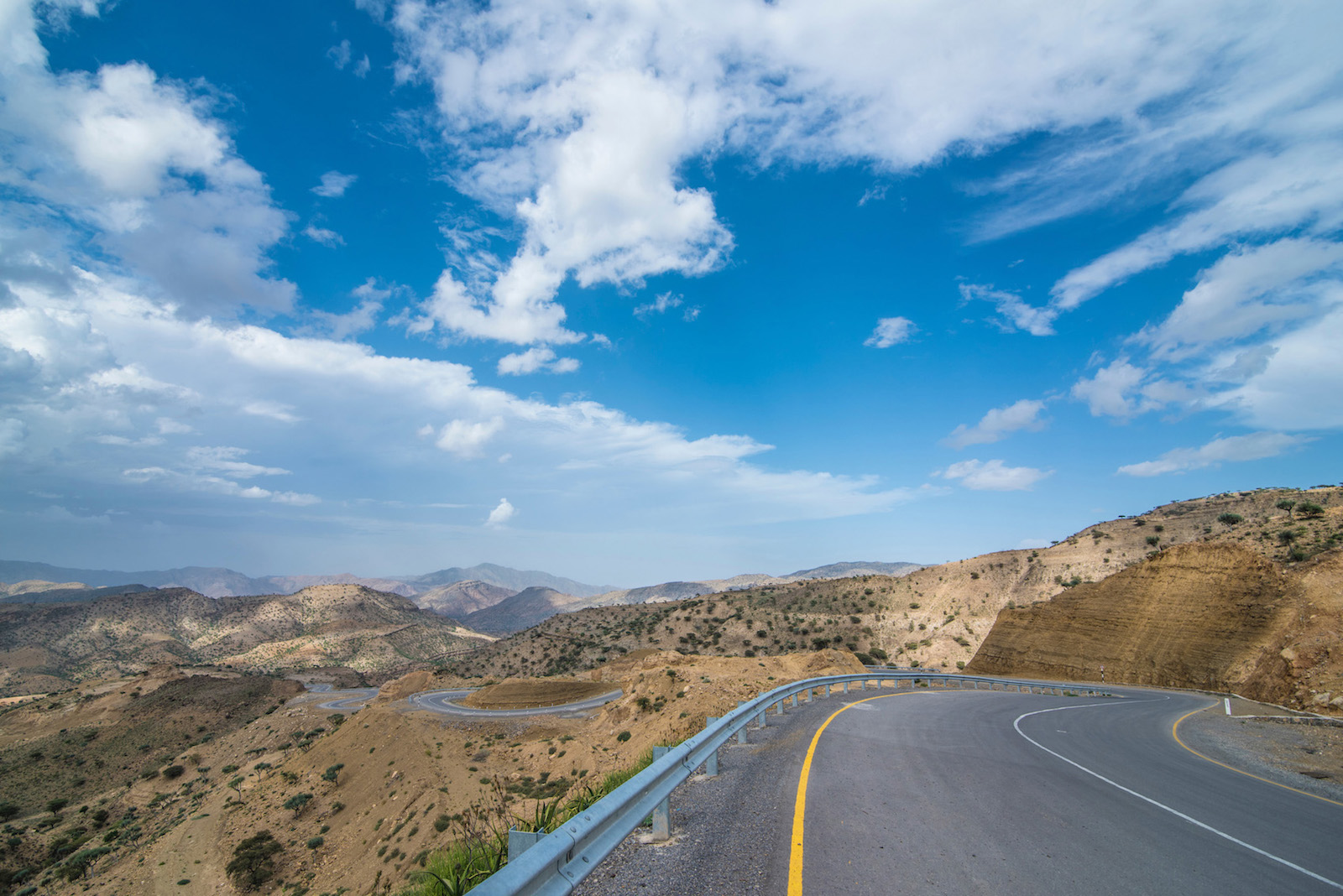 Where the Tigray region of Ethiopia really shines, however, is outside of Axum, on the way to the city of Mekele. Along this route, you'll find ancient churches that are literally built into cliffsides, many of which require daunting climbs to reach: Abuna Yemata Guh, Daniel Korkor and Maryam Korkor were my favorites. You'll need a driver and a guide to get you here, and while prices are uniformly expensive, you can negotiate with touts in Axum or Mekele to find the best rate. Travelers on most Ethiopia itineraries will really appreciate 2-3 days in the Tigray region of Ethiopia.
Danakil Depression
Like Vanessa Williams, I'm a big fan of saving the best for last, which is why I recommend you wait until the end of your Ethiopia itinerary to travel down into the Danakil Depression, home to the otherworldly Dallol sulfur field and Erta Ale volcano, among other extraterrestrial-looking landscapes. There's also a salt flat here, which is fitting since the closest cognate I can find for Danakil is Bolivia's Uyuni region.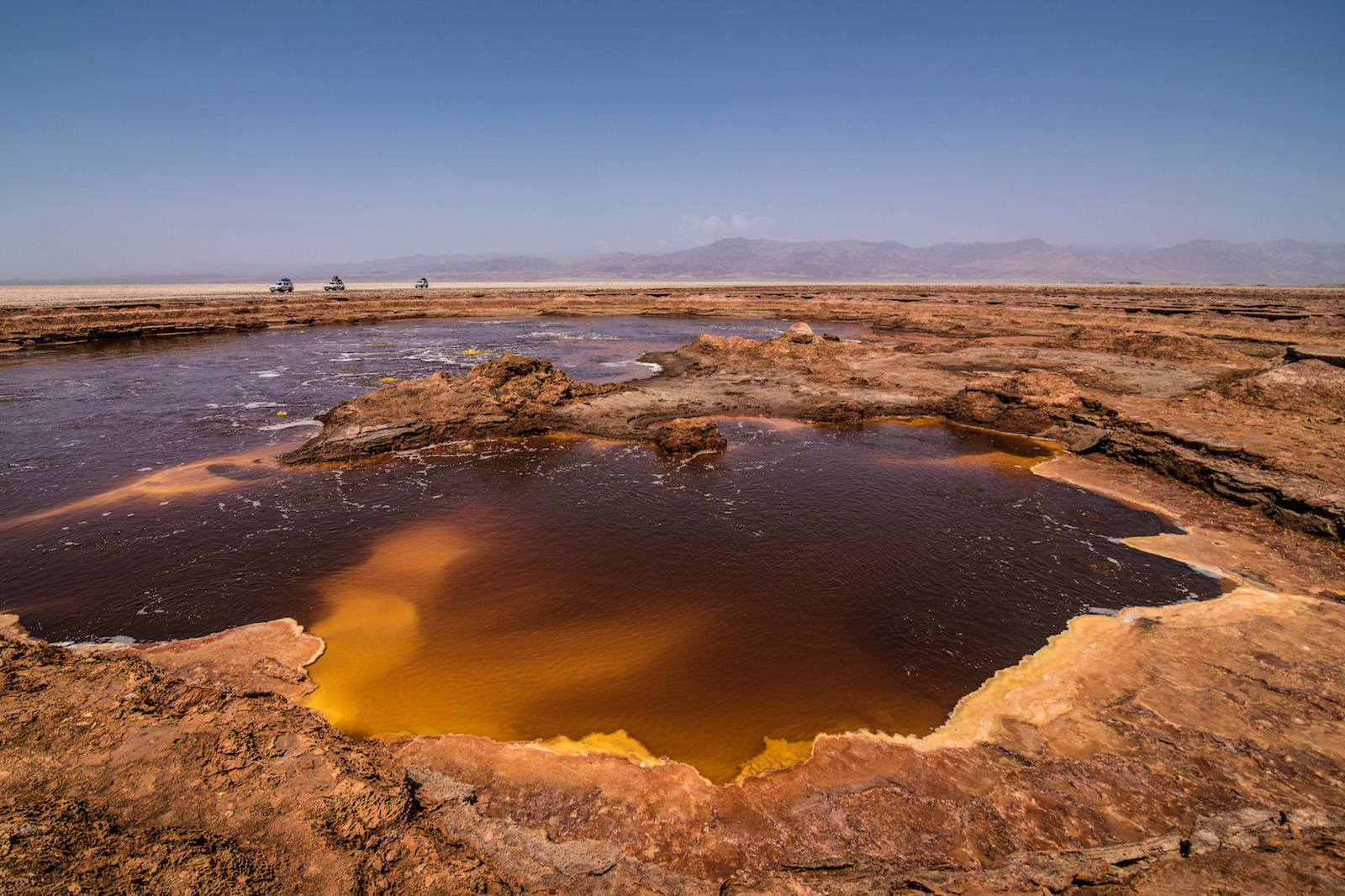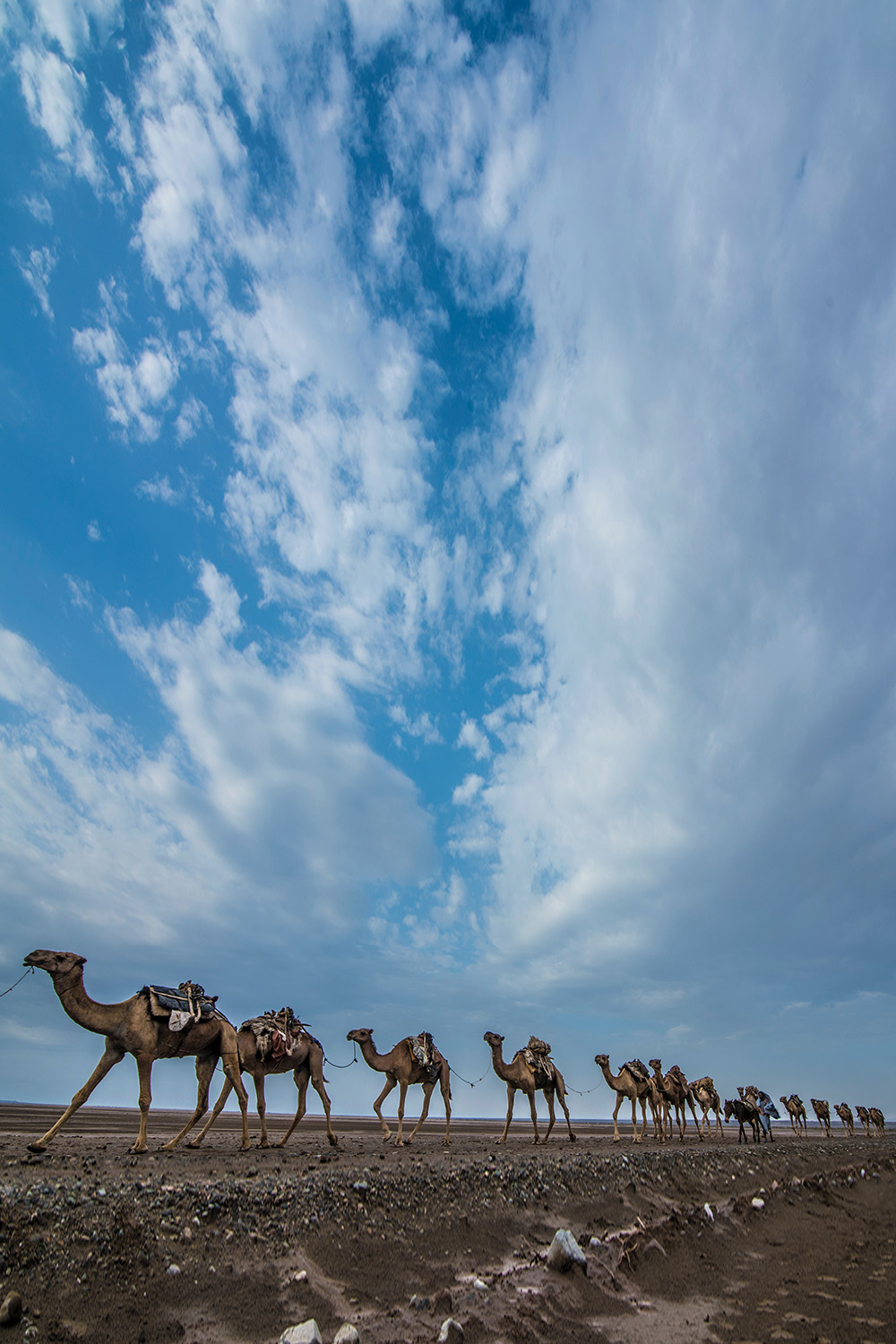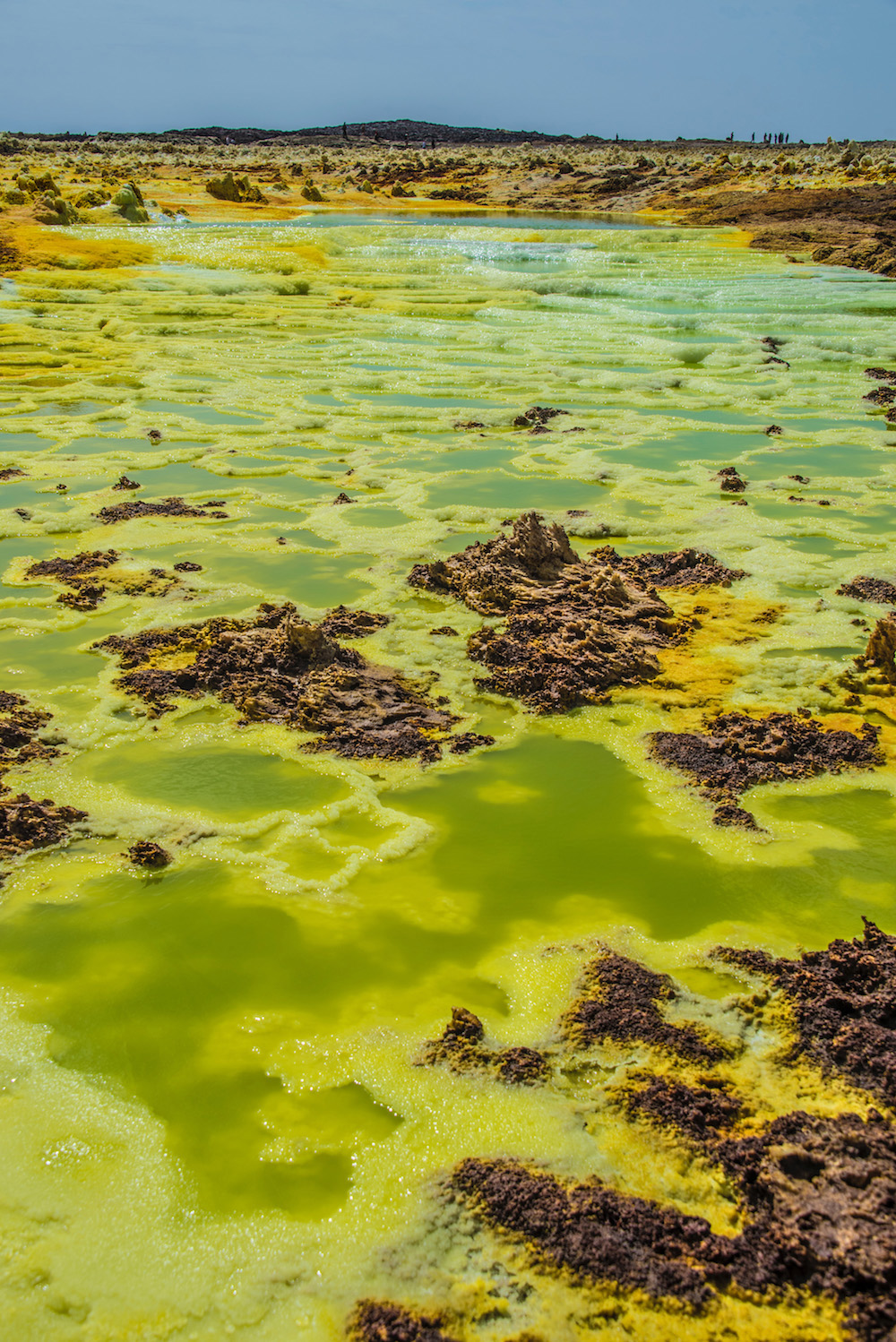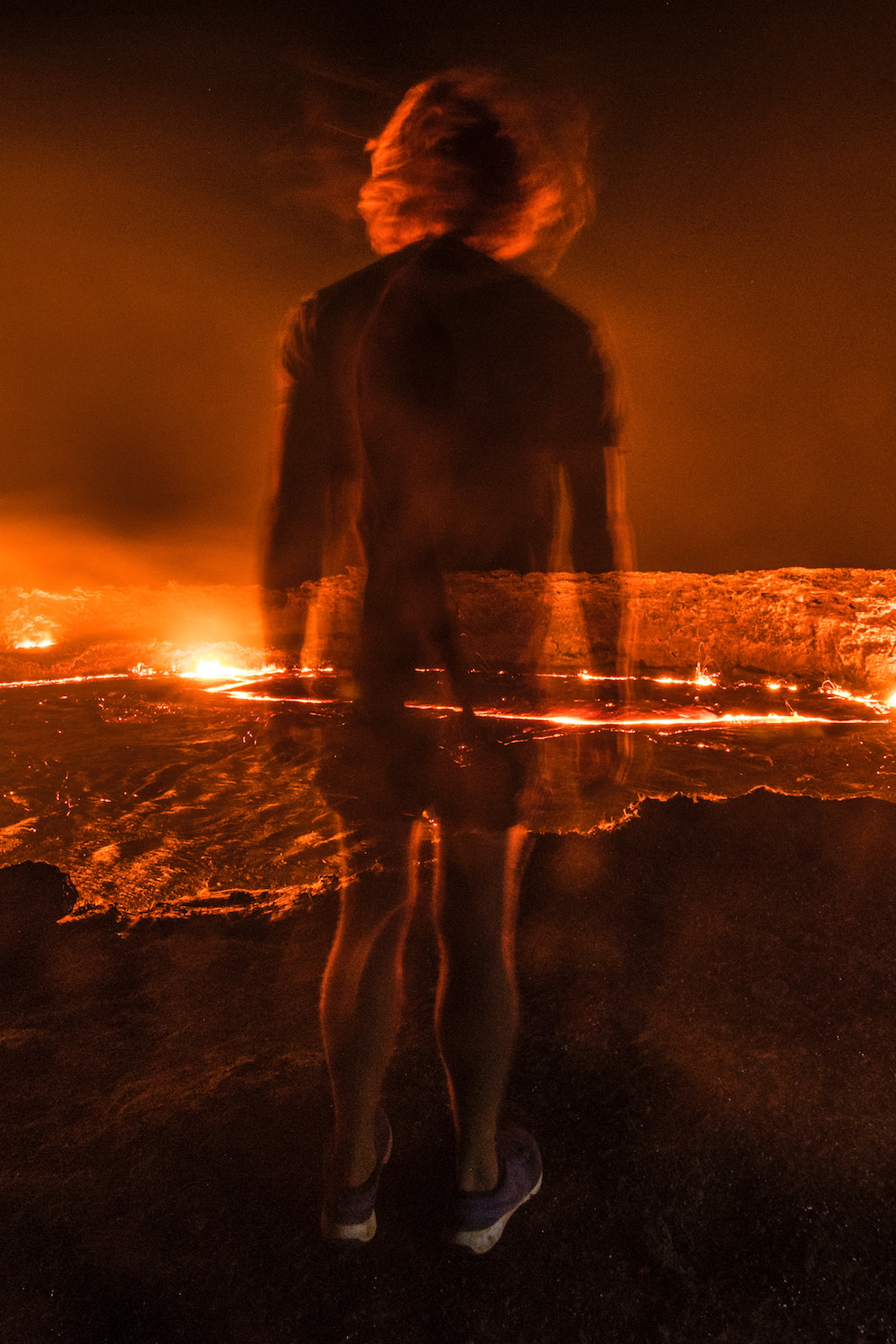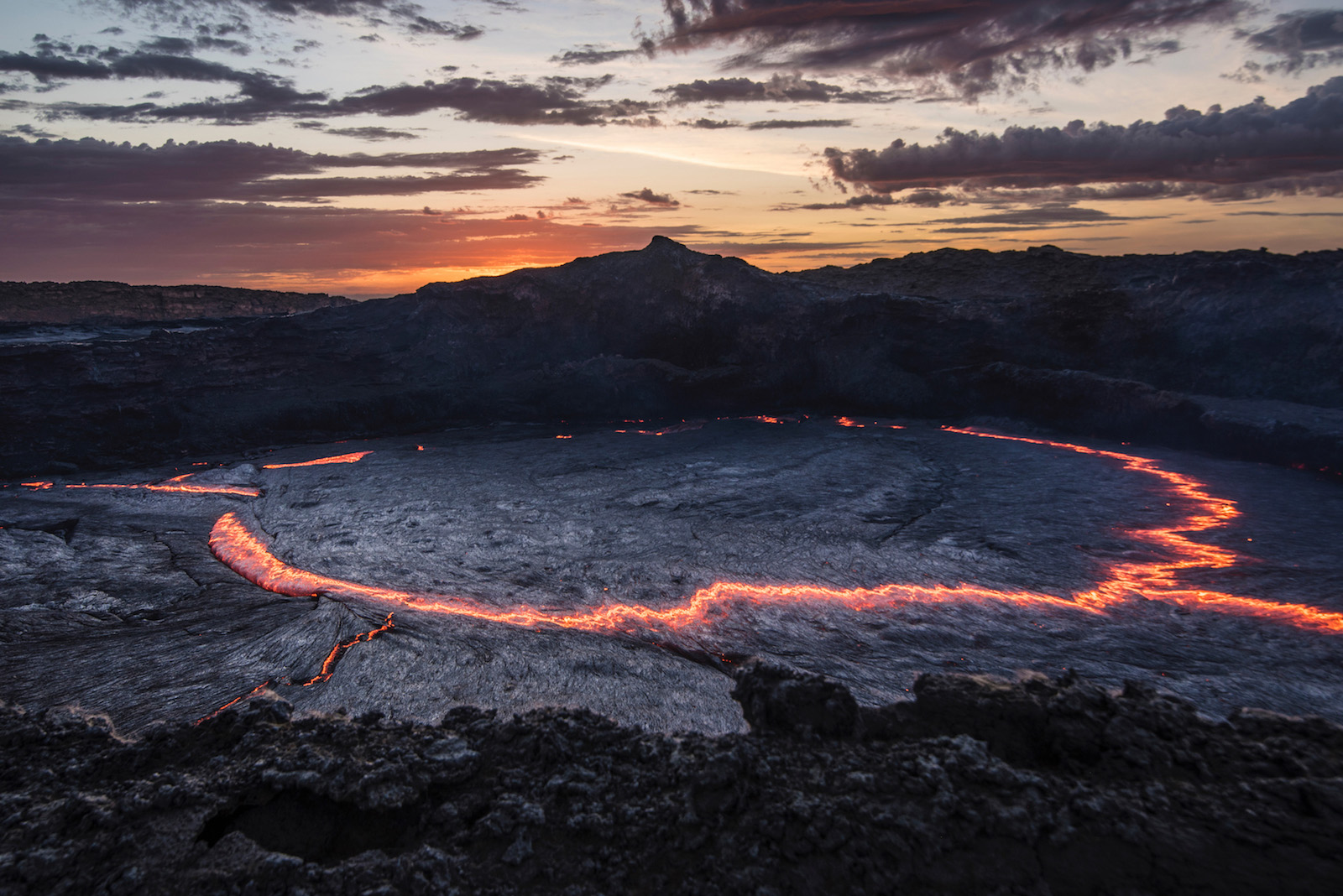 As is the case with the Semiens and the Tigray churches, you'll need a tour to see the Danakil Depression, but not just any tour: Danakil tours require a military escort, thanks to aggression from nearby Eritrea, which means—you guessed it—a very high price: Around $500-600 for four days. I used a company called ETT Tours, who seems to be the best option, and certainly the most popular.
How Long Should You Spend in Ethiopia?
As I constructed this Ethiopia itinerary, 2 weeks was the amount of time I had in mind. However, this is not ideal for all travelers. For one, this is only enough time (and barely enough time at that—I had to really move quickly through the country) to see the main attractions of northern Ethiopia. Had I wanted to include central and southern Ethiopia in my trip, I'd have needed a lot longer than I had.
On the other hand, if you want to take a shorter trip (let's say, one week in Ethiopia) this is reasonable if you pick and choose. For example, quickly get out of Addis, chose between Gondar and Lalibela (I recommend Gondar) and then fly up to Mekele to do a Danakil Depression tour. How long you spend in Ethiopia depends as much on the country as it does on you.
Does Ethiopia Live Up to the Hype?
I can't lie: During my exciting 2 weeks, Ethiopia also frustrated and exhausted me, much more often than I now care to admit. From scams I've written about in Ethiopia travel blog posts here, to my food poisoning experience in Lalibela, to the fact that my tour group nearly didn't make it to Erta Ale because of poor planning on the part of the organizer, Ethiopia wasn't as much fun in real-time as my beautiful photos might suggest.
With this being said, Ethiopia is an incredible, beautiful country—there's literally nowhere else like it in the world! Whether you closely follow my Ethiopia travel itinerary or take a trip that's entirely your own, the uniqueness of the experiences you can have and the people you will meet more than counteract the stress you feel, even if some of the redemption you feel might occur weeks, months or even years after you return home from your trip.
Other FAQ About Travel to Ethiopia
Is Ethiopia dangerous to visit?
Ethiopia is safe in normal times, but armed conflicts in the Tigray region of the country throughout the early 2020s make this region dangerous to visit, assuming you can get into the country amid the ongoing coronavirus pandemic. I'd recommend reaching out to your country's embassy in Addis Ababa before booking travel for specific safety-related guidance about visiting Ethiopia.
Is Ethiopia expensive for tourists?
Ethiopia is more expensive than you're expensive, but cheaper than most other African countries, where expensive safaris and organized tours are the only realistic way to travel. It's possible to travel in Ethiopia for around 100 USD per person, per day, not including the cost of flights to and from the country.
What should I know before going to Ethiopia?
You should know that while Ethiopia is far (and increasingly) removed from the stereotypes you probably have about it, it remains a developing country, and faces many challenges therein. In particular, scams are common in Ethiopia; local people may pursue you aggressively, even if you politely decline to befriend or speak with them. This doesn't mean you should be rude or unfriendly, but that you should be alert and aware as you travel.
The Bottom Line
This northern Ethiopia itinerary condenses all the most essential Ethiopia travel experiences into an easy-to-follow plan. Alternatively, if standing at the Door to Hell or traipsing through the so-called "Camelot of Ethiopia" isn't exotic enough, you can use it as the starting point for an even more epic trip. The answer to "Is Ethiopia worth visiting?" is an obvious "Yes," but how you make the long flight to Addis Ababa worthwhile is completely up to you. Indeed, even if you don't precisely follow my itinerary, Ethiopia starts here.