When I arrived in the Vietnamese capital of Hanoi, it was following nearly a month traveling up Vietnam's coastline by bus, about a week of which was spent exploring the capital and nearby Cat Ba Island, an alternate gateway to the iconic Ha Long Bay UNESCO World Heritage — I was ready to travel to Laos, my next destination.
Unfortunately, fares both travel agents and air carriers were quoting me for travel to Laos by plane were outside the very local budget to which I had become accustomed. Although myself and my two travel partners were fed up with overland travel in Southeast Asia — as I mentioned, we traversed the entire Vietnamese coastline by bus — we decided to travel to Laos from Vietnam by land.
Whether your primary goal is to partake in an ultra-local experience or simply to avoid exorbitant airfares, travel to Laos from Vietnam overland — but don't expect a quick or particular comfortable journey.
Laos Visa in Hanoi
Although certain Lao border crossings (including the one I'm about to recommend you use in this article) officially offer Laos visas on arrival, immigration authorities have been known to deny backpackers who travel to Laos this privilege both with and without reason. To avoid any unnecessary travel delays, obtain your Laos visa in advance from the Lao Embassy in Hanoi. It is important to remember when booking a Hanoi hotel that you research local consulates near you for easy access.
The Lao embassy is located in Hanoi's Hai Ba Trung district, adjacent to Thong Nat Park and Ho Thien Quang Lake — and, most importantly a short walk from the Old Quarter, home to the Hanoi's main backpacker strip. Consult this map or ask your hotel or hostel's front desk staff to direct you to the Lao embassy in Hanoi.
Before you set off to the Lao embassy, make sure your passport has at least two blank visa pages and six months remaining validity. If you don't have any on hand, get a passport picture taken at any of the studios in the Old Quarter and purchase two copies to take with you.
Laos visa fees vary depending on your nationality, your desired length of stay and the number of entries the visa allows. Consult this list, or simply have your hotel or hostel's staff call the embassy at 4-9424576 to confirm the amount for you. Regardless of how much you end up owing, you must pay the visa fee in US dollars, so exchange some dong in advance.
When you arrive at the Lao embassy — make sure and do so on a weekday before noon if you want processing to begin on the same day — the attendant will look over your materials to make sure everything is in order, then present you with an application to fill out. Once you've submitted everything, the process can officially take up to five business days, but usually takes less. We submitted our materials Tuesday morning and were instructed to return Thursday after lunch to pick up our passports. Make sure and apply for your Laos visa in Hanoi at least five days prior to travel to Laos to be on the safe side.
Train or Bus to Sapa
The first step of travel to Laos from Hanoi is getting to the town of Sapa, a hill station famous for its rice terraces and cool (for Vietnam) climate. Although several tour companies offer direct buses from Hanoi to Sapa, a far more comfortable way is to take an overnight train from the capital to the town of Lao Cai, then taking a minibus the 40 kilometers between Lao Cai and Sapa.
As of June 2011 there are four overnight trains from Hanoi to Sapa, departing at 8:35, 9:10, 9:50 and 10:00 p.m. No matter which departure you take, the journey from Hanoi to Sapa takes just under nine hours, placing you in Lao Cai very early in the morning. I recommend getting a hard (290,000 dong) or soft (380,000 dong) sleeper, primarily because my cheap friends and I made the mistake of purchasing "soft" seats for 170,000 dong — definitely not worth the 120,000 dong (or about $6) we saved. Check out incredible rail resource Seat 61's "Train Travel in Vietnam" page for all information pertaining to rail travel in Vietnam.
The tourist bus to Sapa is unmistakable — it's essentially your only onward option from Lao Cai — and costs around 40,000 dong per person. In spite of the abject darkness in which you travel and the relatively poor roads (which provide admittedly amazing views of the Sapa region's iconic rice terraces), the journey is among the quickest legs of your travel to Laos, taking just under an hour.
Once you arrive in Sapa you have two choices: Stay and enjoy a couple days there or travel to Laos immediately. Amber, Kale and I chose the latter option primarily because it was cold (again, for Vietnam) and rainy in Sapa and we lacked the clothing to deal with either extreme.
Outbound buses from Sapa don't leave until after 8 a.m., so even if you plan to travel to Laos immediately like I did, pop in to any of the local restaurants near the station and enjoy a hot bowl of phở to start your day.
Bus to Điện Biên Phủ
The next step in your travel to Laos is to take a bus to the Vietnamese city of Điện Biên Phủ, the site of a famous battle in the first Indochina War and the closest Vietnamese city to the Lao frontier. There is no proper bus stand in Sapa, so ask locals where you can catch the "bus," which is actually a minivan of sorts. The price for the journey is officially about 80,000 dong per person, although you may be able to negotiate a lower rate with the driver when you board.
Although the journey looks short on the map — and indeed, distance-wise, it's just over 100 kilometers — getting from Sapa to Điện Biên Phủ will take you until at least sunset. Thankfully, the breathtaking mountain scenery you encounter is more than worth the sore limbs and perpetual sweating you experience along the way. Enjoy the ramshackle dirt roads rather than fearing them. The massive tourist highways you see being built around you will soon replace them entirely, eliminating the possibility of having this decidedly local experience during future bus travel to Laos.
In spite of the beauty you encounter on your journey, its length necessitates an overnight stay. Unless you're a military history buff, I wouldn't recommend spending much time in DBP. Thankfully, there are several cheap and good hotels a literal stone's throw from the station where the minibus drops you — which incidentally, is exactly where you need to turn up early the next morning to continue your travel to Laos.
Điện Biên Phủ to the Lao Frontier and Muang Khua, Laos
And I do mean early — 5:00 a.m., to be specific. Buses to Muang Khua, the Lao town closest to the border, officially leave at 5:30, but seats are limited, so it's a good idea to show up well in advance of this time if you don't want to get stuck in Điện Biên Phủ. Ticket prices were around 80,000 dong per person in August 2010, although I do hear they can be higher or lower depending on what time of year you travel to Laos.
Having some dong or U.S. dollars on hand for when you arrive at the border, even if you got your visa in advance: Lao authorities collect a processing fee totalling 4,000 kip (about 10,000 dong or under $1) for every traveler who passes. Although they have a reputation of taking their time, authorities shouldn't give you any trouble if you pre-sorted your visa prior to travel to Laos.
As is the case with the bus from Sapa to DPB, travel into Laos requires much more time than its map distance would suggest, although the scenery is just as breathtaking.
This is particularly the case when you arrive at  Muang Kha. In order to reach the tiny town's center, it's necessary to take a terrifying-cum-exhilirating longboat trip across the angry river that runs between the bus drop-off point and the main population area.
Bus to Luang Prabang
The vast majority of travelers who travel to Laos are eventually headed toward the northern tourist hub of Luang Prabang. After spending a day or two in Muang Khua, take a tuk-tuk to the town's new bus station and purchase a ticket on any of the many daily minibuses to the Lao city of Oudomxay, with tickets running about 40,ooo kip per person. If you catch an early enough one, you can catch the last daily departure (which leaves at 6:30 p.m.) to Luang Prabang, placing you there around midnight.
If you do attempt to make the last bus from Oudomxay, make sure you've pre-booked accommodation in Luang Prabang.  Late-night arrivals in tourist trail towns in Southeast Asia often result in you getting ripped off. You may even wind up homeless for your first night of travel to Laos if you're extremely unlucky!
Is It Worthwhile to Travel to Laos by Bus?
In order to determine whether overland travel to Laos from Vietnam is worth the time and trouble, you need to know how much time and trouble it really entails.
As far as I know, Amber, Kale and I did the journey to travel to Laos from Vietnam overland as quickly as possible. We departed Hanoi's railway station on a Sunday night, arrived in Sapa early Monday morning and spent Monday night in DBP. After crossing the Lao border mid-morning, we reached Muang Kha early Tuesday afternoon and were in Oudomxay in time to catch the last departure to Luang Prabang, which put us there around just before the stroke of midnight Wednesday, or just over 48 hours after our initial departure from Hanoi. By comparison, a flight from Hanoi to Luang Prabang is just under one hour gate-to-gate.
Price-wise, you can expect to pay up to $250 (and no less than $100) for the short flight to Laos from Vietnam. Adding up all the costs we incurred during overland travel to Laos from Vietnam (including the hotel in DBP, which cost 100,000 dong per person) comes up to about 610,000 dong, or a little over $30 per person, a 70% savings in the worst case. If you have adjusted to a typical Southeast Asian travel budget — anywhere between $5 and $15 per day — this is hugely worth it.
More subjectively speaking, the scenery alone made overland travel to Laos from Vietnam worth it for me. Although I'd be lying if I said I didn't tire of the cramped conditions, frequent "cargo stops" the buses made to drop off packages and the occasional mudslides the blocked our way, I have literally never experienced anything like overland travel to Laos from Vietnam in my life — and to be honest, I'm not sure if I ever will again.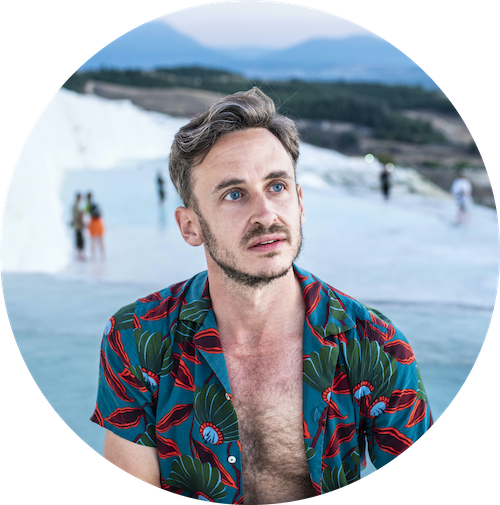 informs, inspires, entertains and empowers travelers like you. My name is Robert and I'm happy you're here!