The sun shone brightly as I scaled the path up to Okinawa's Shuri Castle, which was crowded with people. Thousands more were surely waiting for a rainier day to visit the archipelago's main cultural heritage site. Dark clouds are more befitting of a history lesson than a day at the beach.
A throne sits inside the castle's western hall, or Seiden. King Shō Hashi, who founded the Kingdom of Ryukyu in the third decade of the 14th century, was the first to ascend to it. Unbeknownst to him, Ryukyu would become a vassal state not once but twice over its half-millennium of existence, its physical memory wiped from the Earth just 66 years after Imperial Japan annexed its heart and soul.
The sky was still blue as I descended from the palace towards Naha's city center. Its gentle gradient, subtly striated with violet, provided a perfect backdrop for the sakura, whose bubblegum-pink petals were fully open, and for the banana and palm trees that towered above them.
From my café-terrace cocoon beneath this canopy, it seemed impossible that a gale more befitting of the British Isles than the "Hawaii of Japan" would blow in before I took my first bite of pork-belly soba. But the horizon grew blacker the longer I stared out at it, like a sneak attack by an insatiable empire.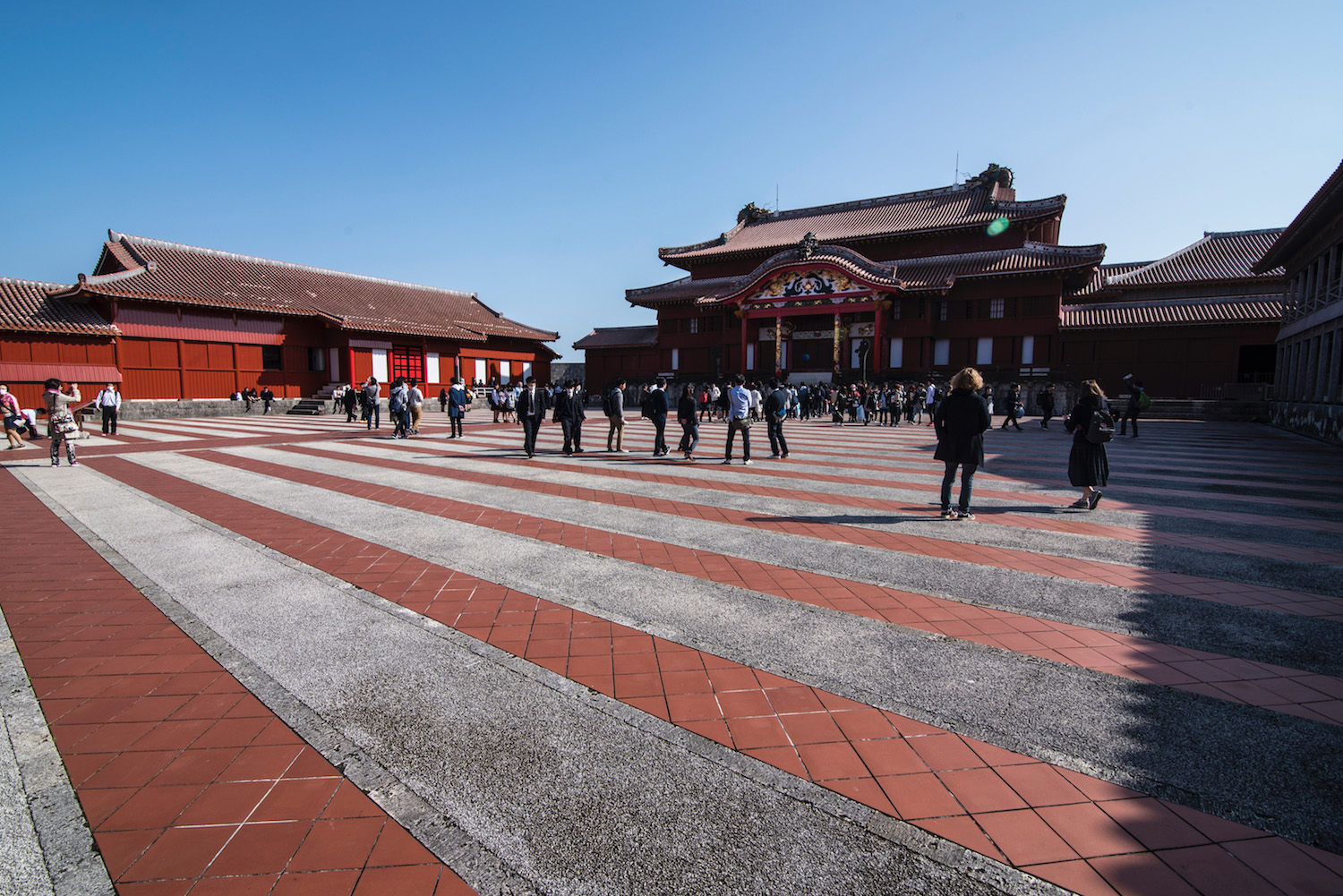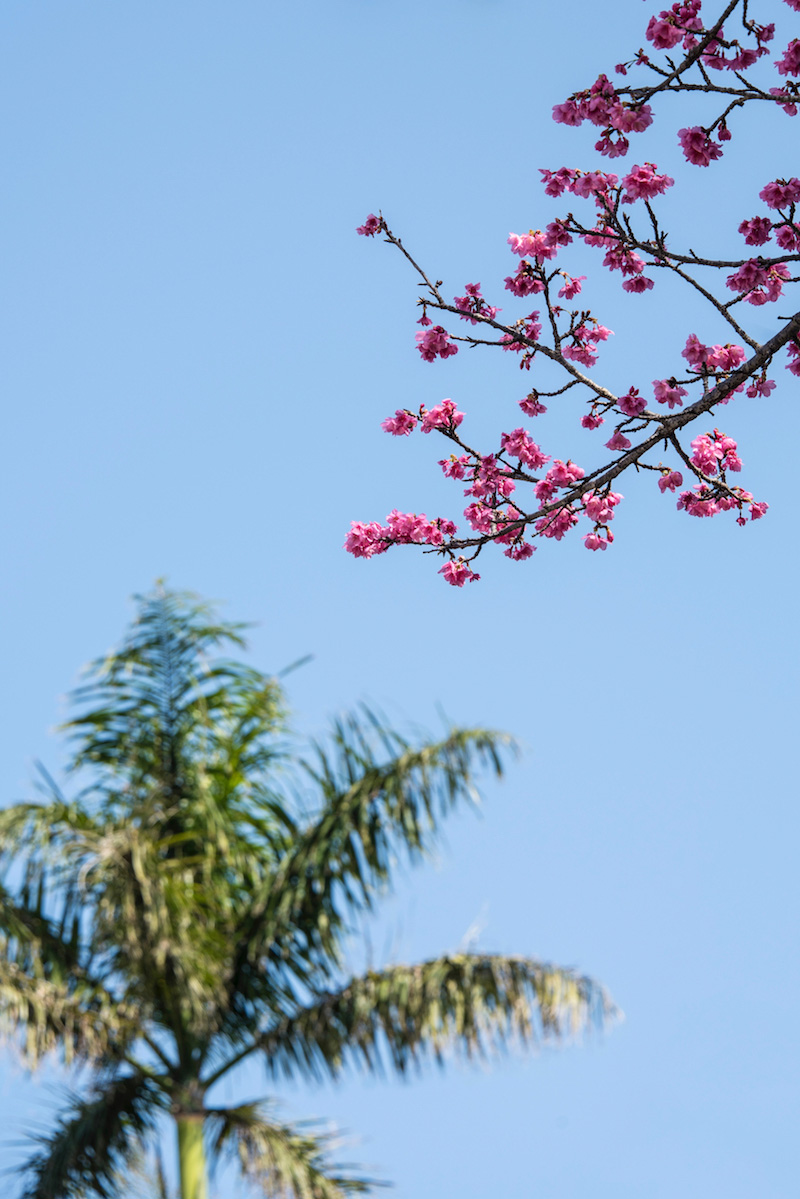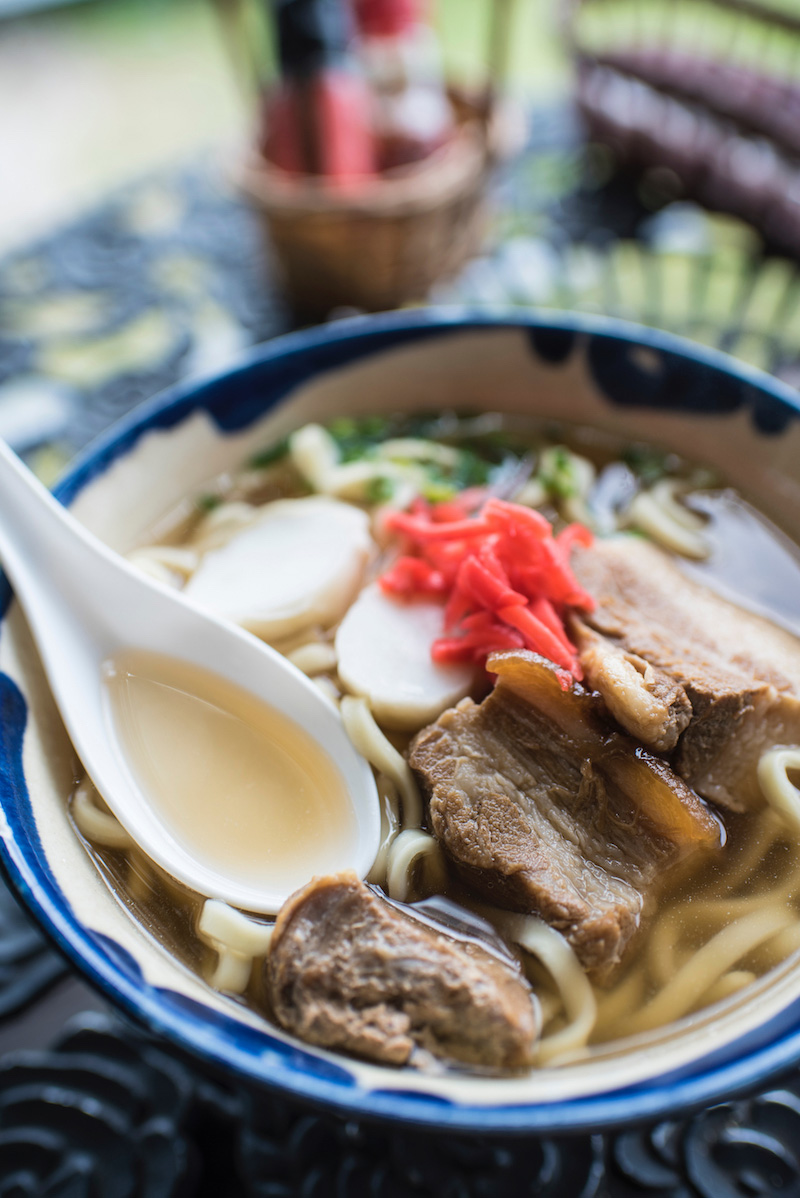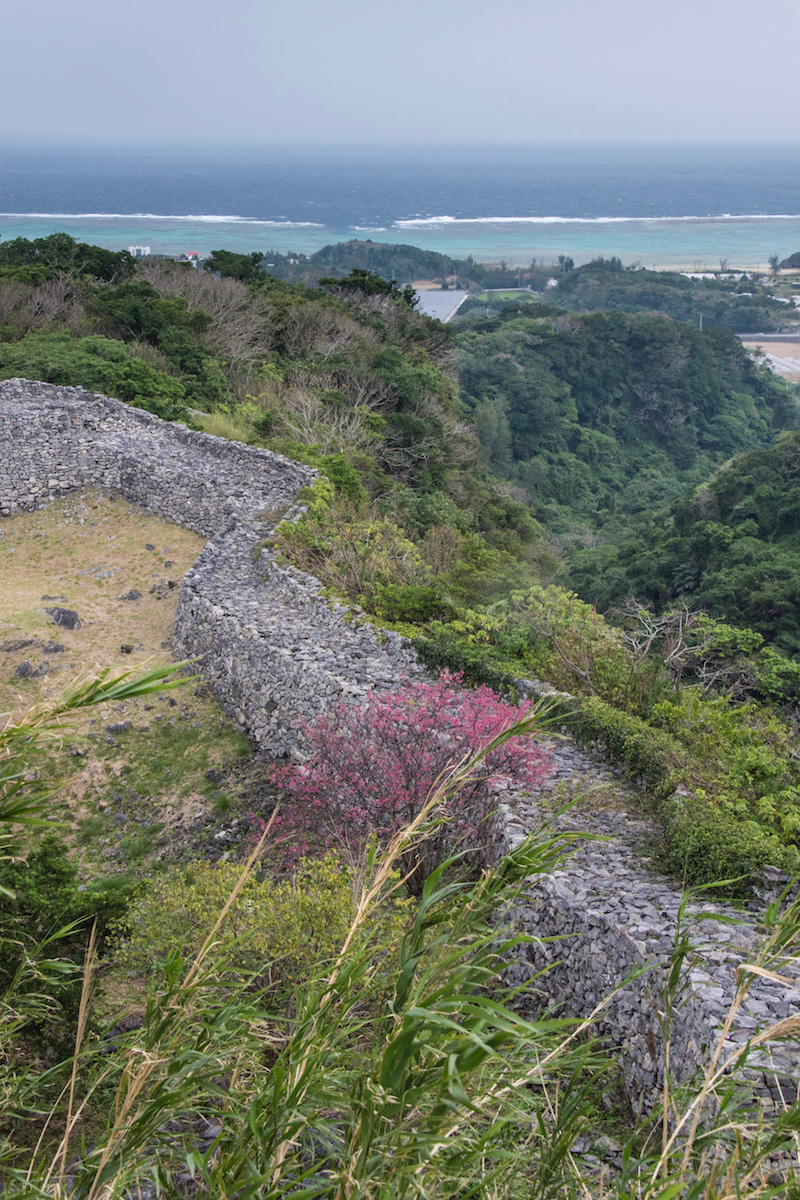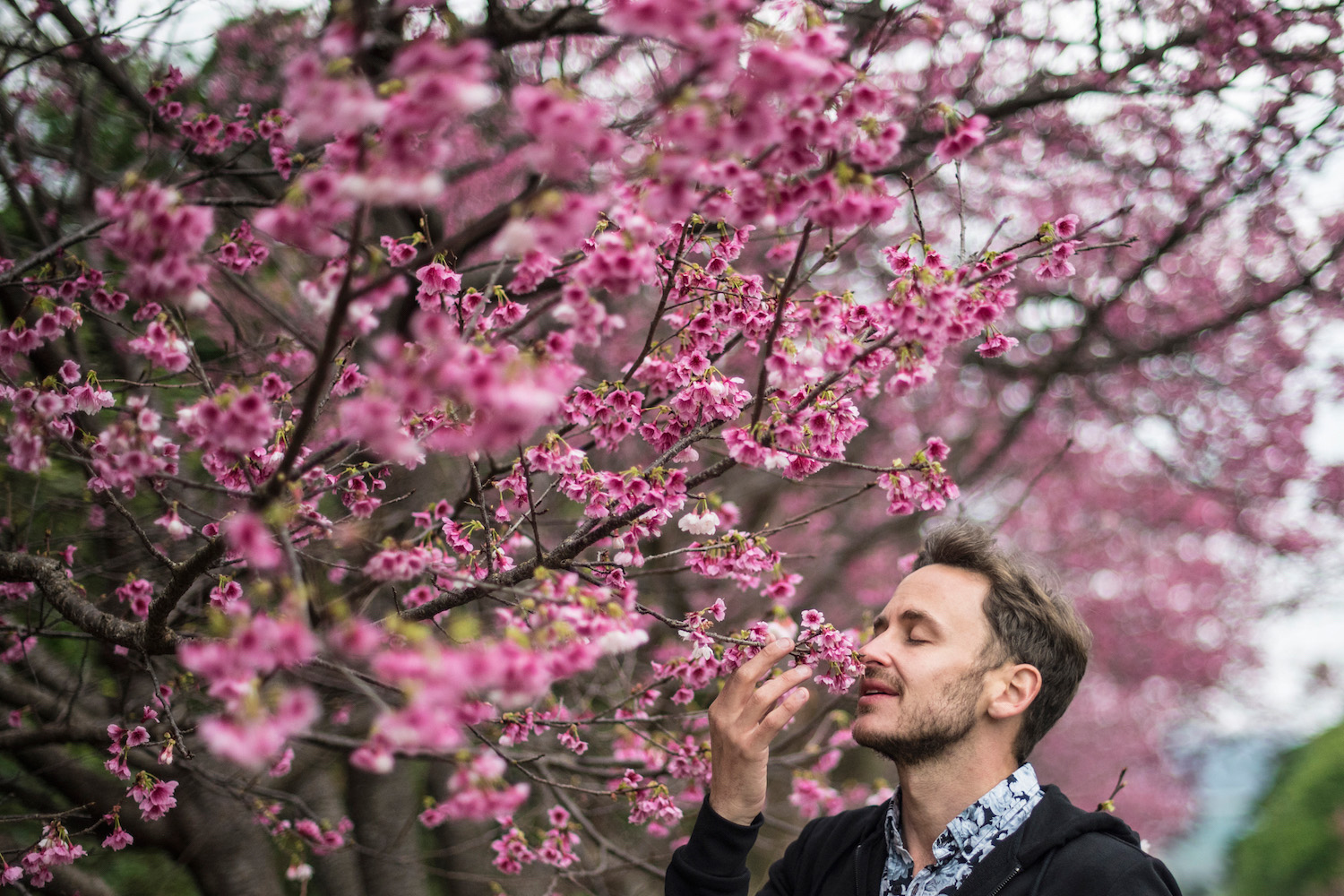 I had the same soup for lunch the following day, though I didn't want to spoil the occasion by pointing out how comparably flavorless it was.
The young woman beside me also saw the glass as being half-full. "At least you'll see the cherry blossoms," she noted as she fed the younger of her two children, who were seated in high chairs at the end of the table. "It was nice out when we went up the ruins last weekend, but all we saw was buds."
We'd connected by chance less than 24 hours earlier, when she found out I'd arrived in Okinawa, where she was now living with her husband. Half a lifetime had passed since we'd last seen each other, but she looked identical to how she had at Steak 'n Shake in the summer of 2002, minus the short-sleeve men's oxfords and corny bow-ties we all had to wear.
"You do too," she concurred, hugging me at the conclusion of our all-too-brief reunion. It was a profound meeting in spite of how haphazard it had been, and although it might take another 16 years for me to recognize its specific meaning.
The ruins she spoke of had been a castle prior to the first of the two aforementioned conquests, though neither Ryukyuan leaders after the siege of 1609 nor the Japanese government following the Battle of Okinawa in 1945 had re-built the destroyed gusuku at Nakijin like they had the one at Shuri.
Yet the serpentine wall was impressive, no more or no less due to the line of cherry trees that snaked around it like cotton candy garrisons. The sea far beneath the monument gleamed a fluorescent aquamarine, in defiance to the permanent shadow the thunderheads sitting just offshore threatened to cast over everything.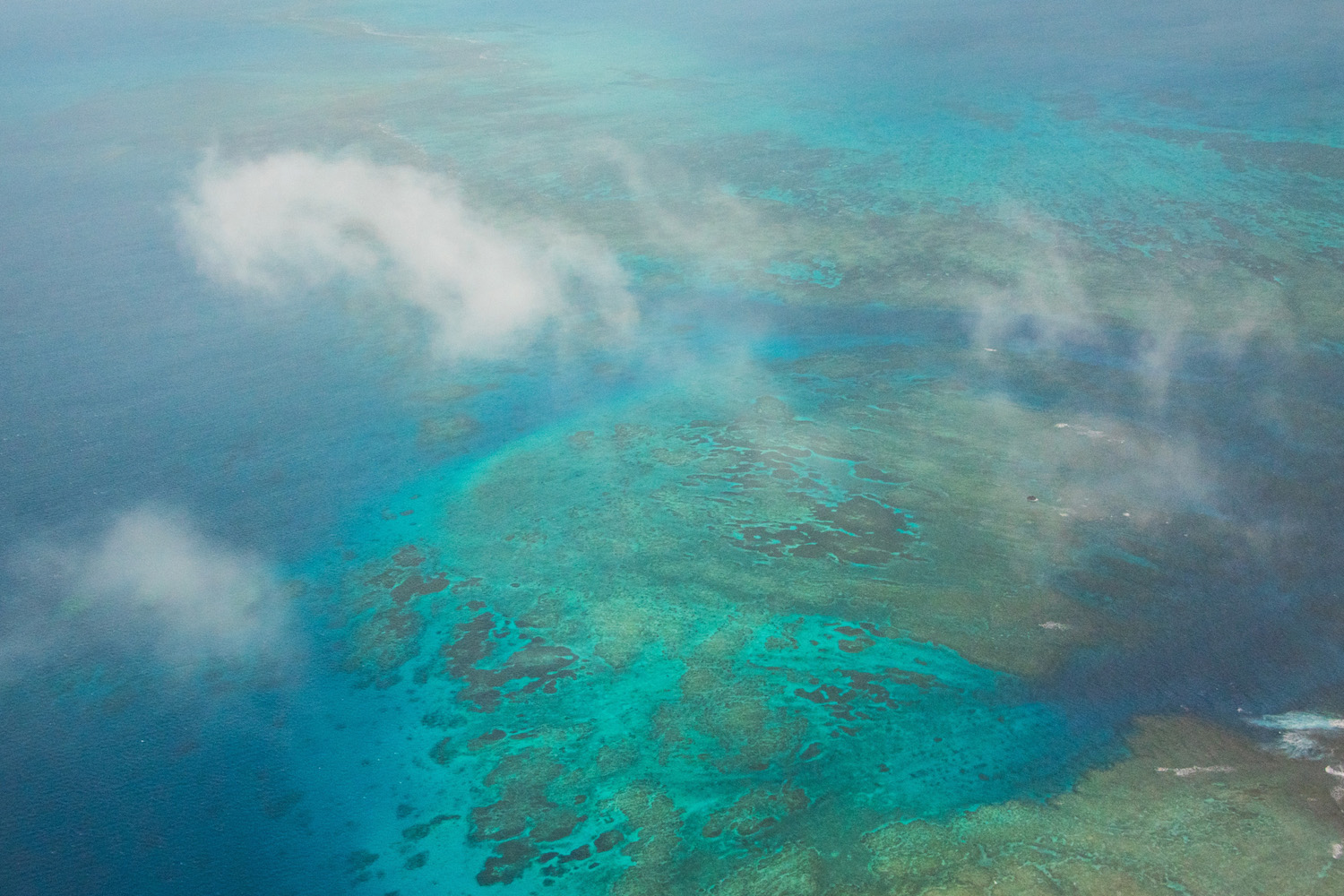 These images lingered in my mind the next morning from thousands of feet higher, and not just because the water under the decrepit 737-400 shone a similar shade of cyan as we made our final approach to Ishigaki.
I'd enjoyed being able to admire the rising sun for a few moments, that was for sure. But cruising altitude had simultaneously revealed a thick quilt of condensation that stretched as far as the eye could see, in every direction. I wondered whether early February in sub-tropical Japan was the time and place for optimism.
This sobriety accompanied me down to ground level, and then northward to iconic Kabira Bay. The landmark, however, appeared every bit as beautiful to my eyes as it had in the marketing materials that had inspired me to visit Okinawa in winter.
A young hipster was camped out behind the Blue Seal ice cream case, as perky as the hibiscus blossoms that lined the path down to Kabira's sugar-sand beach, where swimming is prohibited even on warm days. He sang along with the cover of Drake's "Hotline Bling" blaring over the speaker system with a precision that suggested it might've been his own recording.
Steam rose from my plate of "Ishigaki Beef" Curry, whose name I put in quotes due to how alike any meat doused in the Japanese take on the sauce tastes. At Churaumi Aquarium back on the main island, a pair of whale sharks either dwelled on the fact that they would never be free again, or appreciated being safe at long last.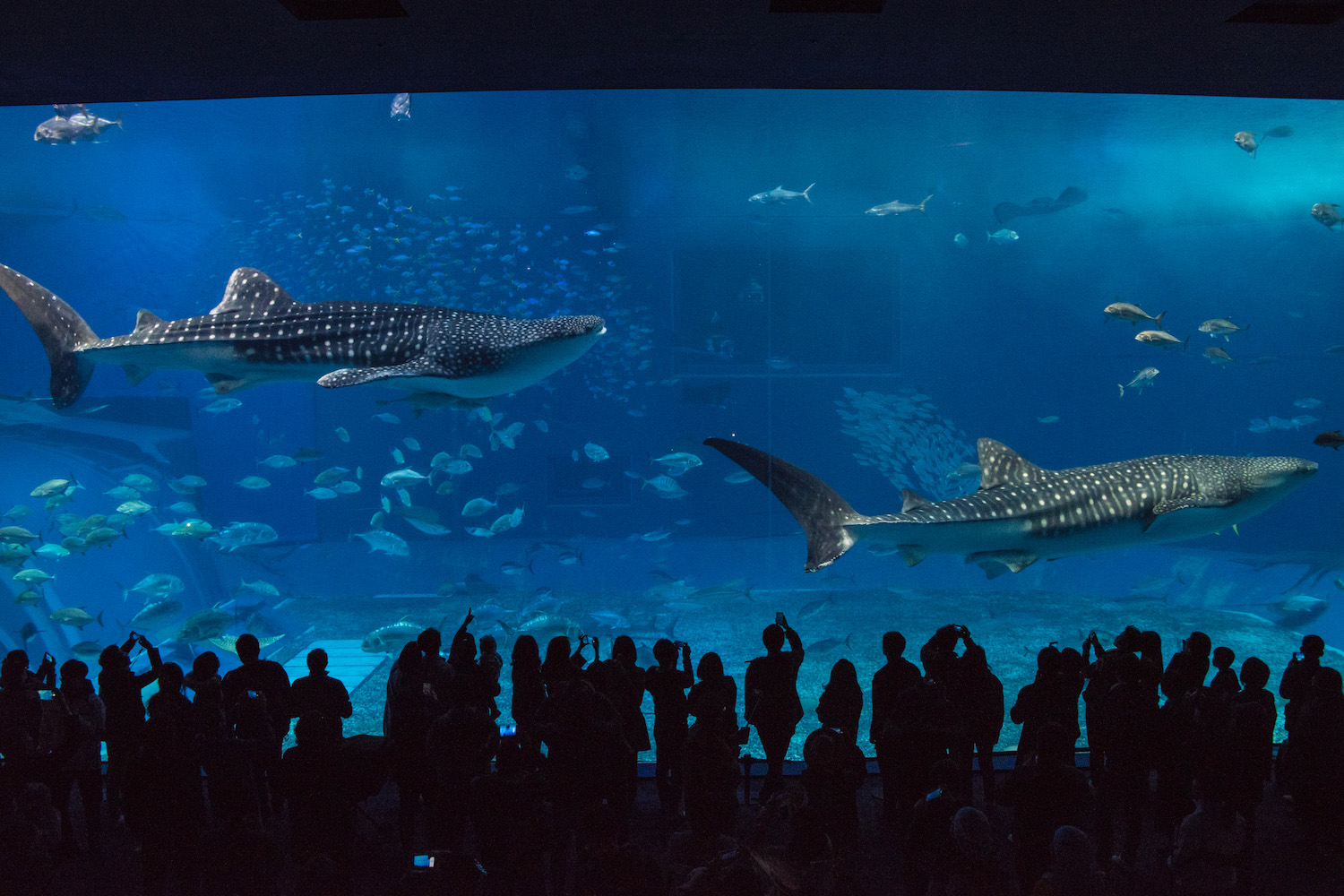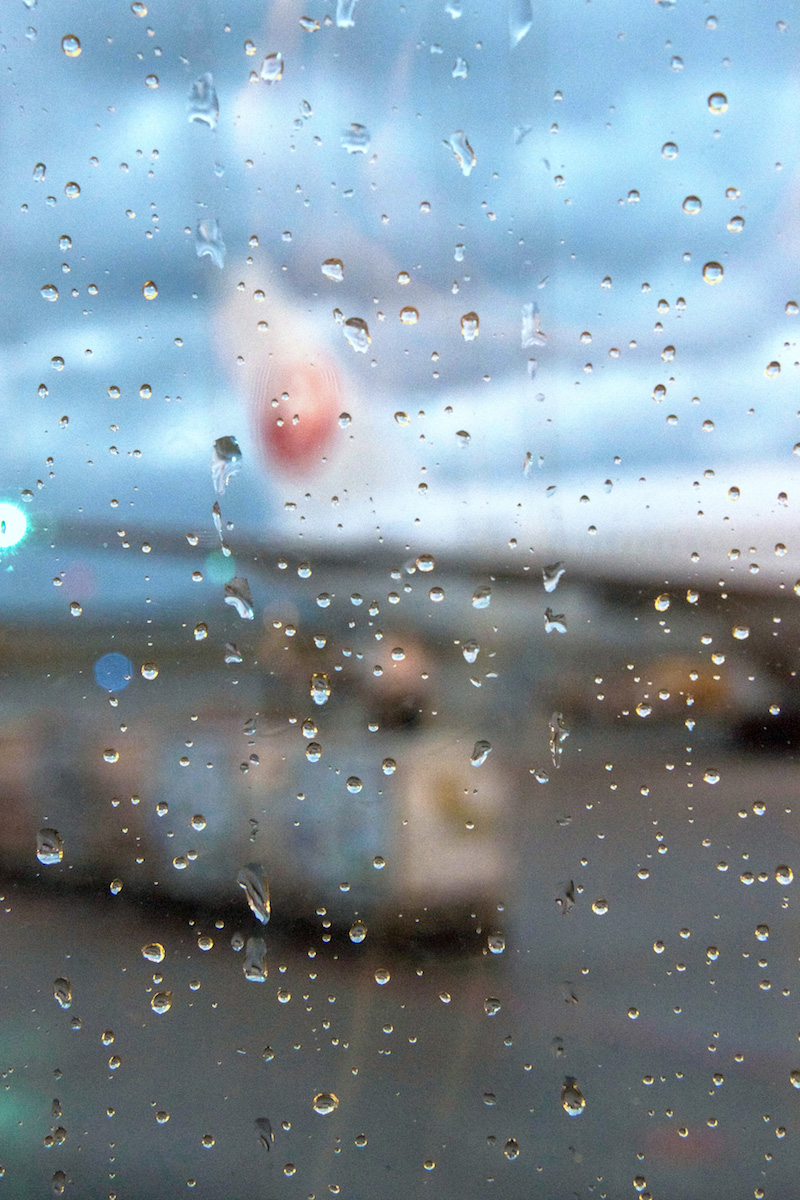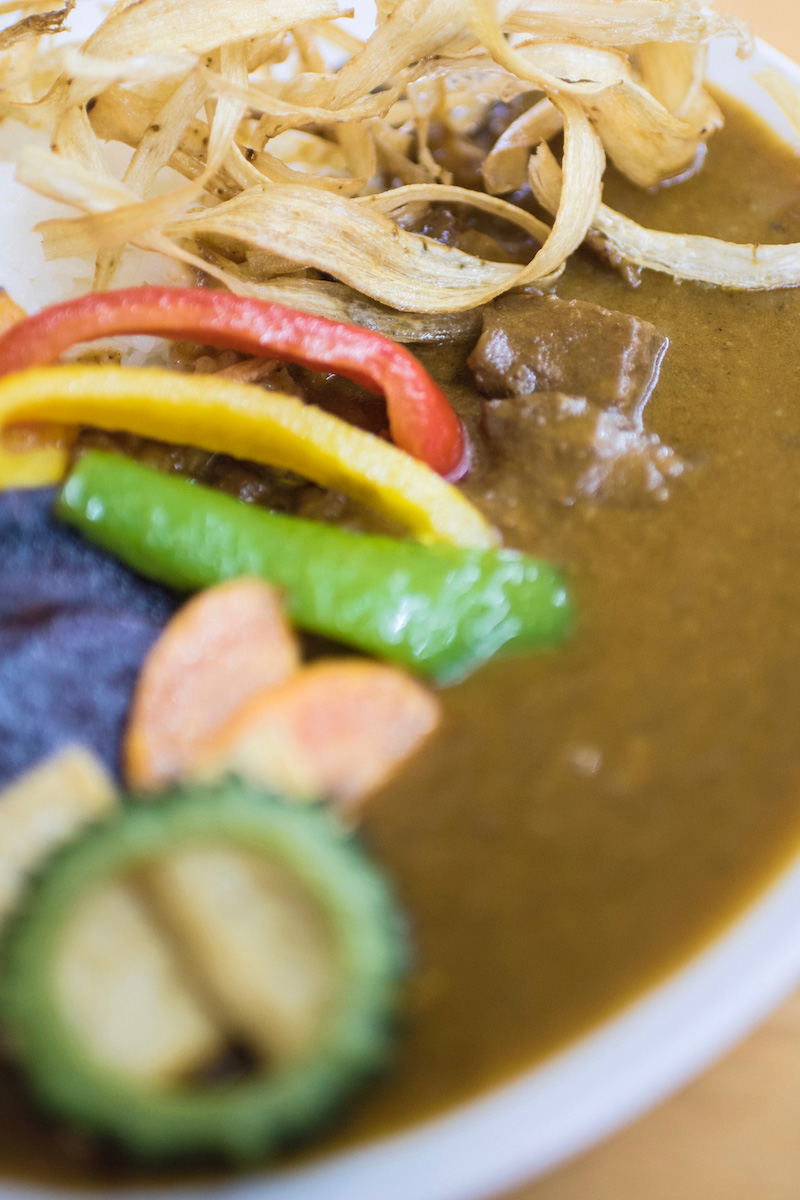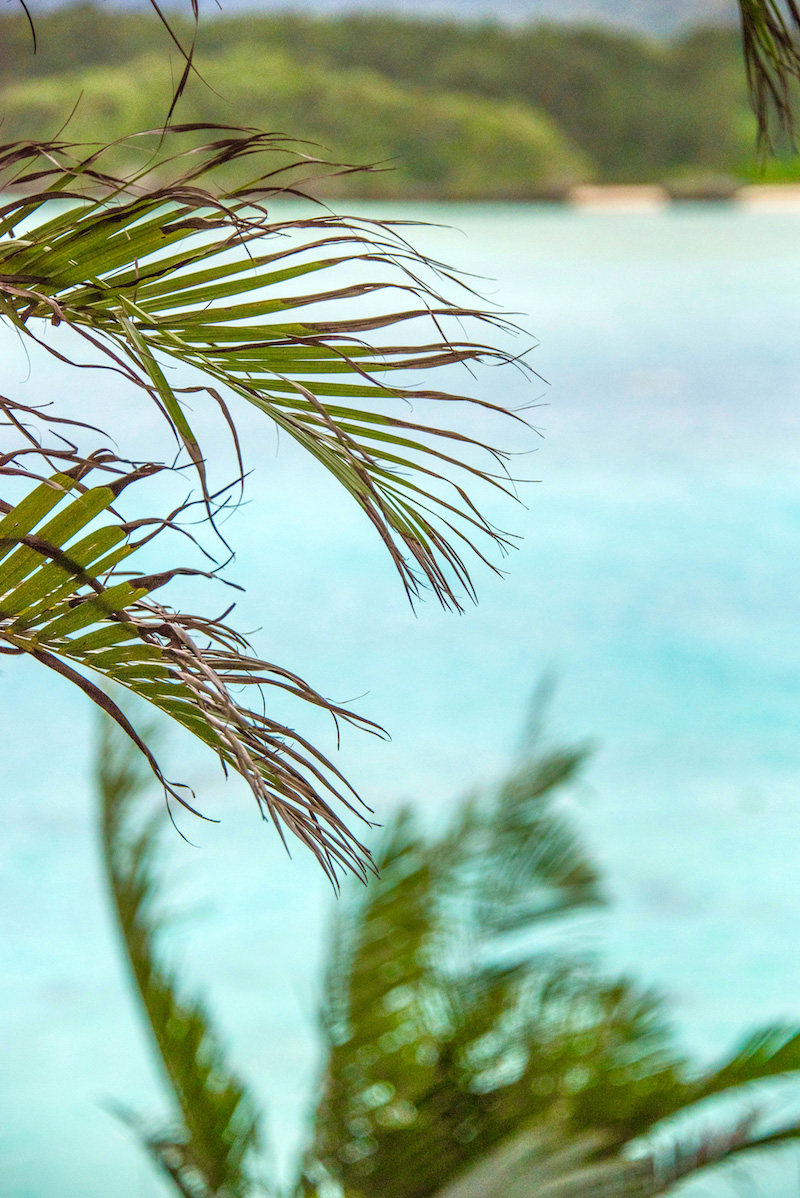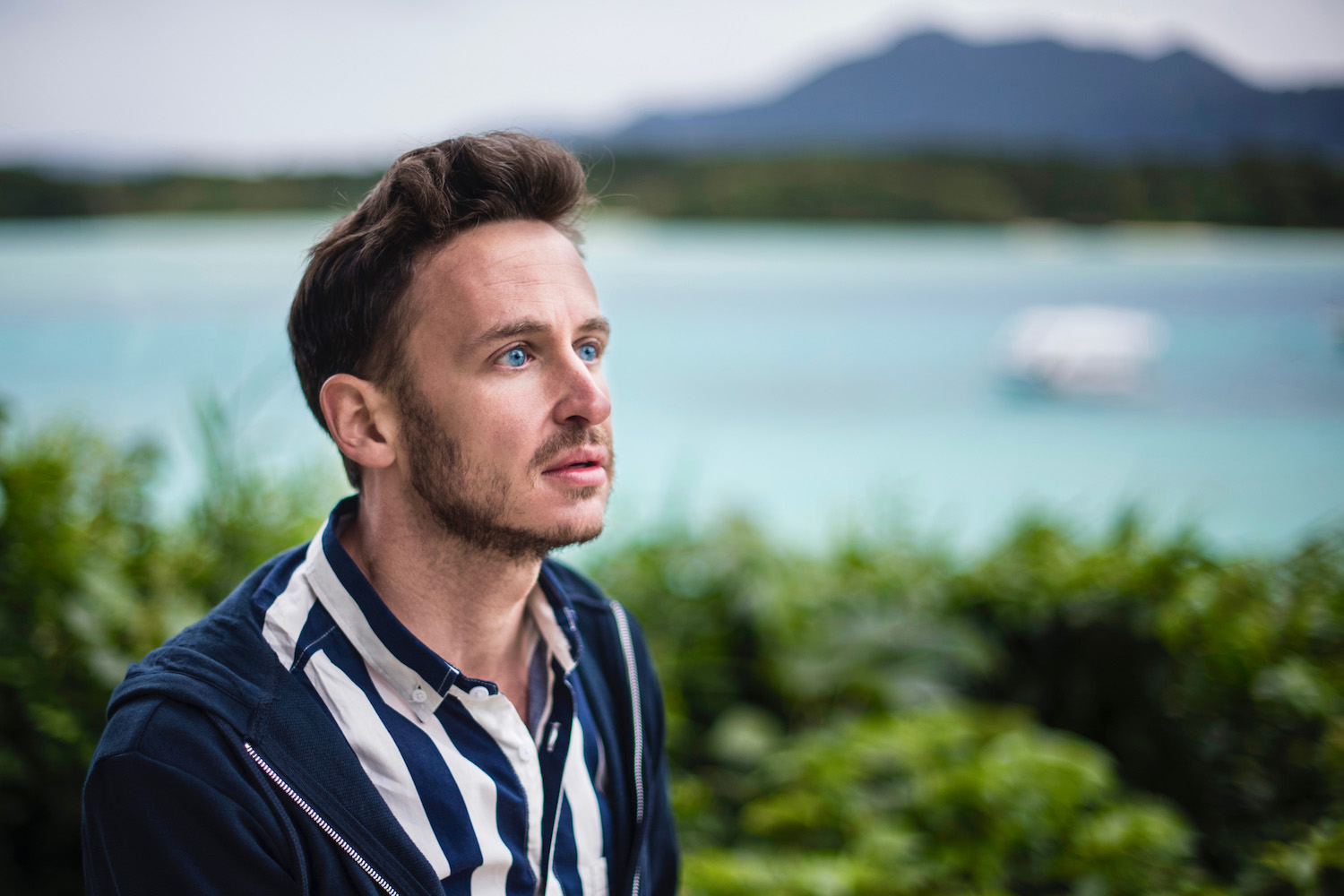 I had intended to see more of Ishigaki, given how much I'd paid to fly there and back. But no mindset, no matter how positive, can negate the limits of the human body to withstand weather as spectacularly miserable as what you find in Okinawa in winter.
It was true that I'd gained perspective. From the sight of Ishigaki (and, later, Okinawa's main island) disappearing in the exhaust of the airplanes that carried me back to Bangkok, to the way the six hours of sunlight that had kicked off my four-day, three-night trip disbursed themselves throughout the darker depths of my journey.
The physicality of Shuri Castle and the ghosts who haunted its corridors. The undulating tails of Churaumi's caged beasts and the underlying sadness of the song no one in front of the glass they live behind will ever hear. Which is more futile? A human singing along to auto-tuned vocals, or trying to sell ice cream in a sleet storm? I'd been right Friday morning, when I postulated that overcast skies are better suited to history lessons than sunny ones.
But I would trade every jewel of wisdom I gained during the past 96 hours if it meant my skin could be tanned instead of chapped right now. All Ryukyu's ruins, and all the Okinawan cherry blossoms I laid eyes upon too.