It's difficult to find a Kagoshima itinerary online, primarily because so few people visit the southernmost city in Kyushu (and, by extension of that, in Japan's four main islands). This is a shame for a variety of reasons—but think of it as an opportunity, rather than an omission.
To be sure, while Kagoshima's myriad sightseeing opportunities rarely rank among top things to do in Kyushu, it is precisely because you don't expect much of the city that it will blow you away. A former Samurai residence is amazing anywhere in Japan, for example, but especially with Sakurajima volcano smoldering in front of you as you walk atop its tatami mats.
In addition to sharing with you some of the top Kagoshima attractions, as well as how I'd recommend you tackle them as you travel, I'm going to talk you through my own story of getting to know the city. It's strange and full of surprises, not unlike Kagoshima itself.
Where to Stay in Kagoshima
When it came to choosing a Kagoshima hotel on my recent trip, I approached the task using my "three C's": Chic, comfortable and centrally located. This led me to Hotel Remm, a boutique property (one, I later found out, with aspirations of becoming a chain, at least within Japan), which is conveniently located in the historical district of Tenmonkan near some of Kagoshima's tastiest food stalls.
To be sure, irrespective of where you stay, you'll want to make sure you are near Kagoshima-Chuo station (the city's Shinkansen hub, and the southern terminus of bullet train services in Kyushu and Japan), rather than near the provincial Kagoshima Station, which is convenient only to the city's ferry terminal. Other great hotel options include Solaria Nishitetsu Hotel and UNIZO INN Express, which like Hotel Remm is part of a budding Japanese hotel chain.
My Favorite Things to Do in Kagoshima
Dig Into Kagoshima's Samurai History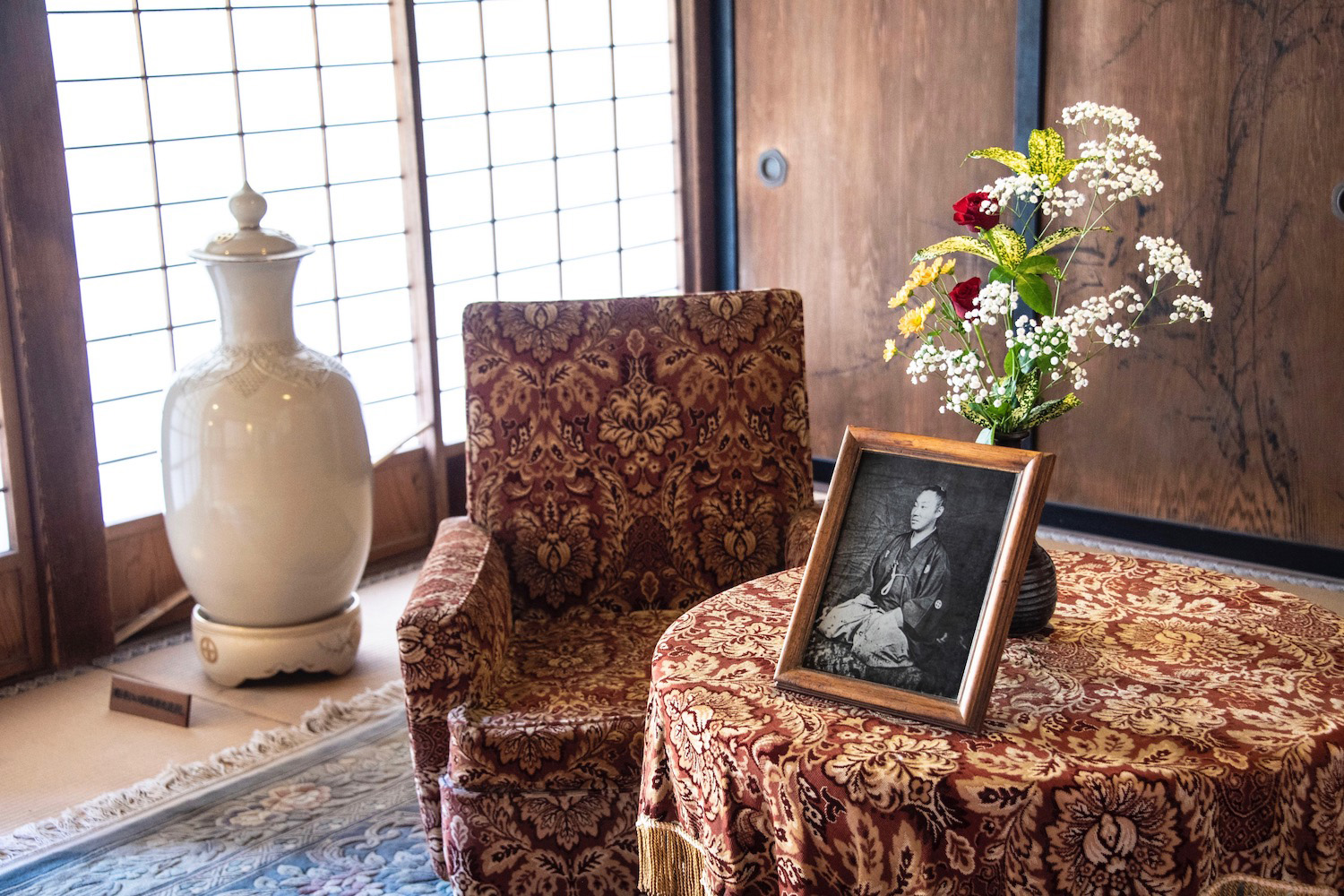 When it came to what to do in Kagoshima, on my last visit anyway, I started with the least obvious option and worked my way back toward the mainstream. Specifically, I got off at the aforementioned Kagoshima Station and headed eastward toward Sengan-en, a garden that dates back to the 17th century, when the Shimazu Samurai clan ruled over the city, and kept its populace loyal to the Emperor in Kyoto (and later Tokyo).
Ride the Ferry to Sakurajima

After exploring Sengan-en I made my way over the water to Sakurajima volcano, having watched it wistfully from the grounds of garden. To reach Sakurajima, I took the bus to Kagoshima Port (where I also bought a jetfoil high-speed ferry ticket—more on that later) and took one of the frequent boats over the water to the volcano. Tired after nearly two weeks in Kyushu, I notably did not hike on Sakurajima, although plenty of options to do so are available.
Take in Japan's Most Italian View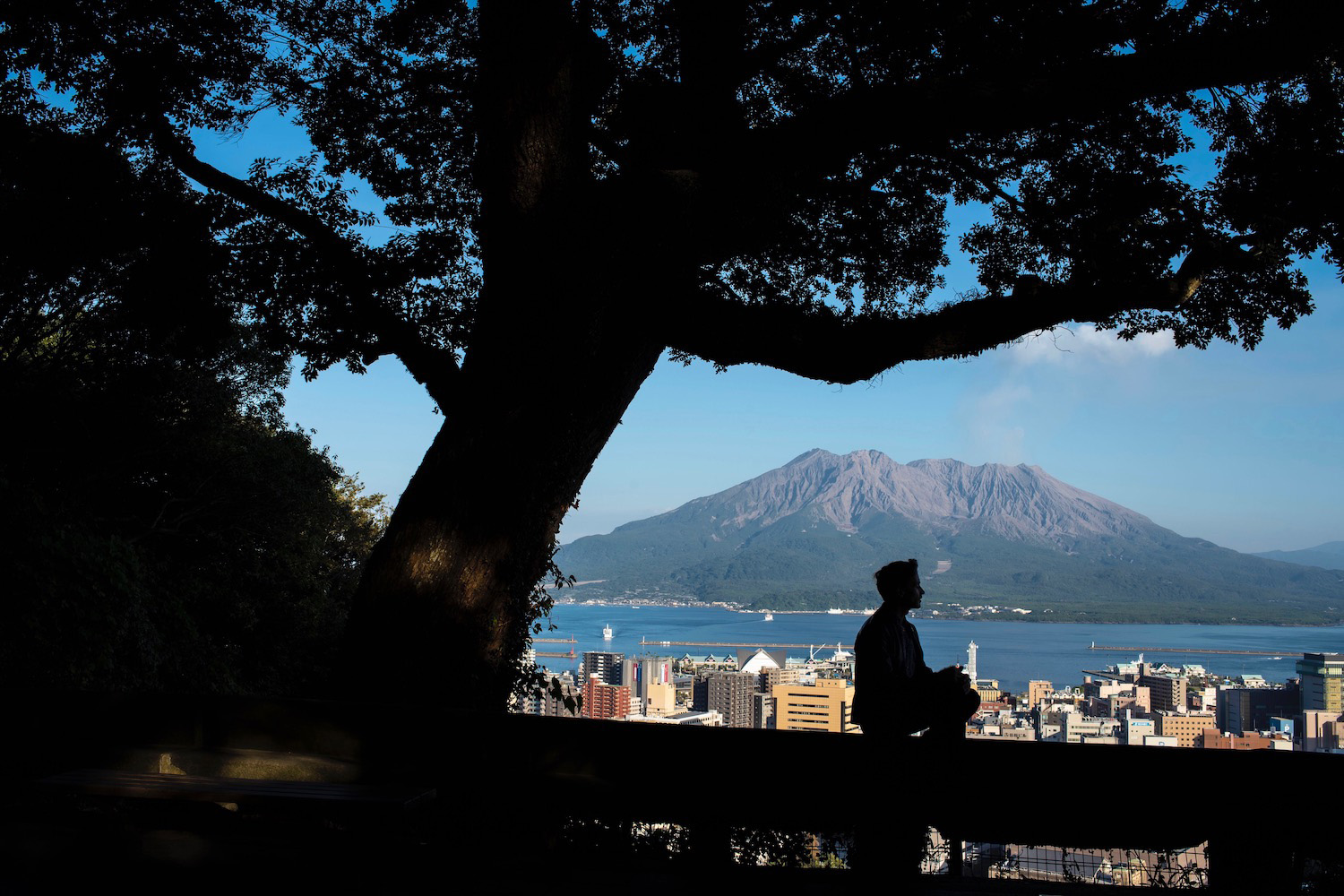 Indeed, it wasn't until I ascended the famous Kagoshima viewpoint of Shiroyama Observatory (and watched the mountain erupt) that I appreciated how much it added to the Kagoshima cityscape. In some ways, it makes Kagoshima look like the Italian city of Naples, at least from far away—these two places couldn't be any more different otherwise. Shiroyama is also a great vantage point for appreciating the way the historical structures of Tenmonkan fit in with the rest of Kagoshima city.
Compare Kagoshima's Yatai to Fukuoka's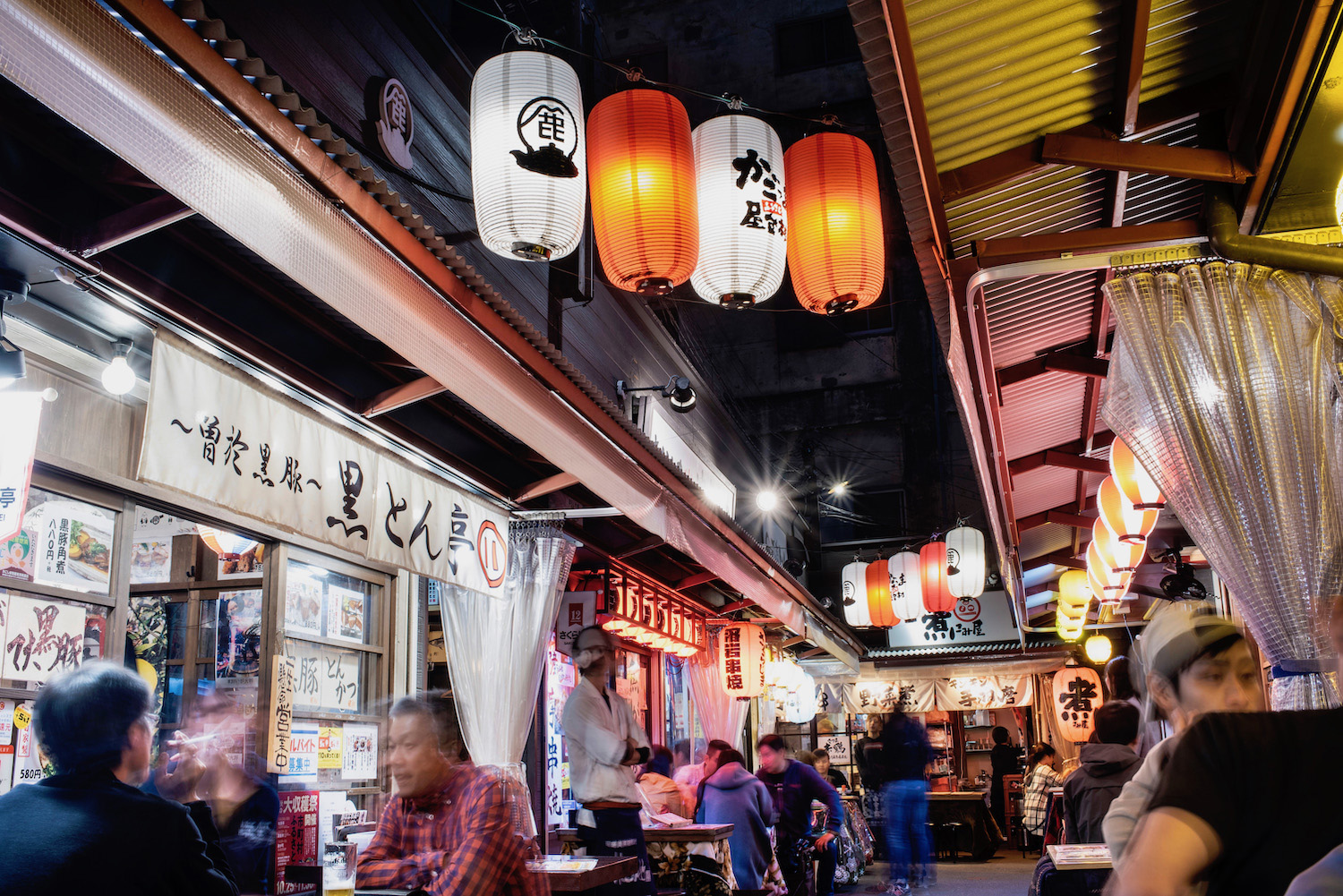 You'll need fuel for this Kagoshima itinerary, and one perfect place to get it is at the Yatai food stalls of Furusato Food Village, located a stone's throw from Kagoshima-Chuo Station in an otherwise anonymous alley. Whether you eat after watching sunset from Shiroyama like I did, or prior to getting the last Shinkansen back to Hakata your final evening in the city, I think you'll agree with me that the Izakaya fare on offer here is more satisfying than what you find farther north in Fukuoka.
Take a Satsuma Peninsula Day Trip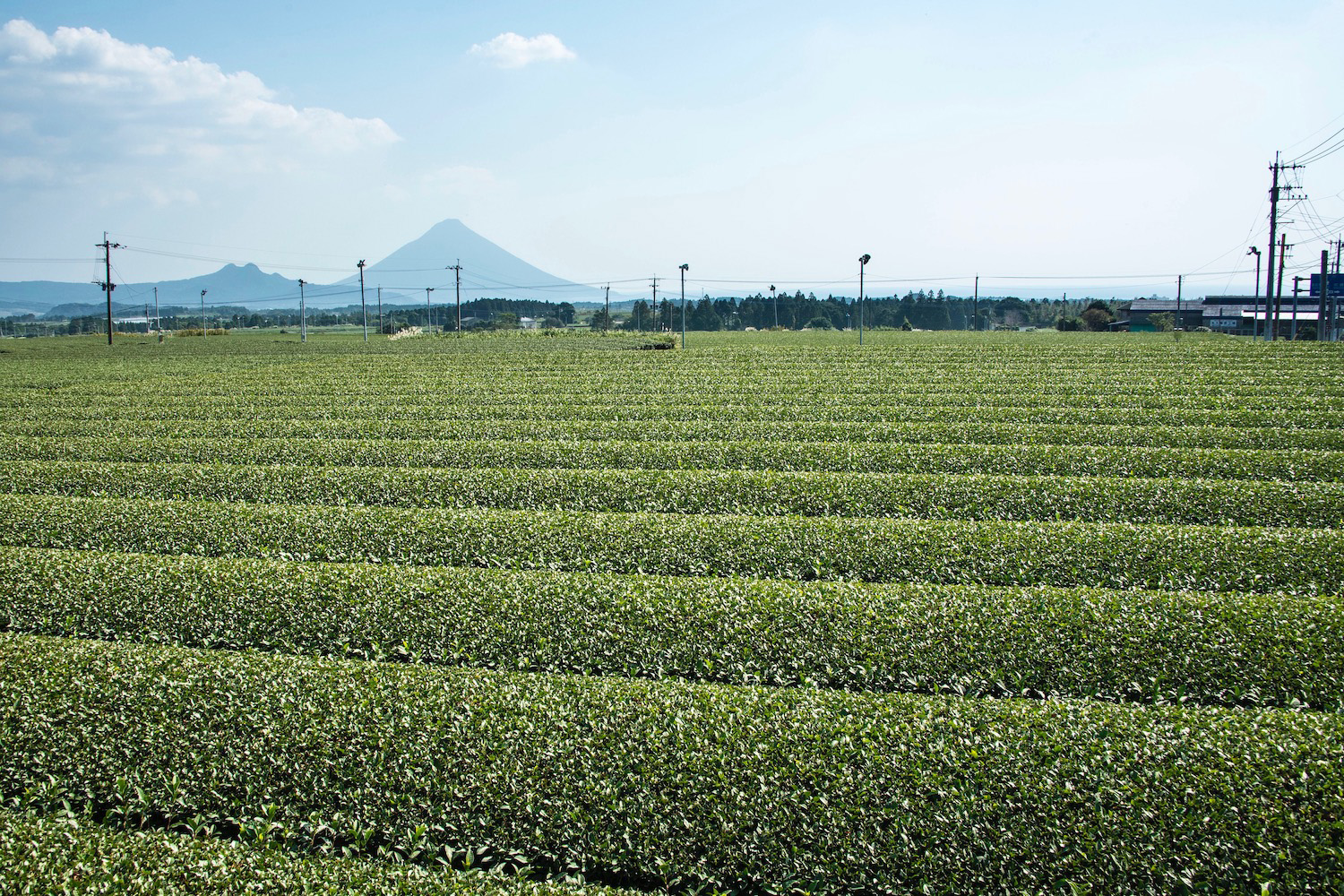 Whether to get buried (and I do mean that literally) at Ibusuki Sand Bath, walk amid hedged alleyways in the Samurai village of Chiran or marvel as Kaimondake volcano rises above the manicured Matcha fields of Ei, the Satsuma Peninsula is an incredible excursion from Kagoshima, and is in fact one of my favorite day trips to take throughout Japan. Yakushima island, meanwhile, requires at least a one-night stay, even if you don't hike for hours amid its ancient cedars like I always do.
How Many Days Should Your Kagoshima Itinerary Last?
Considering that most travelers to Japan don't visit Kagoshima at all, the question of how many days in Kagoshima to spend is one not often breached. As a general rule, I recommend at least a couple of nights in any good-sized Japanese city, but this is especially true in the case of Kagoshima. After all, if you're going to make your way so far south (unless, of course, you're simply stopping here en route to Yakushima), you might as well make the trip worth it.
Then again, even if you've got a ferry ride from Kagoshima to Yakushima in your plans (or if, alternatively, a road trip onto the Satsuma Peninsula is more your speed), at least one night and a full day in Kagoshima is worthwhile. The attractions of the city are spread out enough (and, for photographers, dependent enough on lighting) that you will want a morning, noon and night in Kagoshima to appreciate everything.
Is it Worth Going to Kagoshima?
Let's start with a more pointed question—is Kagoshima underrated? The answer to this question, of course, is "yes," if only because (as I noted above) so few people visit Kagoshima in the first place, let alone realize the city exists. Obscurity does not, on its own, make a city worth visiting, but in the case of Kagoshima (and the things to do here I've outlined above), it would be difficult to argue that it does not at least enhance the city's case.
To be sure, when you combine the unique array of Kagoshima sightseeing with the relative lack of tourists here compared to more popular cities in Japan, the city can quickly catapult into the top tier of secondary destinations in Japan you might want to visit. This is without even considering the appeal of a ferry ride to Sakurajima or Yakushima, or the Satsuma Peninsula road trip I've referenced several times already.
Other FAQ About Planning a Kagoshima Itinerary
How do you get to Kagoshima?
If you're coming from Kumamoto, Fukuoka, Hiroshima or even Osaka, you can ride the Shinkansen to Kagoshima—the super-fast Mizuho if you're paying cash, or the slightly slower Sakura if you're using a Japan Rail Pass. From Tokyo and points northwards, I'd recommend flying via Haneda Airport to Kagoshima Airport.
What is there to do in Kagoshima in winter?
Kagoshima doesn't get especially cold in winter; it certainly doesn't snow. As a result, activities are quite similar regardless of the time of year. Namely, after doing the city thing at Sengan-en Garden or atop Shiroyama Observatory, you can take a ferry to Sakurajima volcano, or rent a car and drive down to—and through—the Satsuma Peninsula.
What island is Kagoshima on?
Kagoshima is on Kyushu, which is the southernmost of Japan's main islands. Notably, it is the southernmost major city of Kagoshima (and the setting off point for all ferries traveling farther south), which leads some to declare that Kagoshima is where Japan ends.
The Bottom Line
This is not only the best Kagoshima itinerary you're likely to find online, but likely one of the only ones that exist. Kagoshima is an underrated and almost wholly un-explored destination, but don't let that deter you from coming—allow other peoples' oversight to be the inspiration for your discovery. Whether you stick to attractions in Kagoshima's storied city center, or make excursions to Sakurajima volcano, the windswept Satsuma Peninsula or even cedar-covered Yakushima island, Kagoshima is the beginning of adventure, even if it's the end of the line as far as Japan's main islands are concerned. Hire me as your Travel Coach to integrate Kagoshima perfectly into your next trip to Japan.