Driving southward through the Central Otago region early Wednesday morning, I laughed when I realized that my next three days would focus far less on things to do in Queenstown itself, and more on destinations and experiences in its periphery.
Experiences and destinations—and cliche as it sounds, journeys. The number one place I wanted to stop en route (the so-called "Blue" Pools Track) had been rendered a suede-y brown by a sudden downpour, so I derived much of my delight from colorful patches of lupines and blue borage, the "quasi-lupine" I referenced in my Lake Tekapo post, along the Crown Range Road and in the Lindis Pass (respectively, but not in that order).
My stop at Lake Wanaka's famous tree (which is now officially known, within Google Maps anyway, by the #ThatWanakaTree hashtag) felt perfunctory, even if my hamburger lunch was satisfying. As it turns out, however, this wasn't the last I'd be seeing of Wanaka.
A Sea of Honey
Upon arriving to Queenstown-proper, I began what was the mostly slovenly afternoon and evening of my trip thus far, sitting down on the breezy patio of a stuffy wine bar for a limoncello spritzer that had too much limoncello and not enough spritzer. I also booked the very first skydive of my life; the process was quick and painless, which left me surprisingly at ease about the prospect of jumping out of a plane the next morning as I dozed off to sleep.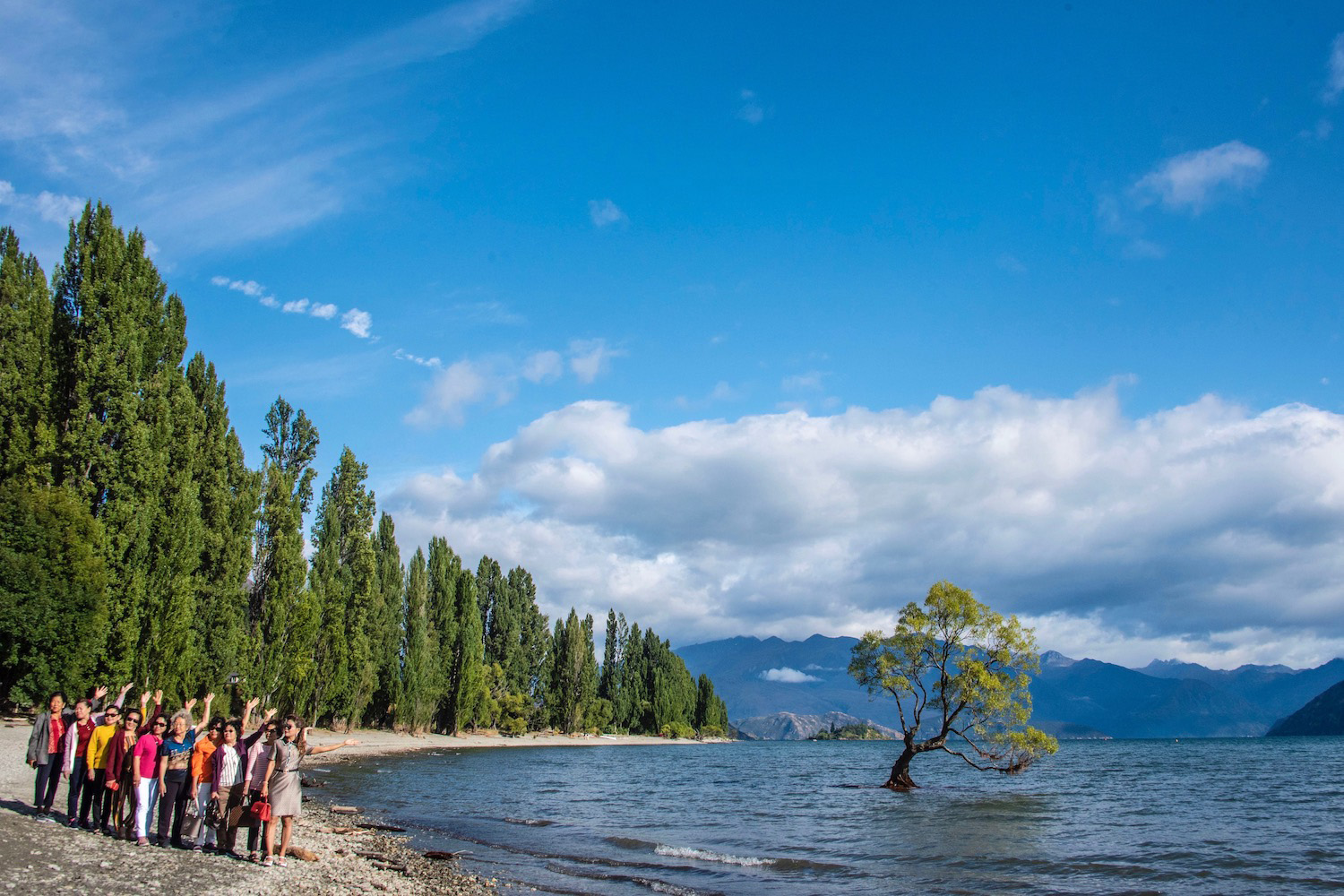 At around 6:10, to be sure, I phoned Skydive Southern Alps—initially, the news seemed bad. "We had to cancel the Glenorchy dive," the woman on the phone said sadly, through a thick Slavic accent, her tone brightening toward the end of the sentence, "but you're being moved to Wanaka instead."
My premonition RE: seeing Wanaka again, it turned out, would come true. More importantly, I wouldn't need to come up with other things to do in Queenstown to occupy my time. (As lovely as jet boating might be, I had no desire to do it; I'm also not in a huge rush to rappel again or to do another long hike, being that I have a couple planned for Franz Josef Glacier, where I'm headed next.)

Time seemed to stop flowing as the bus made its way back over the Crown Range to Wanaka; mentally, I felt like I was trying to swim through a sea of honey. But I didn't think that I was making a mistake, not even for a slow-mo moment.
Erotic Fiction
I had forgotten the name of the man whose legs I was sitting between, but I knew why I was there. No, this isn't an erotic fiction interlude: We were onboard a tiny bi-plane rapidly ascending to 15,000 feet, and would be the first pair to jump out of it. He told me he also loved Japan, though as a snowboarded he preferred Nozawa to Niseko; I agreed that Nagano prefecture was more interesting than most of Hokkaido.
It was erotic though—my attraction to Jason (as I later remembered his name to be) kept me calm, certainly more than the "Acceptance" meme I'd seen on the Instagram of a famous journalist earlier that morning. A few seconds passed between Jason lifting the door of the plane open and the two of us jumping out of it together, though it felt like it all happened in the same instant. His body felt strong against mine, in spite of us having similar builds.
You know that burning when water rushes up your nose? That was the sensation the frigid, thin air created as it rocketed through my airways—it crosses my mind once or twice that I could be suffocating. Jason squeezed my hand, however, and reminded me to look out toward the horizon, where the Southern Alps towered over Wanaka and a few other lakes whose names were superfluous at this altitude.
After the chute deployed, Jason taught me how to steer and let me try my hand at it. This was the most joyous part of my experience, what with me no longer having to concentrate on breathing.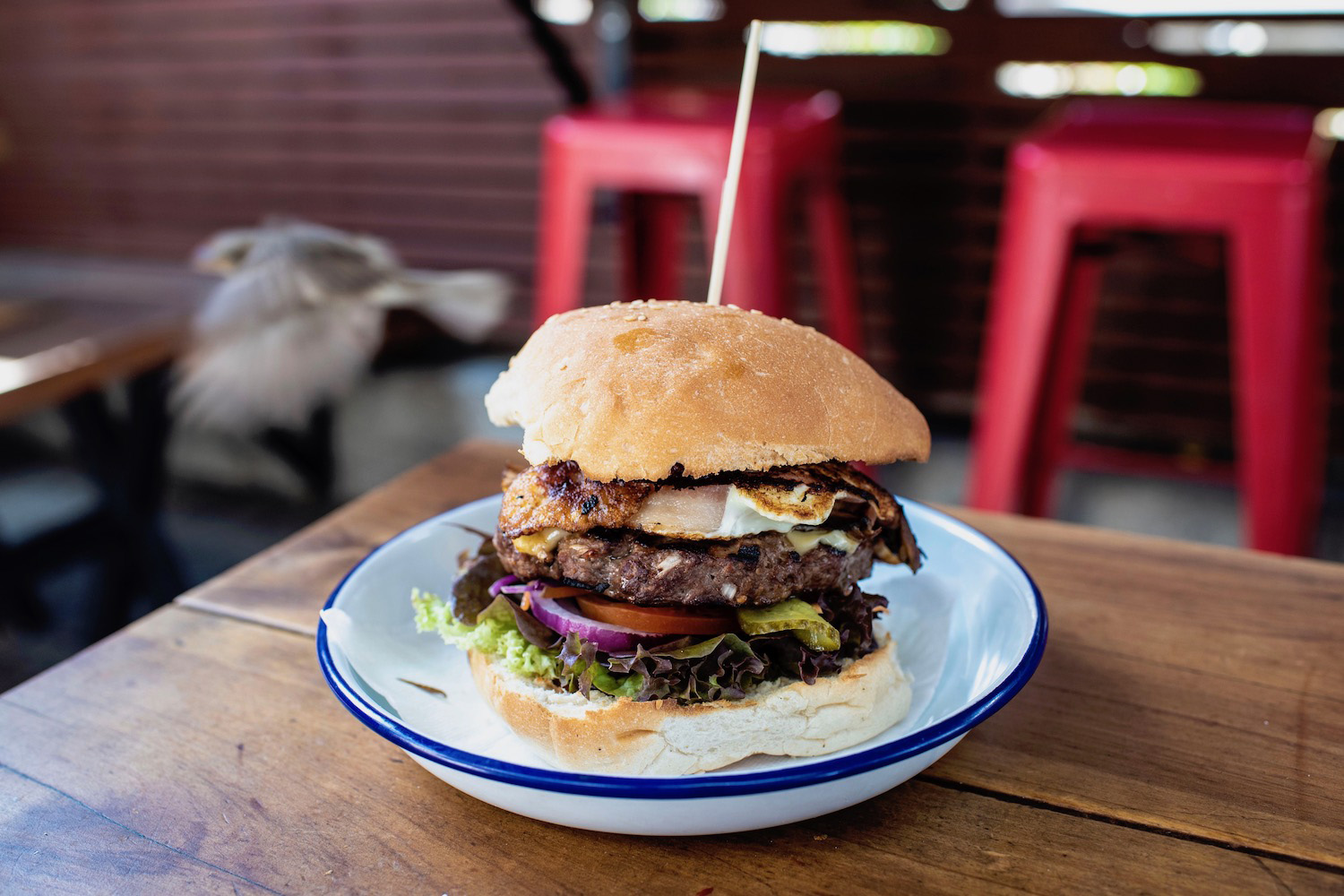 I abandoned my vision of love shortly after standing upon the earth, now forever changed, though I'm not sure if I'd have been able to experience my first skydive peacefully if I hadn't been strapped to such a charming man. (That Jason had a decade of experience with more than 8,000 dives under his belt helped his case, of course.)
Glossing Over
Back to life, I hummed to myself as I scrolled through the GoPro photos Jason had taken during our flight, in a hammock overlooking Lake Wakatipu, Back to reality. As I scrutinized them (and my appearance in them—I should've washed my hair before the jump; I might get Botox for my birthday next month), I began to think about other things to do in Queenstown that might occupy the rest of my second day here.

I decided to sit down for a famous Fergburger before heading to the Queenstown waterfront. As I queued, the iconic 80s track Mariah Carey sampled for her 1995 hit "Fantasy" played in the background, which was appropriate: I was definitely still imagining Jason's strong embrace, and blissfully glossing over the fact that it was one of his job requirements.
At any rate, my having been paired with Jason was serendipitous, if only because of the karmic math: Taking a risk unprecedented in my life so far; seeing it nearly derailed; and then getting exactly what I want and more. This was a particularly welcoming feeling just six days before the end of my trip, when it has just now started to dawn on me that I've been living through a dream—a fantasy, if you will—of a perilously short sort. Ironically, I feel like I only today found my rhythm.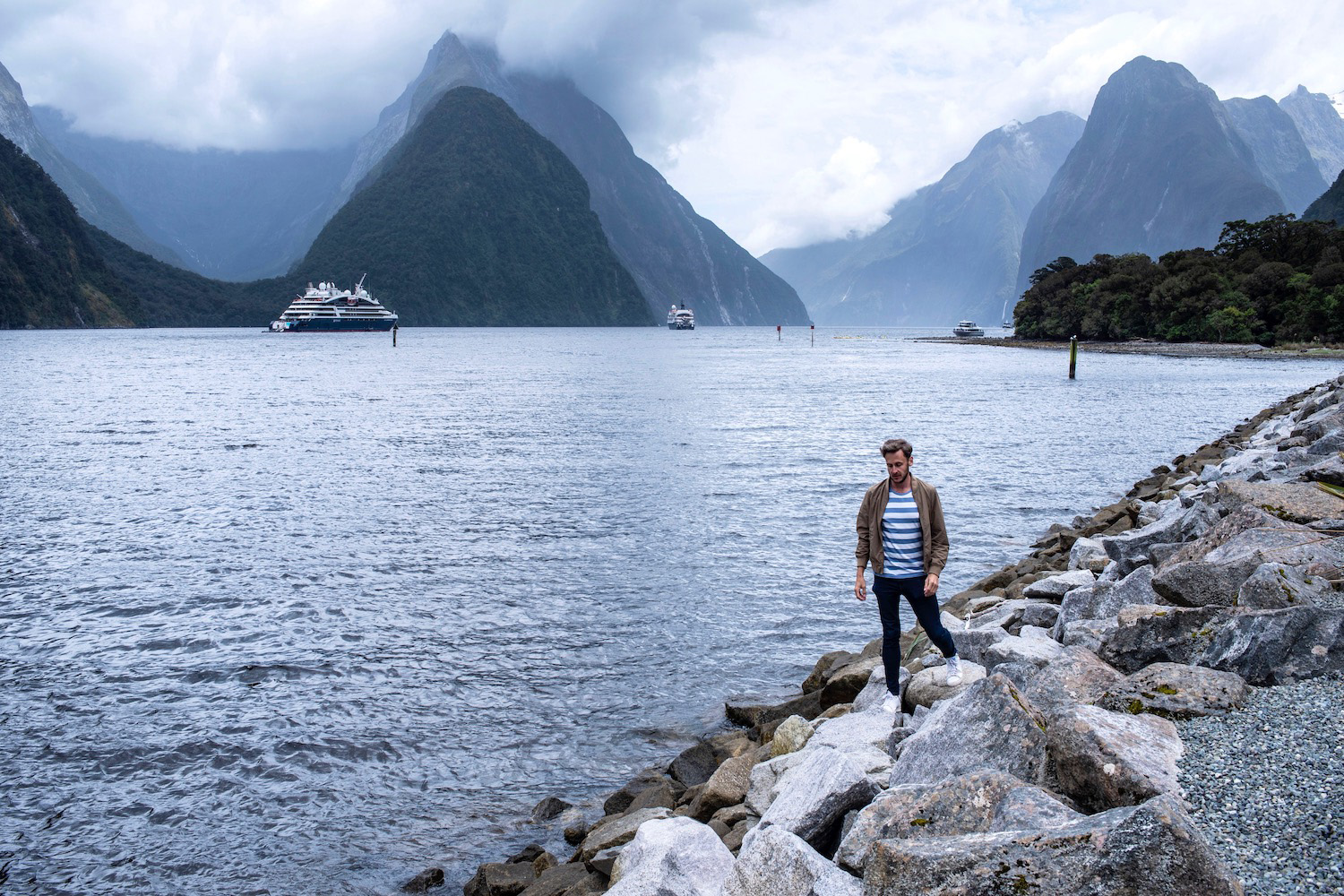 Watching seagulls fuck up people's selfies at the waterfront, which was magnificent under patchy sapphire skies with emerald waves rolling in, might have topped my last of things to do in Queenstown, at least within the town center. In this moment, once again, gratitude and regret were close cousins: How could it have taken me so long find stillness in moments like these, when I have so many fewer left than I've already lived?
Down in Reality
"คุณเป็นคนไทยไหม?" I asked the young woman working at the Milford Sound tour desk Friday morning, upon seeing a Thai flag on her shirt—I knew the answer.
Still, it put a smile on my face to be able to speak my former second language, to converse with a stranger in a land strange to both of us, but in her tongue and not mine. The smile lasted throughout my so-called "Nature Cruise," during which the penguins used to advertise it were inexplicably absent.
In a few weeks I'll write about how (and why, or why not) to include a day trip to the Milford Sound among your things to do in Queenstown. But I don't want to get bogged down in reality now, not yet: I'm in heaven with my boyfriend (he's not my boyfriend).