My latest trip to China's former capital preceded a week in sprawling Gansu province, so thinking of all the things to do in Xi'an made me anxious. I didn't have a lot of time to explore, even considering the fact that I ascended the Xi'an City just minutes after the iconic fortifications opened.
I'm being slightly dramatic, of course. Though I descended back to street level after less than an hour to catch my train to Lanzhou, I'd have three full days after my adventure in China's Wild West to continue re-visiting Xi'an attractions—and hopefully, to discover new ones.
So, is Xi'an worth visiting? Absolutely, although I say that as someone who's made multiple trips there over a more than a decade. If you've never been, it can be difficult to understand why you should even go in the first place.
Where to Stay in Xi'an
When it comes to Xi'an hotels, my favorite place to stay as of late has been the Eastern House Boutique Hotel. Located just steps from both the Bell Tower and the southern entrance to the City Wall, and with features like a free (and sumptuous) afternoon tea buffet to complement its stylish rooms and equally filling breakfast buffet, this is probably my favorite place to stay in Xi'an.
Of course, Xi'an accommodation runs the entire gamut, whether you're looking for something (much) simpler than what I've recommended, or seek the most opulent stay possible. Luxury lovers will adore Sofitel Legend People's Grand Hotel, while Xi'an Hantang House should appease the backpacker crowd of which I was a member during my very first Xi'an trip.
Best Things to Do in Xi'an
Walk (or Bike) the Xi'an City Wall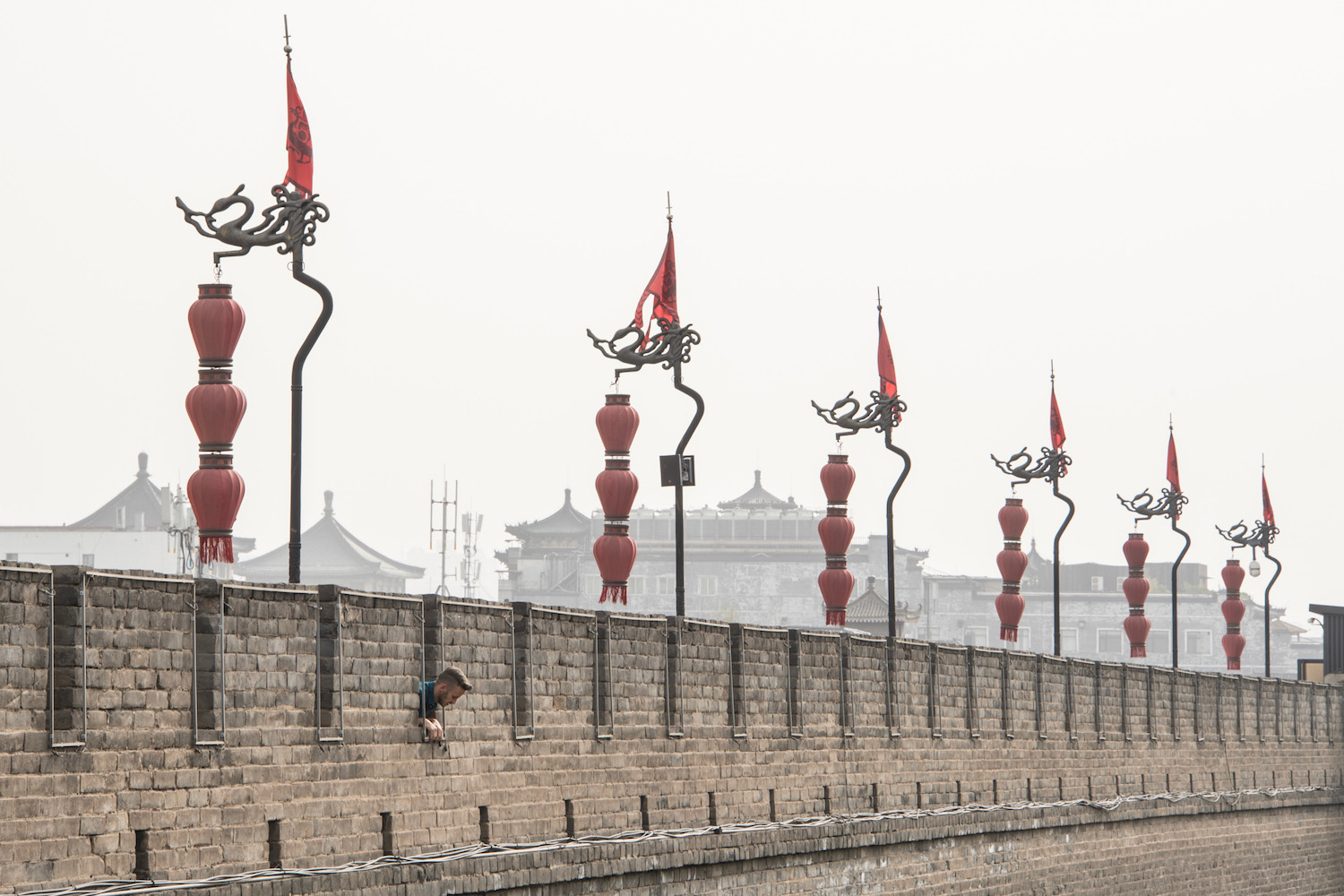 The Xi'an City Wall is one of my favorite places to go in the city—and not just for the amazing view. While the structure has no doubt been reconstructed over the years, an amazing current runs under the wall, built in the 14th-century by the first Ming emperor Zhu Yuanzhang to protect his dynasty's capital. Whether you walk these fortifications like I tend to do or rent a bicycle, it's impossible not to feel the importance of what they represent.
See the Terracotta Warriors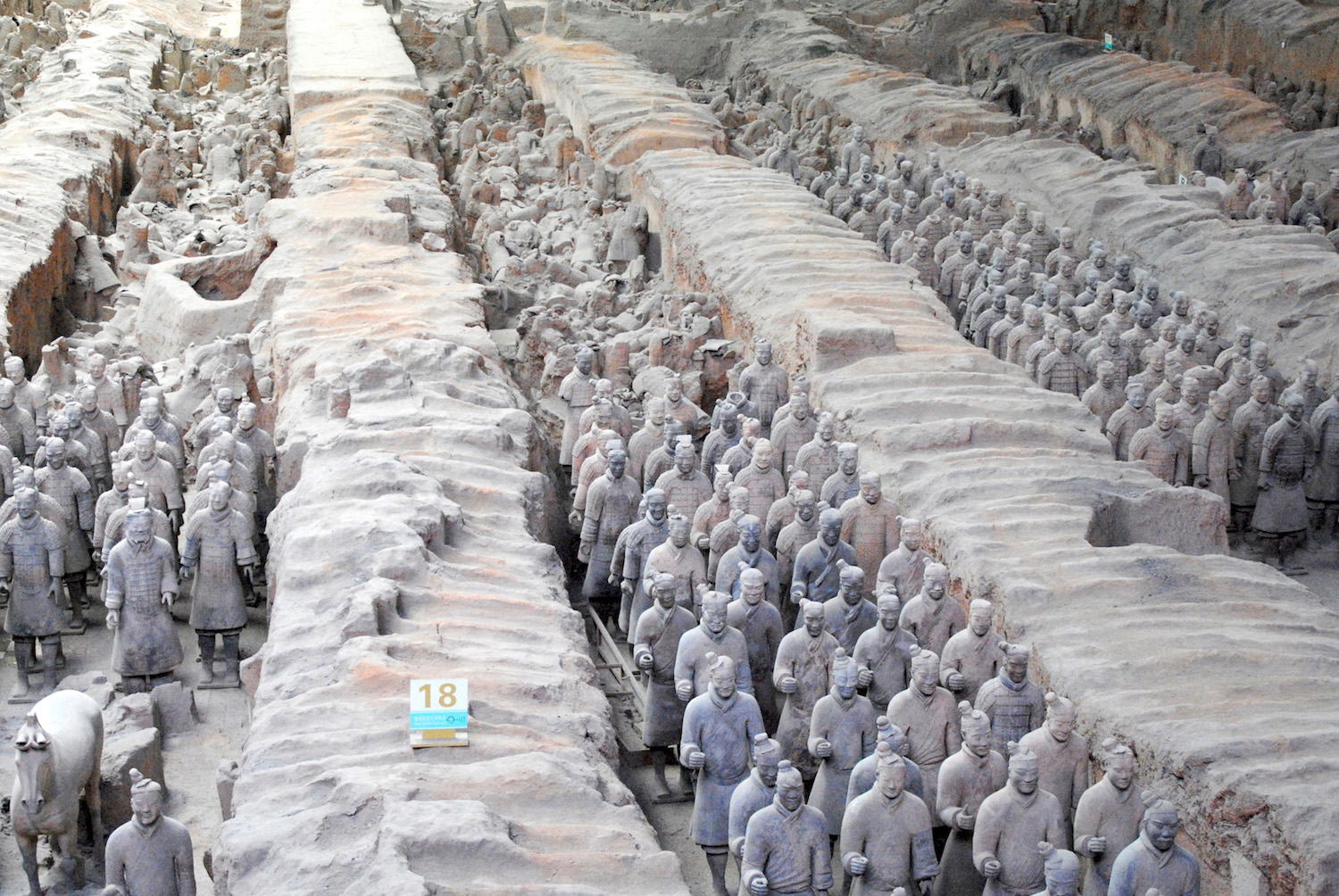 The Terracotta Army usually tops list of things to do in Xi'an, and while it's impressive, it's not my very favorite for a variety of reasons. In addition to the fact that the warrior complex sits pretty significantly outside the city center, the museum that houses them is always packed no matter how early you go. I definitely recommend making a visit if you come, but I doubt this is a place you'll return to on subsequent trips.
Spend a Half-Day at Dayanta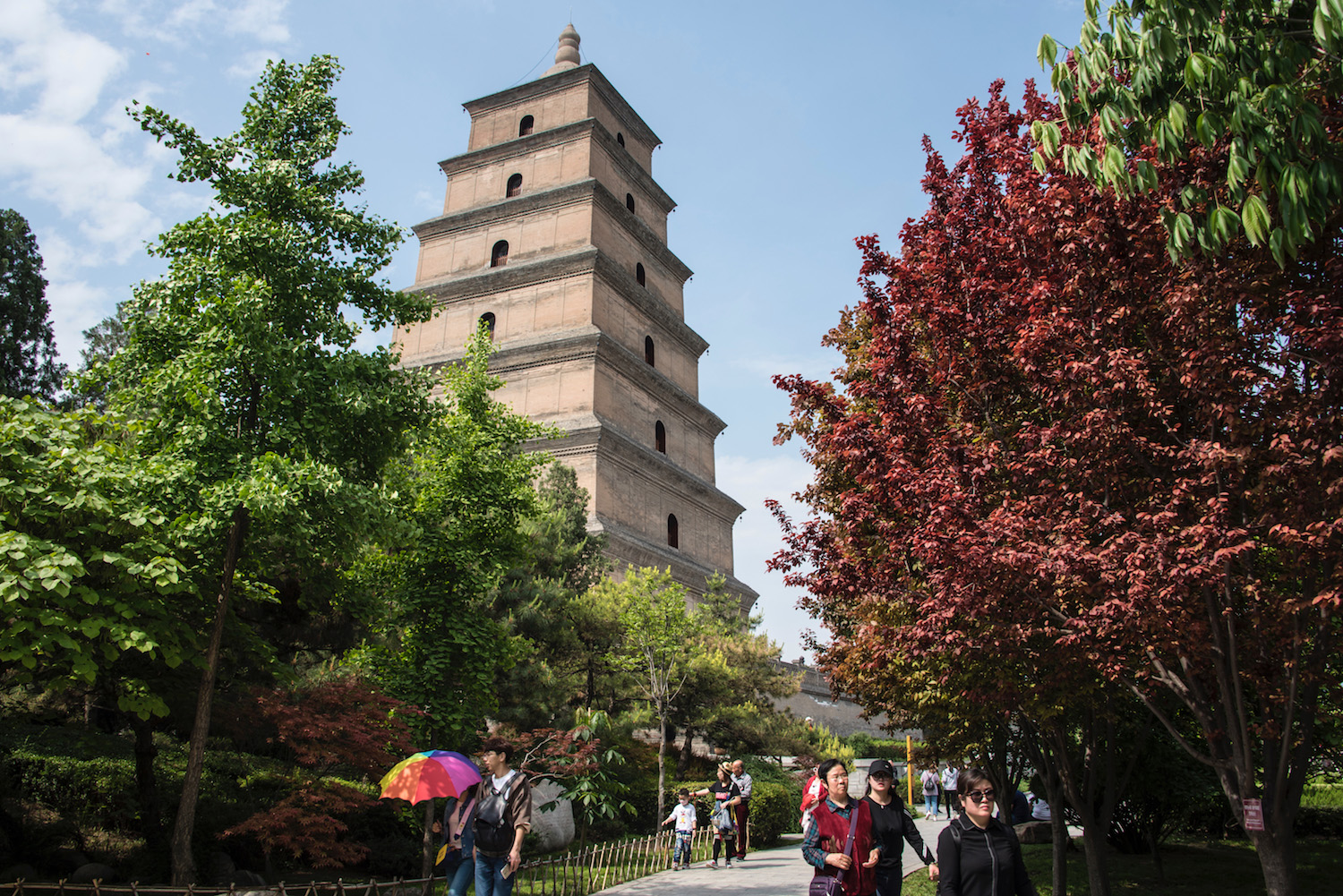 On the other hand, I'd say the Big/Great Wild Goose Pagoda of Xi'an is probably among the most underrated attractions for a Xi'an itinerary. Having been built in the mid-7th century—several hundred years before the City Wall and other important Xi'an structures—Dayanta (as the pagoda, as well as the nearest metro stop at known in Chinese) is not only a religion monument, but a large green space that houses a variety of commercial and culinary businesses. You can easily spend half a day here!
Watch the Bell Tower Light Up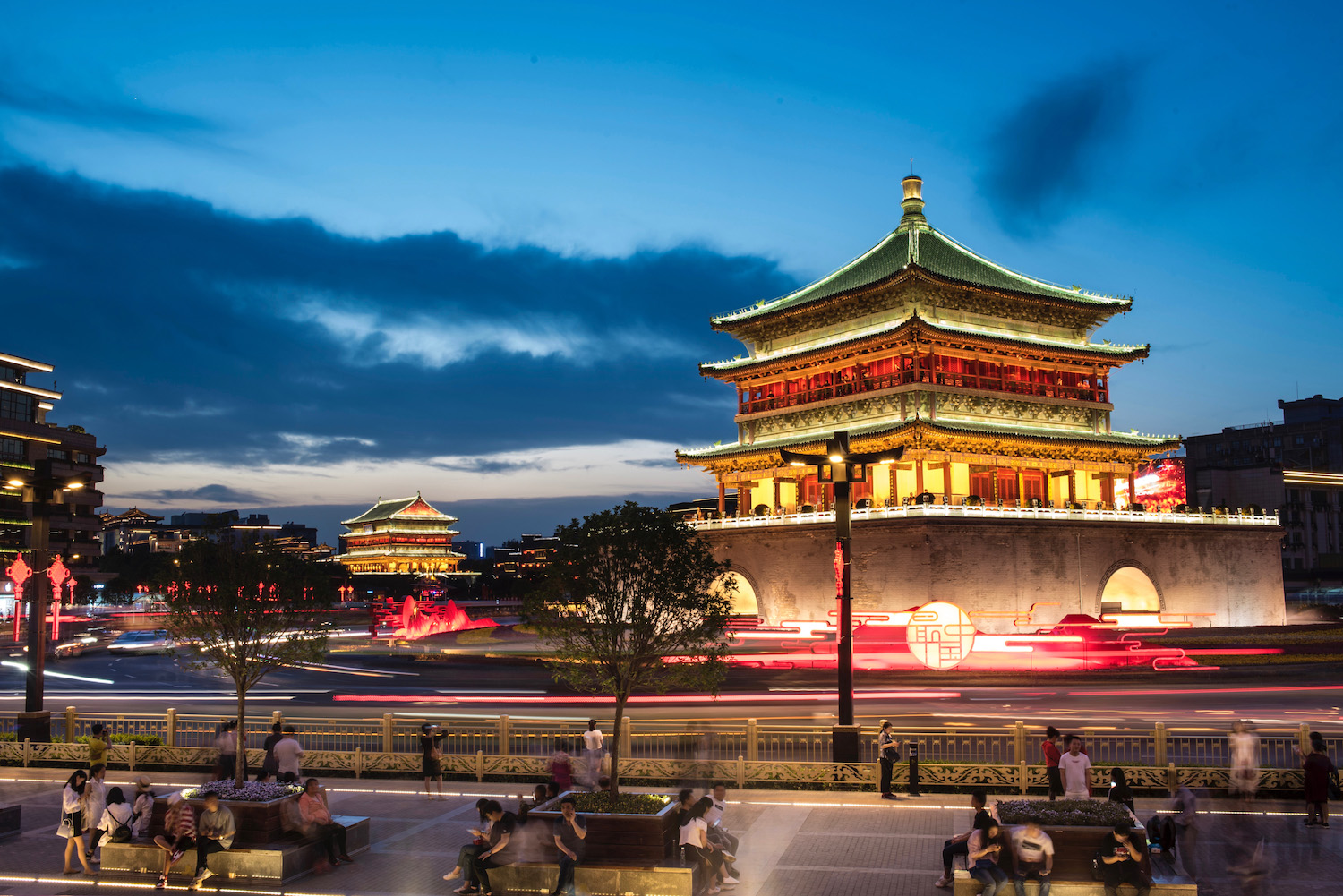 Known in Chinese as Zhong Lou, the Bell Tower in Xi'an dates back essentially to the same period as the City Wall, near the end of the 14th century when the Ming were first taking power. While this structure is beautiful any time of day, it's particularly nice around sunset, when it lights up in bright and brilliant colors. My favorite place to photograph the Xi'an Bell Tower, which is surrounded on all sides by shops, restaurants and hotels, is from the steps of Kaiyuan Shopping Mall.
Eat Your Way Through the Muslim Quarter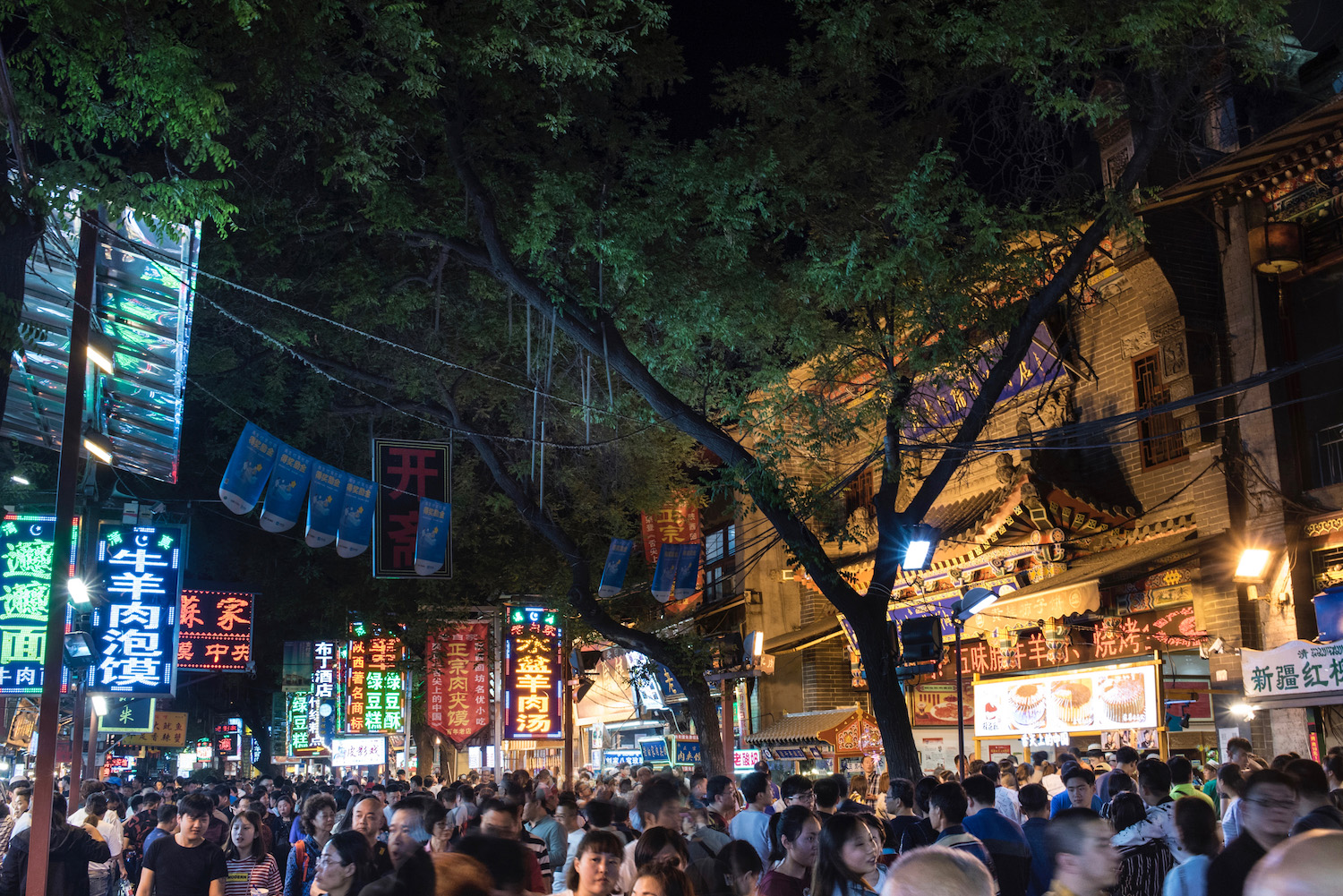 There are many reasons to love the Xi'an Muslim Quarter, from its bright colors and festive environment, to an opportunity to interact with China's least visible (and sadly, as of late, most persecuted) minority group. But my favorite part of traipsing through the streets just north of the Xi'an Drum Tower? Food, food and more food! Whether you savor fresh-grilled yang rou (lamb) skewers, try rou jia bing (aka the "Chinese hamburger") or enjoy hundreds of fruit juice options, the Muslim Quarter is Xi'an's kitchen.
Where to Go in China (After Xi'an)
The most obvious way to address this topic is to talk about day trips from Xi'an—ones more distant from the city than the Terracotta Warriors. These range from the death-defying (and viral-video famous) trail at Huashan, to historical attractions such as Longmen Grottoes in Luoyang and the Huangdi Mausoleum a few hours north of the city by high-speed rail.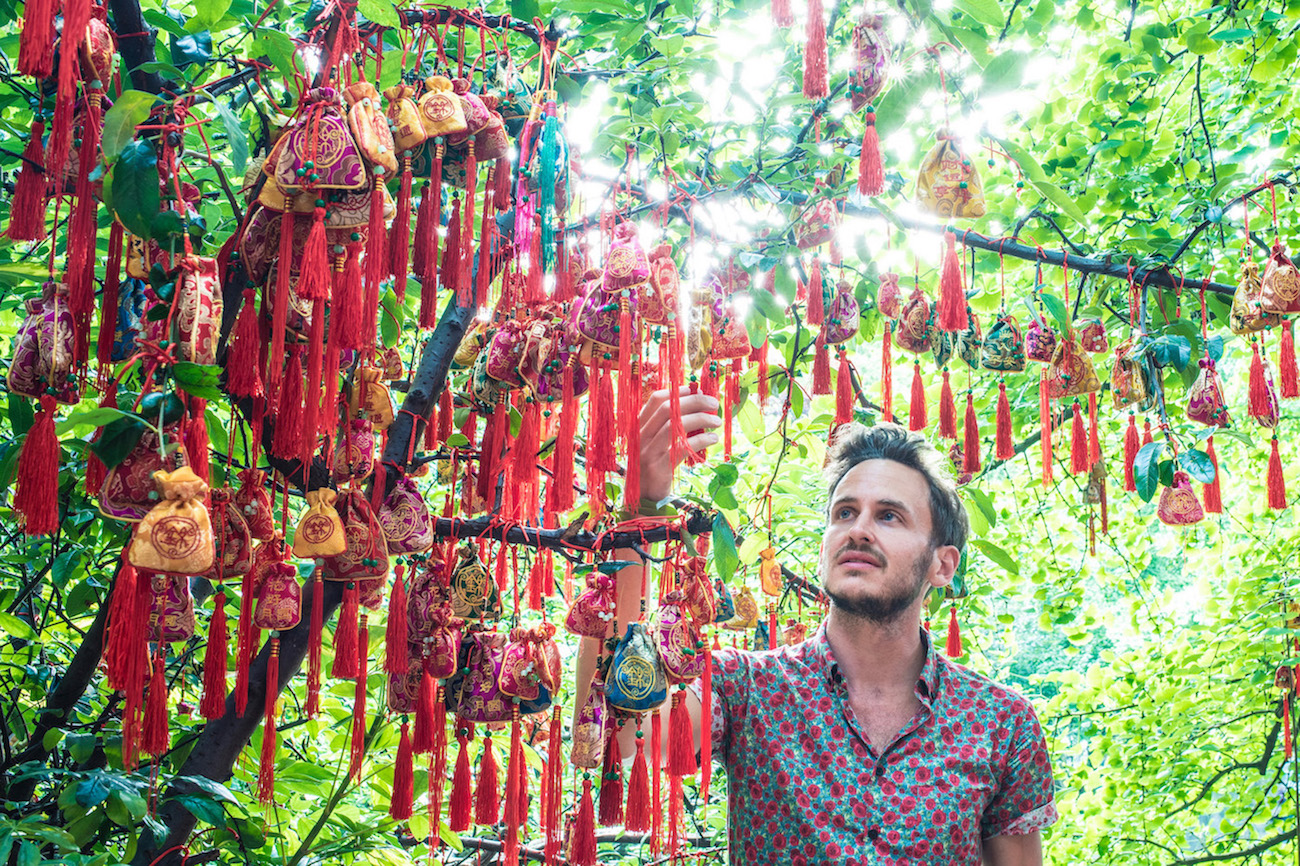 If you have a longer China itinerary, you'll want to explore other regions of the Middle Kingdom, no doubt. You could ride the high-speed train from Xi'an to Chengdu (and, optionally, Chongqing) to explore southwestern China's Sichuan province, or head northeastward to Beijing, China's current capital. The options are really limitless, thanks to China's impressive new bullet train network.
When to Visit Xi'an
Xi'an has four very well-defined seasons, so determining the best time to visit Xi'an isn't as simple as it is for other destinations in Asia—there are concerns besides "wet or dry" to keep in mind. Personally, I love the spring month of April and the autumn month of October, though I did notice during my most recent trip (which took place the second week of April) that the heat was already summer-like—and so too, sadly, was the smog.
Another consideration to make when determining when to complete your Xi'an itinerary is deciding what to do in Xi'an and making your decision based on that. If you plan to embark on treacherous climbs at Huashan you won't want wet or slick weather, but you also won't want it to be too cold or hot. If you plan to stay mostly in the city center, however, weather is not a very important consideration at all, since there's so much indoor space.
Other FAQ About Travel to Xi'an
How many days do you need in Xi'an?
As I general rule, I recommend spending at least two days in Xi'an. This allows you a full day in the city center—morning on the Old City Walls, afternoon at Dayanta and evening at the Bell Tower and in the Muslim Quarter—and one day for a day trip to the Terracotta Warriors.
Is it worth going to Xi'an?
Xi'an is absolutely worth a visit, if only for the famous Terracotta Warriors. Additionally, Xi'an is the gateway to Western China, which is the most beautiful and interesting part of the country, by a long shot.
How do I get to Xi'an?
Xi'an is accessible via high-speed train from cities like Beijing, Chengdu, Chongqing and Lanzhou, and by direct flights from most major cities in China. Additionally, international flights from cities including Bangkok, Singapore and San Francisco (at least in pre-pandemic times) exist.
The Bottom Line
Is Xi'an worth visiting? Without a question, yes! Whether you discover all the things to do in Xi'an over a consecutive span of time, or on a split visit as I did on my last trip, you'll wonder why you haven't come here sooner. Xi'an, in spite of how poorly known it is among most foreigners, is one of China's most satisfying cities. Certainly, the Middle Kingdom's former capital is at least as enthralling as its current one, even if both suffer from the same choking air pollution. Aren't planning to explore up-and-coming Gansu province like I did? Make sure to take a day trip (or two) from Xi'an, or hire me as your Travel Coach for even more Xi'an itinerary inspiration.