Finding a Kaohsiung itinerary can be a somewhat daunting task, in spite of how much the internet seems to love Taiwan's second city. That's the first reason I'm glad you're here—I know how frustrating it can be to want to plan a trip somewhere, but to lack the resources to create an actionable (or even meaningful) outline.
Of course, part of the reason that information can be so difficult to come by is that Kaohsiung things to do are neither as numerous nor as conspicuous as the attractions that comprise the average Taipei itinerary. Here's how to make the most of your Kaohsiung trip, no matter how many days you have available or how you'd like to spend them.
Where to Stay in Kaohsiung
If you're looking for a Kaohsiung hotel that rocks your socks, you might be out of luck. While there's no shortage of quality lodging in the city, from boutique-ish properties such as Kindness Hotel to the budget-friendly Pathways Hostel, there are very few places to stay in Kaohsiung that embody luxury, opulence or even excellence, really.
One Kaohsiung accommodation that's something of an exception to this rule is Silks Club Kaohsiung, which is among the few true five-star hotels in Kaohsiung. Alternatively, an increasing number of travelers are choosing apartments, though these can have as many drawbacks as benefits, unless you plan to stay for a week or longer and "live" in Kaohsiung during that time.
Top Kaohsiung Attractions
Tiger and Dragon Pagodas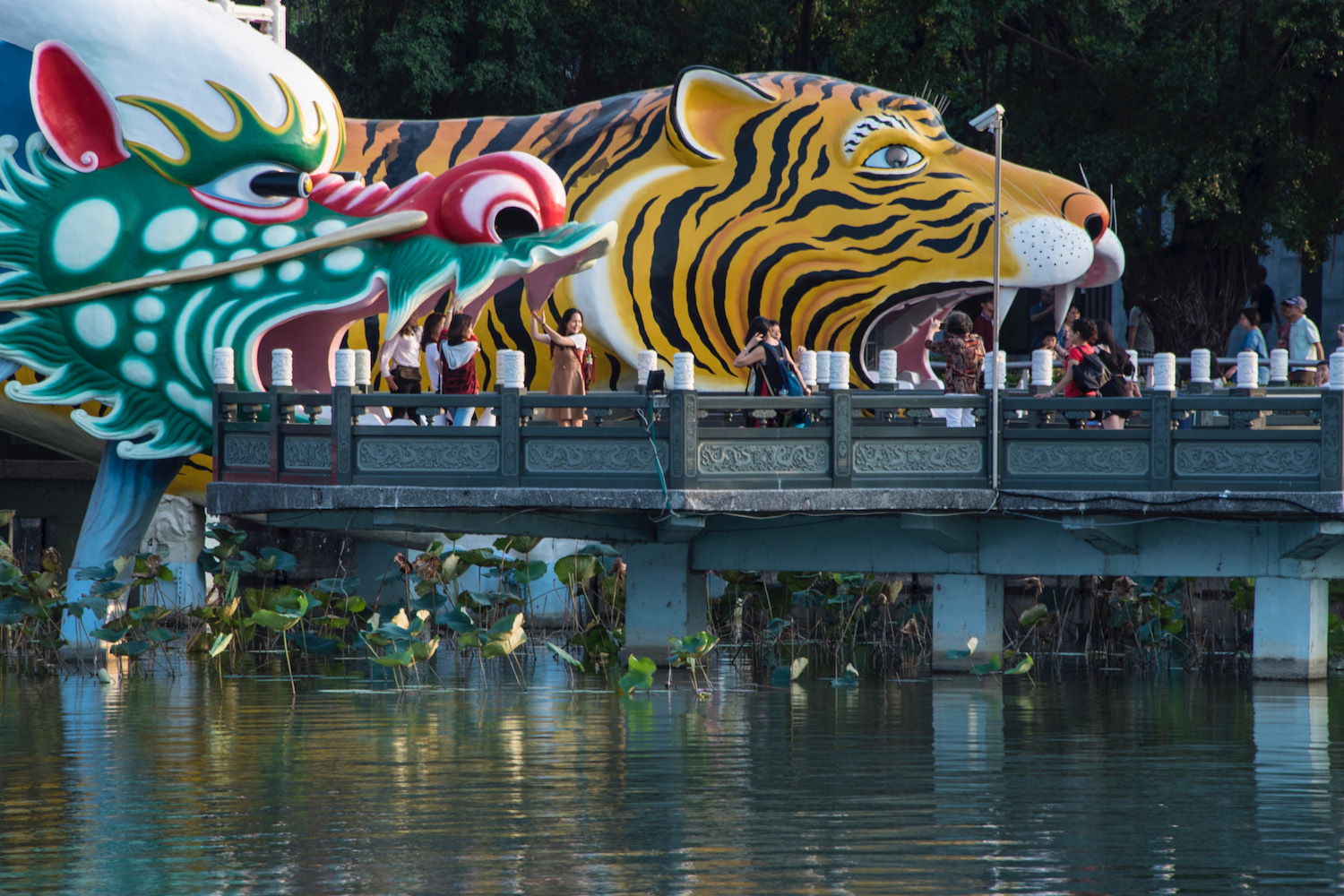 Probably the most famous (and certainly, the most photographed) of all Kaohsiung attractions, the Tiger and Dragon Pagodas are the first place in the city I'd head if I were you. Many of the other attractions in Kaohsiung Lotus Pond are also attractive, however, and the second floor of the pavilion that juts into the middle of the lake is a great spot to watch sunset. Moreover, a street food market sets up on the main pond-side road in the afternoon and evening.
Cijin Old Town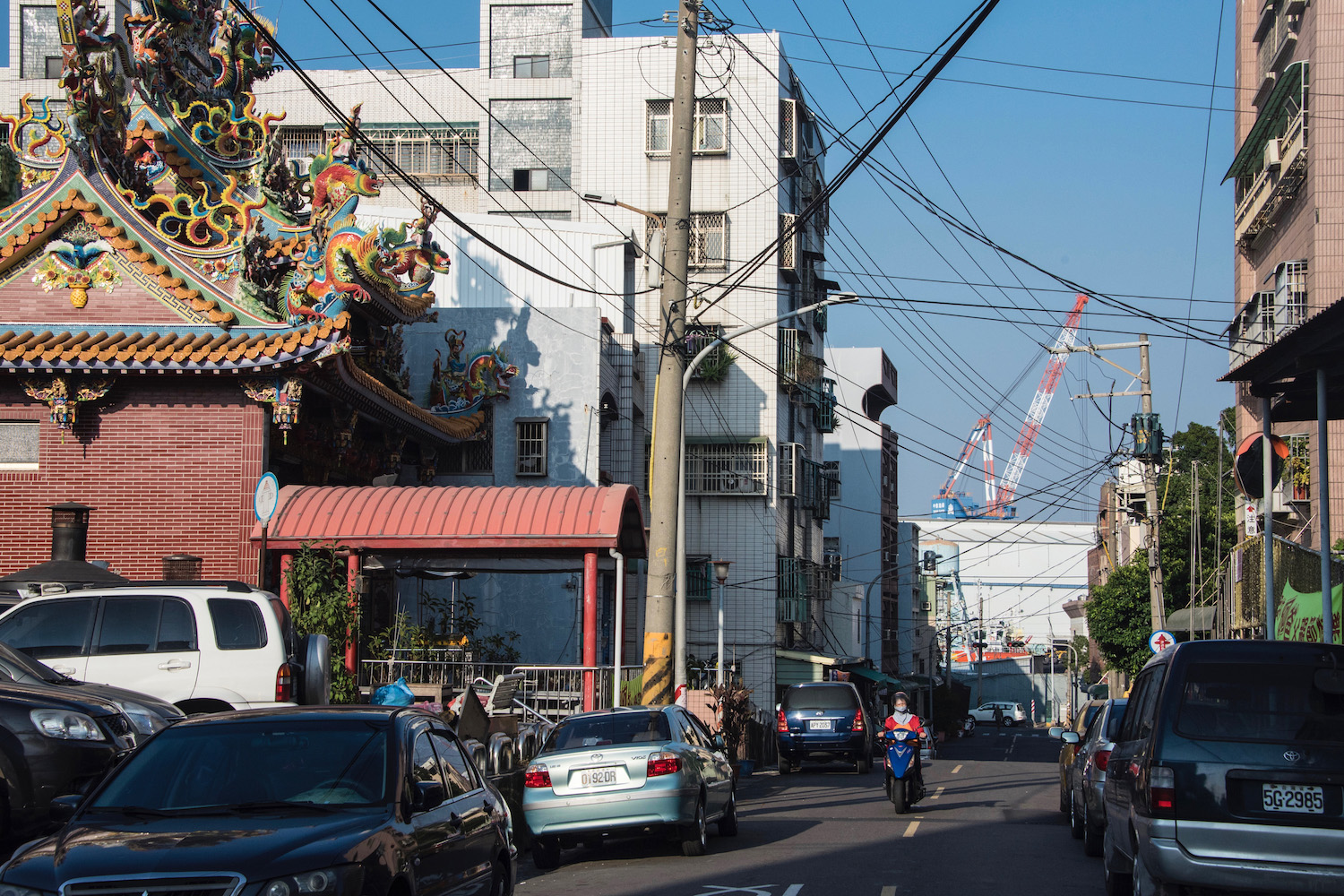 Need a little history? Ride the metro to Kaohsiung Port (Sizihawn station of the Kaohsiung MRT) and take a quick ferry over to Cijin island. But rather than ticking items off the limited list of attractions here, the most notable of which is the Cijin Shell Museum, focus your energy on getting lost in this decidedly local part of town. This was one of the highlights not only of this Kaohsiung attraction blog, but of my Taiwan trip in general if I'm completely honest.
Shoushan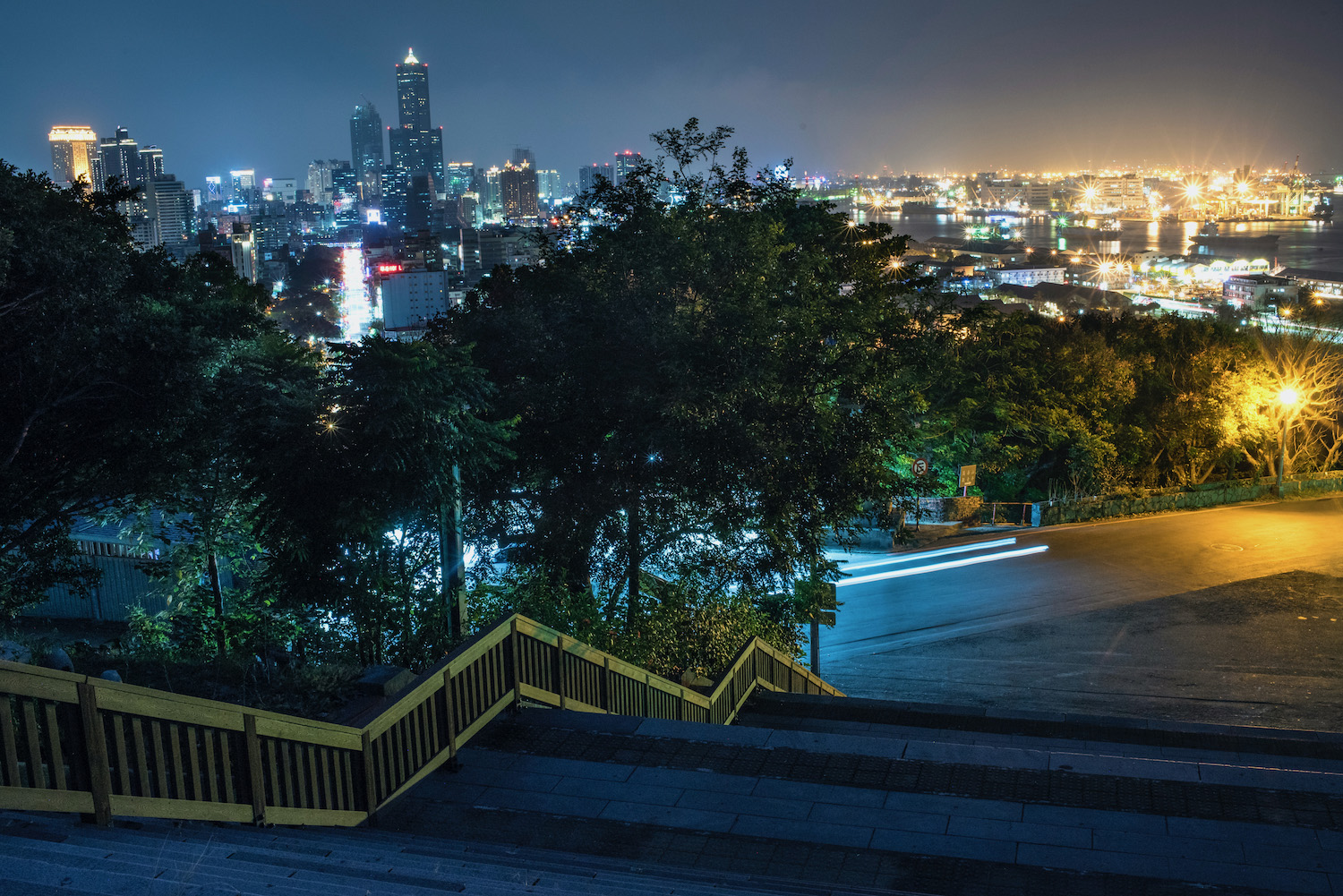 The path that leads up to the top of this Kaohsiung mountain is just a few minutes by foot from the port, which makes it the perfect follow-up activity to an afternoon on Cijin. Known in Chinese as Shoushan and in English as Monkey Mountain, it's the perfect spot to get a panorama of Kaohsiung's CBD and its glittering harbor. You can even look back on Cijin and the ships just off its shore, which is an awesome shot to get indeed. On your way back to the city center you could stop at the Love River, though I find this waterway pretty forgettable, and worth skipping unless you have a long trip such as a Kaohsiung itinerary, 5 days (or longer).
Liuhe Tourist Night Market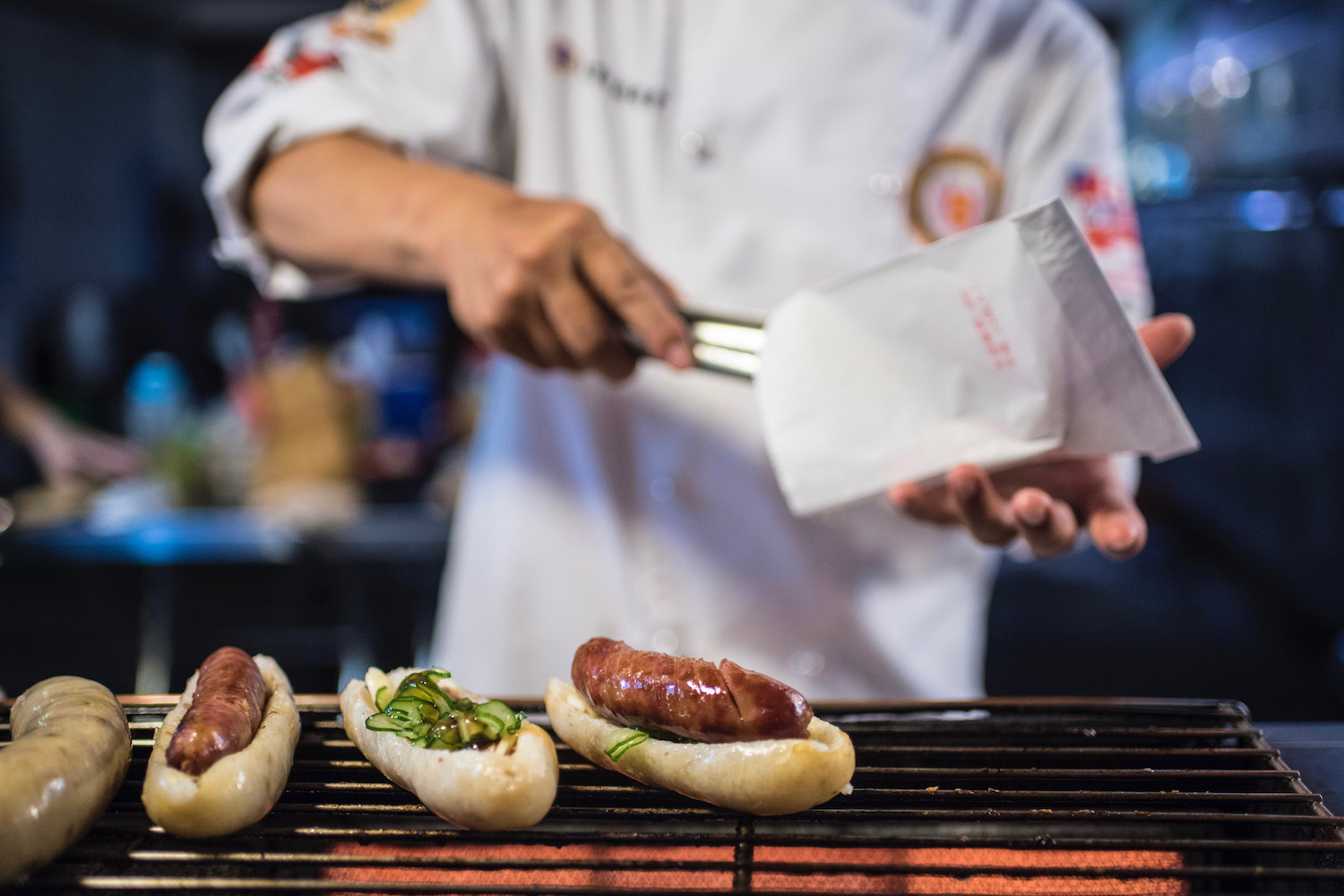 Fair warning: Many a local person will say the best Kaohsiung night market is Ruifang, and not the Liuhe Tourist Night Market. I prefer the latter, not only because I love the fried dumplings you find here, but because it's convenient—it's just a few minutes' walk from Formosa Boulevard, the central station of the Kaohsiung MRT. It also offers a larger variety of food than Ruifang, which compensates for the number of tourists here, at least for the purposes of this Kaohsiung blog.
Day Trips from Kaohsiung
If you've explored the city center but haven't gotten your Kaohsiung temple fix, the most obvious choice is to visit Fo Guang Shan monastery. Accessible via the 8501 Bus from Zuoying HSR Station, this is an appealing day trip in one sense, but can be frustrating if you're a photographer. Reason being, the viewing deck seems to be off-limits except for during major Buddhist holidays, which makes it near-impossible to get the "money shot."

If you aren't taking a trip all the way around Taiwan, but want to enjoy some beach time during your Kaohsiung itinerary, you'll also head to Zuoying Kaohsiung train station. The most effective thing to do is rent a car here, so you can drive not only to Kenting National Park, but to superior beaches farther north such as Taimali. However, you can also take a direct bus from Zuoying to Kenting National Park, and just chill out in and around town for the day. For an urban day trip from Kaohsiung, make the short train journey northward to Tainan, Taiwan's original capital city.
How Many Days Do You Need in Kaohsiung?
Although there's not as much Kaohsiung sightseeing as you would find in, say, Taipei, there's still enough to spend two full days in the city center. You could condense this to one, if you're comfortable leaving a few things out, though I wouldn't recommend a day trip to Kaohsiung from Taipei—the city is large and rich enough in activities that you really owe yourself at least one sleep here. When it comes to Kaohsiung, how many days you spend should be "as many as possible."
Ideally, you'd plan a Kaohsiung 3 days itinerary, which would give you two full days in the city center, plus a day for an excursion to somewhere outside. While Fo Guang Shan will be the Kaohsiung day trip choice of most travelers, you could head north to Tainan for an urban adventure, or even rent a car and drive to Kenting and back as described two paragraphs up in this Kaohsiung travel blog.
Other FAQ About Planning a Trip to Kaohsiung
Is Kaohsiung worth visiting?
Kaohsiung is absolutely worth visiting, regardless of why you come and for how long. Some travelers will head down for the day from Taipei, doing a (very long) day trip assisted by Taiwan's excellent high-speed rail network. For others, a few days in Kaohsiung comes after driving down Taiwan's East Coast scenic route, and for still others it's a standalone trip.
Is Kaohsiung better than Taipei?
Although I love Kaohsiung, it's difficult for me to think of a way in which Kaohsiung might be considered "better" than Taipei. In addition to being larger and more cosmopolitan than Kaohsiung, Taipei simply offers more opportunities for day trips and other exploration. With this being said, you should definitely visit both cities if you get a chance.
How long is the high speed train from Taipei to Kaohsiung?
The high-speed train journey from Taipei to Kaohsiung takes between 1.5-2 hours, depending upon which departure you take and where else it stops. With this in mind, it's very easy to see Kaohsiung on a day trip from Taipei, assuming you board one of the morning's first outbound trains and return as late at night as possible.
The Bottom Line
This Kaohsiung itinerary is a lifesaver, whether you come on an excursion from Taipei, stop during a comprehensive Taiwan itinerary or visit the city on a standalone basis. From must-see Kaohsiung attractions like the Tiger and Dragon Pagodas, to interesting day trips like Fo Guang Shan Monastery, to the underrated Cijin historical district, my itinerary for Taiwan's second city is first-rate. Make sure to leave a comment below if my itinerary helped you plan you trip!