When I Googled "Fethiye vs Ölüdeniz" many months ago, the consensus seemed to be clear: Oludeniz, as a paradisiacal idyll right on the beach, made a far superior base for exploring the Turkish coast than Fethiye, which was more or less an ordinary city. I made up my mind—I made my hotel reservation—in minutes.
I started questioning the wisdom of this decision almost immediately upon checking in at said hotel. My doubts became even more pronounced the day I traveled to Fethiye and began exploring in earnest—had I made a huge mistake in having chosen to stay in Oludeniz?
The reality of the situation is at once more complicated than this, and perhaps also just as simple. I'm getting ahead of myself, however, and needlessly—we have plenty of time to discuss this topic.
Why I Chose to Stay in Oludeniz
Before I begin making direct comparisons of Fethiye vs Ölüdeniz, allow me to explain more about why I chose to stay in Oludeniz. As you might have read elsewhere on this site, my latest trip to Turkey took place during the coronavirus pandemic, whose effect on traveling in the country was unclear to me before I arrived. As a result, when I was planning my trip, I was even more hyper-focused on location than I usually am when choosing accommodation: I wanted to be as close as possible to the Blue Lagoon.
In addition to what I referenced earlier (my hotel in Oludeniz, the Durak, was awful—one of the worst I've stayed at anywhere), I found the town to be slightly more run down than I expected, and significantly more tacky. When I traveled to Fethiye, initially for the sole purpose of fixing my iPhone screen, I had a sobering realization: Fethiye is a superior destination to Oludeniz in every way except the beach itself.
Comparing Fethiye and Oludeniz
Cityscape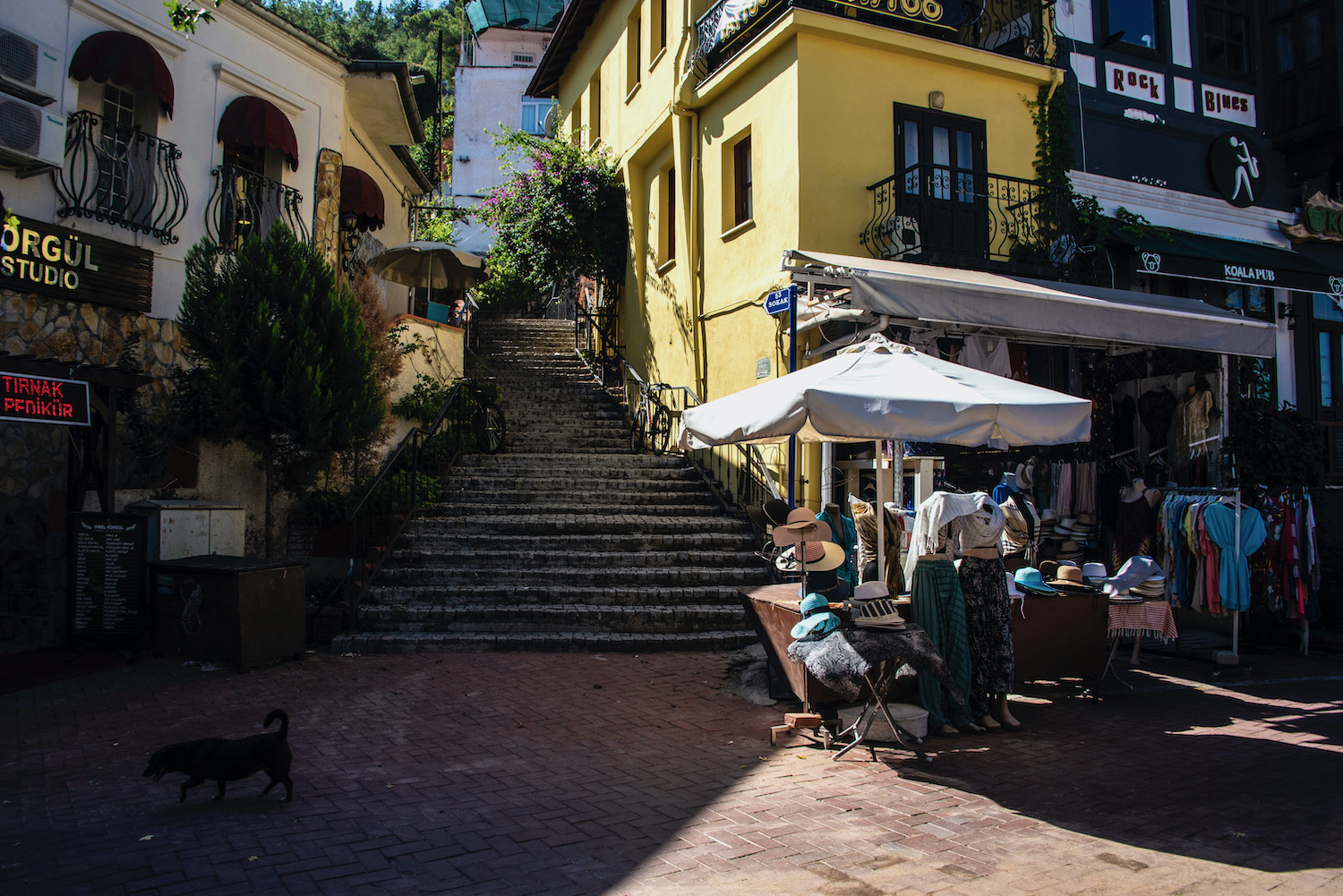 Fethiye is the obvious winner in this category, primarily because Oludeniz isn't a real city. Indeed, while Oludeniz is essentially three parallel streets of hotels, restaurants and bars leading down to the beach, Fethiye is rather sprawling. Which is not to say it will overwhelm you: You'll be focusing most of your energy on attractions near the city's picturesque marina, as well as Fethiye Castle and Amyntas Rock Tomb, which are just to its south.
Landscape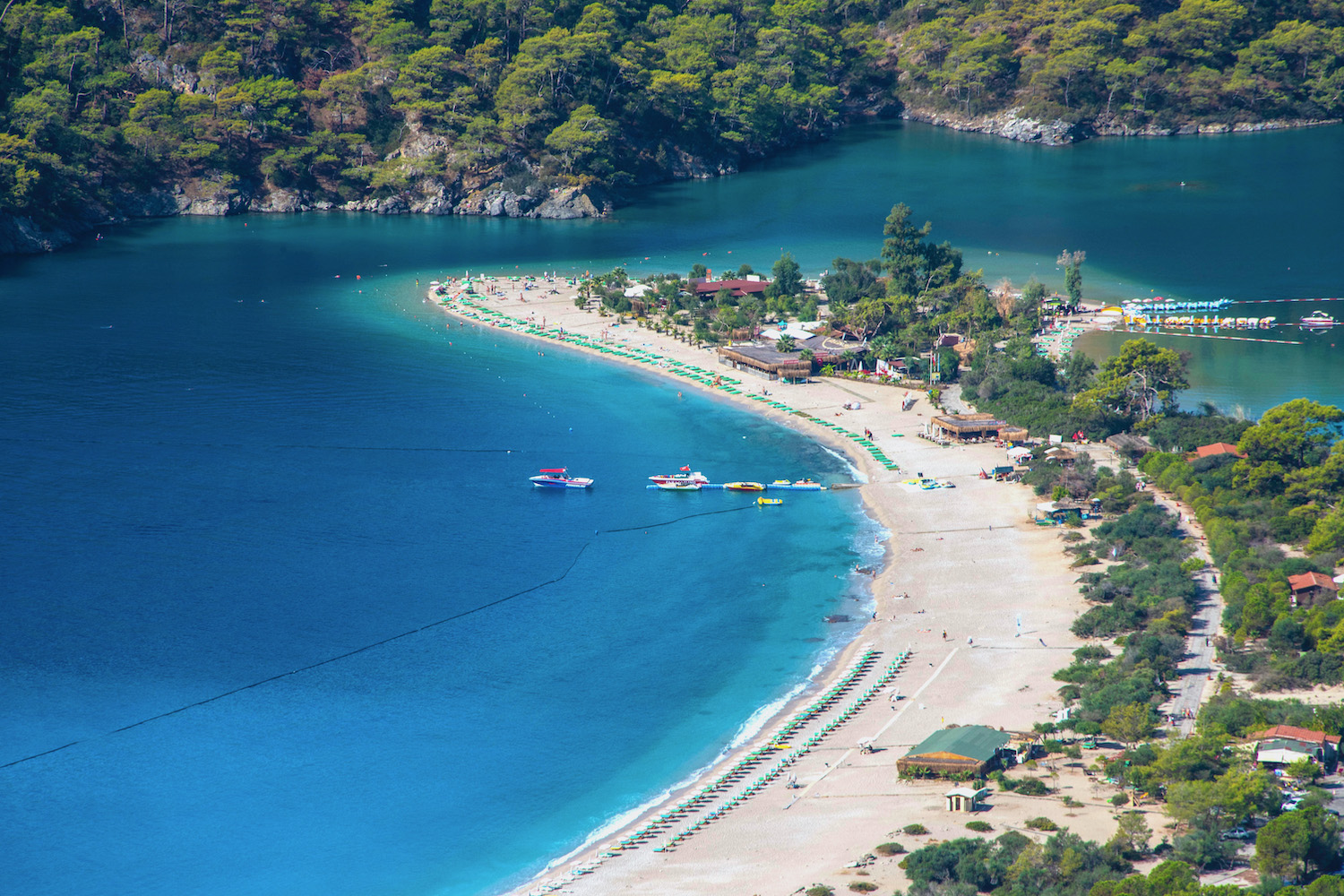 From the Blue Lagoon to the mountains that rise around its half-moon bay, Oludeniz is one of the most beautiful landscapes not only in Turkey, but anywhere in the world. This becomes even more evident as you hike the Lycian Way in the direction of Butterfly Valley; you can turn around at any point for the first hour or two of your walk (assuming you don't simply paraglide overhead) and enjoy a bird's eye view of the beach. Dramatic scenery surrounds Fethiye, too, but there's no real comparison.
Restaurants and Bars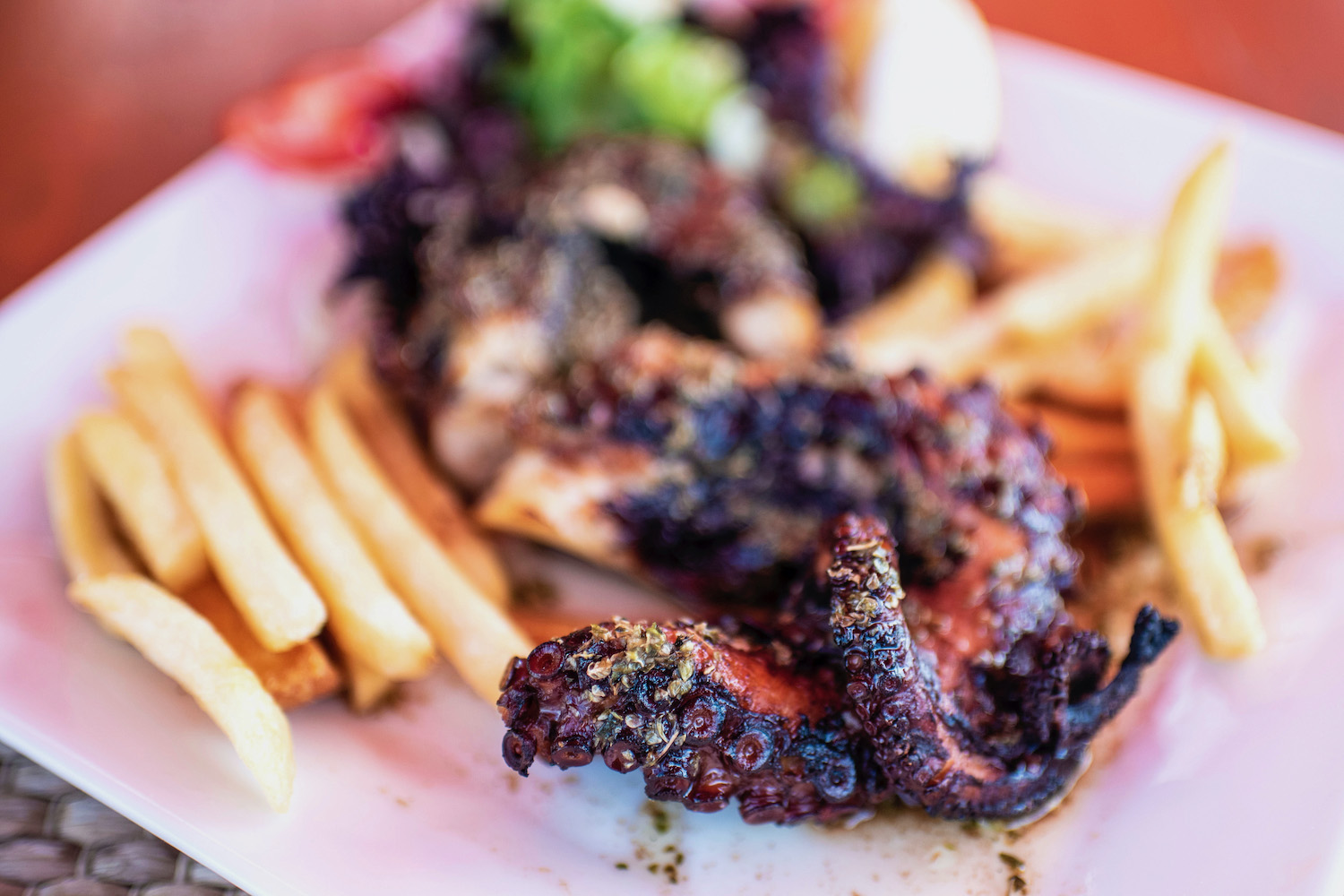 When it comes to dining and drinking venues per square mile (and certainly, per human being), Oludeniz probably beats Fethiye on a quantitative basis. However, I prefer both the restaurants and the food in Fethiye, primarily because many are long-established spots designed not only with travelers in mind, but also cosmopolitan locals. It's easy enough to get a drink in Fethiye, Turkey meanwhile, although Oludeniz, Turkey definitely presents more options for a proper party.
Accommodation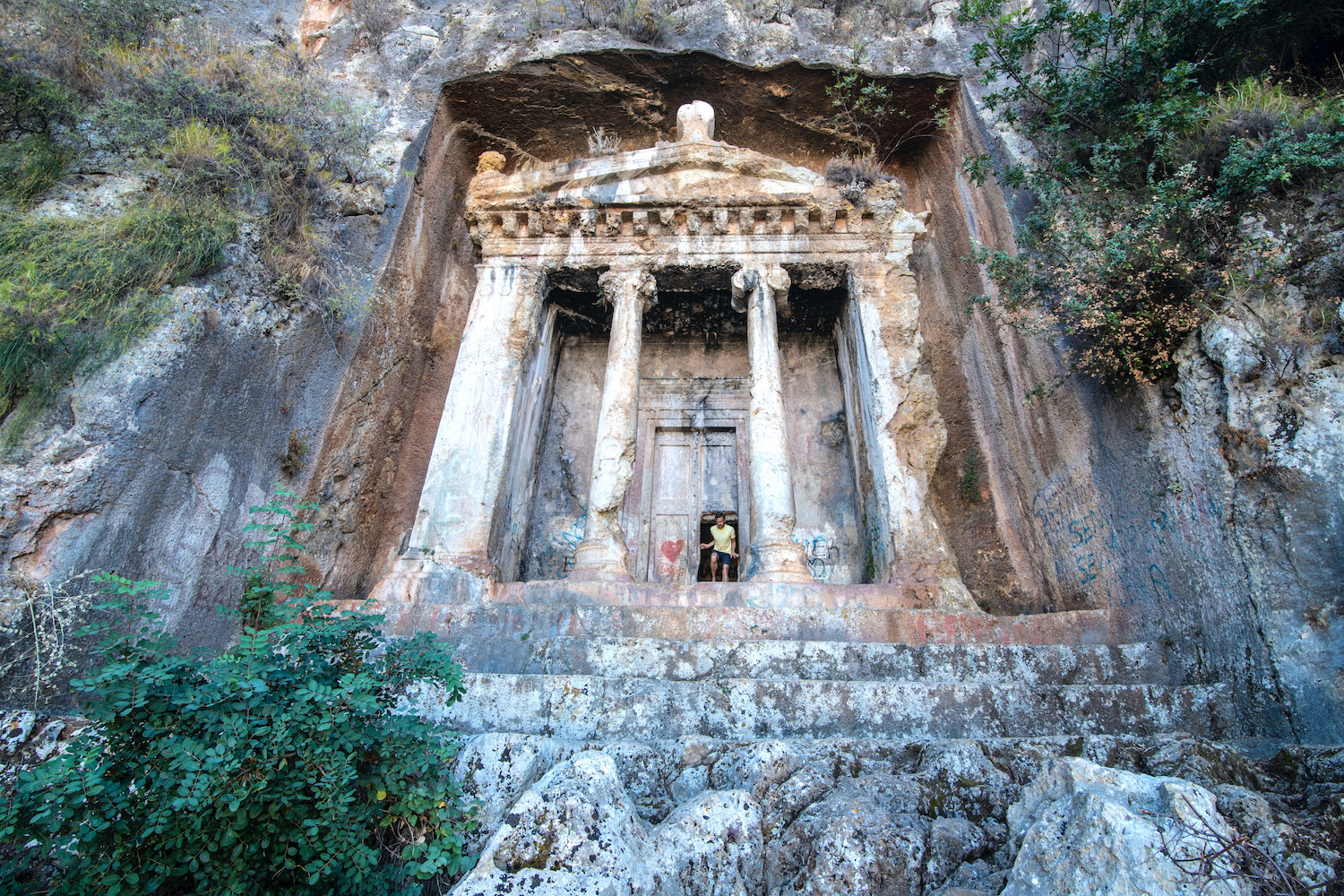 I didn't sleep in Fethiye, so I can't directly comment on hotels in Fethiye or Ölüdeniz. However, from the hotel in whose restaurant I ate lunch (Casa Margot—Citrus is a fabulous place to have a meal or cocktail) to other properties I passed such as Yeniceri City Hotel and Alesta Yacht Hotel, hotels in Fethiye seem to be significantly better than Oludeniz's Durak Hotel, which is thankfully no longer even listed on Booking.com.
Transportation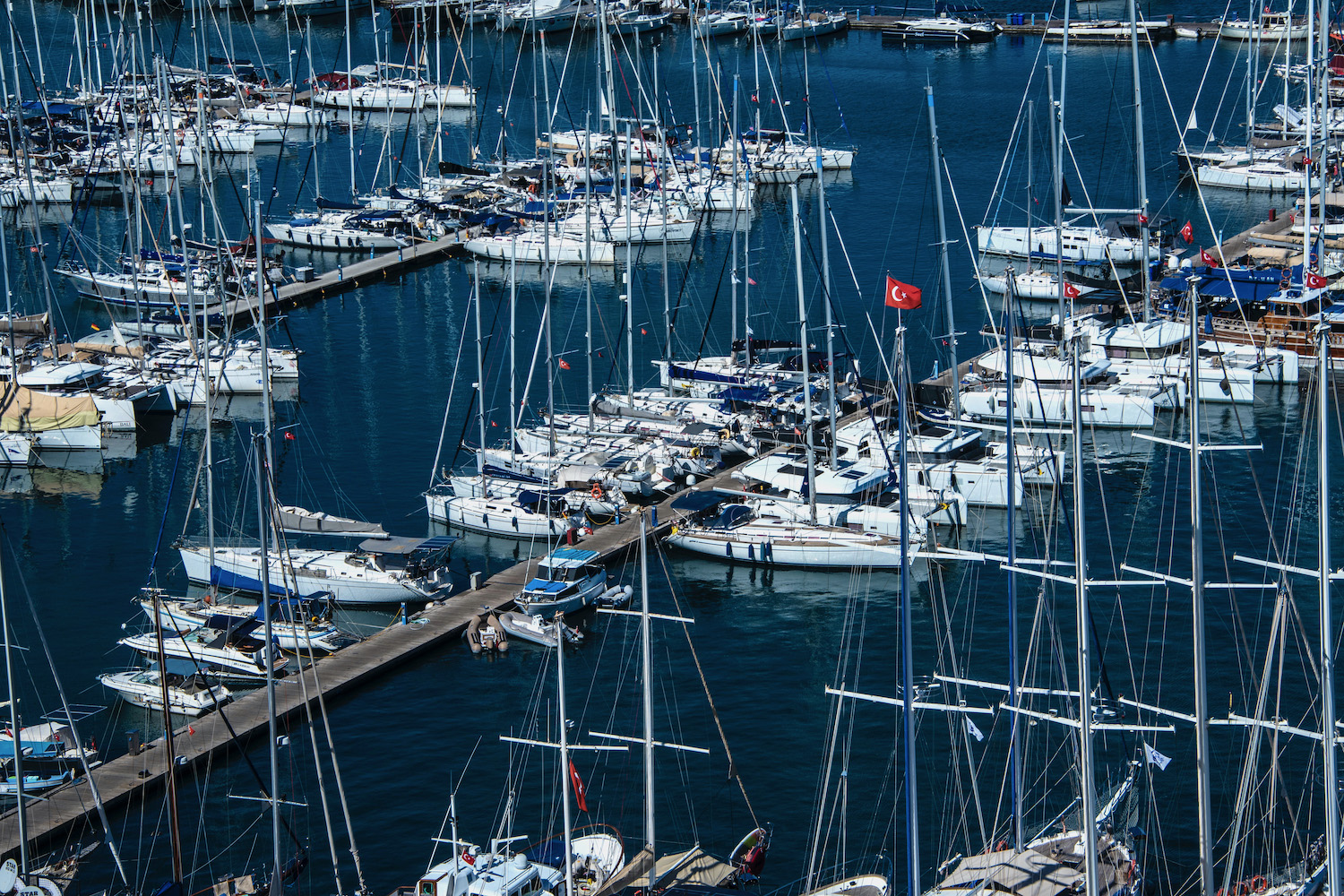 As the largest city in the Mugla region, Fethiye is a major transportation hub; its otogar is where you'll arrive if you take the bus from any other big city in Turkey. Beyond this, many dolmus minibuses travel outward from the main bus station, although Fethiye's flat city center is walkable depending upon the weather. You can also get a minibus from here to Oludeniz, where traveling on foot is essentially the only option, assuming you aren't swimming of flying through the air.
Other Places to Stay Along the Turkish Coast
Oludeniz's Blue Lagoon is probably the most iconic beach anywhere in Turkey, but this part of Turkey's coast isn't the only place to catch some rays:
Izmir: Although the beaches immediately within this large coastal city aren't fantastic, culture and convenience serve as a counterbalance
Bodrum: Located roughly halfway between Fethiye and Izmir, this European holiday hub is home to some of Turkey's finest resorts
Kaş: Easy to miss but impossible to forget, Kaş combines a charming old town with perhaps the second-most gorgeous beach in Turkey, after the Oludeniz Blue Lagoon
Antalya: After dining and dozing amid the cobbled streets of Kaleiçi old town, hit the beach in bohemian Cirali, and watch the sunset behind the nearby ruins of Olympos
Want to abandon the Fethiye vs Ölüdeniz question all together? Consider visiting Turkey's Black Sea coast, particularly the portion between the cities of Trabzon and Rize.
FAQ About Traveling Along the Turkish Coast
How far is Fethiye from Oludeniz?
Fethiye is about 8 km from Oludeniz Beach, which translates into about 15 minutes on a dolmus minibus from Oludeniz's beachfront to Fethiye Otogar, i.e. the city bus station.
Is Oludeniz lively?
Oludeniz has many restaurants and bars, as well as a couple of nightclubs, so you can definitely describe it as "lively." On the other hand, many Oludeniz hotels are far outside the main strip, so said liveliness is possible to escape.
Is Oludeniz expensive?
Oludeniz isn't especially expensive, certainly not compared to resort towns in Greece, Italy and elsewhere in Europe. On the other hand, Oludeniz is a poor value: The quality of accommodation and food is low for what you pay, scenery notwithstanding. Whether you choose Oludeniz or Fethiye, however, there's so much more to consider than cost.
The Bottom Line
Above all, try not to stress too much when comparing Fethiye and Ölüdeniz and deciding between the two. Assuming you won't be on the Turkish long enough to spend a couple of nights in both these places, the reality is that they're close enough together that you can explore each as much or as little as you want. On the other hand, if you're very particular about the quality of hotel you sleep in, or the ambiance of the streets you step out onto, you might want to be a bit more discerning. Want to avoid leaving anything thing to chance on your trip to Turkey? Hire me as your Travel Coach—and let me sweat the details!