I've always made a point of returning to Hong Kong as often as I can, even when it requires a flight halfway around the world. Once I moved to Bangkok, however, which is less than three hours away by plane, I imagined I'd be making my newfound short hop with AirAsia, or a similar carrier.
That was not so on my most recent trip to "Asia's World City," for reasons I'll explain in a few paragraphs. For now, let's get straight to my Hong Kong Airlines business class review, which addresses the most important points of premium travel on this emerging airline's A350 and A330 aircraft.
Hong Kong Airlines Business Class Seats
I've always been of the opinion that the "hard" product (namely the seat) is the most important element of a business class travel experience, so I'll start this review by differentiating between the Hong Kong Airlines A350 business class and Hong Kong Airlines A330 business class seats.
The A350 is probably my favorite plane in the sky, full-stop, and Hong Kong Airlines' ones are excellent—with one small caveat. To be sure, while HX's future A350s will feature reverse-herringbone seats (like the product you find on American Airlines and Finnair), its current ones are equipped with less attractive "staggered" seats, a result of the airline's decision to accept a couple of A350's originally intended for Brazil's Azul Airlines.
In spite of their unsavory appearance, these seats are more comfortable than I anticipated, and feature maybe the smartest tray design I've ever seen, not to mention the deepest footwell. Indeed, the main visual offense at play is Hong Kong Airlines' color palette, which I can only describe as "ketchup and mustard." Secondary design features like neon-green lavatory soap and fake orchids really hammer home the fact that Hong Kong Airlines is owned by mainland company Hainan Airlines—it's not a "Hong Kong" airline at all.
Hong Kong's long-haul configured A330s feature the same cabin, but the regional A330 I flew from Bangkok to Hong Kong was even less impressive. It had an angled-flat product in 2-2-2 configuration, which was not only utterly uncompetitive, but was in a condition I can only describe as tore-up-from-the-floor-up. Avoid these planes if you can!
No matter which Hong Kong Airlines business class product you try, you'll have to suffer through the airline's lackluster entertainment system, which offers mostly Chinese options. Obviously, the screen is bigger and picture quality better on the A350 (whose console also has a webcam, though I'm not sure why), but you know what they say about putting lipstick on a pig.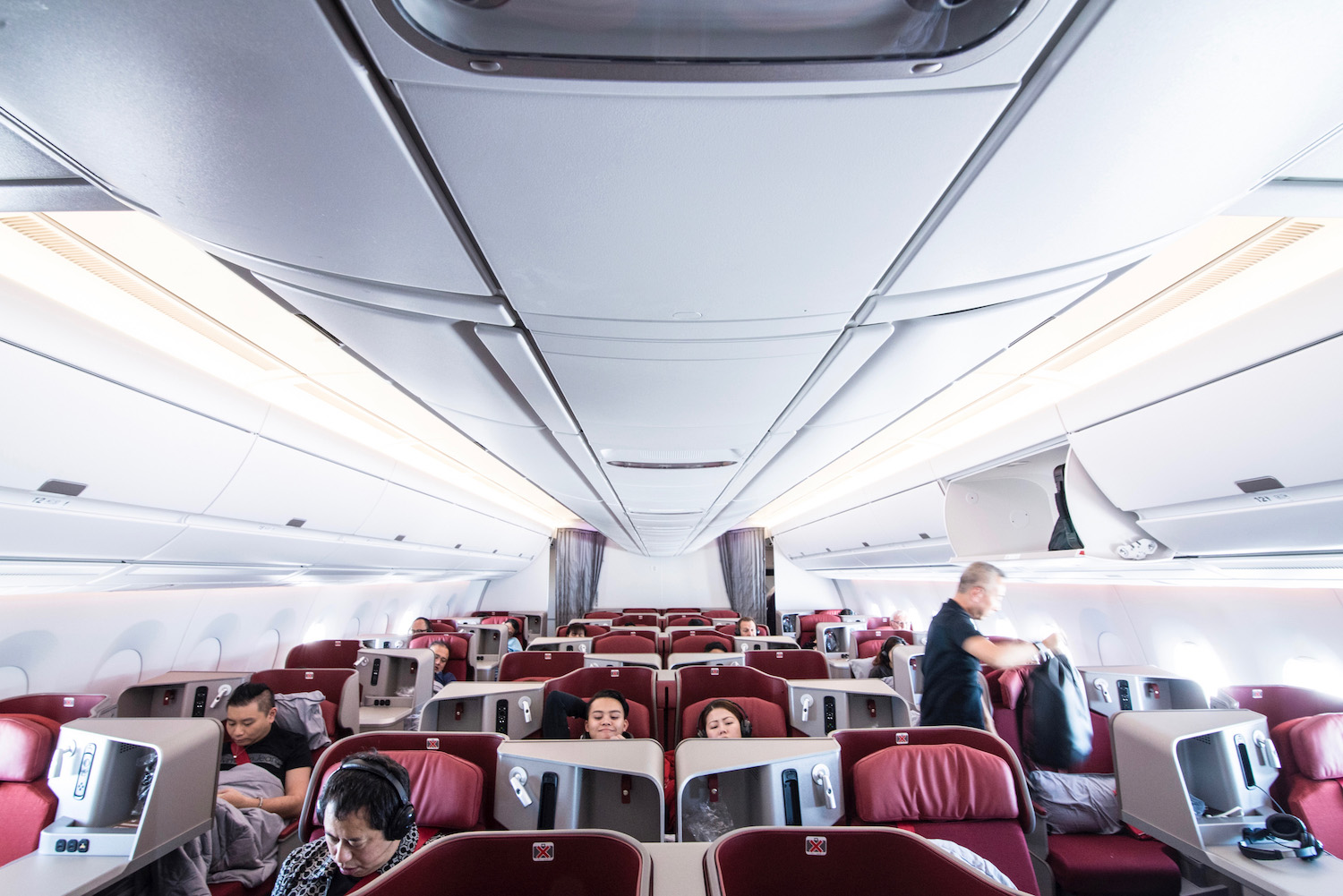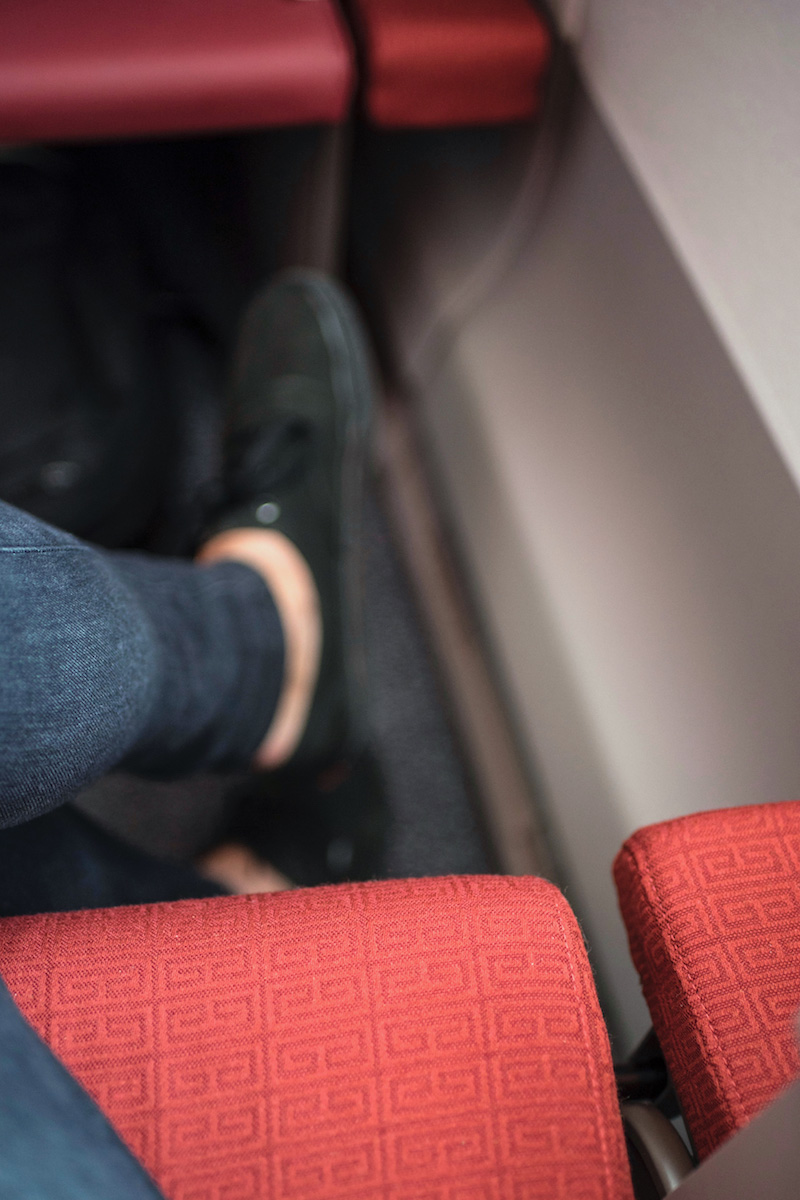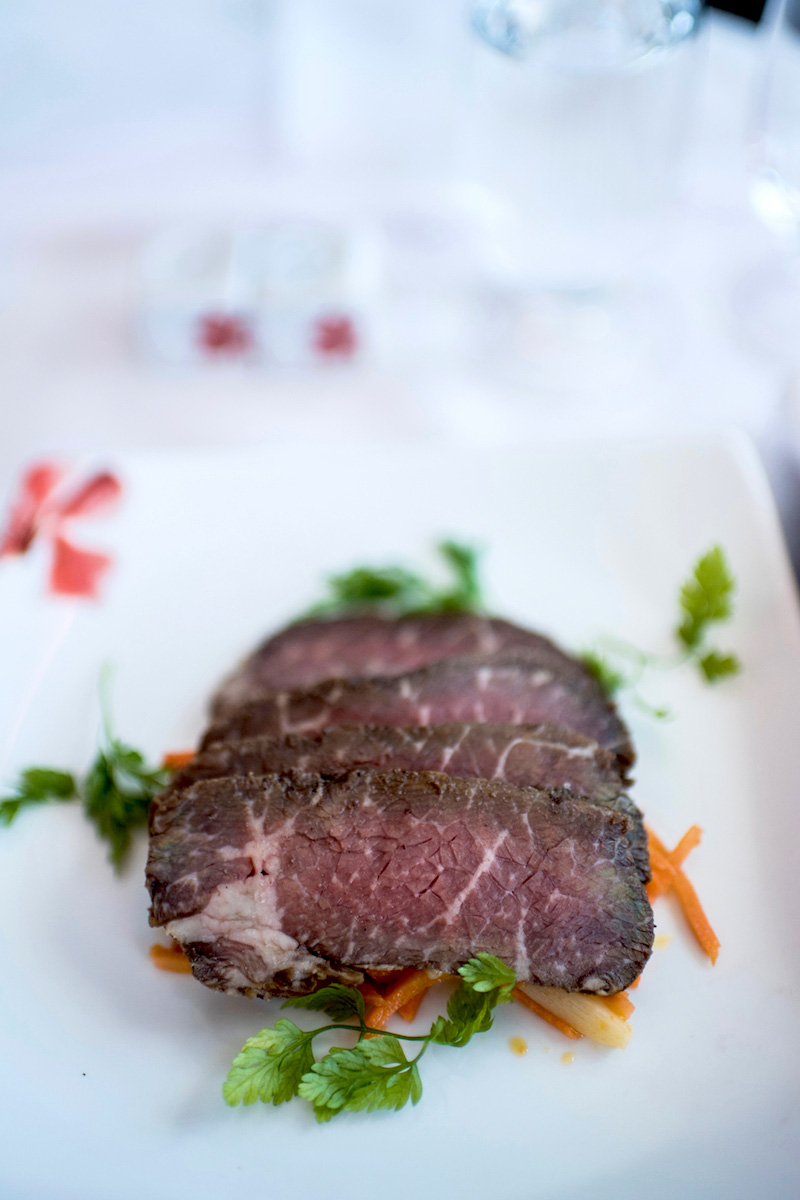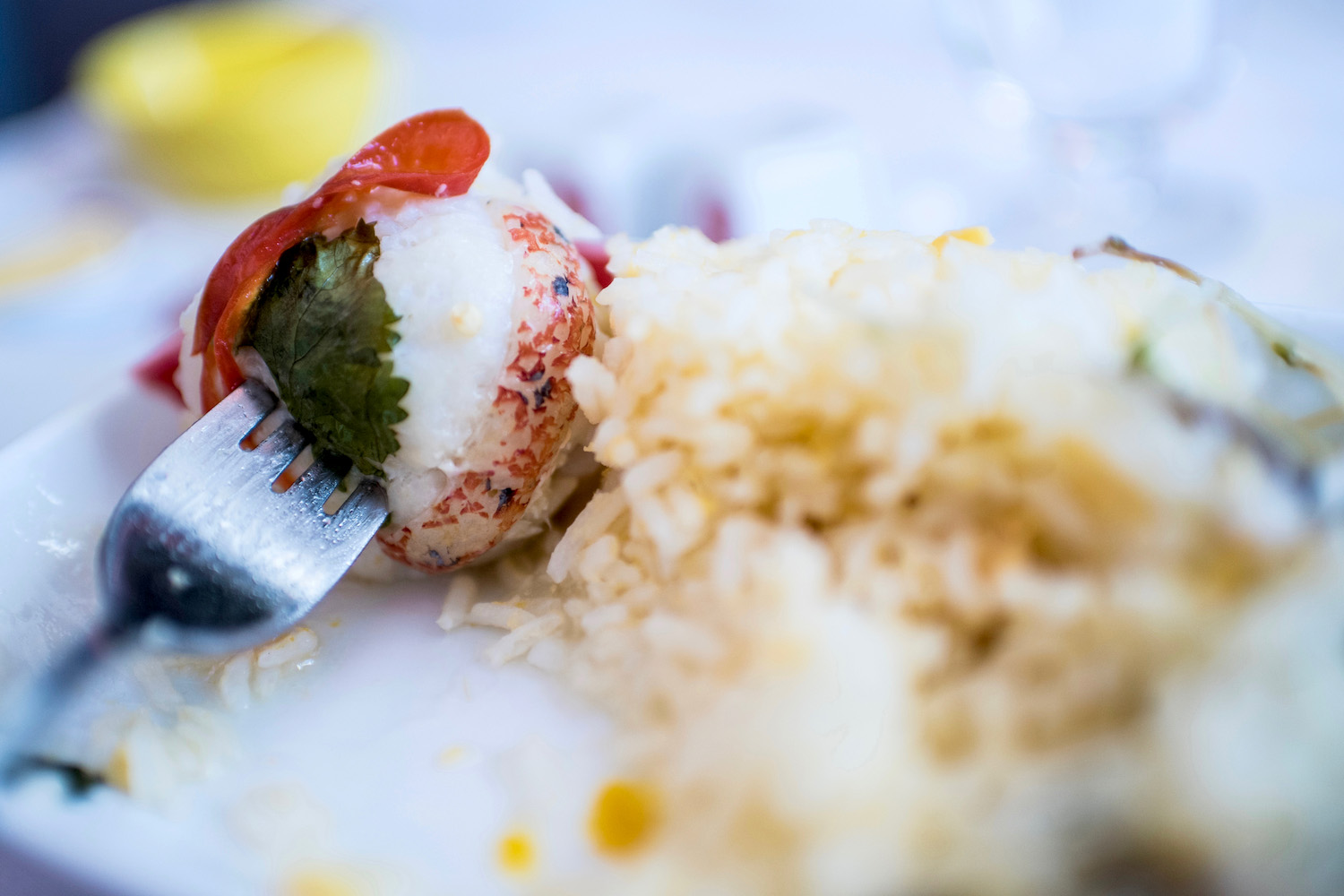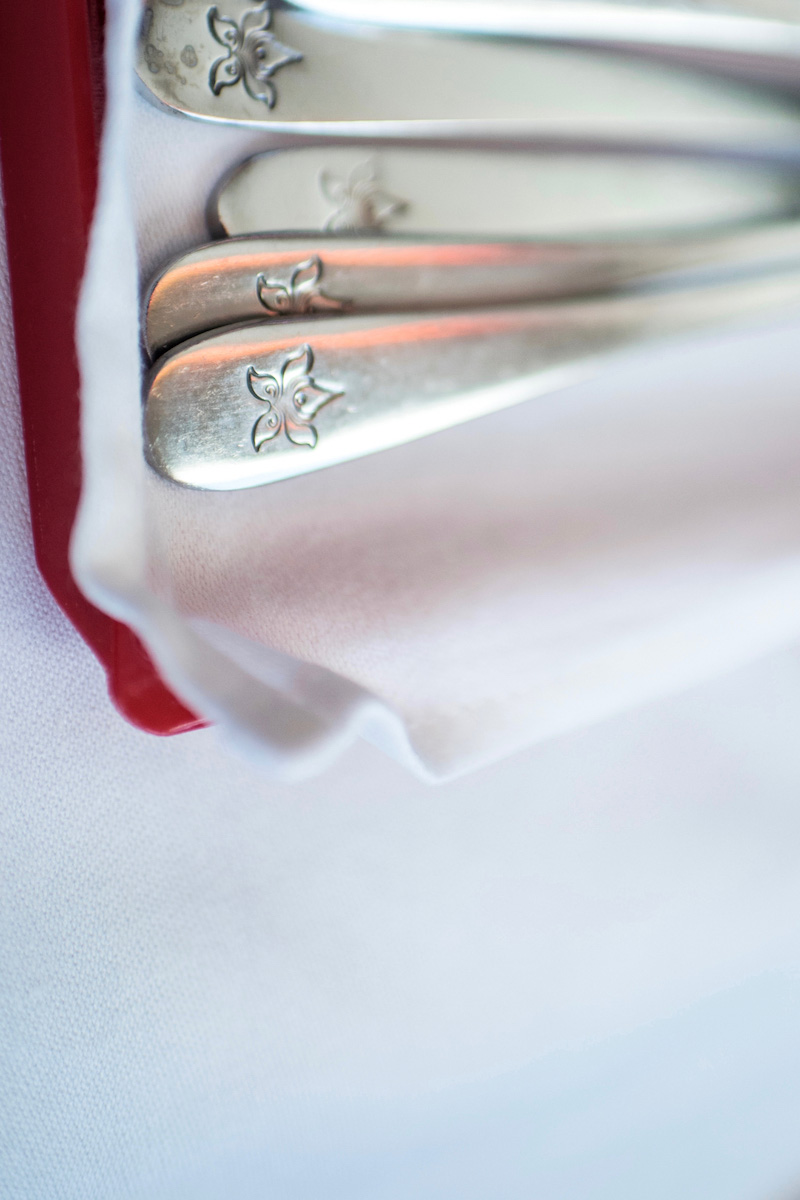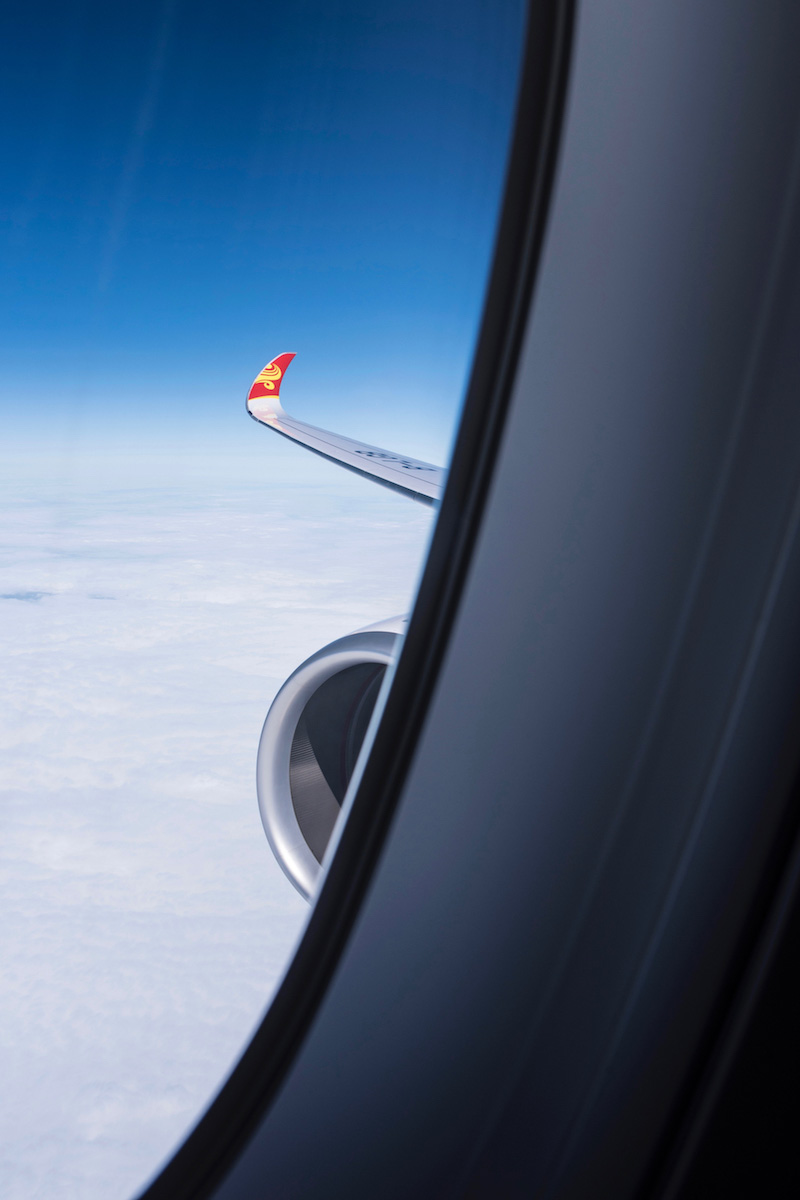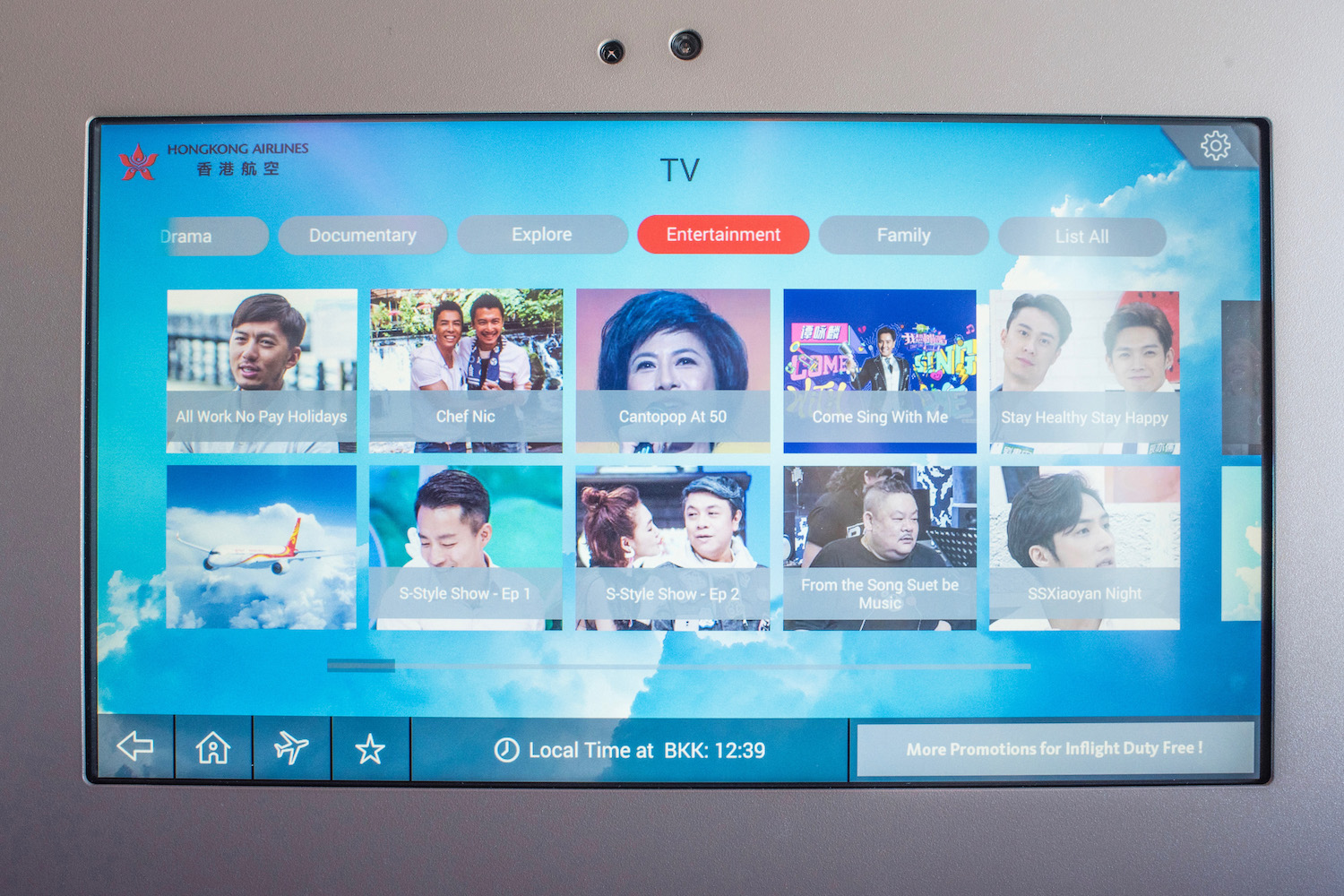 Hong Kong Airlines In-Flight Service and Food
Just as the physical experience of Hong Kong airlines business class was different on the A350 vs. the A330, so too was the service. While I felt extremely pampered during my A350 flight (multiple cabin crew, who all spoke fluent English, repeatedly called me by my name and even pronounced it correctly), my A330 flight hearkened back to past experiences I've had on Air China, China Eastern and even Spring Airlines, as sad as I am to say that. The A330 girls seemed completely lacking in confidence—and competence—for reasons that far exceeded their poor grasp of English.
The food—and champagne—in Hong Kong's A350 business class was also a lot better than that on the A330, although I suspect this is also because it was catered in Hong Kong rather than Bangkok. On the A350, I enjoyed a delicate roast beef amuse-bouche and an entrée inspired by Hong Kong's famous "fish balls," accompanied by chilled cutlery embossed with the HX logo, a warm pretzel roll and a delicious fresh dessert. On the A330, I had a forgettable breakfast served on a plastic tray that I'm almost certain was what the people in economy ate, minus the square of Godiva chocolate.
The Risk of Flying Hong Kong Airlines to the US
Although Hong Kong airlines offers more competitive prices to North America than most other Asian airlines, I still consider it a huge gamble to fly them over the Pacific in business. While the Los Angeles and San Francisco routes are officially all-A350, you don't know if you're going to get the "old" A350 I had, or the new one that's coming down the pipeline. If you're flying to Canada, you should be aware that Hong Kong Airlines business class Vancouver route almost always uses the A330, albeit in long-haul configuration.
How to Book Hong Kong Airlines Business Class
Although Hong Kong Airlines partners list is larger than I initially imagined (and growing!), its Fortune Wings Club frequent flyer program is both antiquated and isolated, which makes it an impractical way to book flights using miles and points.
Indeed, the only reason I flew HX business when I did was because I took advantage of Hong Kong Airlines deals between Bangkok and Hong Kong: Just $325 round-trip, which is only ~$100 more than economy on AirAsia (from the dreaded Don Mueang, no less!). Unless you have a robust Fortune Wings account, I imagine a special price is why you've sought out my review of Hong Kong Airlines business class to help you make your decision.
The Bottom Line
If you manage to get an A350 (or, in the worst-case scenario, an A330 configured for long-haul flying), Hong Kong Airlines business class is relatively competitive, especially considering its generally low fares. On the other hand, you should keep in mind that the airline is a subsidiary of mainland carrier Hainan Airlines, which means both the hard and soft products are more comparable to Air China than Cathay Pacific. I'll fly Hong Kong Airlines business class again if the price is right, but might not take the gamble otherwise.