When I started planning my just-completed fourth trip to South Korea, it quickly became clear that Gyeongju was a place I needed to visit. Of all Korean cities not named Seoul or Busan, Gyeongju seemed to be the most interesting destination in the country; it was also more or less on the course I'd planned to take through the peninsula.
In particular, I was intrigued by how ancient many Gyeongju attractions seemed to be, since so much of what appeals about modern Korean is, well, modern. What I found upon arriving at my hanok guest house in the city center a couple weeks contradicted this assumption somewhat—I'll get more into why I felt this way shortly.
Whether you're coming from the south like I did or are traveling to Gyeongju from Seoul, I'll help you decide if Gyeongju is worth visiting over the next several paragraphs.
Where to Stay in Gyeongju
Since Gyeongju is ostensibly a historical city, it makes sense to stay in a traditional hanok guest house like I did. I specifically stayed in Hanok Sodamjeong, which is about 15 minutes by foot from the intercity bus station, and feels relatively authentic, although it's quite obviously a recent reconstruction. As is the case with accommodation in Korea in general, this place was relatively overpriced, though the host was nice enough to wave the penalty charge when I halved my planned two-night stay to one.
I say "ostensibly," because as you're about to city, a lot of Gyeongju's seeming historic appeal is put-on, at best. To be sure, springing for hotels in Gyeongju such as Gyeongju GG Tourist Hotel or the Suites Hotel Gyeongju, thereby rejecting this pretense from the get-go, might be a good way to avoid some of the disappointment I ended up feeling.
My Favorite Things to Do in Gyeongju, South Korea
Get Out of Town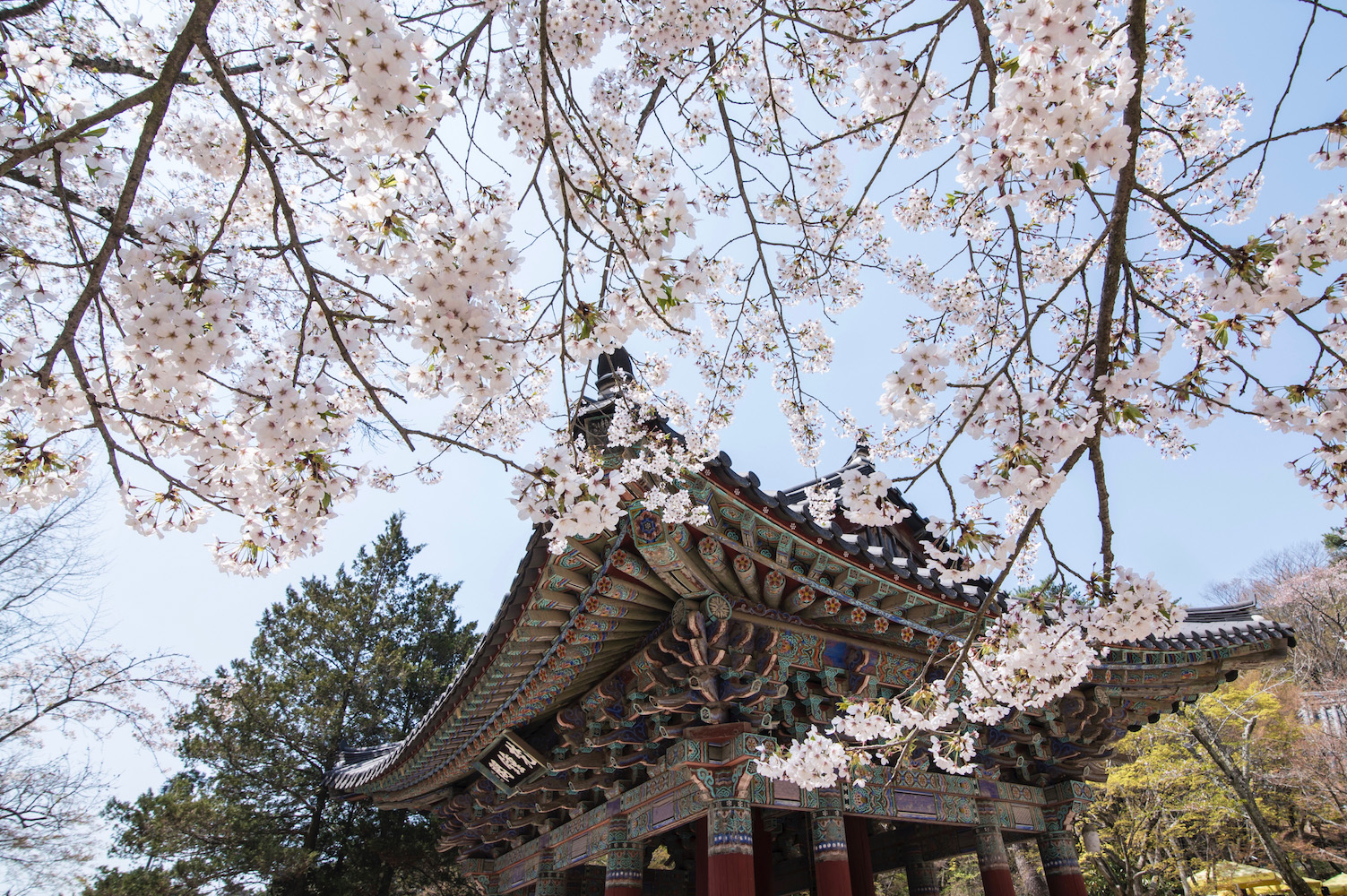 One of my most significant miscalculations about Gyeongju was assuming the town center would be old. In fact, the majority of Gyeongju historic areas are located well outside of town, even though many of the fried chicken and churro shops being built are constructed to look traditional. There are a couple of notable exceptions to this rule, of course, which I'll get to shortly.
See Bulguksa, Skip Seokguram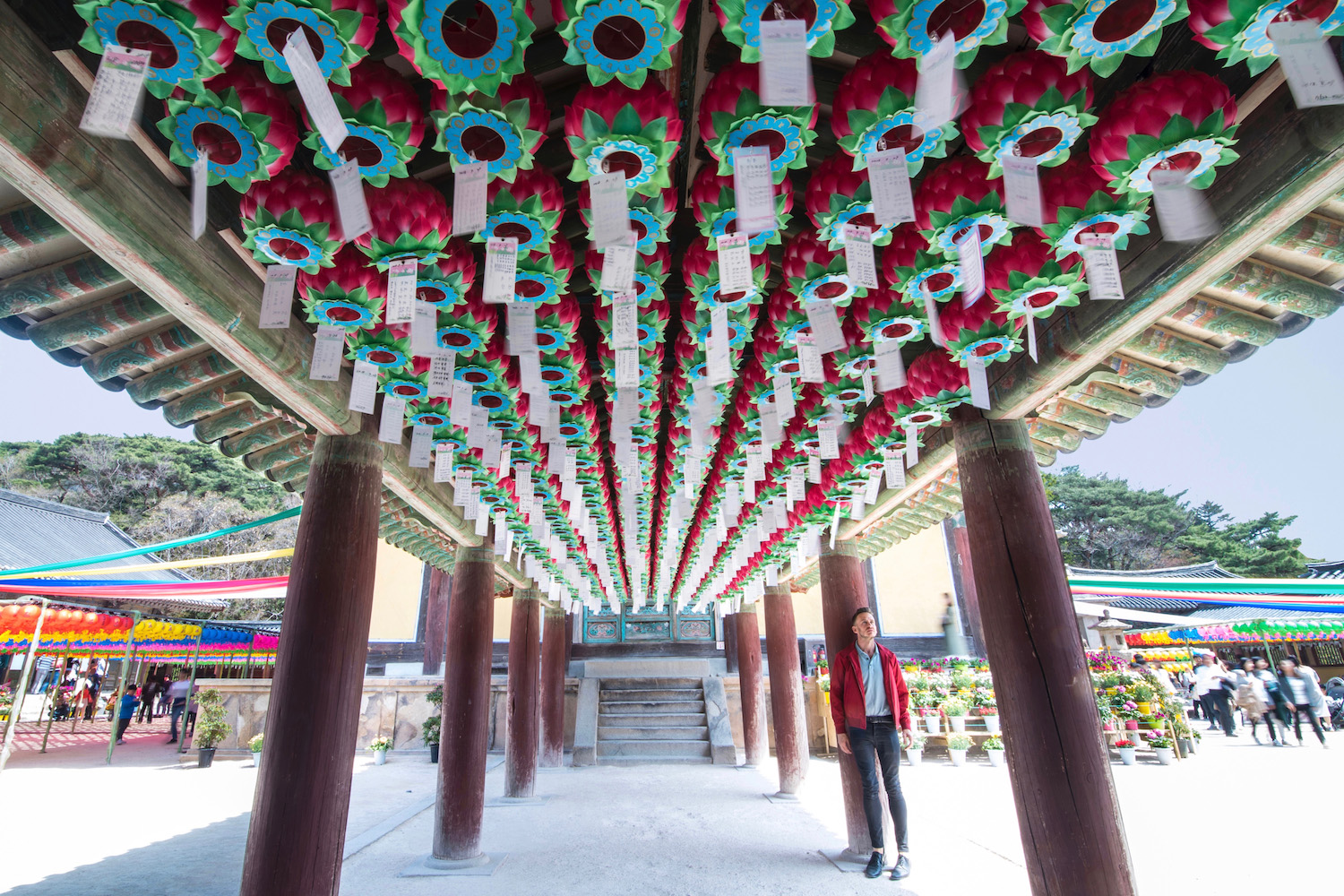 Whether you take a Gyeongju tour or explore on your own, the Buddhist temple at Bulguksa is definitely worth the hour on a bus it takes you to get there. The "grotto" at Seokguram, which is just an unremarkable Buddha statue so far behind glass you can barely see it? Not so much, especially since buses back from it are so infrequent.
Rise Above the Crowds—Literally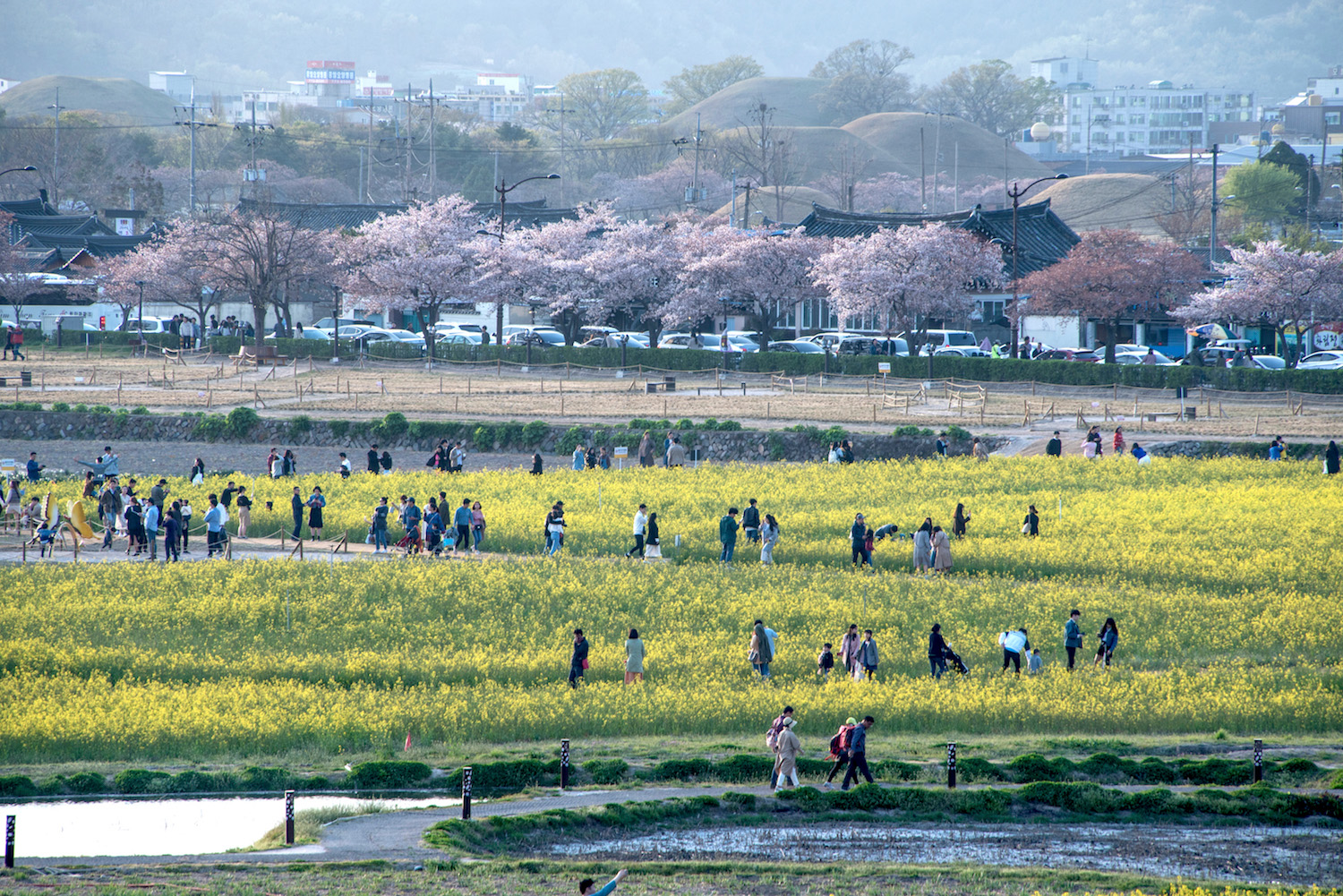 One of the strangest places I visit in Gyeongju was Cheonmachong, a collection of "burial mounds" presumably for the kings of the ancient Silla Dynasty, but where young Korean couples were having picnics and taking cheery selfies. In fact, the best vantage point of these admittedly scenic monuments was just to the south of them, one the wooded ridge that conceals the ruins of  Naemurwangneung fortress.
Stick to Street Food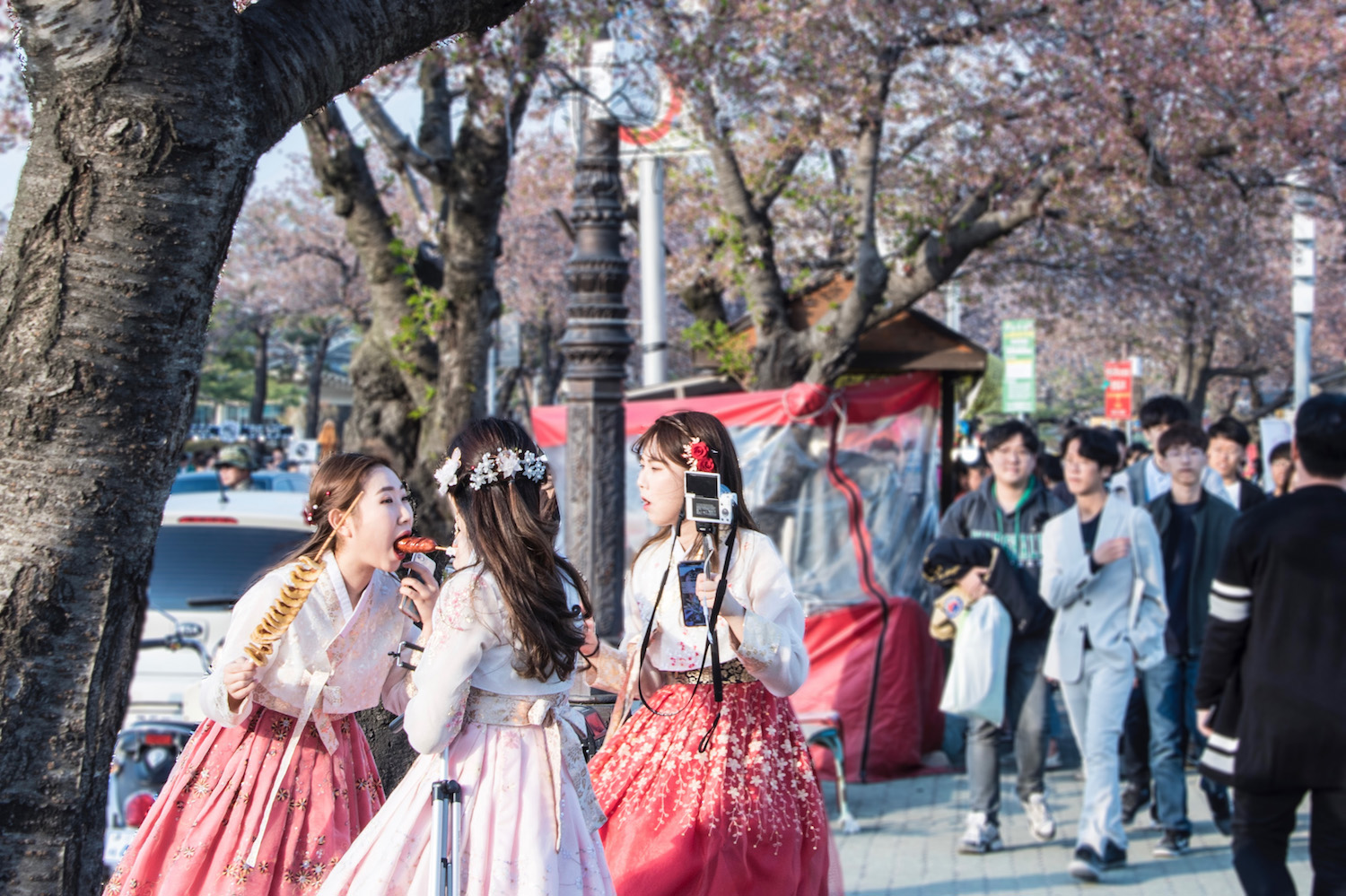 Whether or not you find a Gyeongju temple that impresses you, delicious Korean food is as ubiquitous as it is in Seoul or Busan. However, I don't recommend sitting down to eat in a restaurant—in doing so, I almost got scammed into paying 17,000 won for a plate of fried chicken. Instead, take advantage of Gyeongju's street food scene, which sees Korean and Western specialties serve from American-style food trucks.
Watch Wolji Pond Light Up

I didn't see Anapji palace or surrounding Wolji Pond on every Gyeongju itinerary I perused before my trip, but you should definitely add it to yours. In addition to the fact that this is the only legitimately historical place within the city limits, it's go to be one of the most beautiful places I photographed in Korea, especially after night fell.
How to Get to Gyeongju
Gyeongju is easy to reach from major cities in Korea, though there you're coming from will influence how you get there. For example, while it's best to take one of the frequent intercity buses from Busan to Gyeongju, the KTX from Seoul will take you almost directly to the town center in around two hours—a shuttle bus will take you the last 15 minutes.
Once you arrive to Gyeongju's town center, you'll need to take a local bus to the historical and natural attractions of Gyeongju National Park, which are between 30-60 minutes away. There are also taxis in Gyeongju, but you shouldn't have to use those unless you're visiting during a traffic-stopping marathon like I happened to do.
Is Gyeongju Worth Visiting?
As you can probably tell reading this post, I'm on the fence about Gyeongju. While some of the places I saw there were picturesque, and the town itself was relatively charming, I think the fact that I shortened a plan two-night stay to one speaks for itself. Irrespective of its own merits, Gyeongju simply doesn't reach (or come close to) the bar set by other "historical" cities in Asia.
To be even more prescriptive, whether you travel from Seoul to Gyeongju or are coming from Busan or even Daegu, you should make your decision based on two factors. If the answer to both 1) Do I have days in my Korea trip that are completely free? and 2) Can I visit Gyeongju without any particular expectations? are "yes," then I'd recommend spending a day or two here.
The Bottom Line
Should you visit Gyeongju? Unfortunately, this is not a "yes" or "no" question. Whether Gyeongju is worth visiting or not depends upon several factors, including the length of your South Korea itinerary, your interests as a traveler and how high your expectations are. If you're spending two weeks in South Korea and simply want to shake things up, then a stop in Gyeongju might be just what the doctor ordered. If you've just flown in from Japan are think you're about to arrive in Korea's answer to Kyoto, however, you'll be in for a not-so-nice surprise.