2016's cult classic Train to Busan follows a father and daughter on their journey out of Seoul, which has just fallen victim to a zombie outbreak.
There was no undead cargo onboard my own train to Busan (unless you count the child loudly munching a seemingly bottomless bag of chips in the seat behind me), but I was just as eager to reach South Korea's second city as Seok-Woo and Soo-an, even if my life didn't quite depend on it.
To be sure, while Busan has long been near the top of my Asia bucket list, many travelers are all but unaware of it, for a variety of reasons. No matter where you fall on the continuum between people like them and people like me—you might be asking yourself "is Busan worth visiting?", or simply wondering how many days in Busan you should spend—you should absolutely make a beeline to Busan—here's why.
Where to Stay in Busan
Busan hotels cover a somewhat limited range, from the quasi-luxury on offer at properties like Boutique Hotel YTT Nampo to simple, stately Hotel Gray, whose main selling point is its proximity to the train station. Indeed, since you probably won't be spending as many days in Busan as you should (more on that in a moment), location is the key factor you should use to determine where you stay.
TIP: If you do choose Hotel Gray like I did, make sure to have a cup of coffee in the attached café, which gave me major Scandinavia vibes. Unfortunately, Busan hotels aren't a great value—here as elsewhere in the country, they're one of the reasons Korea is expensive. Is Busan worth visiting? Not for its hotels alone!
My Favorite Things to Do in Busan
Snap a Selfie at Gamcheon Culture Village
There are enough Busan attractions to occupy a long weekend, irrespective of how many days to spend in Busan you decide—this might surprise you if you're part of the contingent that's written the city off up to this point. The most ubiqutious, certainly for the social media generation, is Busan Gamcheon Culture Village, a colorful hillside neighborhood that's increasingly known as the "Santorini of the East." I don't know if I would personally go this far, but it's certainly beautiful, even if I accidentally walked into a light pole on my way there.
Greet the Day at Haedong Yonggungsa Temple
Have you ever come across an image and been immediately inspired, simply by virtue of having seen it, to get on a plane? This is the impulse I felt upon seeing an image of Haedong Yonggungsa Temple, which sits along a rocky, beautiful stretch of coastline just north of Busan. This temple is particularly beautiful during the morning, when not many people are there, and when the early light makes it appear almost beatific as the waves lap beneath it. Regardless of how many days in Busan you spend, devote a few hours to this place!
Hit Hyundae Beach—or Don't
Some of the places that are supposed to make Busan worth visting have names and claims-to-fame, but these are not always deserve in my opinion. Haeundae Beach, South Korea's most-visited sunbathing spot, is pretty unremarkable as world beaches go. On the other hand, I did love walking through the streets of the Hyundae district of Busan, which called to mind many secondary Japanese cities—minus the Hangul script on the signs, of course. Why visit Busan, you ask? Just take a look at these photos.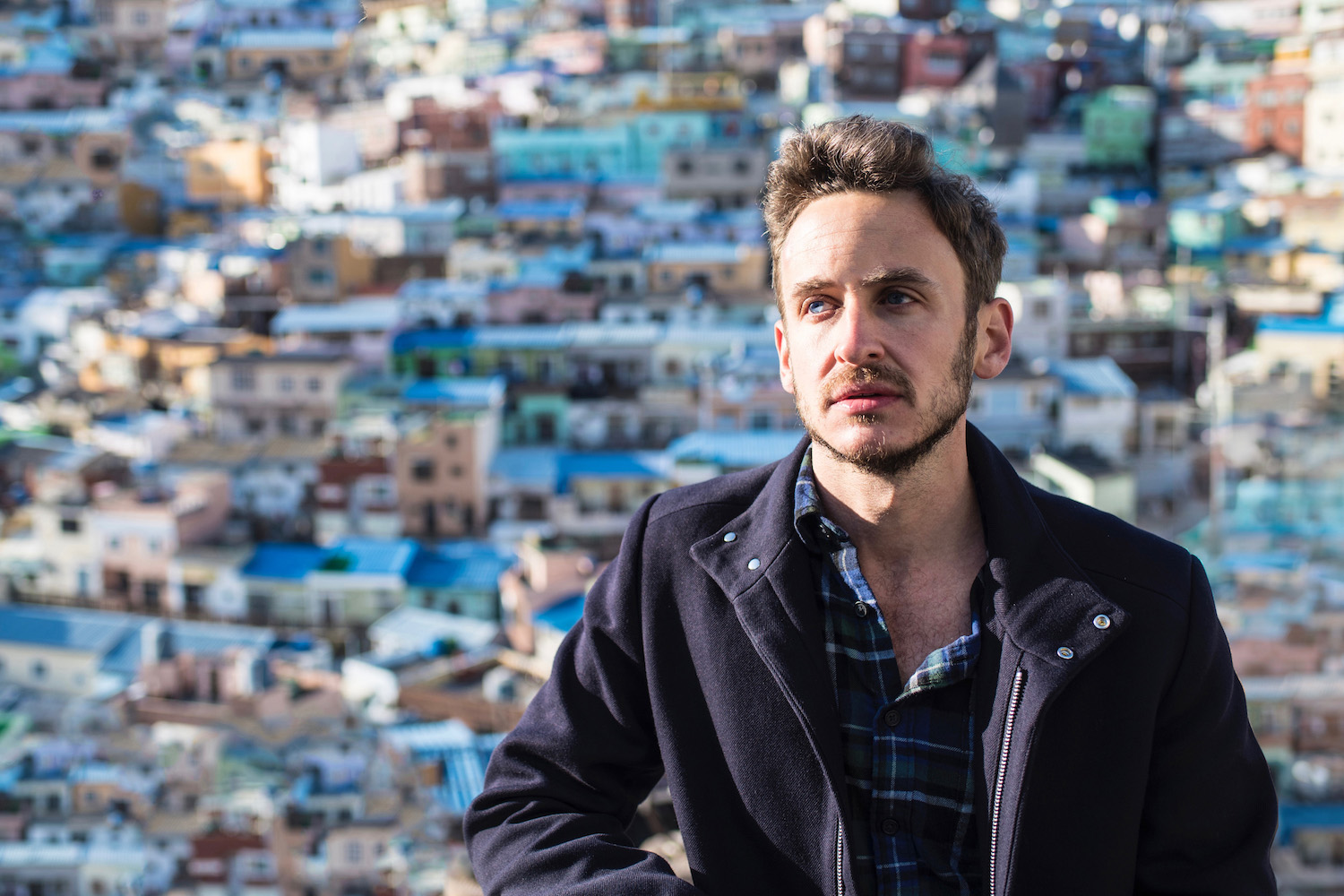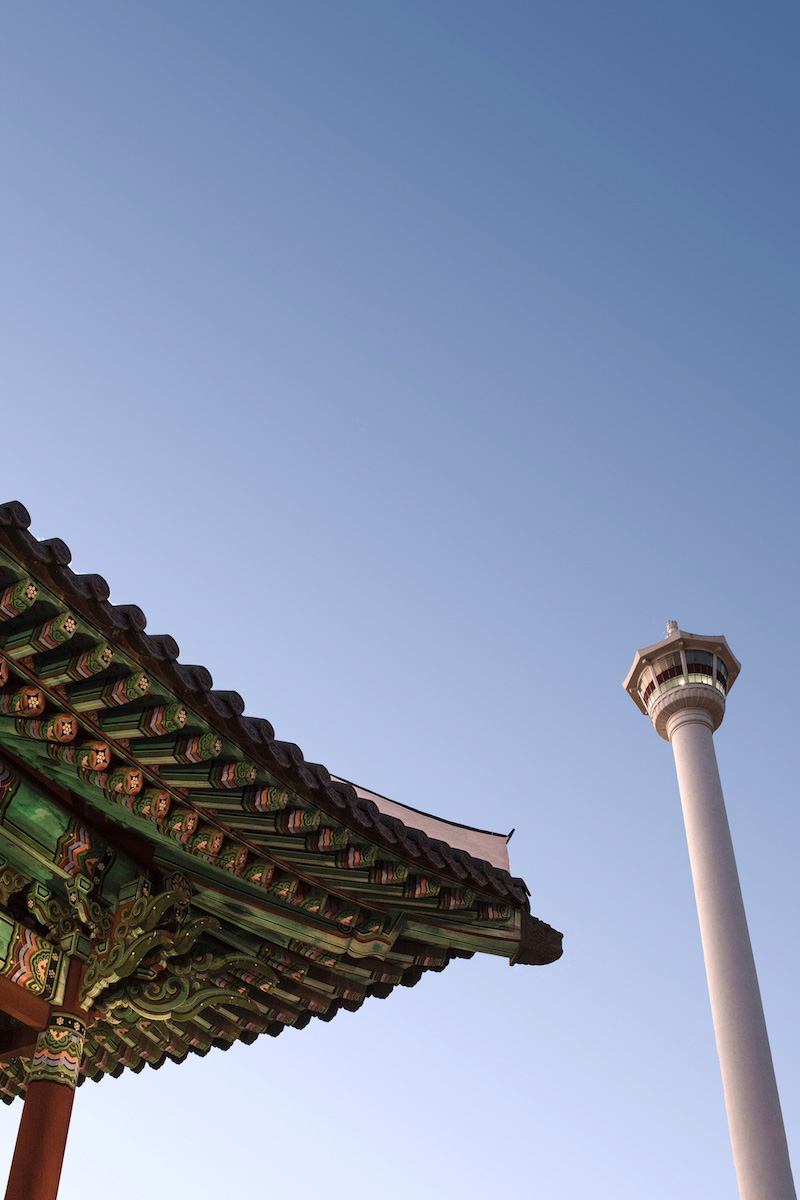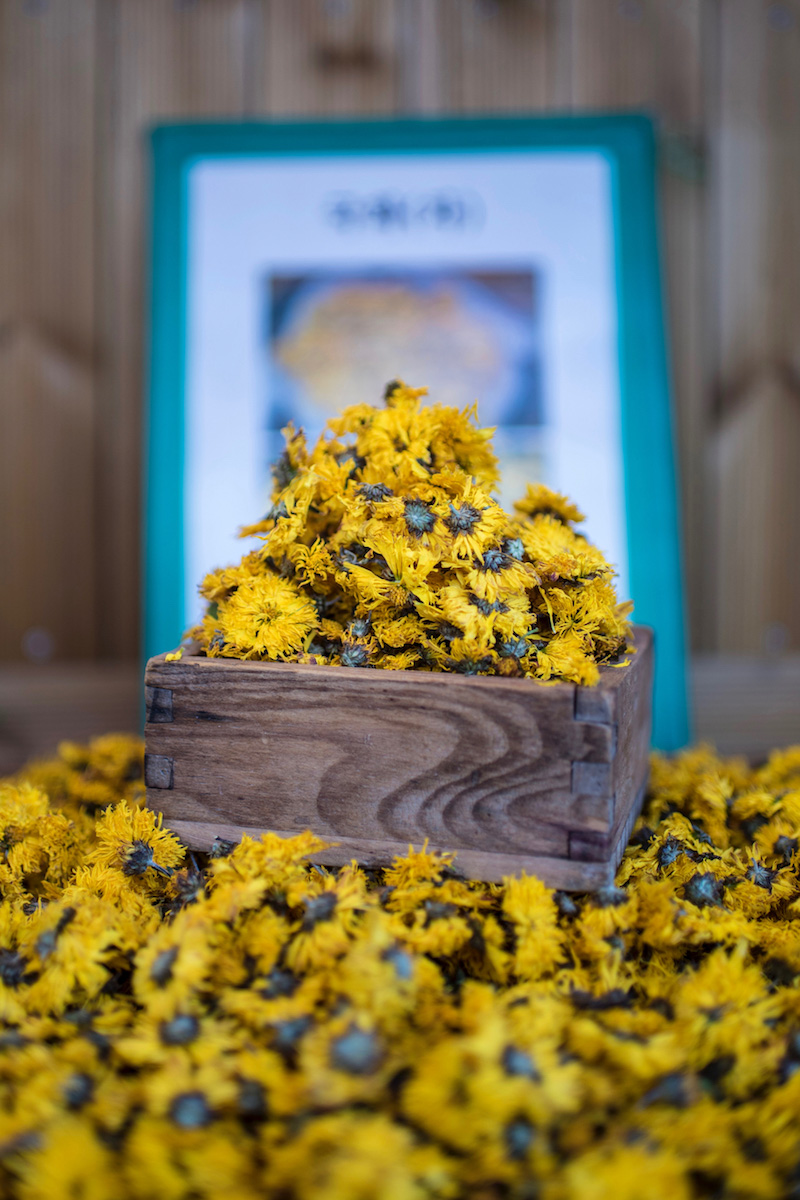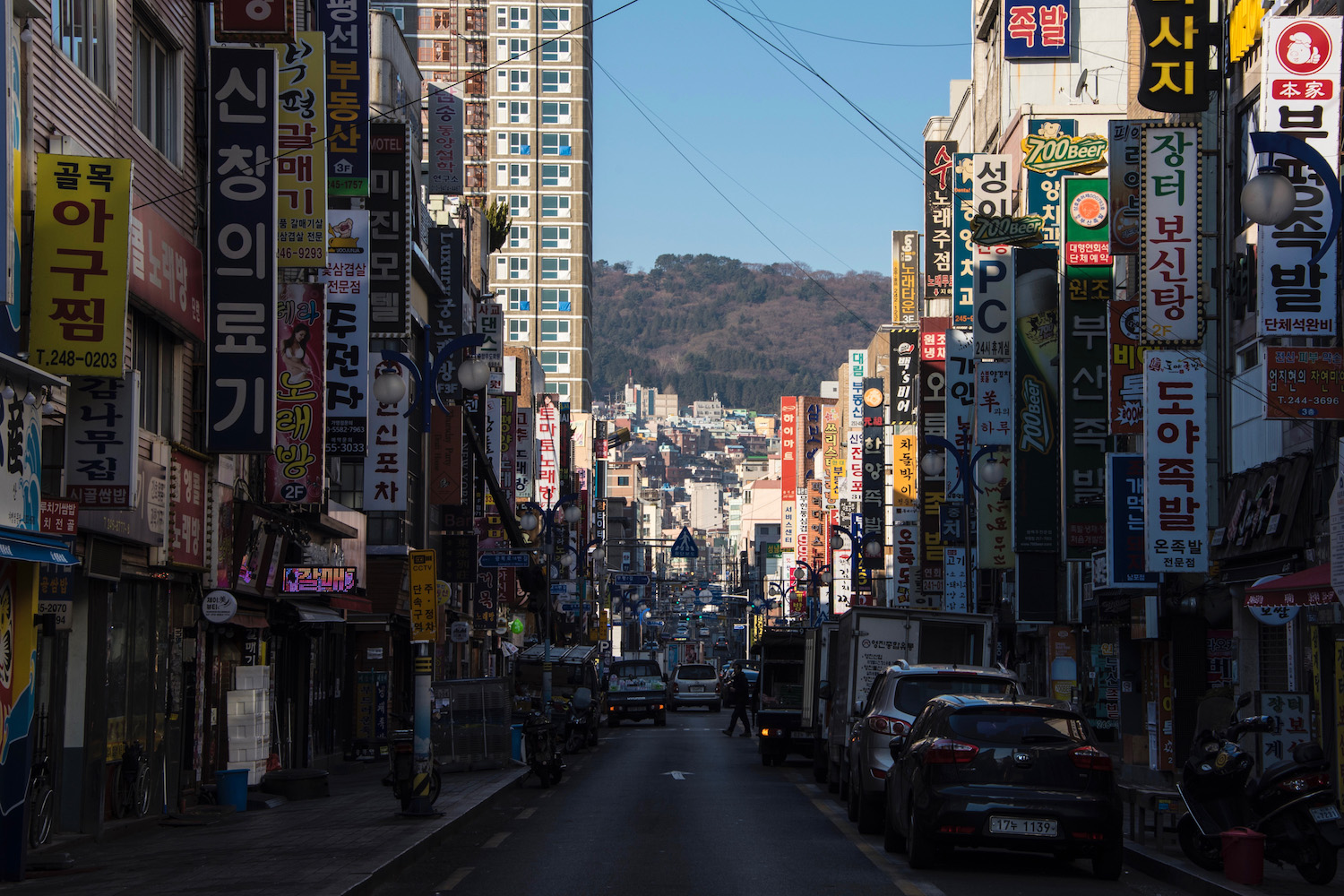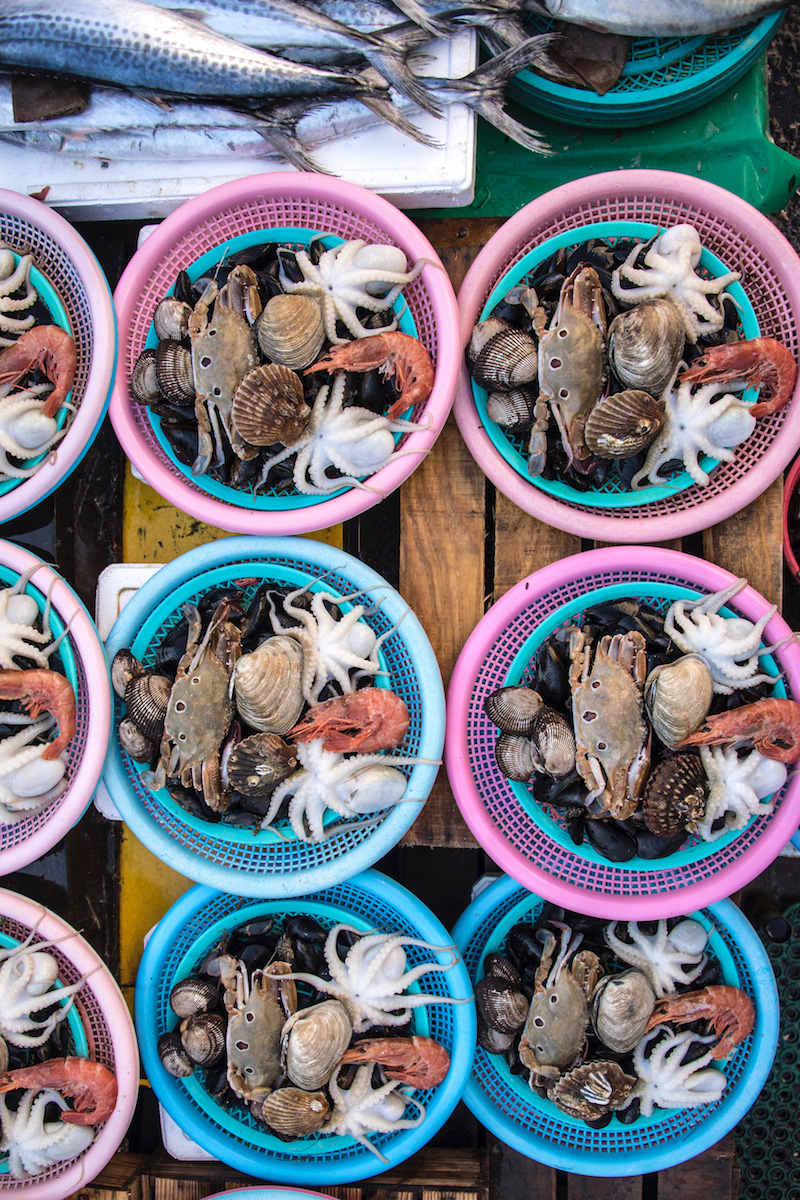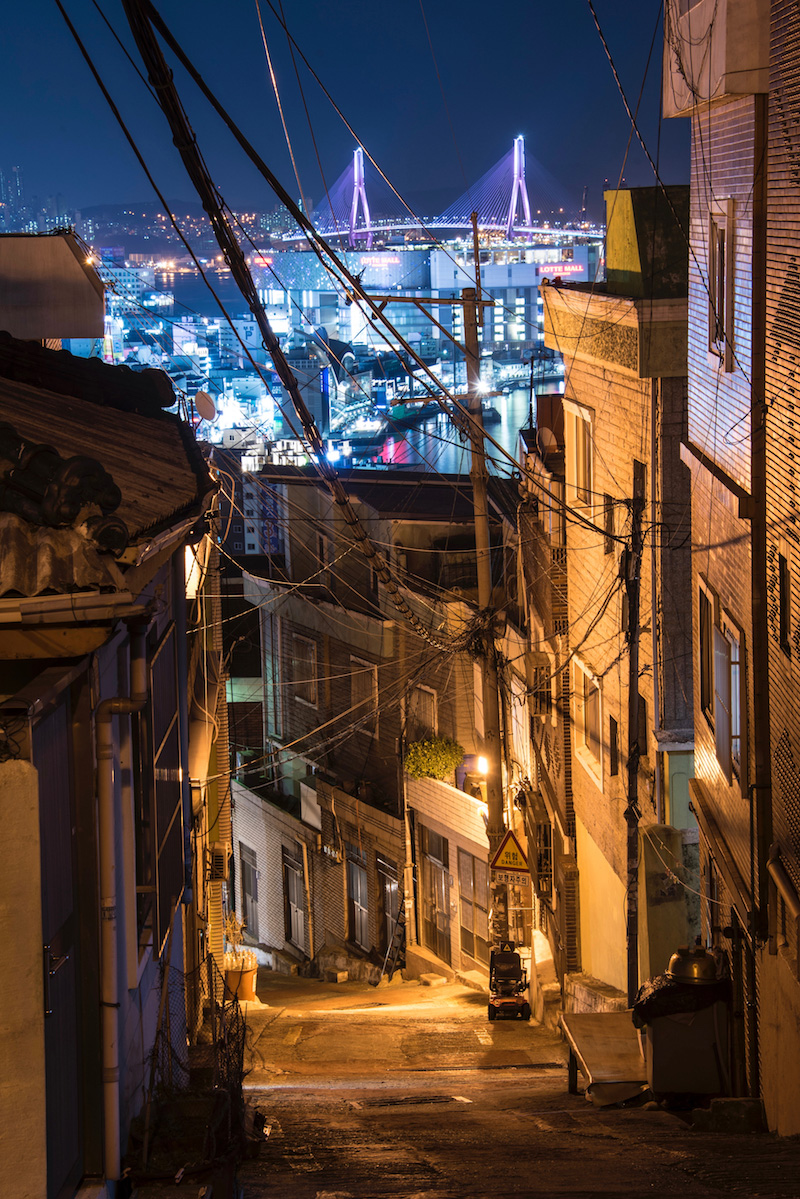 Bring Me a Higher Love
I'll be frank: The view from Busan Tower is not all that. Thankfully, Busan has dozens of places to enjoy a panorama of the city, the majority of which don't have dirty windows or make you put up with an obnoxious glare. A recent favorite of mine is to walk up the so-called 168 Stairs, and walk from the summit to Yu Chi-hwan Postbox Observatory, which just might be the best view in Busan, regardless of how many days to stay in Busan you decide.
Take a Hike
Which is not to say your ascent has to be one of the urban sort. Whether you scale Jangsan, which sits just to the east of the city center, or the less visited (but more convenient) Cheonmasan, the very best places to get a 360º view of Busan are outdoors. In my opinion, the latter of these is your best bet. From the top, it provides a clear view of the rainbow-colored Gwangandaegyo bridge glittering behind the city's harbor; on the way back down to the Jagalchi subway station, seeing the bridge framed by the rows of houses that line the steep streets will make you feel like you're in San Francisco (or Busan Francisco, as it were).
Save the Best for Last
Speaking of Jagalchi (and to riff, once again, off an underrated song from my youth), the Busan fish market (officially Jagalchi Market) is the very thing you're looking for, but the one thing you can't see from Cheonmasan. It's also best visited in the morning, which means walking down there after enjoying a Busan night view would be fruitless. Actually, I can't imagine this place ever being fruitless—and I say that as someone who usually abhors markets, or at least the hype built up around them.
Unless You Decide to Visit Busan Book Street
Jagalchi Market is a revelation, offering up stall after stall of beautiful and delicious seafood, in a setting almost completely unmarred by tourists. It also happens to sit near Bosu-Dong Book Street, which is somewhat less picturesque, but quirky and worth at least an hour of your time, irrespective of how long to stay in Busan you decide. From here, you can also enjoy an alternate perspective on Busan Tower, which might end up being more satisfying than if you attempt to look out on the city from behind its grimy windows.
How Many Days in Busan is Enough?
If you're considering Busan day trip from Seoul, I'll stop you right now. You need a minimum of two days in Busan to see the places I've mentioned in this Busan travel blog thus far—and that's if you're comfortable waking up at dawn and traveling at the breakneck pace I do. (Or "break-forehead" as it were: As I mentioned above, I literally slammed into a utility pole while I was using Google Maps to plot my next move!). When it comes to how many days, Busan commands a minimum of two.
Or, ideally, more. To be sure, if you want to truly give the city center the attention deserves, or to venture outward to peripheral temples like Beomeosa, you need 3-4 days in Busan. This wonderful post about Seokbulsa on the "This Girl Abroad" blog hyped me up so much, but I ended up not having time to see it! Whether two days or close to a whole week, how long to spend in Busan will vary for every traveler.
Is Busan Worth Visiting?
Yes, though there are some variables within this discussion. As I alluded above, when it comes to Busan, how many days you spend there are essential to how much you enjoy yourself. Frankly, if you don't devote enough time to Busan (namely, if you ignore my advice and try to take a day trip from Seoul), you will be sorely disappointed, since you won't be able to see much of anything.
Which is not to say that how long to spend in Busan is the only issue that can make or break your time in Korea's second city. Indeed, it takes an adventurous traveler to be able to make the most of a city that sits in the shadow of one as towering as Seoul. If you're taking a longer Korea trip and are able to visit tertiary destinations like Gyeongju or Seoraksan Park, this may become easier.
Other FAQ About Your Busan Travel Itinerary
How many days do you need in Busan?
Assuming you spend about two weeks in South Korea, I think 2-3 days in Busan is a good amount of time to spend. This allows you a full day to explore all the city's major tourist attractions, plus time for a day trip outside the urban core, such as to coastal Haedong Yunggungsa temple.
What is the best time to visit Busan?
I love visiting Busan in spring, when cherry blossoms paint the city and pink and white, or when the warm shades of autumn cut through the city's November chill. However, you should be open-minded about when you visit Busan, which is the very picture of a 365-day destination.
Is Busan better than Seoul?
Busan and Seoul are both dynamic and interesting cities, and larger than most you visit in North America or Europe. On the other hand, Busan feels far removed from Seoul's futuristic cosmopolitanism, just as Seoul can lack the authentically Korean feeling even slightly off Busan's beaten path.
The Bottom Line
How many days should you spend in Busan? In short, as many as you can. Once you've decided to visit Busan—and accepted that it's not simply a day trip from Seoul, or secondary to the Korean capital in any way—this Busan travel itinerary will help you plan your visit to one of Asia's most underrated cities. Whether you spend two marathon days tearing through the city's main attractions like I did, or give this coastal metropolis the time and attention it truly deserves, you'll feel like anything but a zombie once you disembark your own Train to Busan. Still feel flummoxed as you contemplate visiting Busan? Consider hiring me as your Korea Travel Coach!