Sarajevo wasn't a place I expected to fall in love with, especially not because I traveled to the city after spending time in Mostar, which is perhaps the most satisfying tourist town in all of Europe. At the same time, I knew what direction my Sarajevo itinerary would eventually end up taking from the moment I arrived in Sarajevo and saw fellow travelers walking gleefully over the Latin Bridge.
The charm of Sarajevo transcends the part of its history when Franz Ferdinand was shot here, of course, even if trauma in that vein does tie into its reputation as the "Jerusalem of the Balkans." Continue reading to learn what I become so smitten with Sarajevo—and why I'm certain you will be, too.
Where to Stay in Sarajevo
First impressions are everything, and the Sarajevo hotel I checked into after the aforementioned bridge scene certainly made a great one. Situated in the heart of old Sarajevo as its name suggests, Old Town Hotel provided a home in Bosnia's capital that was charming, comfortable and convenient. There are "nicer" places in Sarajevo, of course, and also cheaper ones, but to me this is the property among hotels in Sarajevo that checks the most boxes.
What to Do During Your Sarajevo Itinerary
See Sarajevo's Basics
After checking in and chilling out, I headed out into Sarajevo Old Town to start exploring my new home for the next couple of days. While major attractions such as Bascarsija market, Sebilj fountain and Vijecnica city hall were picturesque, my real infatuation was due to the diverse people and cultures that flowed through the streets, not unlike the threads of humanity that weave together in Jerusalem itself.
After literally hours scouring its nook and crannies, passing churches, synagogues, mosques and exchanging smiles with all who prayed inside them, I exited the Old Town and arrived at the north bank of the Miljacka River. I crossed over the Sarajevo Latin Bridge and back again, wondering in Franz Ferdinand had felt as awestruck as I did by Sarajevo's beauty in the moments before his assassination.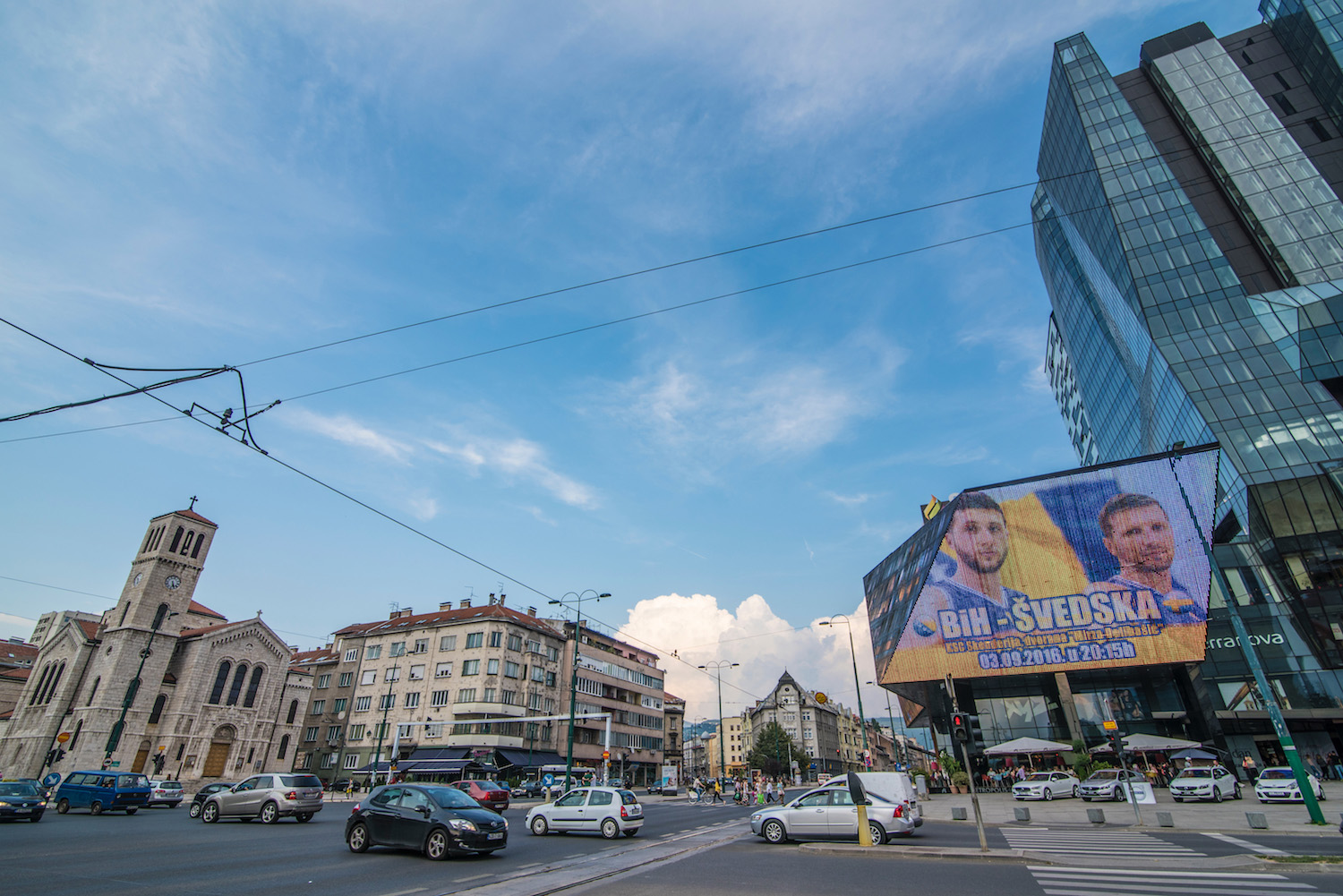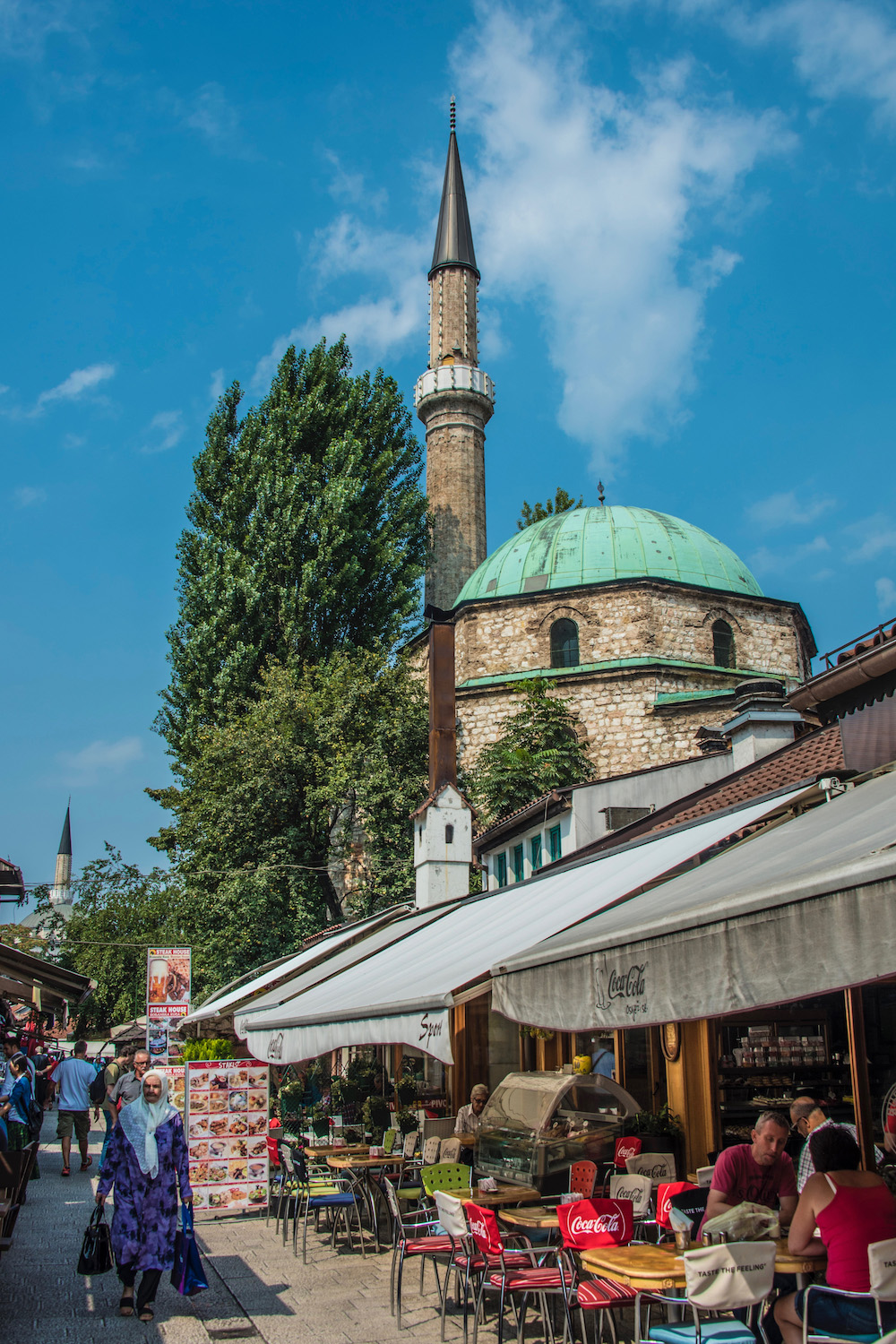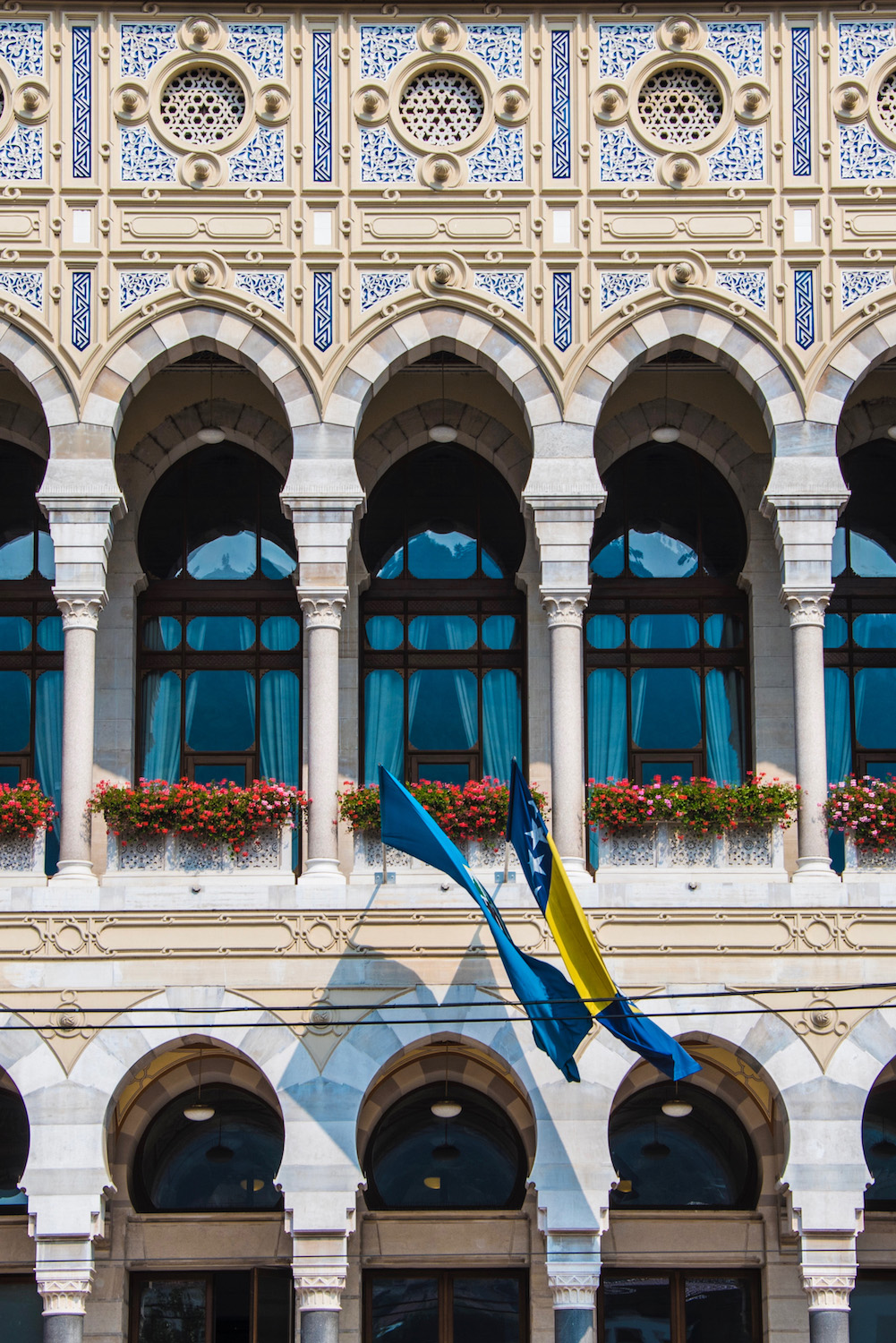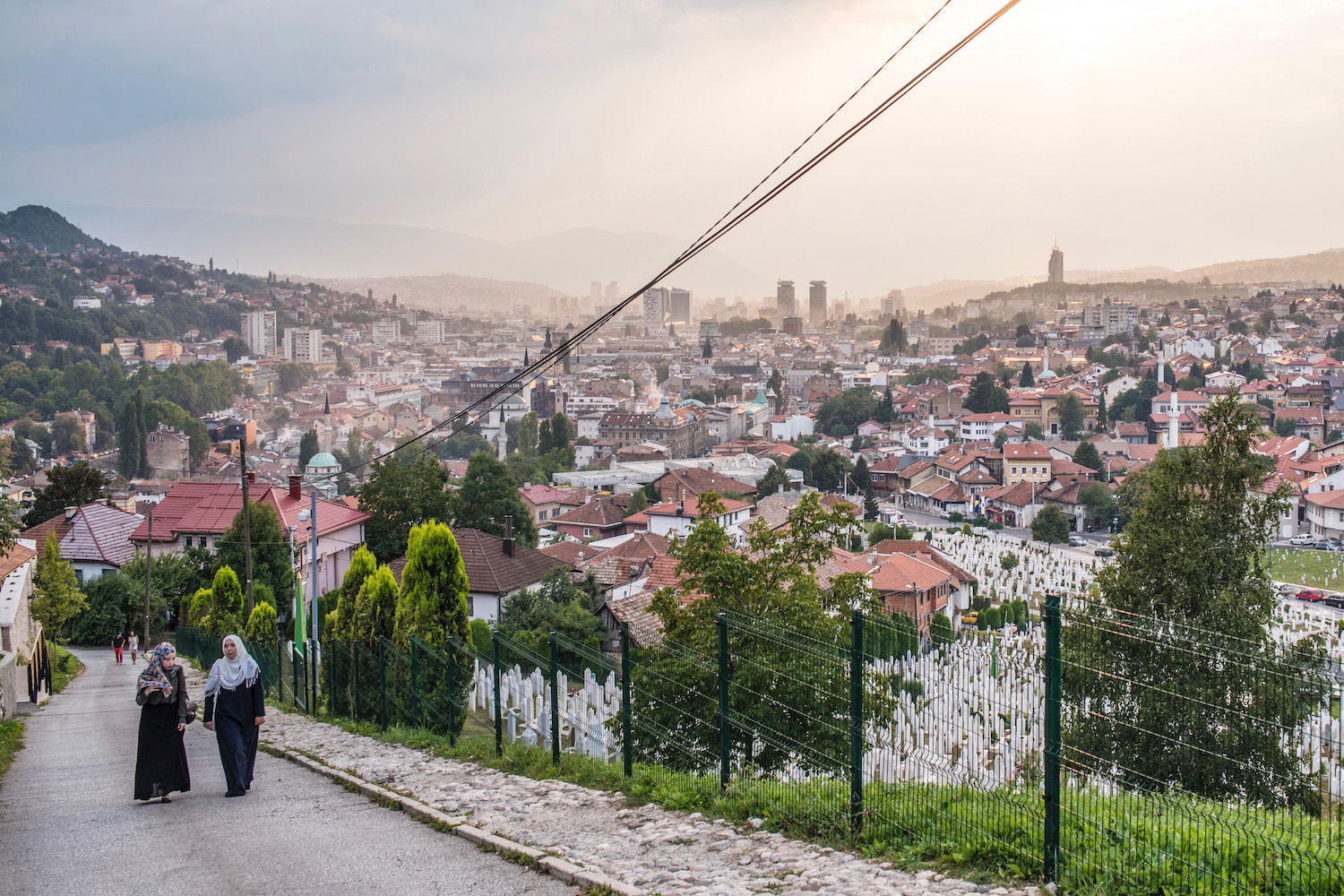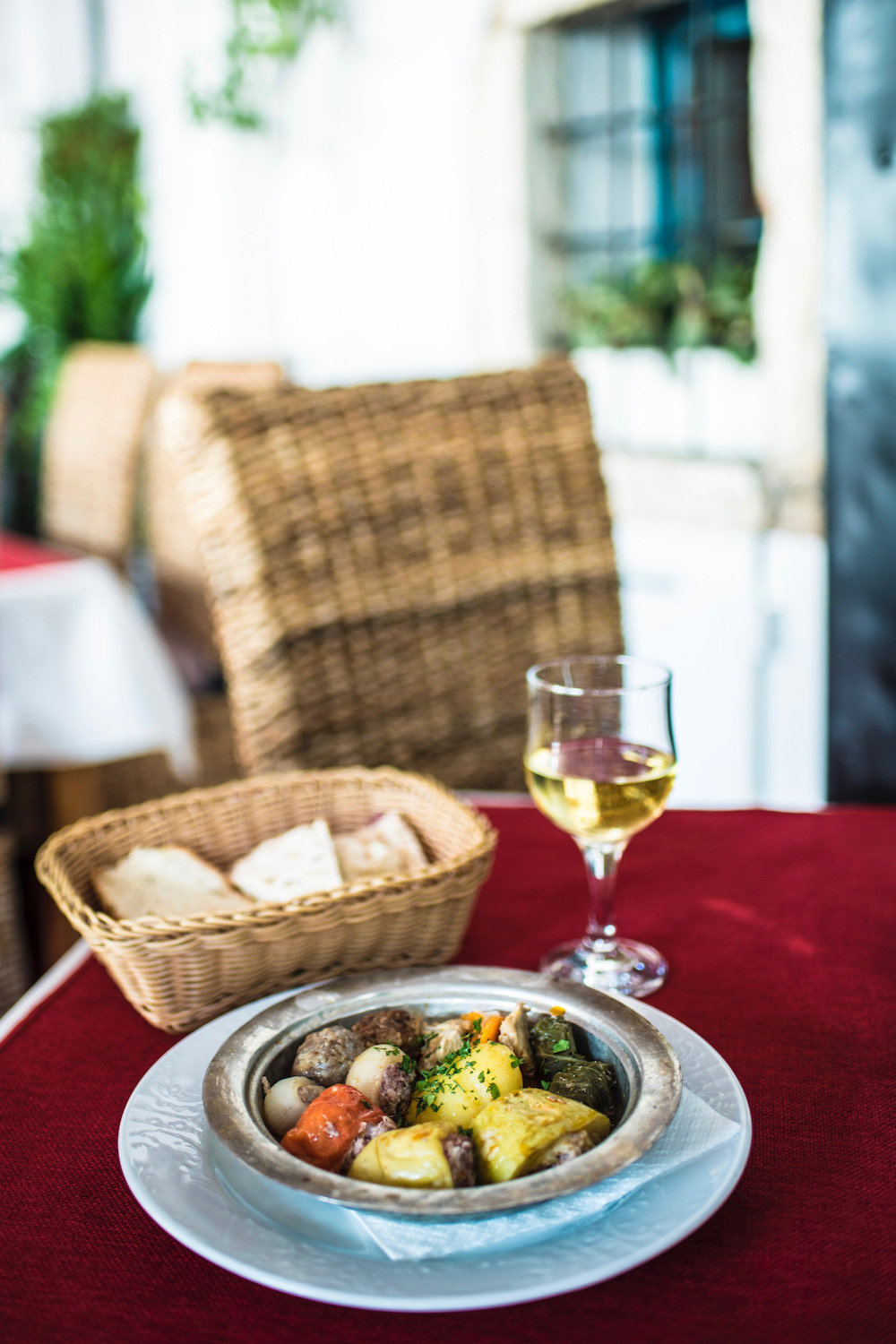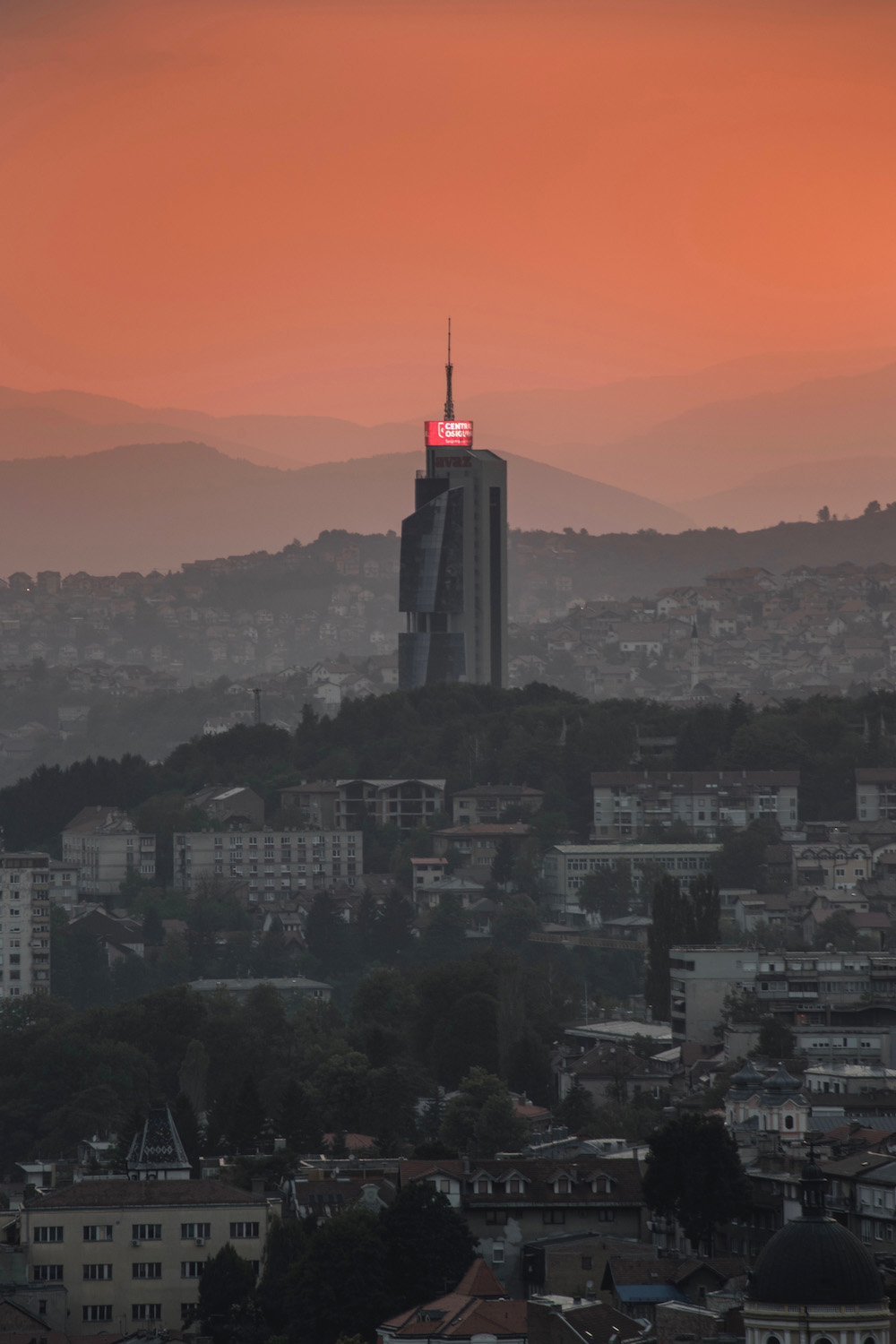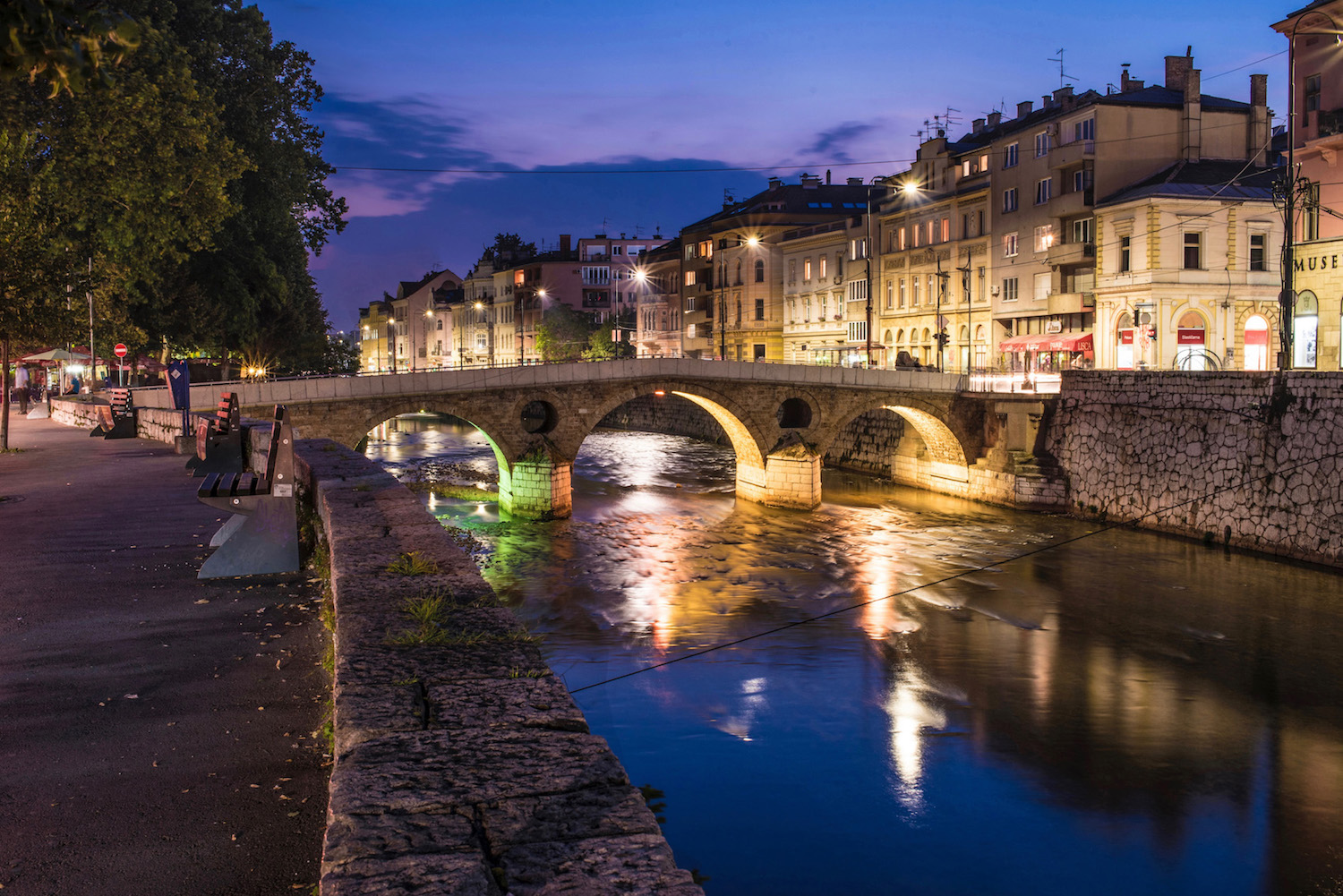 Taste the Flavors of Sarajevo
After getting my fill of Sarajevo mosque and church photography, I began exploring the city on a deeper level. One way I did this was by taking in a panorama, namely the one from the Yellow Fortress, which is about a 20-minute walk from the Old Town. In my opinion, the view actually became better after I continued walking a bit, which more beautiful juxtaposes the city's medieval architecture with modern structures like the Avaz Twist Tower.
Another way I dug deeper was to dig into Bosnian cuisine in the best Sarajevo restaurants such as Pod Lipom, which isn't the highest-rated place to eat in the Old Town, but came highly (and personally) recommended. Wherever you decide to eat, make sure to check out the sausage-and-pita cevapi (Bosnia's unofficial national dish), borek meat pie and the Sarajevski Sahan sampler, offered (so far as I can tell) exclusively at Pod Lipom.
Delve Into Sarajevo's Checkered Past
As dark as you might feel for wanting to do so, it's unsurprising that the Sarajevo genocide is probably near the top of your list for Sarajevo sightseeing. It certainly was on mine, though I must say that after the sobering Museum of Crimes Against Humanity and Genocide 1992-1995, I felt too sad to visit other war-related places like the Sarajevo Tunnel, and instead took a pensive walk to the more uplifting Eternal Flame.
I considered visiting the Sarajevo Bobsled track (officially, Sarajevo Olympic Bobsleigh and Luge Track, which was built for the 1984 Olympics), but as night set in, I remained somewhat affected by my visit to the genocide museum. I decided to forgo a visit to the dystopian Olympic site (I certainly couldn't stomach an even darker visit to Srebrenica, where many of the most egregious wartime atrocities took place) and took one last walk around the Old Town.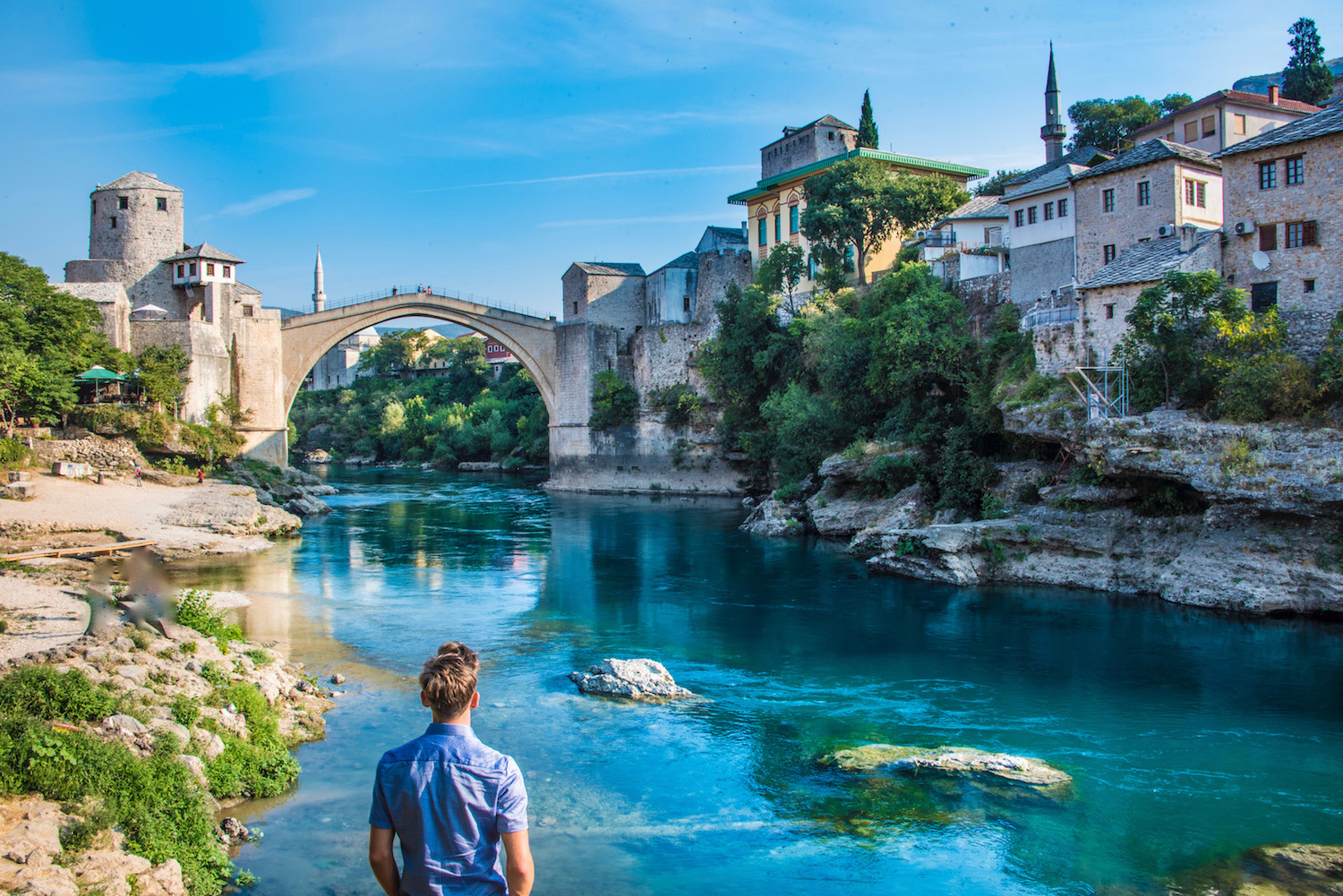 Day Trips from Sarajevo
If you're completing your Sarajevo itinerary in the reverse order I did, you can board a Sarajevo Mostar bus and after a couple of hours, you'll arrive in Mostar, which as I mentioned is one of my favorite places on the entire European continent. Whether you spend the entirety of your time marveling at the picturesque Stari Most (Old Bridge) or exploring outlying attraction like Kravice waterfalls or the Catholic pilgrimage city of Medjugorje, this is a very worthy Sarajevo day trip.
Alternatively, if you board a Sarajevo to Dubrovnik bus, you can bypass Mostar and the rest of Bosnia (though I highly recommend against this!) and head straight for Croatia's Dalmatian Coast. This definitely isn't a day trip from Sarajevo, but is a logical way to continue traveling through the Balkans from Bosnia's capital. This is especially true for a longer Sarajevo itinerary, 4 days or so.
The Ultimate Sarajevo Itinerary: tl;dr Version
If you find yourself overwhelmed by Sarajevo things to do, don't be. Rather than pressuring yourself into following my Sarajevo itinerary exactly, use this concise list of Sarajevo sightseeing to build your own:
Sarajevo Old Town
Latin Bridge
Yellow Fortress View Point
Museum of Crimes Against Humanity and Genocide 1992-1995
Sarajevo Tunnel
Eternal Flame
Sarajevo Olympic Bobsleigh and Luge Track
Srebrenica
Mostar
Once you've sorted out what to see in Sarajevo, make sure to check out my comprehensive itinerary for two weeks in the Balkans, which perfectly complements my Sarajevo travel blog.
Other FAQ About Traveling to Sarajevo
Is Sarajevo worth visiting?
Sarajevo is absolutely worth visiting! Whether you trace history in the Old Town and at Latin Bridge, enjoy the view from the Yellow Fortress or take a day trip to solemn Srebrenica, I think you'll find Sarajevo to be one of the most underrated cities in Europe, and certainly among the best in the Balkans.
Is Sarajevo safe for tourists?
Sarajevo is extremely safe for tourists. Unfortunately, due to the legacy of war reporting in the 1990s, people falsely believe that Bosnia is a dangerous country that tourists should avoid; this couldn't be further from the truth.
Is Sarajevo a beautiful city?
Sarajevo is an absolutely gorgeous city, particularly in the Old Town, which mixes mosques and other Muslim buildings with classically European architecture from the 18th and 19 century. If you want to see Sarajevo at its most beautiful, consider watching sunset from the Yellow Fortress.
The Bottom Line
Is Sarajevo worth visiting? If you decide that the answer is "yes," my Sarajevo itinerary will help you to discover the "Jerusalem of the Balkans" in relatively great depth, and at a pace that it neither sluggish nor breakneck. You'll delve into the complications that have defined the city for centuries, and reckon with the violent head tensions came to just two decades ago as well. Even if you don't have time to visit Mostar or destinations further afield in the Balkans, Sarajevo is a place that will stick with you for long after your trip concludes.