I began thinking about the idea of purchasing an Emirates upgrade the moment I purchased my economy-class flight from Christchurch to Sydney. However, since I'd never flown Emirates before, I wasn't sure if I'd get the opportunity to upgrade, let alone whether the payment for doing so would be humane.
Obviously, since I'm writing this review now, you know I ended up going through with my upgrade to Emirates business class. Below, I'll not only walk you through the process of completing the upgrade, but also explain in detail the experience of flying business class on Emirates.
(Spoiler alert: It was much, much better than I expected, even on a very short flight.)
Why I Decided to Bite the Emirates Upgrade Bullet
My decision to fly Emirates between Christchurch and Sydney was somewhat arbitrary—the Air New Zealand flight I'd been eyeing for weeks before that suddenly surged up in price, even before taking into account all the extra fees that airline charges for…everything. Emirates, even if I had to fly them in economy, offered a lot more for a lot less, to say nothing of the A380 experience versus the one on a cramped A321.
What pushed me over the edge, however, was how tired I was after my amazing (but packed) trip around New Zealand, particularly knowing that I'd been returning from Sydney to Taipei in China Airlines business class. A final sign that this was the right thing to do came when check-in opened for my flight: The cash upgrade price, which had stayed frozen at 504 NZD in the weeks leading up to my departure, had dropped to just NZ$231. Take my money, I said under my breath as I submitted my credit card information, practically giddy.
My Emirates Upgrade Experience: Step-by-Step
Finalizing the Emirates Business Class Upgrade
Unfortunately, Emirates didn't take my money, at least not immediately. The carrier's website crapped out, which would've been fined if I'd been somewhere civilized and could easily call them. Sadly for me, I was in the overrated town of Punakaiki on the West Coast of New Zealand's South Island, where only one place—the so-called "Pancake Rocks"—had reception. So I drove my rental car to the Rocks' parking lot; the Emirates representative who answered my call thankfully honored what was supposed to have been a "Now or Never" price, and confirmed my seat in Emirates business class.
The Airport Experience for Emirates Upgrade Passengers
Officially, you don't get access to the airport lounge when you upgrade your Emirates ticket; you do get priority check-in, though I checked in through the app and wasn't checking bags so I didn't need it. Ironically, the Priority Pass membership I get through my AMEX Platinum Card awarded me access to Christchurch Airport's Manaia Lounge, which is the one paid Emirates business- and first-class passengers use. Due to the size of the A380, Emirates actually boards upper deck passengers from a separate gate; I ended up the first one on the plane.
Emirates Business Class In-Flight Service
Immediately upon boarding, a charming man named Carlos greeted me by name, and began chatting me up as if we were old friends. What impressed me most about Carlos (who I quickly learned hailed from Granada, Spain, and had been with Emirates around three years) was how effortless his kind and hospitable manner seemed; I found all the other flight attendants carried this through, whether they were handing out hot towels or champagne, and both during the calm cruise period of the short flight as well as just before/after take-off/landing, when I gave several of them business cards (Hi, if you're reading!).
Food and Drink in Emirates Business Class
Speaking of champagne, Emirates offered a 2013 Moet & Chandon onboard this flight, although I'd admittedly not a sparkling wine connoisseur. Because I knew I had a steak awaiting me on my flight back to Taipei, I ordered a filet of pan-friend ling (I'll save you the Google search: It's a type of white fish), which was served in a delicious and buttery sauce with quinoa. Before exiting my wonderful seat in Sydney I also saved some kind of flan with raspberry sauce and a couple of iced Americanos, which distracted me from a live CNN feed that showed the beginning of the Iowa caucus carnage.
Emirates A380 Business Class Seat and Onboard Bar
I said "at my seat" (which was comfortable and spacious, in spite of being admittedly gaudy) because I couldn't fly Emirates' A380 business class without trying its most famous amenity: The onboard bar located at the back of the Upper Deck. The friendly bartender back there prepared a tasty Old Fashioned for me, during a bout of relatively heavy turbulence no less (albeit without the massive cube of ice I usually expected in this particular cocktail). I hope I'll be able to fly Emirates business on a longer flight soon in order to more properly appreciate this feature.
Emirates A380 Business Class Photos
The web is full of images from Emirates' A380 business class, but I'd like to think mine are slightly more artistic (or, at least, beautiful) than most of those: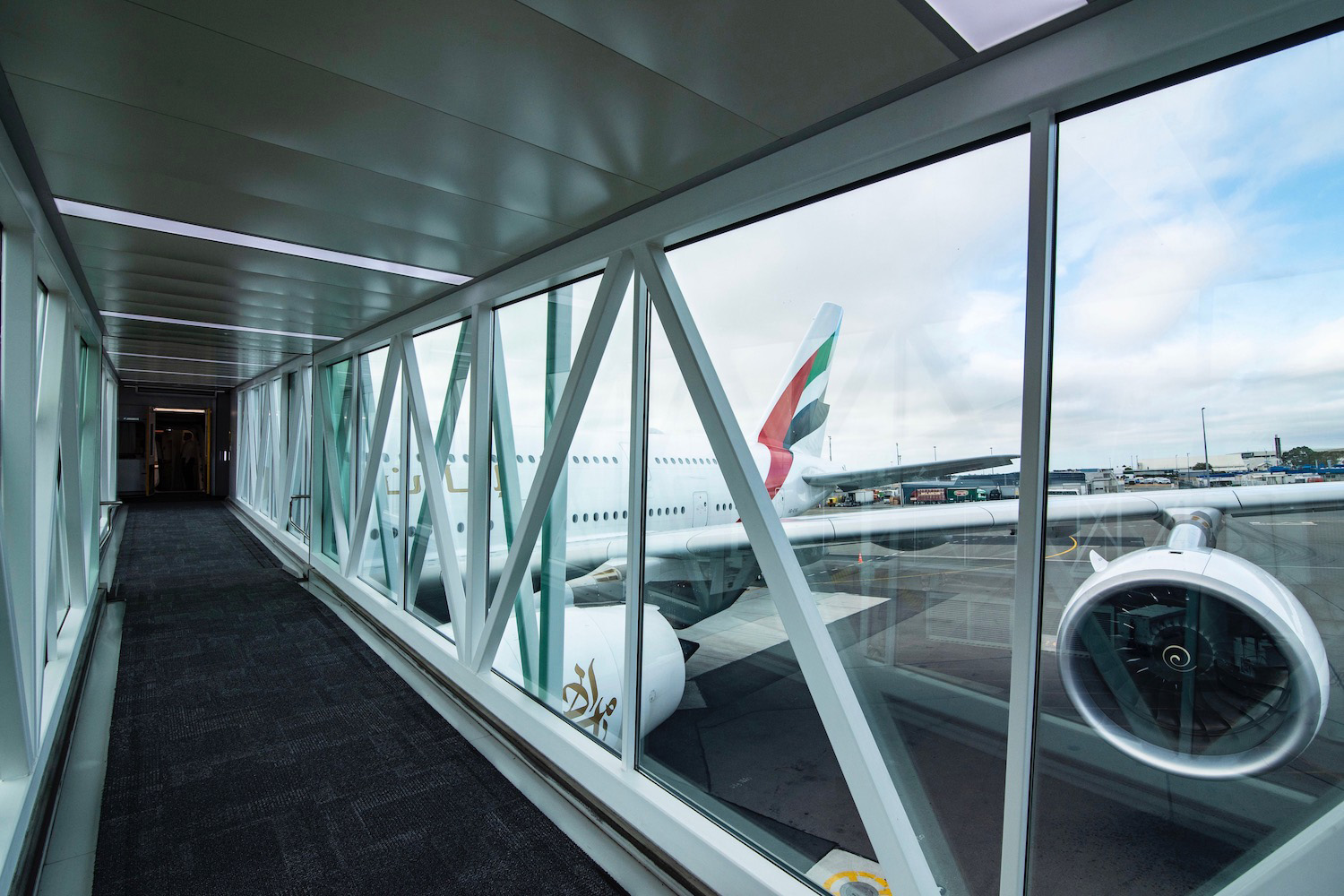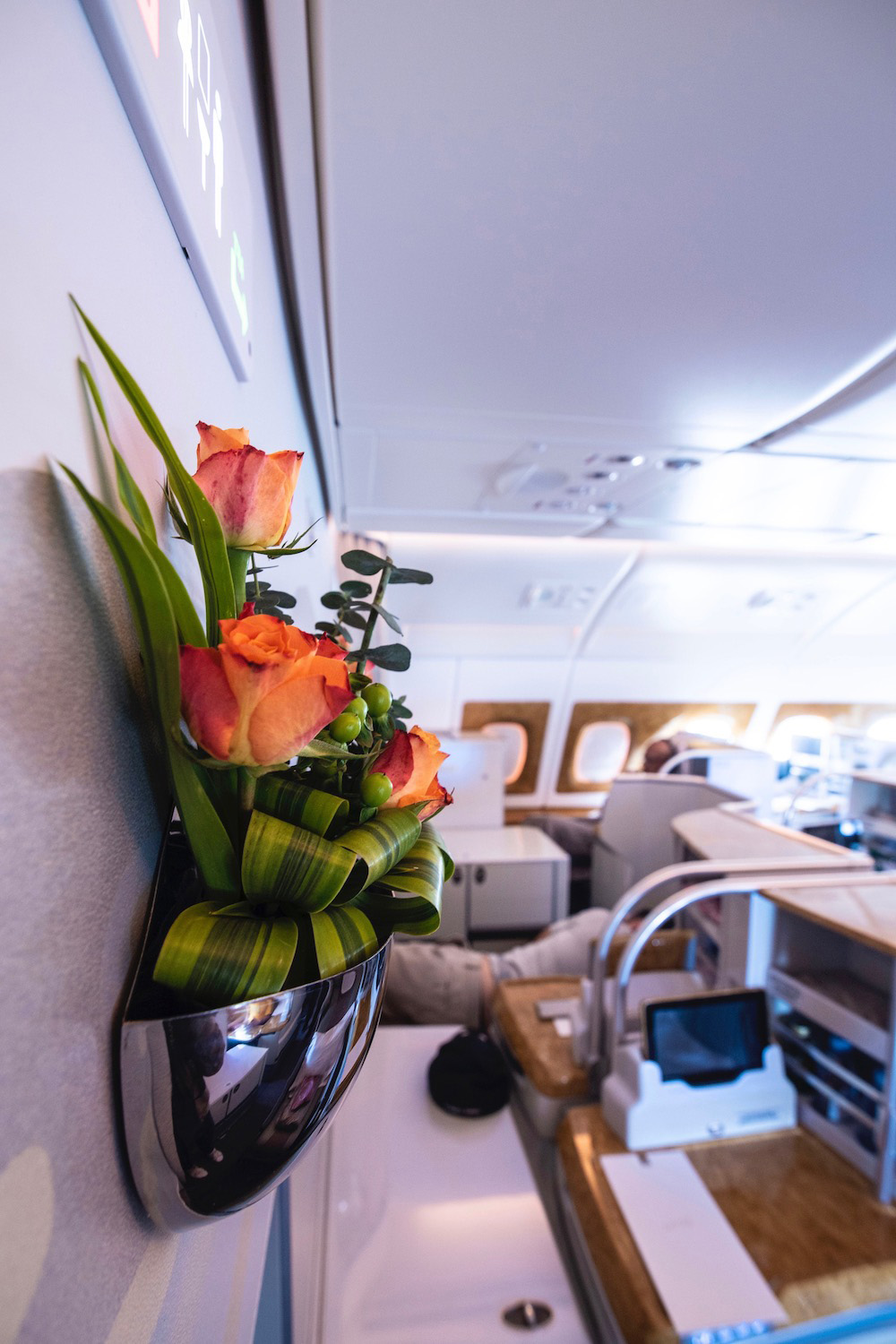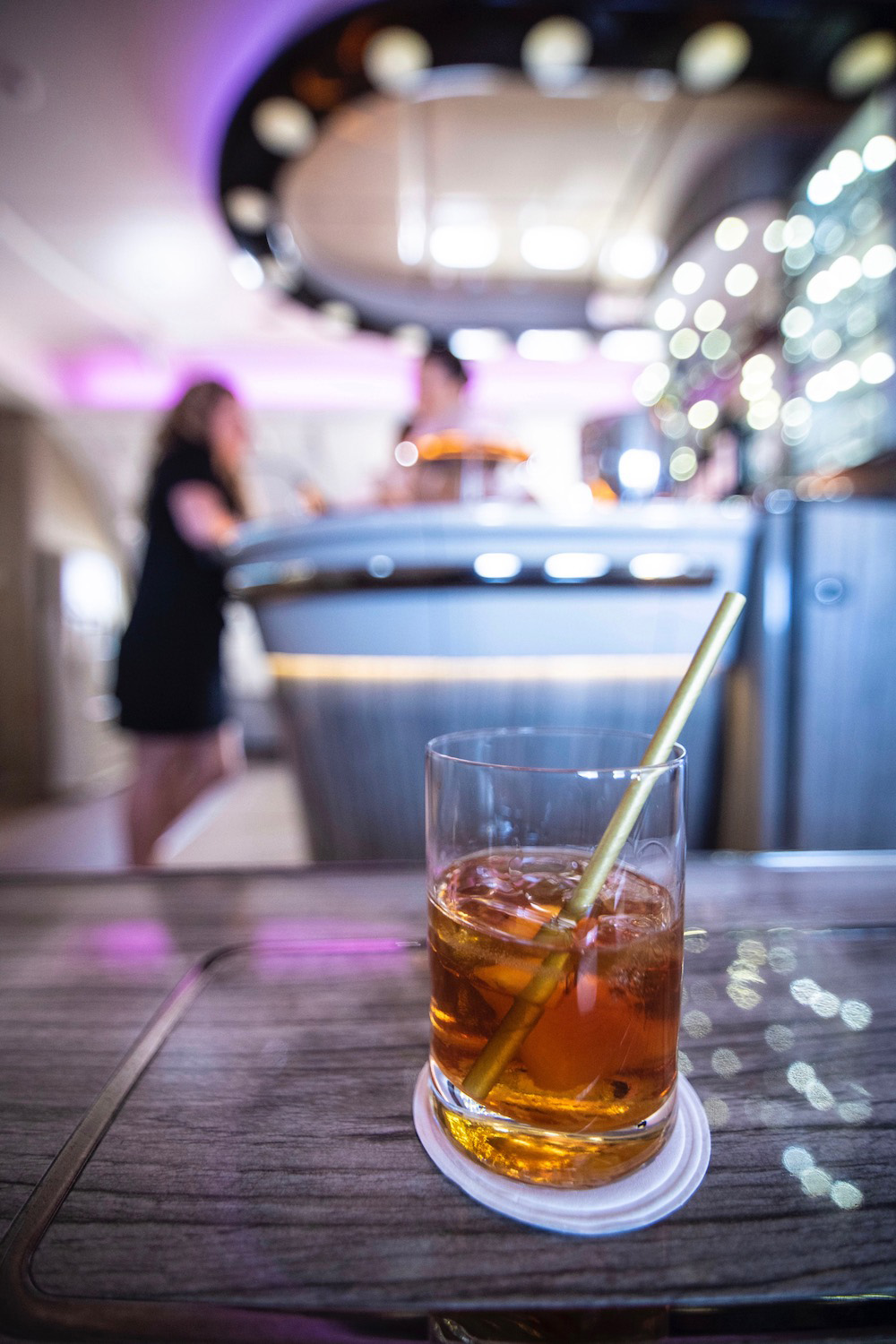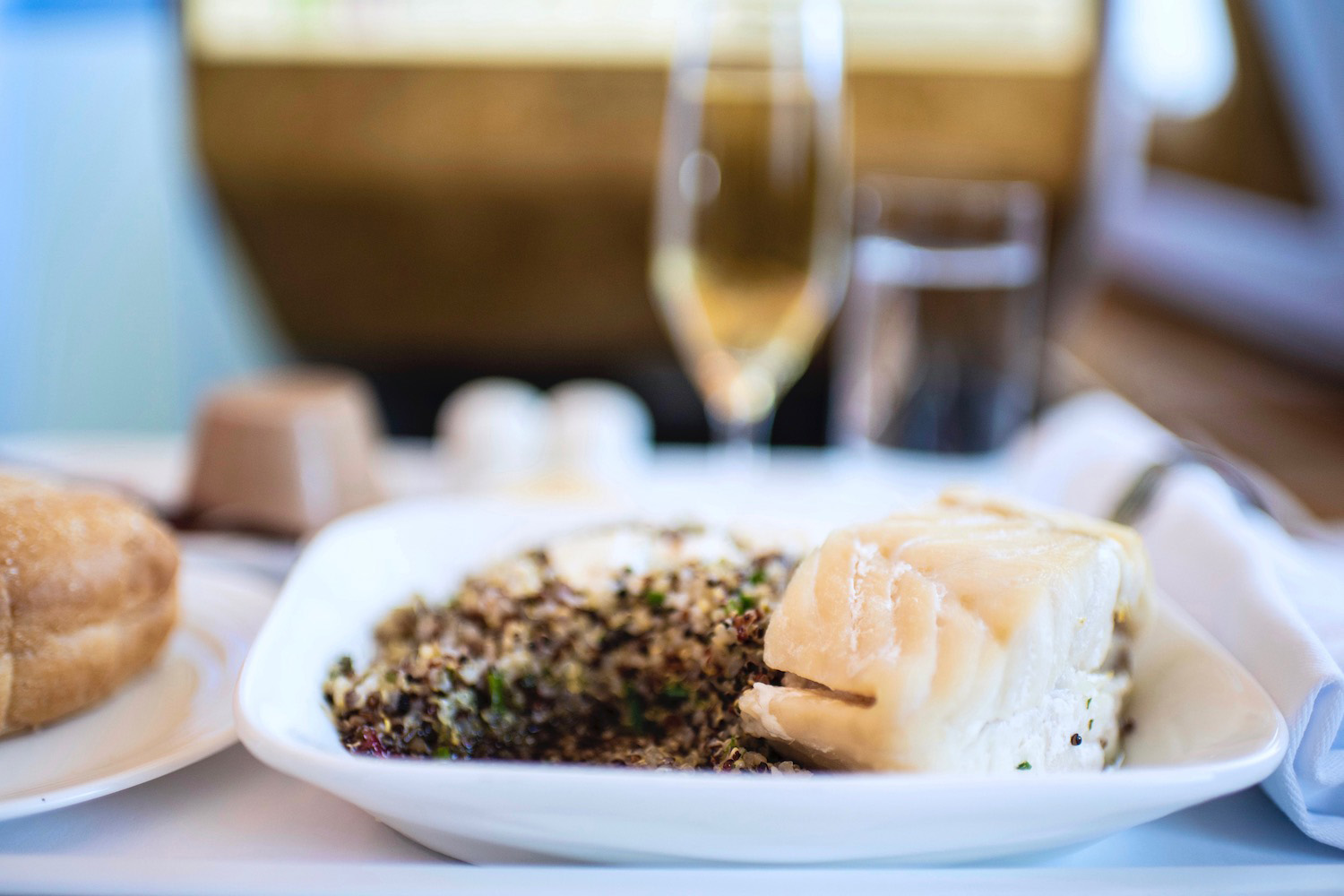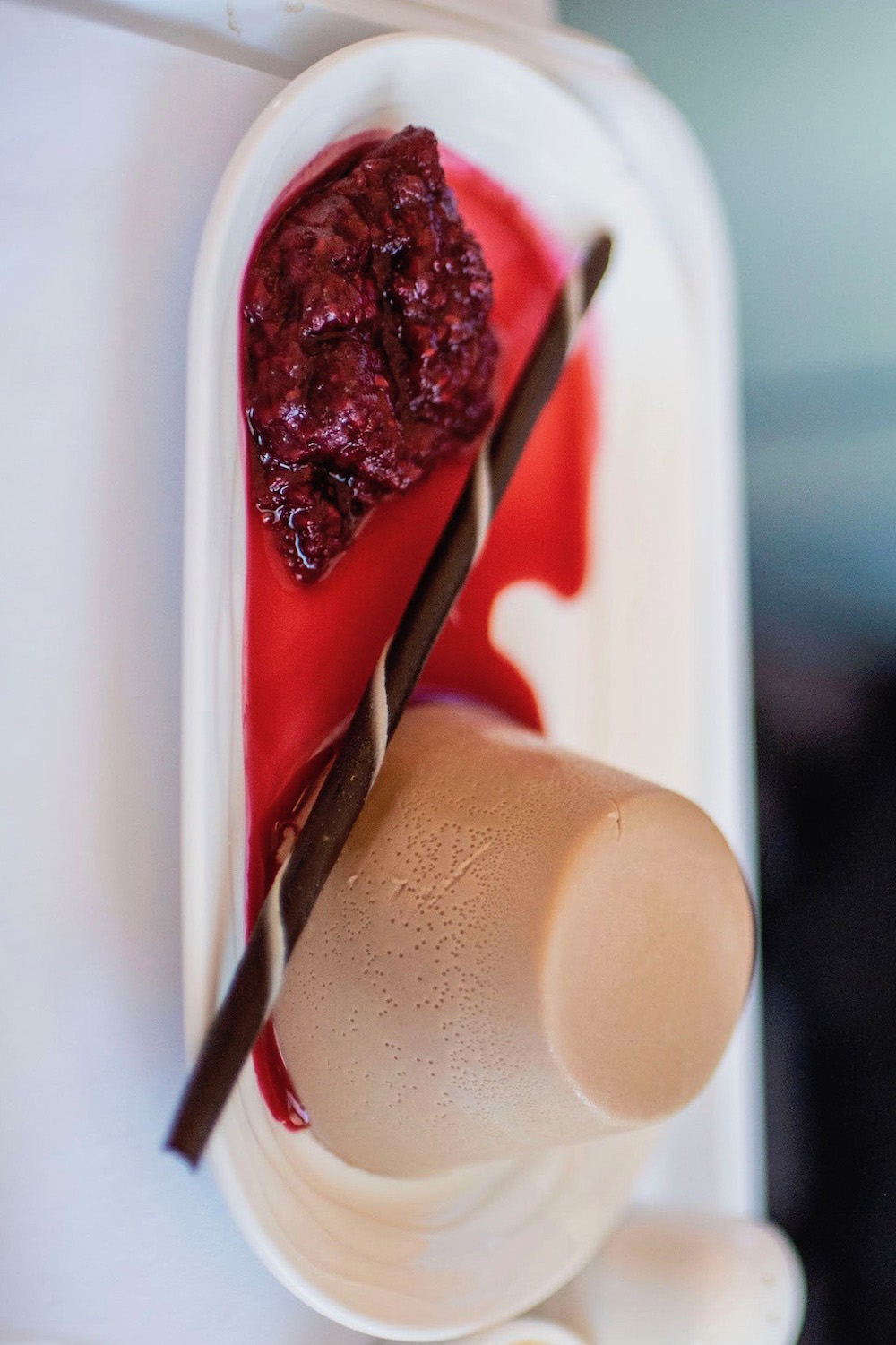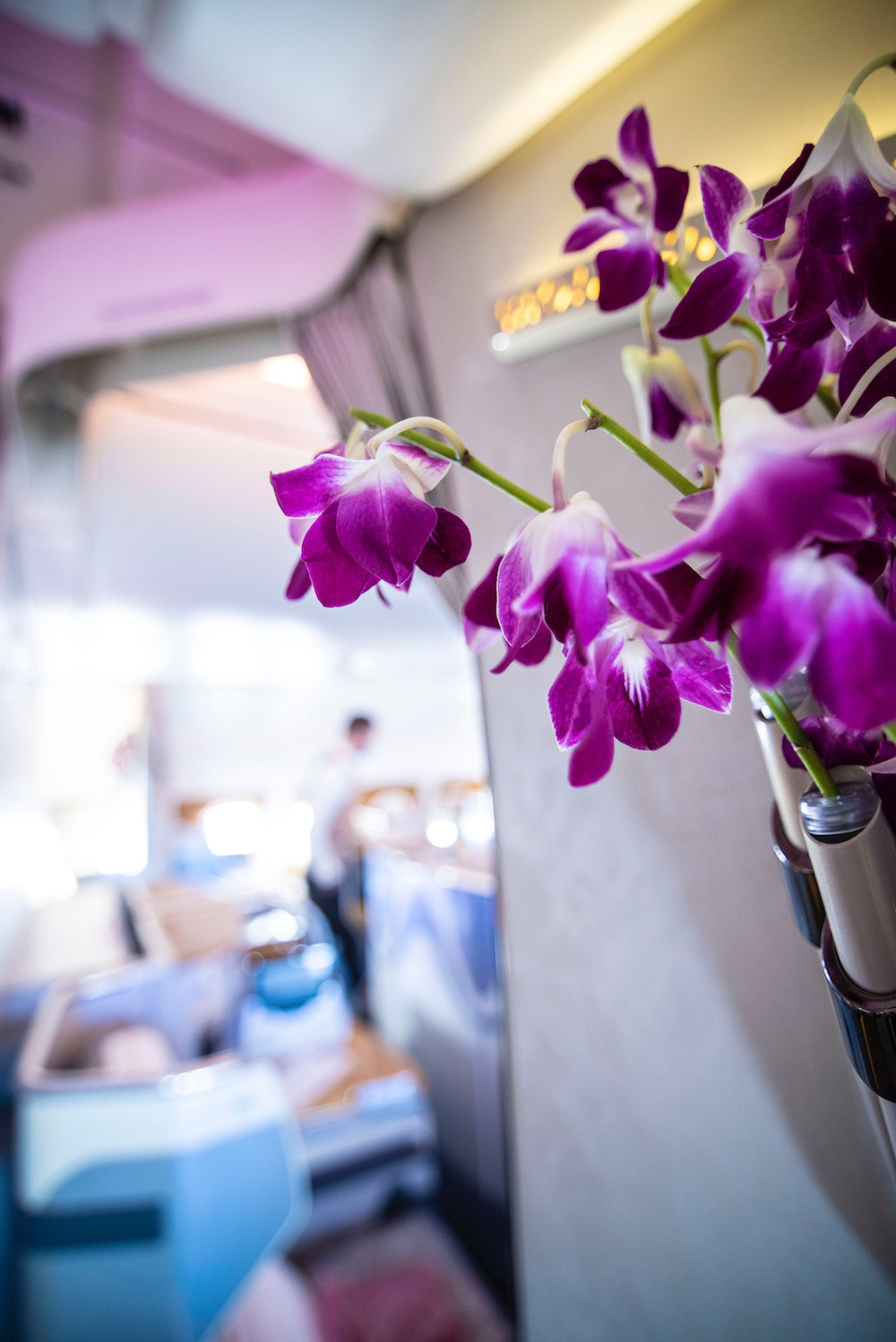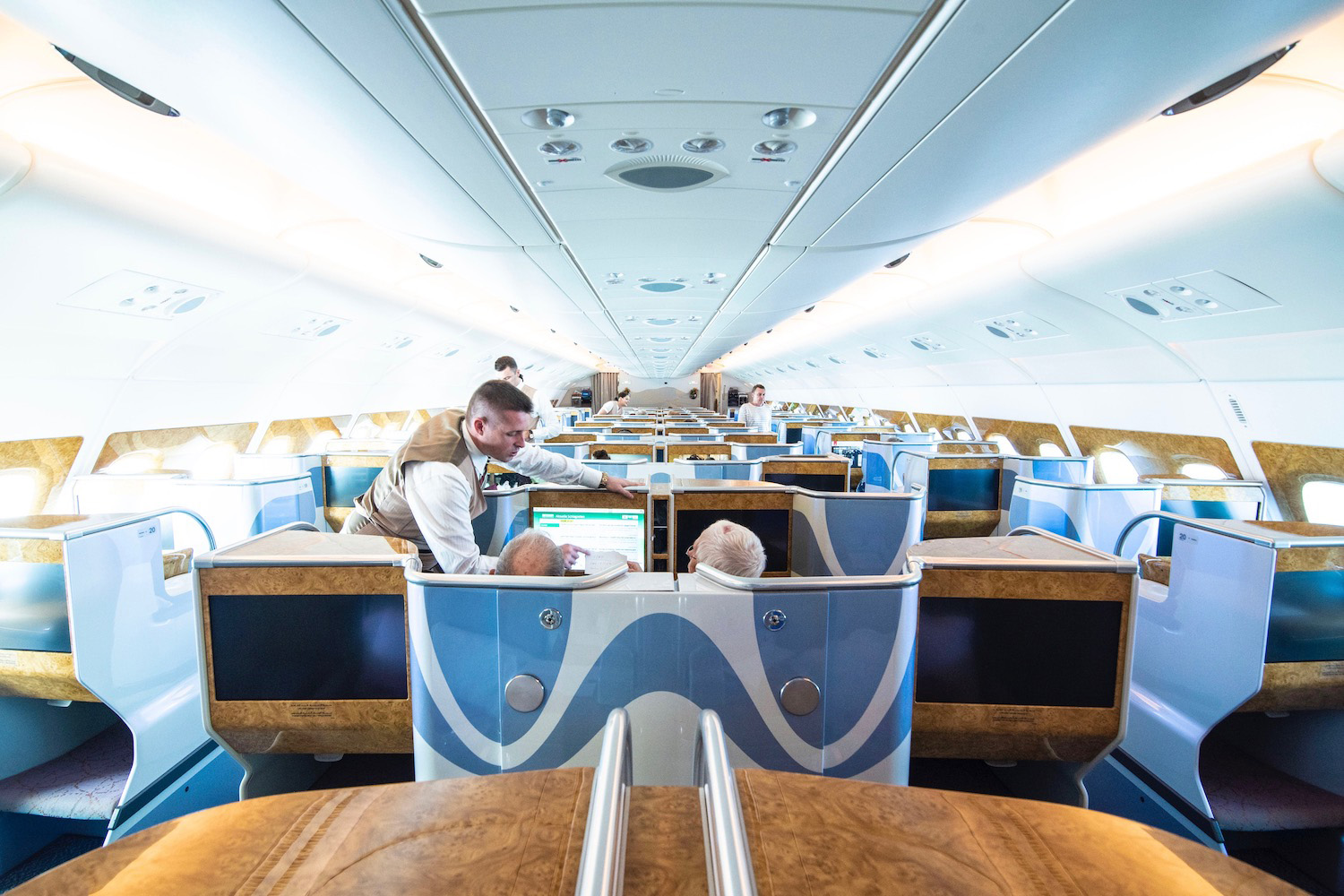 As you can see, while the cabin is somewhat gaudy it's also got its own aesthetic merits, to say nothing of the beautiful food and drink served up on-board.
Is the Emirates Upgrade Worth It?
Absolutely! Well, at least keeping in mind the relatively low price I paid at check-in. Herein lies my first piece of advice: Wait until check-in to upgrade. Even on this very short flight, the price dropped from than half, from 504 NZD to 231 NZD. Given how tired I was from my trip, I probably would've felt OK had I paid the higher price, but upgrading to Emirates business class was definitely worth it considering that the fee I ended up paying was less than Air New Zealand would've charged me for a seat, bag and meal in economy.
On the other hand, I'm not sure how much the Emirates upgrade tends to cost on long-haul flights. I'm also not sure I'd have enjoyed the flight so much had it been on the Emirates 777, whose 2-3-2 business class configuration is more like premium economy on most airlines. So I'd also say, if you're weighing whether or not to upgrade your Emirates flight, that you should keep in mind that finer details, most importantly the aircraft type. Did you really fly Emirates business if you didn't have a cocktail at the onboard bar?
Other FAQ About Your Emirates Upgrade
How much does it cost to upgrade to business class on Emirates?
The cost of your Emirates upgrade will vary depending on a number of factors, including your flight itinerary, your purchased fare class and business class availability on your flight. Rather than anticipating a certain price or range of prices, you should be prepared to assess the value of your Emirate upgrade in its proper context.
How do I get an upgrade on Emirates?
The most surefire way to get an Emirates upgrade is to purchase one, either by responding to an email offer to do so, or if they are offered at check-in or at the boarding gate. While it is theoretically possible to obtain a complimentary "operational upgrade" upon boarding, I wouldn't recommend waiting for this very unlikely outcome.
Can you upgrade to business class on Emirates?
Yes, you can upgrade to business class on Emirates, assuming you are traveling on a paid ticket that allows upgrades. Note that while you can upgrade from economy to business class, you can't generally upgrade from economy class all the way up to first class.
The Bottom Line
I received an Emirates upgrade offer email—and my Emirates upgrade ended up being 100% worth it in the end, especially when you consider how little I paid for it. The Emirates business class experience exceeded my expectations in general, in spite of the gaudy cabin finishes, and because of the outstanding service and food, the fabulous onboard bar and how tired I was after my New Zealand trip. If you aren't sure whether to upgrade your Emirates ticket or not, make sure to pay attention to the aircraft type (A380 yes; 777 maybe not), and see whether the upgrade price drops at check-in like it did for me.