I'll be honest: The first time I visited Japan's Yakushima island, in early 2014, I had no idea I was about to visit the Princess Mononoke forest. I didn't even know what or who "Princess Mononoke" was, given that I was—and am—oblivious to all things anime (sorry, not sorry).
By the time I returned to the island in late 2019, I was well aware that the majestic Yakushima cedar has meaning far beyond the extraordinary ecology it represents to the naked eye. Importantly, I made a point of seeking out the patch of real-scenery that directly inspired the film's; in 2014, I had simply stumbled upon it.
Below I'll describe in detail things to do in Yakushima, as well as how to reach the island and how to get around once you're there). Importantly, I'll also be providing a very important tip about how to find Yakushima's most famous scenery—assuming you're so inclined.
How to Get to and Around Yakushima Island
Getting from Kagoshima to Yakushima (assuming that's where you originate—it probably will be) is relatively straightforward. If you don't book one of two daily flights between the airports, you'll need to book one of the super-fast "jetfoil" ferry services that depart Kagoshima at least once every two hours. (TIP: If you're exploring Kagoshima and plan to visit Sakurajima, you can check scheduled and buy your tickets—the two ferry terminals are only a few minutes apart from one another by foot.)
Most of these ferries arrive in Miyanoura, the main ferry terminal along the northern coast of the island. Whether you arrive here or at Anbo, which is on the central-east coast near the airport, I highly recommend Yakushima car rental. Although buses circle the island (and travel to inland destinations) on a semi-frequent basis, it's much more convenient to have your own set of wheels. I didn't in 2014 and did in 2019—it was night and day!
What to Do in Yakushima Island (Including the Princess Mononoke Forest)
Trek Through Shiratani Unsui Gorge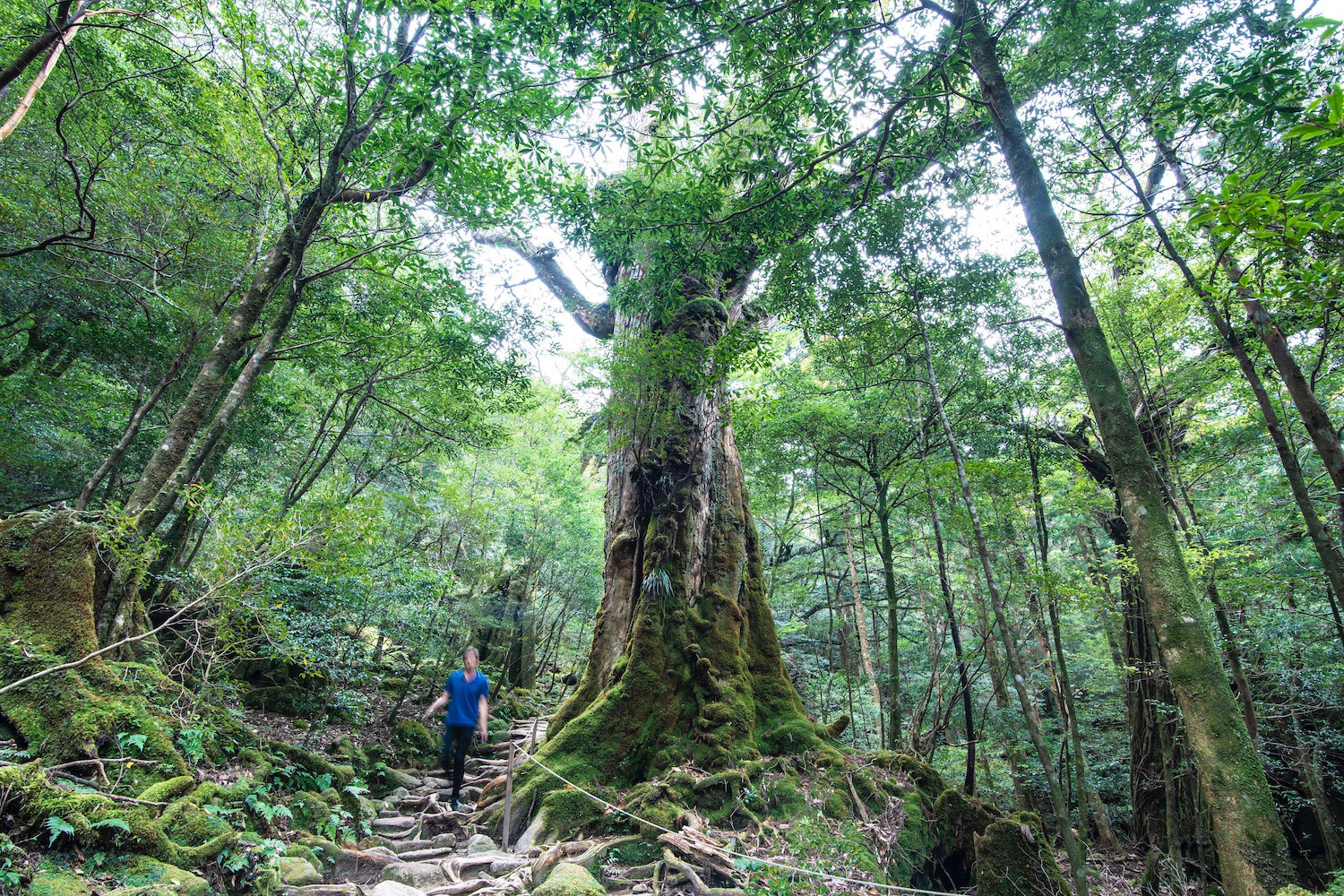 Here's a tip for you: If you're set on seeing the Princess Mononoke stream upon paying the modest fee to enter Shiratani Unsui Gorge, look at the map. Reason being that I didn't, and ended up going the "wrong" way (the hiking trail is a circle, more or less). This was fine, since there's never a bad excuse for Robert Schrader to hike two hours, but I can see it being frustrating if you have a one-track mind RE: scenery from the movie.
Visit Some of Japan's Most Stunning Waterfalls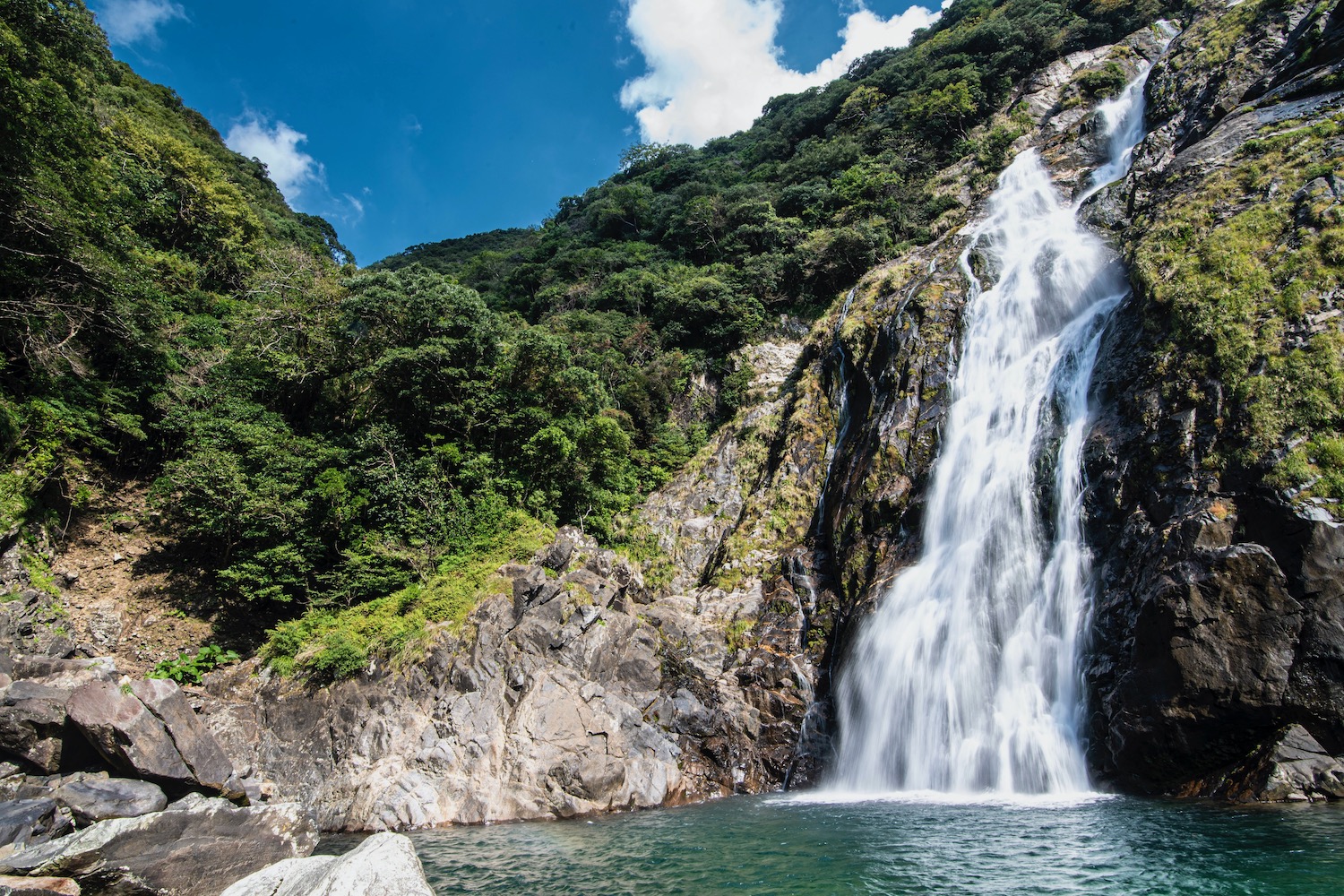 Once you've finished exploring the Yakushima forest (another place to do this is at Yakusugi Land, which requires substantially less hiking than Shiratani Unsui), you can dig into other inland wonders. Namely, a trio of waterfalls on the island's southern and western coasts, respectively. While I personally prefer the scenery at Okho Waterfall (the one in the west), Torokino and Senpirono Falls (which are in the same area along the southern coast, more or less) are nothing to sneeze at.
Drive Along Yakushima's Wild West Coast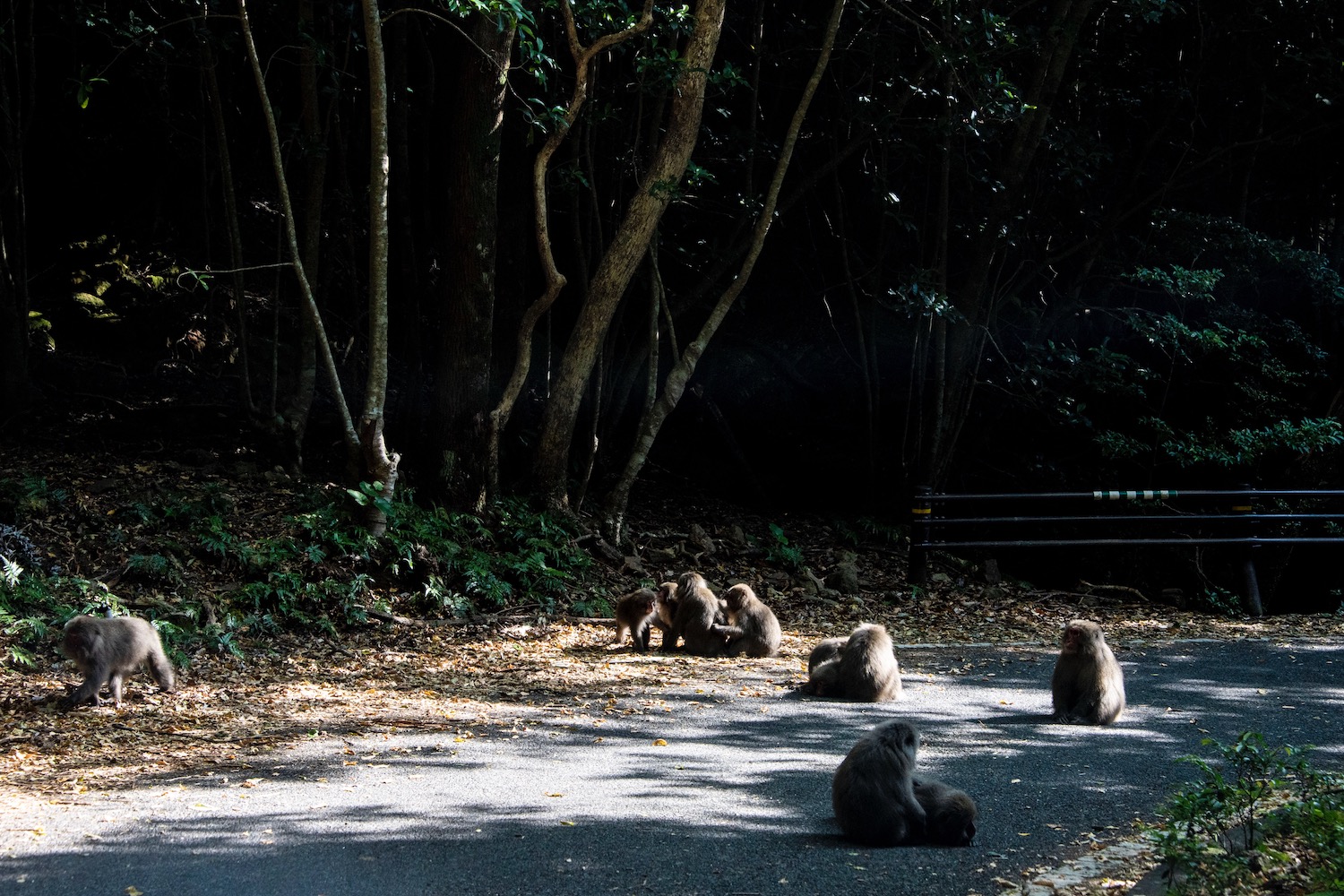 The Yakushima weather was not cooperating during my 2014 trip to the island, which is one of countless reasons I'm so glad I came back in 2019. The threat of shitty weather, to be sure, is a main reason it makes more sense to rent a car, rather than depend on public transportation. A secondary reason is that without a car, many of the island's destinations are off-limits. This includes an utterly wild section of the ring road (nicknamed the Western Forest Road), along Yakushima's southwestern coast.
(Attempt to) Bathe in a Natural Onsen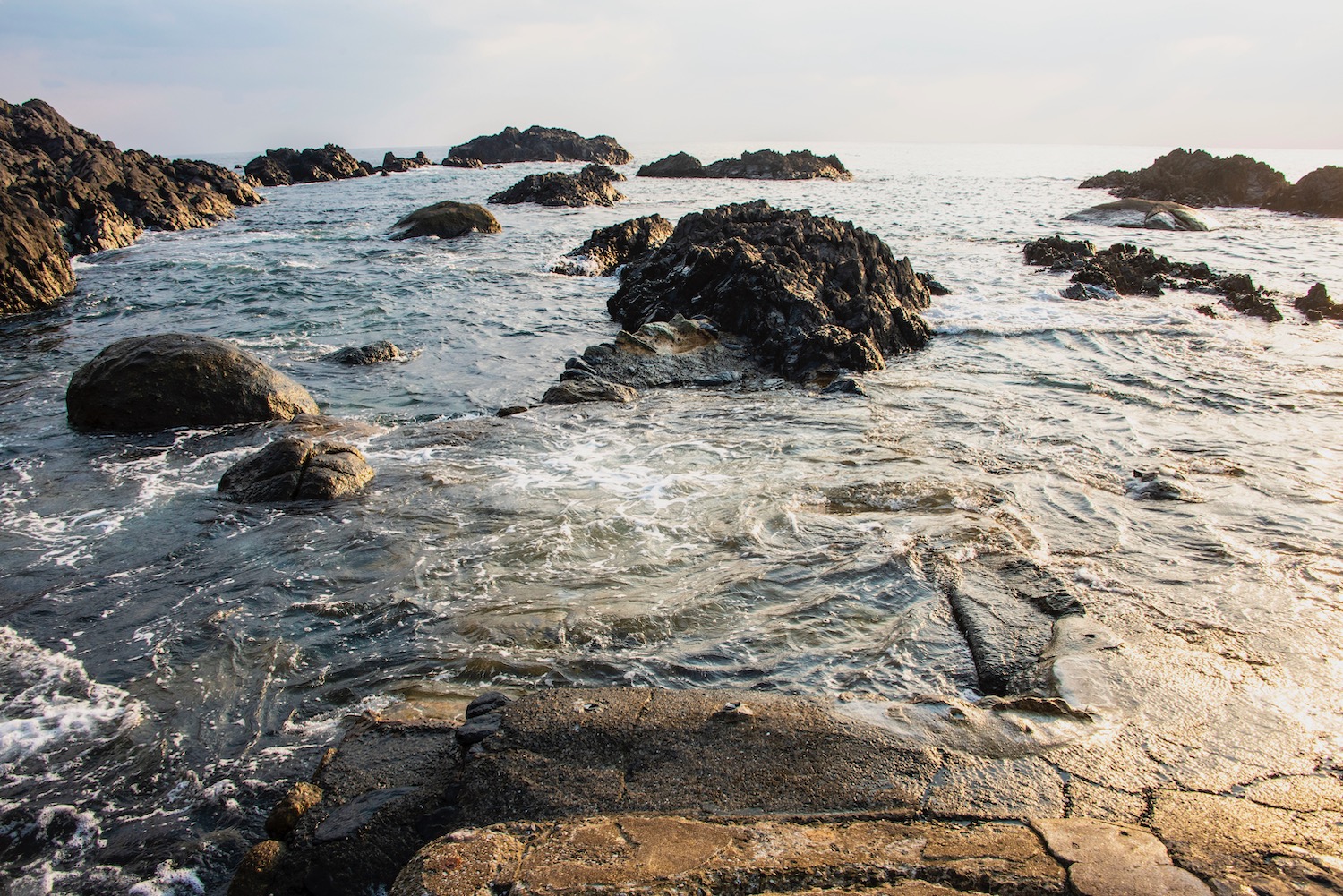 Although I went the (very) long way, my hike through the Princess Mononoke forest wasn't strenuous, at least not compared to my ordinary fitness regimen. With this being said, I did still want to soak in an onsen (which also isn't my usual M.O.—allow me to explain). In southwestern Yakushima, you'll find Hirauchi Kaichu, a "natural" onsen where you can bathe literally in the sea. If you go at the right time this is; I came several hours before low-tide, which occurs after nightfall in November. D'oh!
Eat Flying Fish (and Maybe Deer)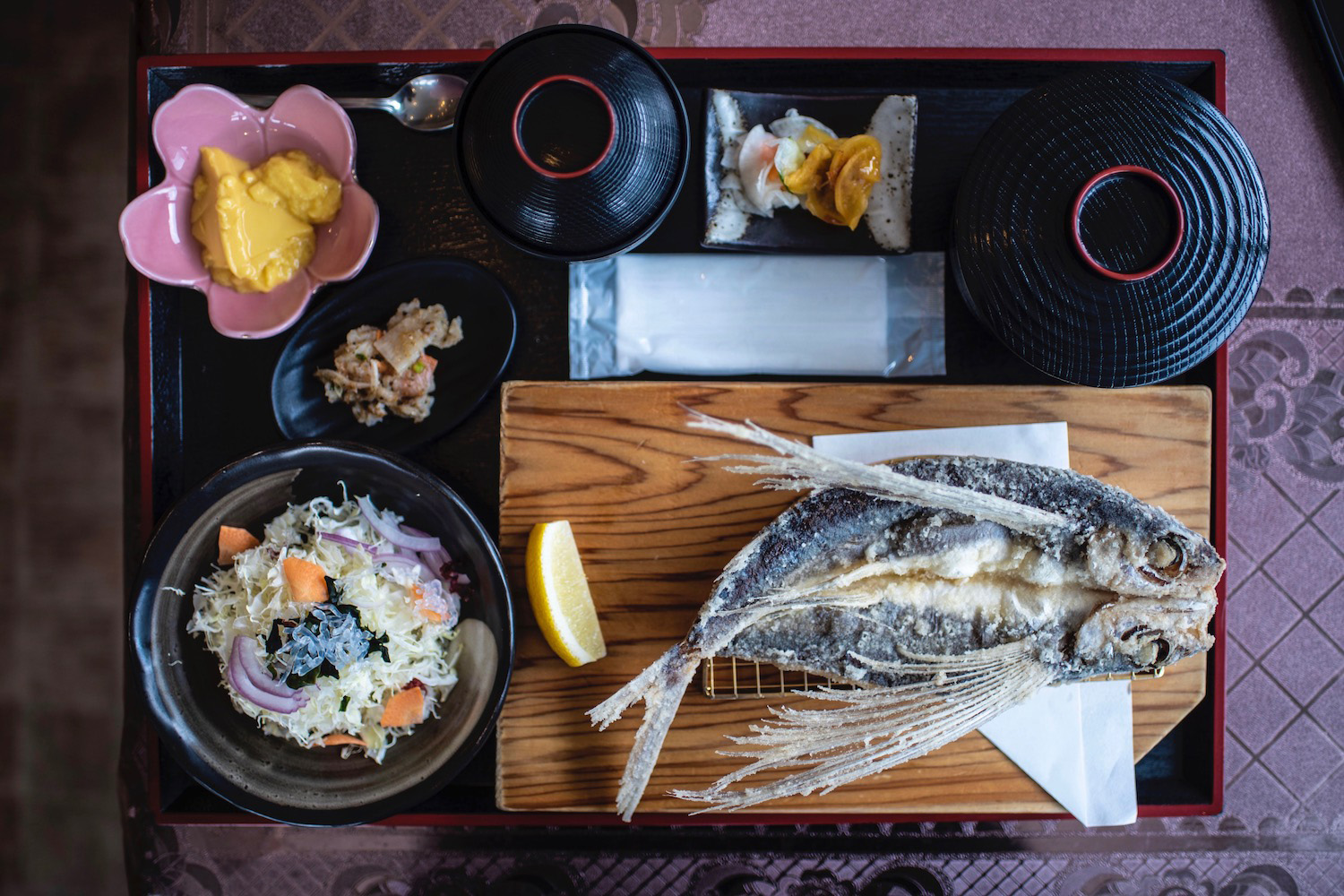 I'll admit that I don't know much about the Mononoke forest spirit, or any of the mythology/fan fiction about the movie. What I did quickly learn upon returning to Yakushima in a much better position, financially speaking, that my first trip, is that the island's cuisine is amazing. Whether you enjoy your tobio (flying fish) tempura-style like I did, or sample another local delicacy (the island's deer which, somewhat strangely, is available as sashimi), do yourself a favor and dig into local gastronomy.
Where to Stay in Yakushima
Part of the reason I like arriving in Miyanoura as opposed to Anbo is that many of the hotels in Yakushima are clustered around its northern coast. Whether you stay at a simple place like Minshuku Iwakawa like I'm prone to do, or pay a bit extra luxurious digs such as Yakushima Seaside Hotel, convenience is paramount. (NOTE: I wish I could recommend to you Chinryu-An Guest House, the gorgeous place I stayed on my first trip. Unfortunately, it's since closed!)
Of course, while Miyanoura is more convenient both to the Princess Mononoke forest and to the majority of boats bound for Kagoshima, staying elsewhere on the island isn't necessarily a bad idea. If a scenic view is more important for you than a specific location, Yakushima Cottage Morino Fairy pairs a sea breeze with a magical ambiance. Sankara Hotel & Spa, meanwhile, is relatively remote, but provides an luxurious experience that's nothing short of breathtaking.
Other Things to Do in Kyushu
Either after you've explored the Mononoke forest or before you arrive to Yakushima (probably the latter), you'll almost certainly spend some time in Kyushu. If this is not currently in your plans, I highly recommend it. Whether you tear through the ramen stalls of Hakata in Fukuoka, appreciate the beauty of Nagasaki's somber history, marvel at Kumamoto's earthquake-damaged (but still magnificent) castle or visit secondary places like Aso, Beppu and Miyazaki, Kyushu is a not-so-hidden gem.
I hope you'll read my detailed Kyushu travel guide, which I massively updated (and upgraded) following my late 2019 return to the island. It's the perfect companion to any Kyushu trip, from two-week sojourns into every nook and cranny like the journey I embarked upon, to quicker surveys of the island. You can even pick and choose your adventures, combining different cities together for escapades of the more eclectic sort.
Other FAQ About the Princess Mononoke Forest
Where is Yakushima island?
Yakushima island is located about two hours south of Kyushu island's Kagoshima city by high-speed jetfoil ferry. You can also fly from Kagoshima to Yakushima (which takes less than an hour) or take a slower ferry. Geographically speaking, Yakushima sits between Kyushu and the Okinawa archipelago.
Which part of Japan is Princess Mononoke set?
The Princess Mononoke forest is set on real-life Yakushima, a heavily-wooden island located just south of the much larger island of Kyushu.
Can you visit Yakushima?
You can easily visit Yakushima, assuming you're already in Japan (and, ideally, on Kyushu island). After arriving to Yakushima by plane or ferry from Kagoshima, rent a car so that you can explore the island freely, without having to depend on its relatively anemic bus network.
The Bottom Line
I'll be honest: The Princess Mononoke forest was never high on my Japan bucket list, certainly not the first time I visited Yakushima island. Although I still don't care much about anime of any stripe (sorry, not sorry), it's difficult for me to deny that the ancient cedars of Shiratani Unsui gorge are some of the most beautiful scenery I've encountered anywhere in Japan. Yakushima in general is an incredible place to visit, irrespective of your own feelings about anime. Need help planning the ultimate trip through Yakushima and southern Japan? Commission a custom Japan itinerary today, and let me sweat the details!