I spent a disproportionate amount of time trying to find the best view of Istanbul, largely because of how misleading many articles about the topic proved to be. Istanbul is gorgeous from any angle, of course, but all vantage points are not created equal.
Thankfully, because of my research (and the succinct way I've laid it out below for you) you won't need to waste any of your trip to Istanbul on reconnaissance. Rather, you can simply head to one (or more) of these viewpoints an hour or two before sunset, and marvel at the city where East meets West bathed in immaculate, golden light.
No matter how many days in Istanbul you end up spending, you'll want to see its beauty from as many different perspectives as possible. The shapes—and shades—it takes are as numerous as the chapters of history that have played out in this timeless city.
Understanding the Shape of Istanbul
In order to understand from where you can get the best view of Istanbul, you need to get a handle on the shape of the city. While the entire Istanbul urban area is massive, the historical center is relatively small. As you can see on the map below, the neighboring Cihangir and Beyoglu districts are bound, respectively, by the Bosphorous Strait and Golden Horn waterways; across the Golden Horn you'll find ancient Sultanahmet, home to the city's most famous (and picturesque) architecture.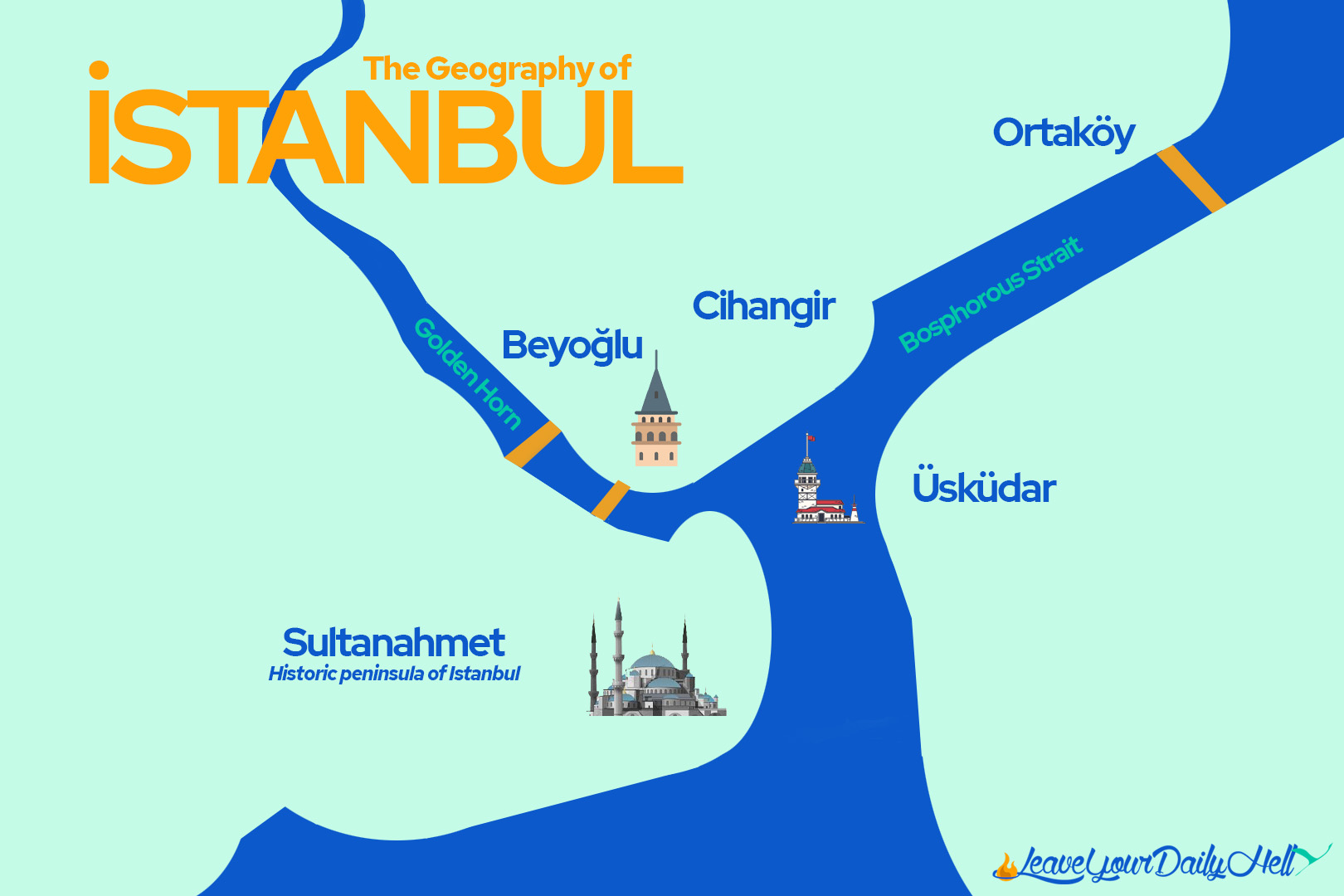 These are all on the "European side" of the city. Some interesting sights also exist on the "Asian side" across the Bosphorous, although for the purposes of this article—which will spotlight Istanbul viewpoints—the Asian side makes a better perch from which to photograph than a destination in and of itself. The Bosphorous itself also offers great views of Istanbul, which I'll discuss after listing off a few awesome terrestrial viewpoints.
My Favorite Istanbul Viewpoints
The Marmara Pera Hotel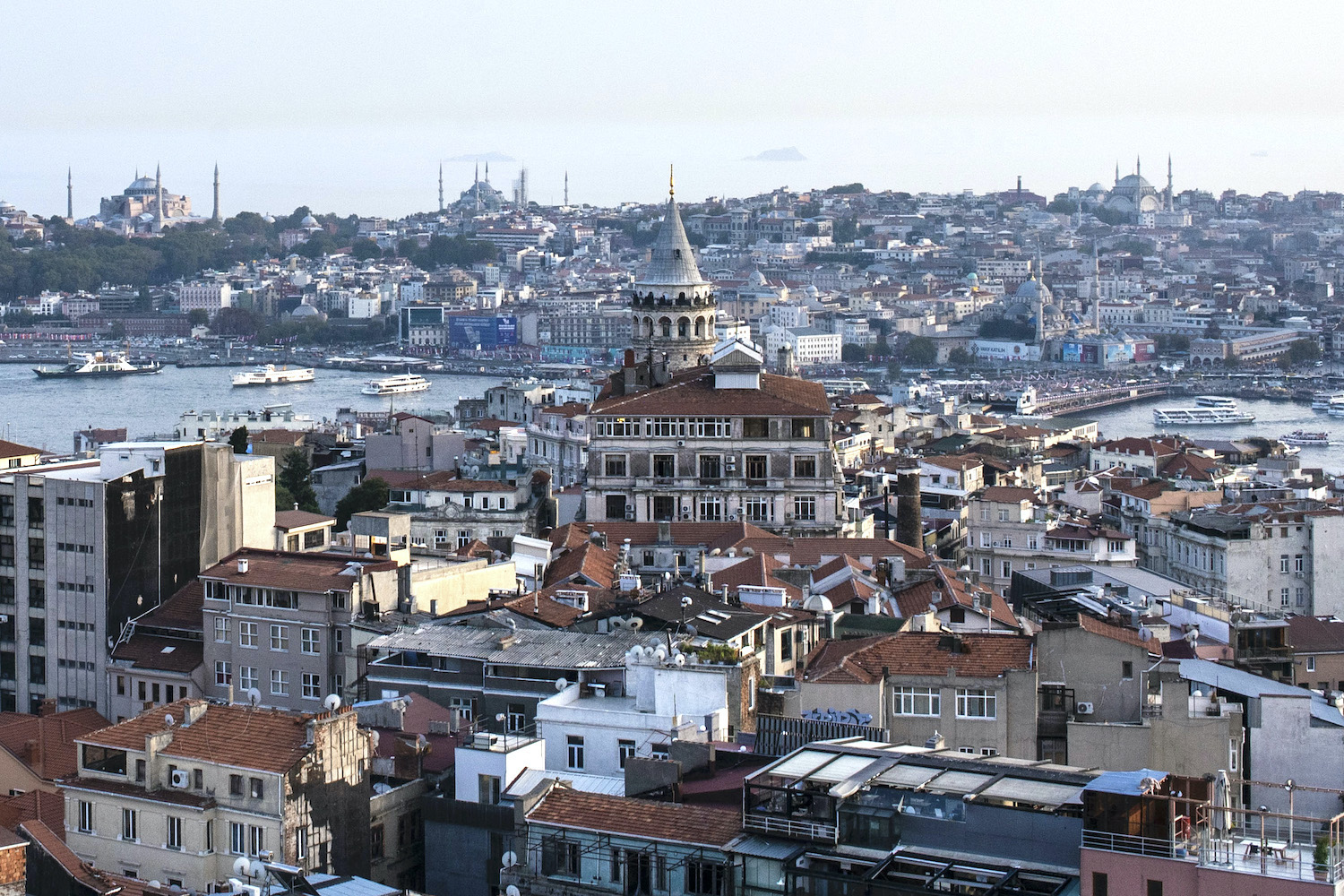 Even if you don't book a room at the five-star Marmara Pera Hotel, which is located approximately equidistant between Taksim Square and Galata Tower, you'll want to have a drink on its rooftop. In my mind, this is the ultimate view of Istanbul, with Beyoglu lit up in the foreground and the mosques and markets of Sultanahmet glittering in the distance.
Galata Tower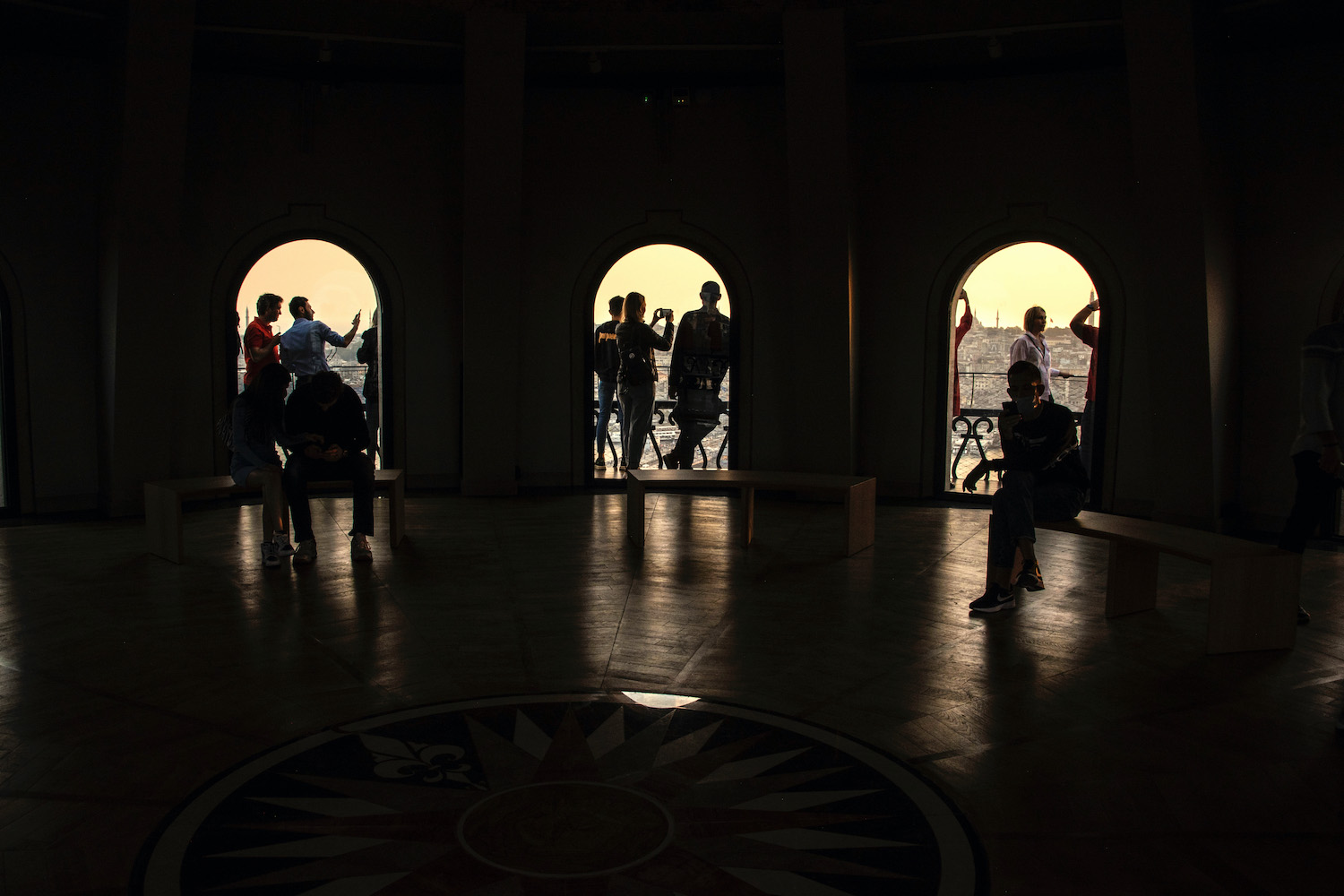 Of course, Galata Kulesi itself offers what you might argue is the best view of Istanbul. Keep in mind that the viewing deck can be extremely crowded, particularly right around the time the sun sets. Additionally, you might need to queue to ascend the tower, so go early if you can.
Seven Hills Hotel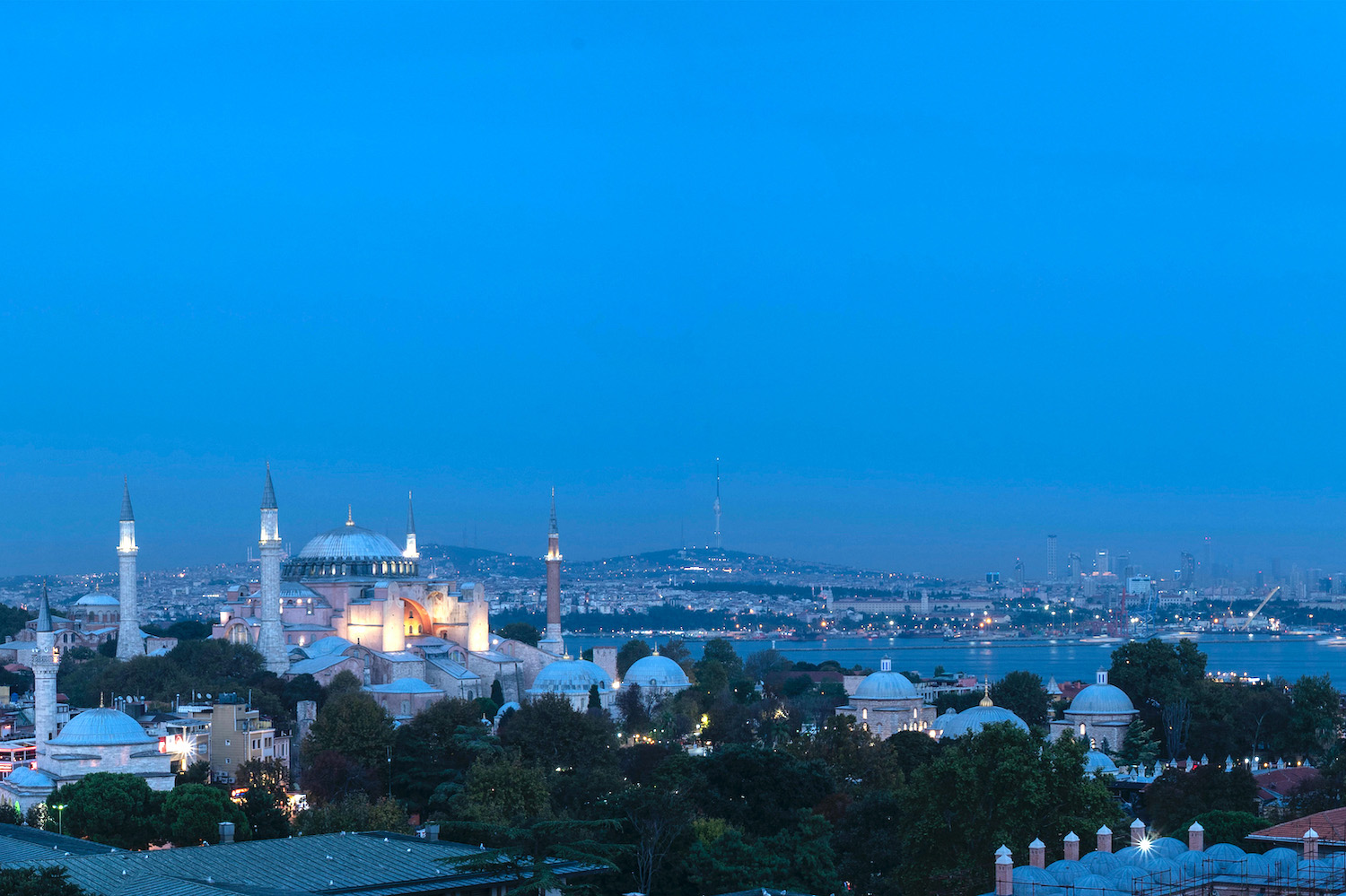 The rooftop terrace of Seven Hills Hotel is probably my favorite place to see the Istanbul skyline from Sultanahmet itself, but it's not the only game in town. Assuming you don't ascend up into the Blue Mosque itself, you can also visit alternative viewpoints. One I didn't personally visit—I couldn't find my way up, embarrassingly enough–is Valide Han Mosque.
Galata Bridge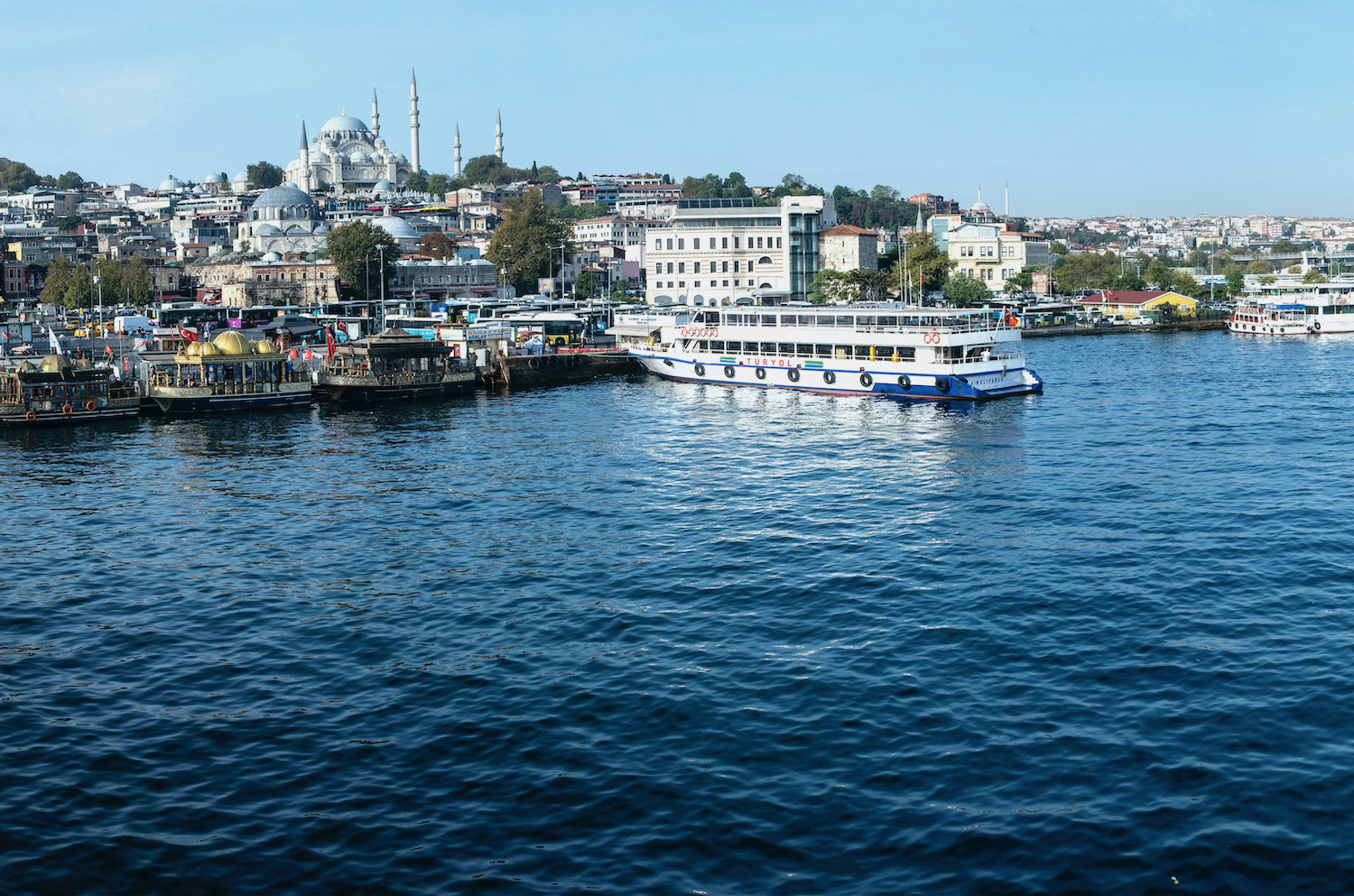 Who says you have to ascend a building to get the best view of Istanbul? Plenty of picturesque views of the Istanbul skyline can be yours simply by walking across Galata Bridge. Another awesome vantage point, Haliç Bridge, sits just up the Golden Horn from here, and offers a different but complementary perspective.
Çamlica Hill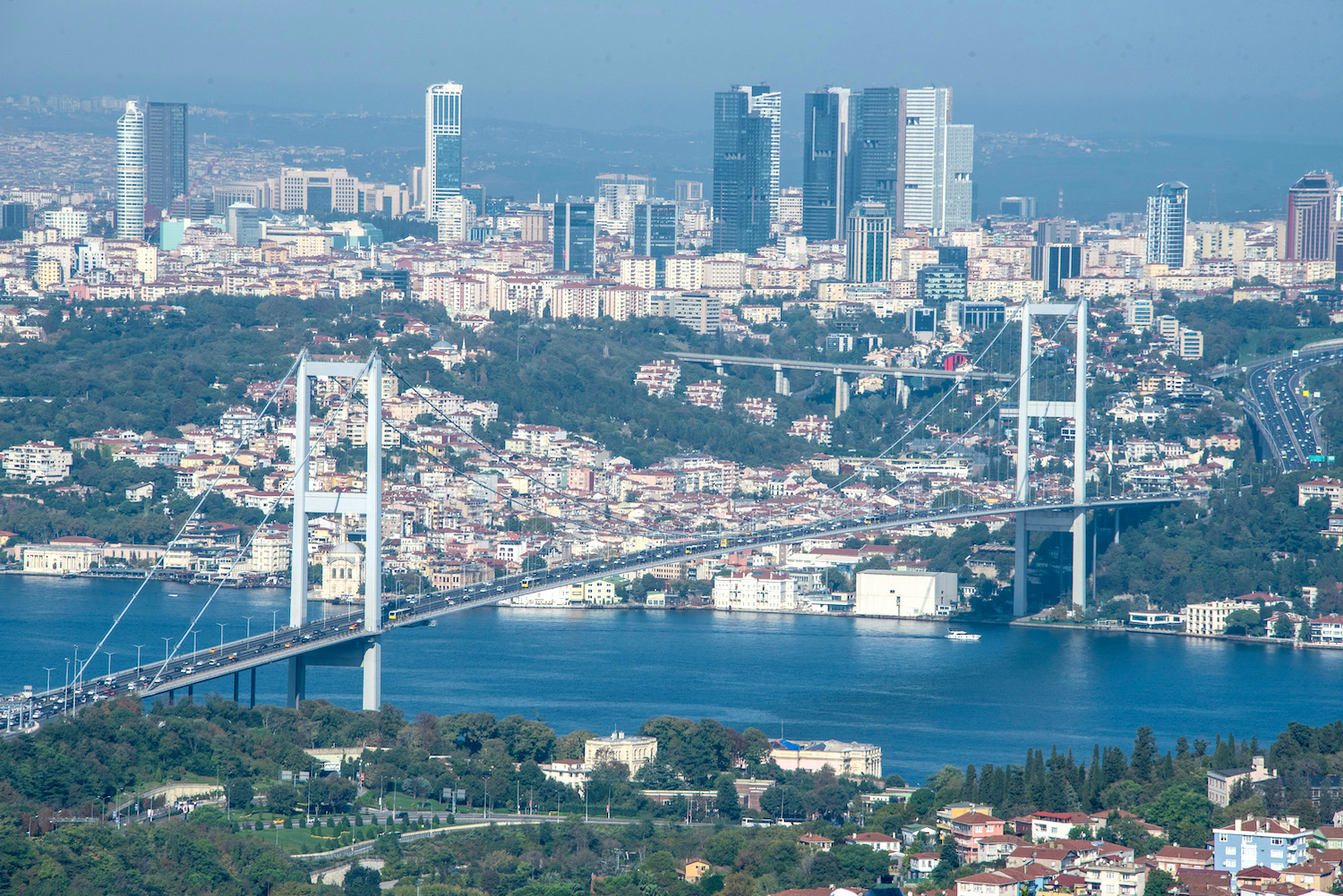 If you want to gain a significantly higher perspective and don't mind a bit of adventure, ride the Istanbul Metro over to Kisikli Asian side of the city. From here, it's about a 15-minute walk up to Çamlica Hill, which peers down on the skyscrapers of Levent, as well as the Bosphorous Bridge and Ortaköy. You can also see the old city, though you'll need a zoom lens!
Istanbul from the Sea
Taking a Bosphorous cruise is one of the most enjoyable experiences in Istanbul, whether you do it for sightseeing—the "journey"—or are bound for a destination, such as the waterfront town of Anadolu Kavagi near where the Bosphorous meets the Black Sea, or the Princes Islands just beyond the the Strait's southern mouth. Alternatively, you can take commuter ferries between ports like Eminonu, Karakoy, Kabatas, Uskudar and Ortakoy, and savor the views from there.
Speaking of Uskudar, which sits just across the Bosphorous from the tip of historic peninsula of Istanbul, this is where you'll travel if you want to see the sunset behind the Maiden Tower, or Kiz Kulesi in Turkish. While I'm not sure I would characterize this as the best view of Istanbul, objectively speaking, it is iconic nonetheless, particularly after the fortress lights up just as night is falling.
Other FAQs About Istanbul Travel
Where can I watch the sunset in Istanbul?
All the Istanbul viewpoints I've mentioned in this article are fantastic sunset spots, particularly the Marmara Pera Hotel and Galata Tower. If you can't make it up to them in time, you can also consider watching sunset from the Galata or Haliç bridges, or from anywhere along the Golden Horn on the Beyoglu side.
Where should tourists stay in Istanbul?
When I visit Istanbul, I love to stay in the ancient districts of Beyoglu (just north of the Golden Horn, near Galata Tower) and Sultanahmet, which is where you find the Grand Bazaar and Blue Mosque. If none of the hotels I've mentioned throughout this article appeal to you, try search for Istanbul Airbnb properties within these districts (and also hip Cihangir).
What should I see in Istanbul?
In addition to the amazing Istanbul viewpoints I've recommended here, you should explore Istanbul districts like Beyoglu, Cihangir and Sultanahmet, and landmarks such as the Blue Mosque, Hagia Sophia, Galata Tower and Taksim Square. Additionally, you can enjoy a boat ride through the Bosphorous Strait, or to the outlying Princes Islands.
The Bottom Line
Although the best view of Istanbul is subjective, I think you'll find one that suits your taste among the several I've listed here. Or more than one: You can watch sunset from a different vantage point each evening, whether you spend 3 days in Istanbul or an entire week. Not to say you have to take in your Istanbul panorama at sunset, or even during the latter half of the day—the city is as beautiful after dawn as it is before dusk. No matter which perspective on Istanbul ends up impressing you the most, I hope you'll hire me as your Travel Coach to avoid any mediocrity on your trip to Turkey.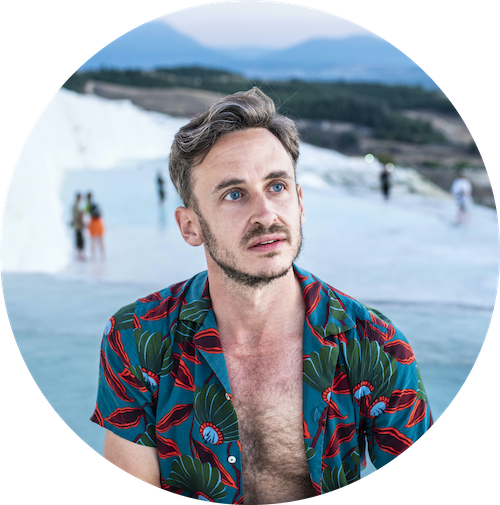 informs, inspires, entertains and empowers travelers like you. My name is Robert and I'm happy you're here!