Is Luxor or Aswan right for you? In my opinion, both of these cities are worth visiting when you travel to Egypt—most people visit both—but they're definitely not the same.
Nor is one bad or the other good—far from it. Both Aswan and Luxor offer a lot to potential visitors, from interesting city centers set along the Nile, to nearby attractions that are some of the most famous and magnificent in all of Egypt.
I hope you continue reading, whether you need to make a choice between these two cities, or plan to visit both and simply want to set realistic expectations in advance of your trip.
Prepare for Your Trip to Egypt
Irrespective of whether you choose Luxor or Aswan (or both), certain preparations are necessary for every trip to Egypt. Most importantly, you should obtain your Egypt eVisa well in advance of travel. While it is possible to purchase a visa on arrival in Cairo, arranging this before you land will greatly reduce the amount of time you spend in the airport.
If you are reading this while the coronavirus pandemic is ongoing, meanwhile, you should consider any Covid-19 related preparations you will need to make. In 2021, for example, travelers need to present a negative Covid test taken between 72-96 hours of arrival, depending on their origin country. In the future, it may become necessary to show proof of vaccination against SARS-CoV-2 to enter Egypt.
Comparing Luxor and Aswan
Natural setting
Both Aswan and Luxor are set on the Nile River, with sandstone mountains (and, frankly, sane) rising above the lush, littoral city settings on either side. From this perspective the cities are very similar, although I'd say the mountains near Luxor are probably more dramatic; the riverine scenery is more pronounced in Aswan.
Attractions
This is as much because of the mountains themselves as it is the treasures they hide. For example, once difference between Luxor and Aswan is that Luxor is where you find the Valley of the Kings (and Valley of the Queens) and the temple of Hatshepsut. Aswan's Elephantine Island, meanwhile, is at water level.
Hotels
Generally speaking, lodging in Aswan is a lot more byzantine than in Luxor, given that the latter is more popular than the former, due to its closer distance from Cairo. On the other hand, both are home to big-named luxury hotels: Movenpick and Sofitel in Aswan; Hilton and Sofitel in Luxor.
Restaurants and shopping
If you like Egyptian food such as koshary (or pan-Arab food such as falafel and shawarma), there won't be much of a difference between Luxor or Aswan from your perspective. In terms of shopping, the Aswan Bazaar is larger and more expansive than what you find in Luxor, where individual boutiques tend to offer more interesting goods.
Day excursions
As I mentioned earlier, Luxor is closer to the Valleys of the Kings and Queens and the Temple of Hatshepsut; it's also where you'll find Karnak Temple, the largest in the world. The most popular excursion from Aswan is probably to Abu Simbel temple, which is rather far away and requires booking in advance for security reasons.
Why You Should Visit Both Aswan and Luxor
As you can probably tell after having read this far, both Aswan and Luxor are destinations of merit: Medium-sized cities set right on the Nile River, with plentiful attractions within their centers as well as within day-trip distance. Rather than saying one is better than the other, I believe that both of these destinations offer something to your trip that nowhere else can quite replicate.
Another reason I don't think it's necessary to choose between Aswan or Luxor? The journey between them is so amazing. As I alluded to in the last section, the Nile between Aswan and Luxor is one of the most popular places to take a Nile River cruise, whether on a traditional Felucca boat or one of the larger, more modern vessels that has become common in recent years.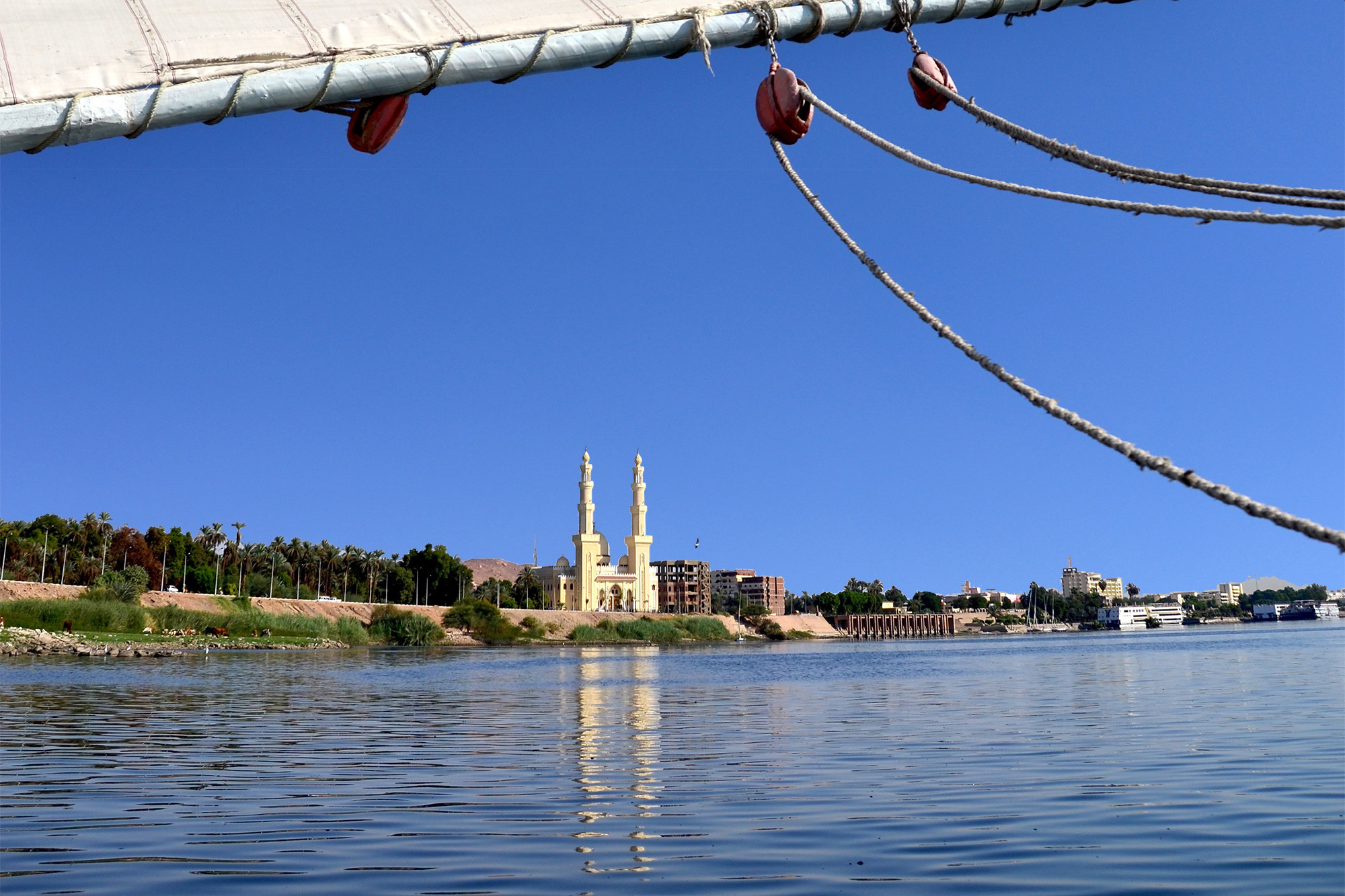 Other FAQ About Luxor and Aswan
Is Aswan better than Luxor?
Aswan is not objectively better than Luxor, but it is better for some things. Namely, if you want to take a day trip to Abu Simbel temple, or if you want to get a close look at the ancient Nubian culture that still very much exists in and around Aswan city.
Is Aswan worth visiting?
Aswan is absolutely worth visiting! Whether you stay primarily in town, or take day trips to Abu Simbel, the Aswan Dam and Lake Nasser, or even use Aswan as a starting point for a Felucca journey, you'll quickly be glad you made the journey to Aswan, almost immediately after you arrive there.
How to get from Luxor to Aswan?
Several routes from Luxor to Aswan (and back) exist. If you're going for practicality, the train is probably easiest. If money is no object, meanwhile, a taxi is the most private and comfortable. Finally, if you want to enjoy a scenic and authentic journey, you can ride a traditional Felucca boat.
The Bottom Line
Should you visit Luxor or Aswan? It's not a clear-cut answer, as both offer a great deal to people who come, from natural beauty, to timeless architecture, to fascinating museums and beyond. Frankly, most travelers who go all the way to the south of Egypt end up visiting both of these cities, if only because they've already gone to the trouble of making the journey. If you want to learn more about Egypt, might I also recommend the city guide I've written about Cairo? Like this post and others, it'll help you get informed and inspired in advance of your trip. Have fun and let me know how it goes!