Bangkok was like an inverse mirage as my plane made its approach to Suvarnabhumi Airport. The city was certainly there—I'd made this landing dozens of times—it just seemed like it wasn't, on account of pollution unprecedented for this late in the year.
The haze itself vacillated between being real and imaginary. The closer I got to the city center, the more clearly I could see familiar sights, or at least it seemed that way from inside air-conditioned cars.
But by the time I got to Sao Ching Cha, a "giant swing" where during the city's 17th century Golden Age faithful Buddhists literally died trying to get closer to god—they succeeded—its vermilion iron seemed once again to be dissolving into the smoke cloaking Thailand's City of Angels.
But I didn't let a little monlapit, nor the immediate deterioration of my respiratory health it induced, spoil my mood. This was my first time back to to Southeast Asia in 13 months, and my first trip to the rest of Asia (outside of Japan) since before the region shit its pants over covid-19 three years earlier.
No, I wasn't going to surrender my joy to a little dust, even if it might one day give me lung cancer.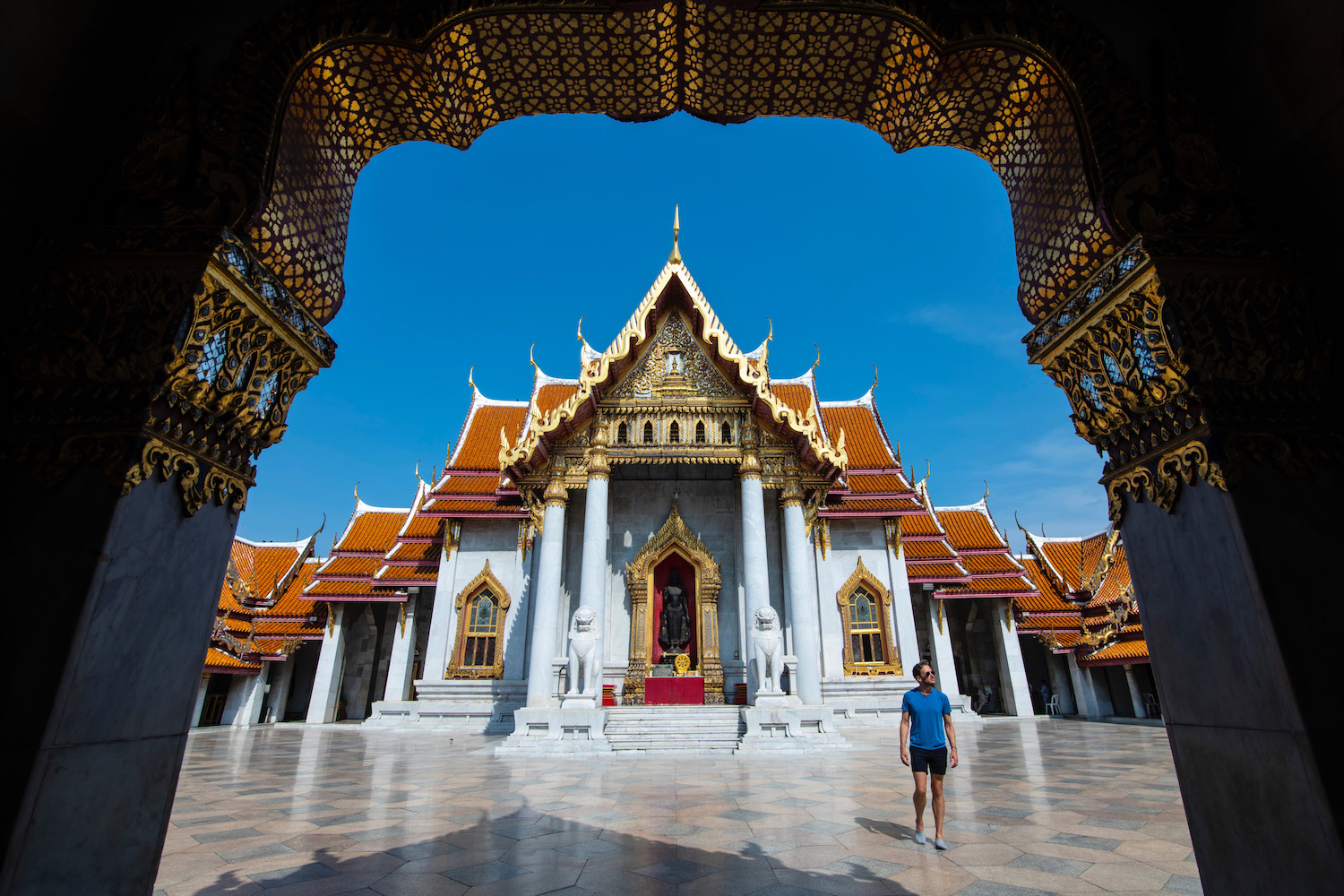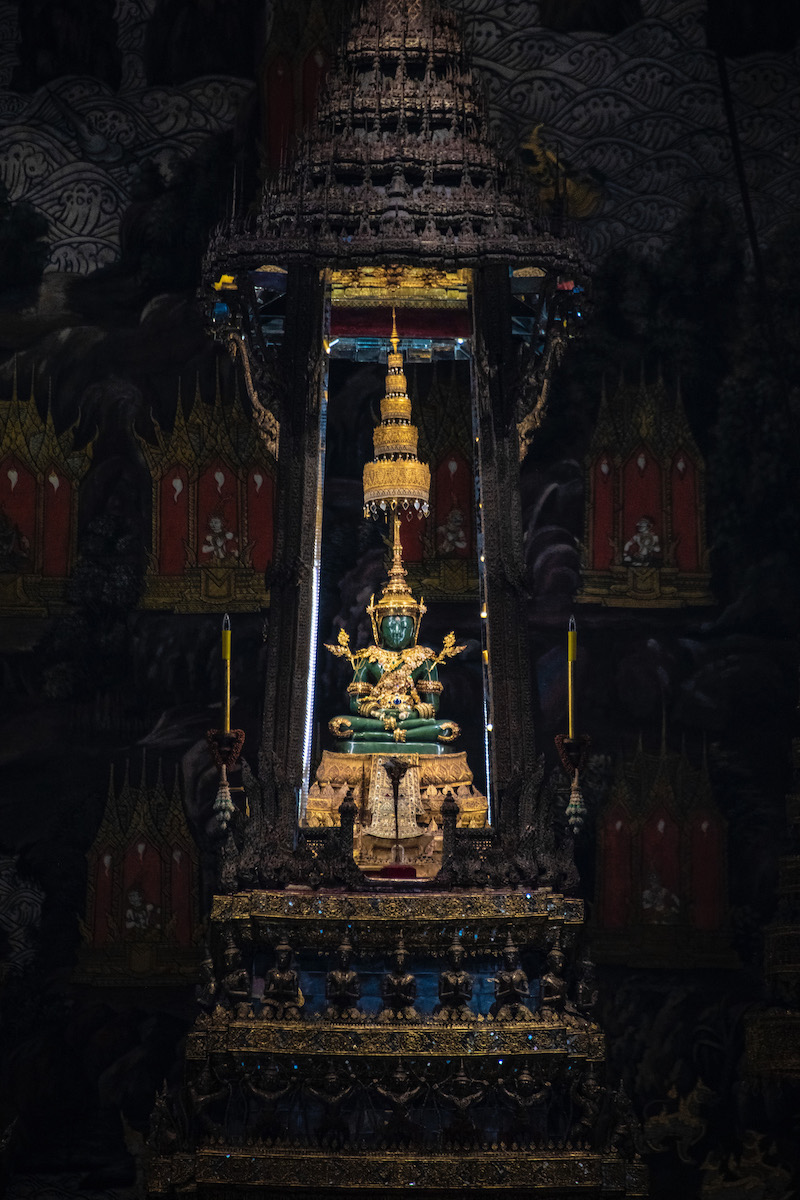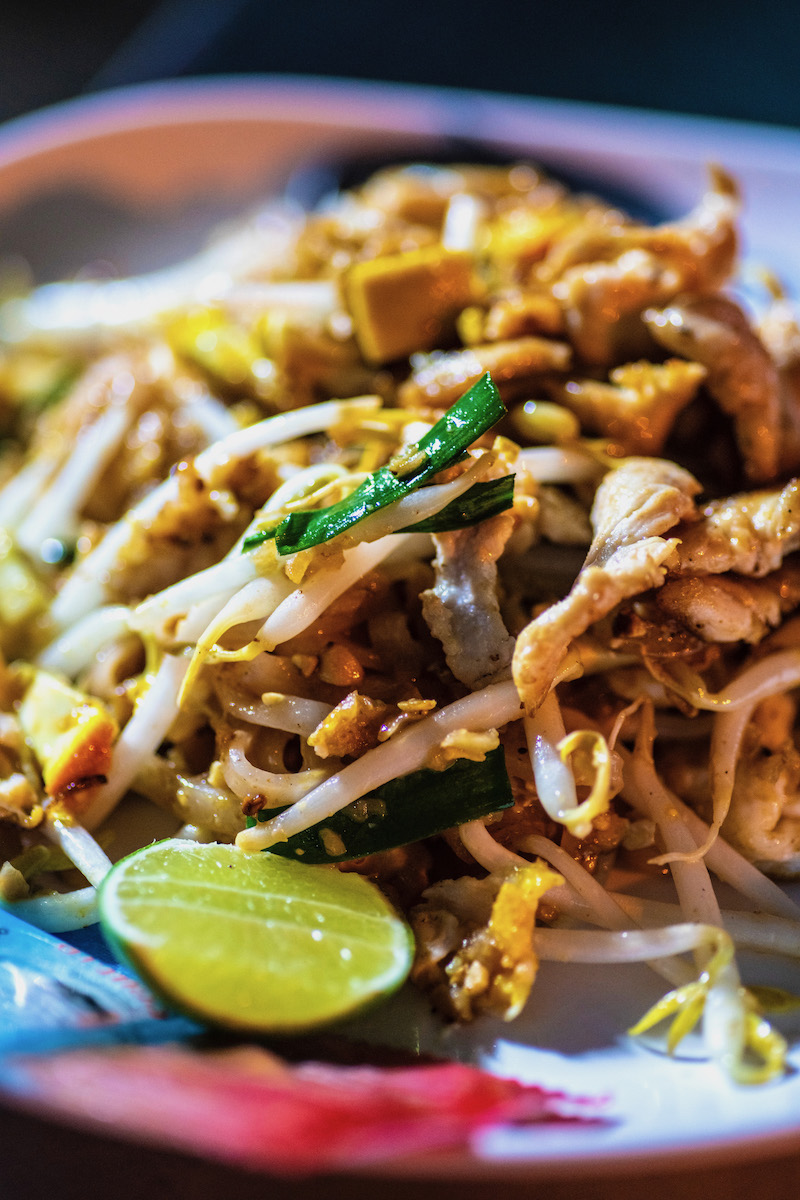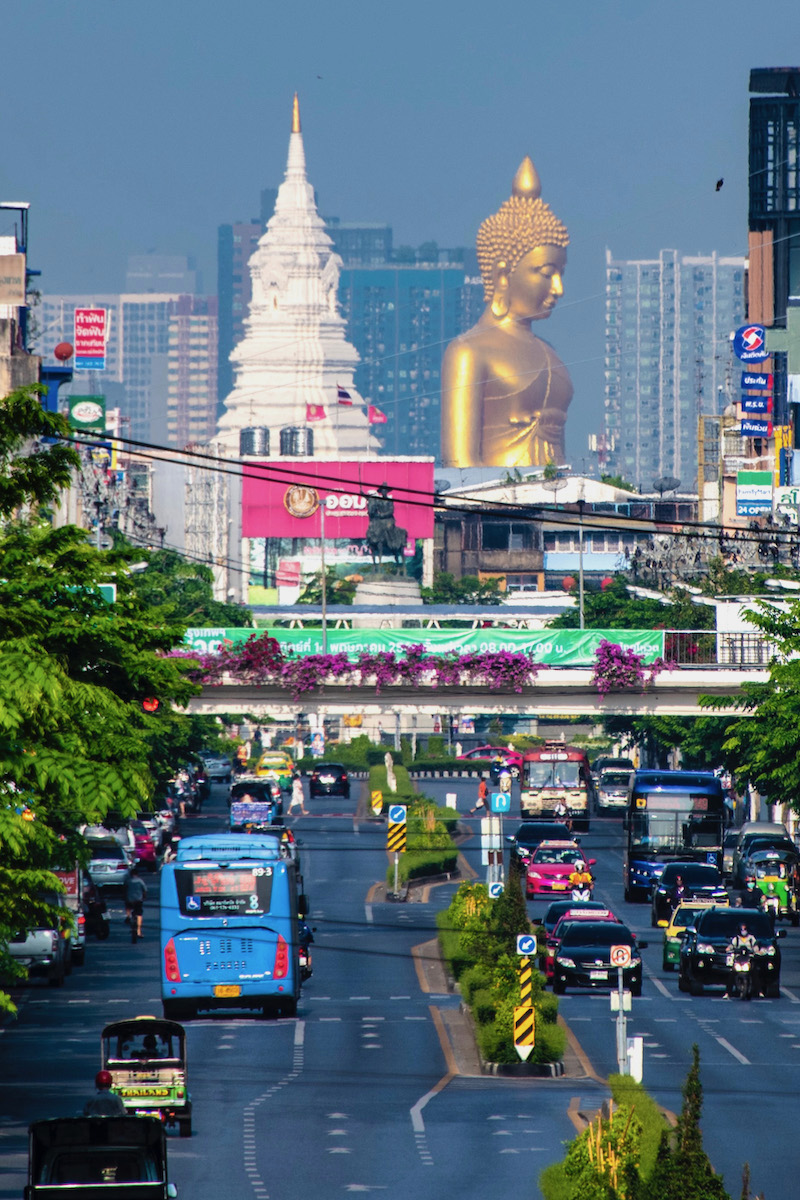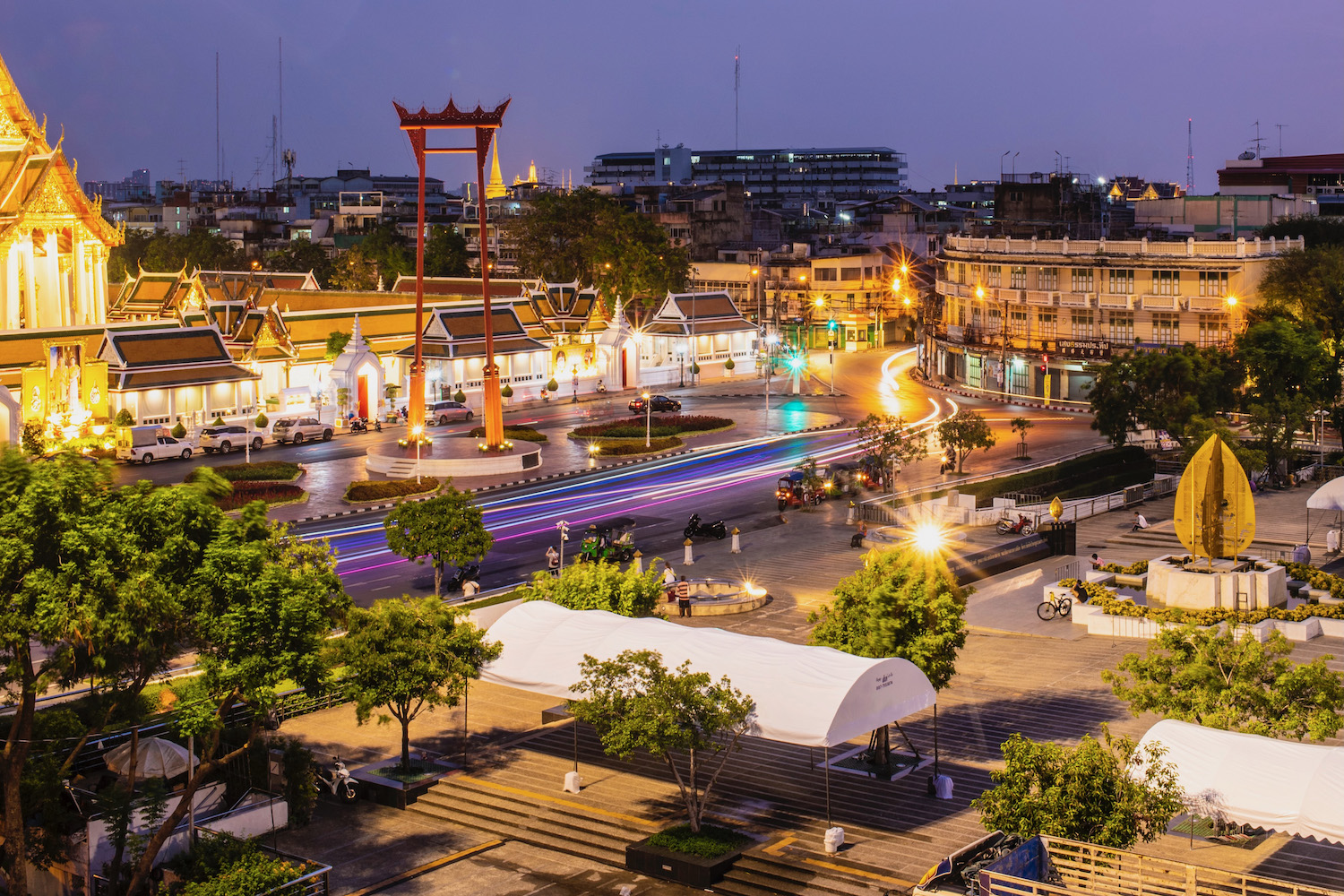 Arriving in a place is like awakening into a different dream, or at least I used to see it like that. A familiar dream if it's somewhere you've been before. Usually. Hopefully.
Certainly I thought that's how it would've been arriving in Taipei, where I lived for almost two years. But from the moment I tapped into the Taipei Metro at Songshan Airport—my EasyCard still had NT$365 on it—something seemed off about this particular dream, or at least my presence in it.
When I missed my transfer to the green line, for example, I didn't think twice about it—at the time I lived here, trains came often enough that the actual timetable was an afterthought. But not this Friday afternoon: Xindian, the red lights marqueed across the early 2000s-era display. 7 minutes, 30 seconds.
Nor did it affect me in any way to see the homeless man in front of 7-Eleven along Ximending pedestrian street once I finally did arrive at my destination. Well, at least not until I noticed him waving a stack of receipts in my face. "Give me more," he said in English, reminding me of how every purchase in Taiwan qualifies you to win the lottery.
After venturing inside the convenience store to buy a pack up gum, I obliged him. I'd never been a lucky person; I could never even be bothered to learn the rules of this particular game.
The gloom that hung over the city as I waited to check in to my Airbnb wasn't unusual, but my feelings about it were. When I lived here—when I traveled here, especially—it would anger or even panic me, going hours or even days without seeing the sun. But today it calmed me, or at least the version of me that woke up in this particular dream.
Josh, the first friend I made in Taipei and one of the only ones I still regularly keep in touch with, was shocked.
"I thought you'd be more upset," he told me Saturday morning over brunch at Mama's near Taipei Arena, where we met in lieu of the hike we'd usually have taken. "The rain used to make you so mad."
So did Taiwan's take on "Western" breakfast food if I'm honest, though I never told any of my local friends that. But today, the combination of peanut butter, melted cheese and spongy bread bleached to within an inch of its life actually tasted good to me.
I report all this as if it was strange or even unfortunate, but it was a relief: I acquired a lot of resentments toward Taiwan when I lived there, particularly during the seven months I was trapped within its coastlines due to the insane East Asian response to the pandemic.
Indeed, I also chose to see as a blessing in disguise that most of my other former friends were unable to meet. The goal of my trip was not to step back into my dream, but to come to terms with my reality.
As sad as it was, on some level, not to get updates about Sean's dance performances, and as much as I would've enjoyed throwing back drinks with Kai at The Shrine Bar, being able to blend in with other tourists at Kaohsiung's Cihou Fort lookout or in the side streets around Tainan's Chihkan Tower was sobering. It was calming.
Other aspects of being in Taiwan mostly alone—and feeling completely alone—were unsettling, terrifying even. Walking past the Presidential Office, a building whose presence I took for granted when I lived a 10-minute walk from it, I wondered what would become of it when China inevitably invaded.
The "Air Raid Shelter" signs at the entrances of so many buildings, to which I'd become so desensitized during my residence here they might as well have been invisible, now seemed like beacons; I could seek them from across streets and over vast intersections.
Making my way to Taipei's Taoyuan airport less than 72 hours after I arrived at Songshan—I couldn't stay too long, lest I lapse back into REM sleep—I wondered into which consciousness I'd awaken when I arrived later that afternoon in Hong Kong.
I closed my eyes, for a moment, and projected back to Taipei's Dihua Street, where the smell of Chinese medicine herbs perfectly neutralizes the exhaust of the thousands of motorcycles that speed through its century-old junctions, and where I'd actually made the fateful decision in the closing days of March 2020 to stay in Taiwan, instead of leaving while I still had a chance.
When I opened them again, I could've been forgiven for thinking I'd gone back to that time. Almost everyone else on the Taoyuan Metro had a mask on his or her face, as if a deadly virus were still ripping through humanity, let alone that the filthy snot diapers might do anything to slow its spread.
But more than three years had passed, and unlikely the sea of hypochondriac crowd-followers surrounding me, I was living in 2023. I had woken up from my dream. Thankfully. Mercifully.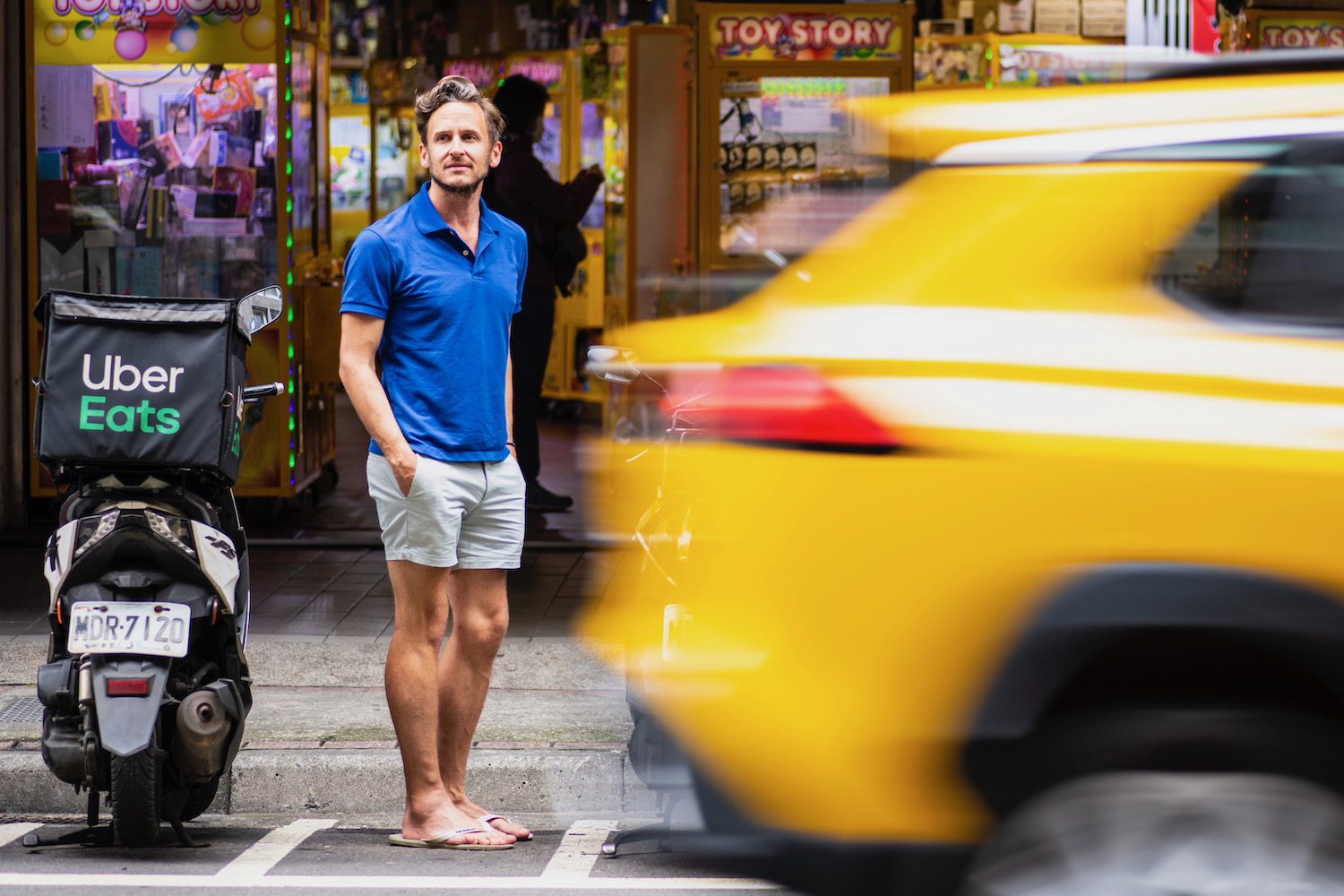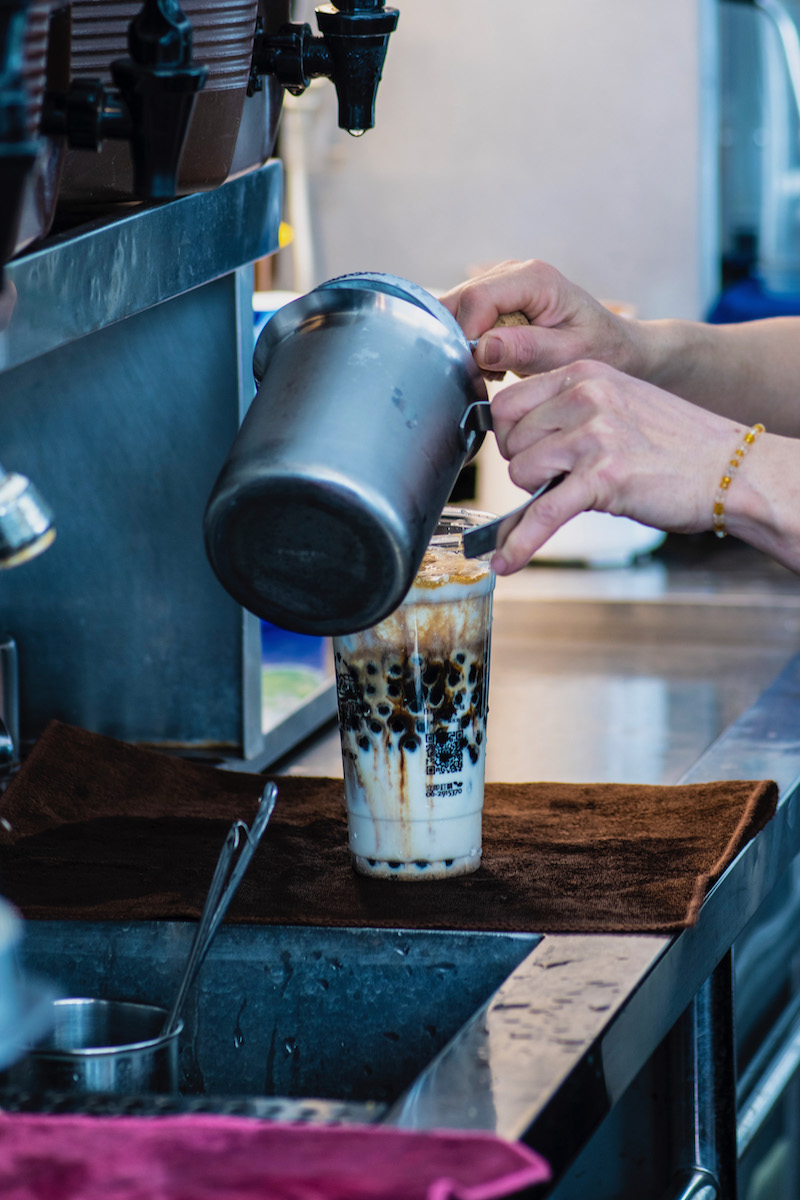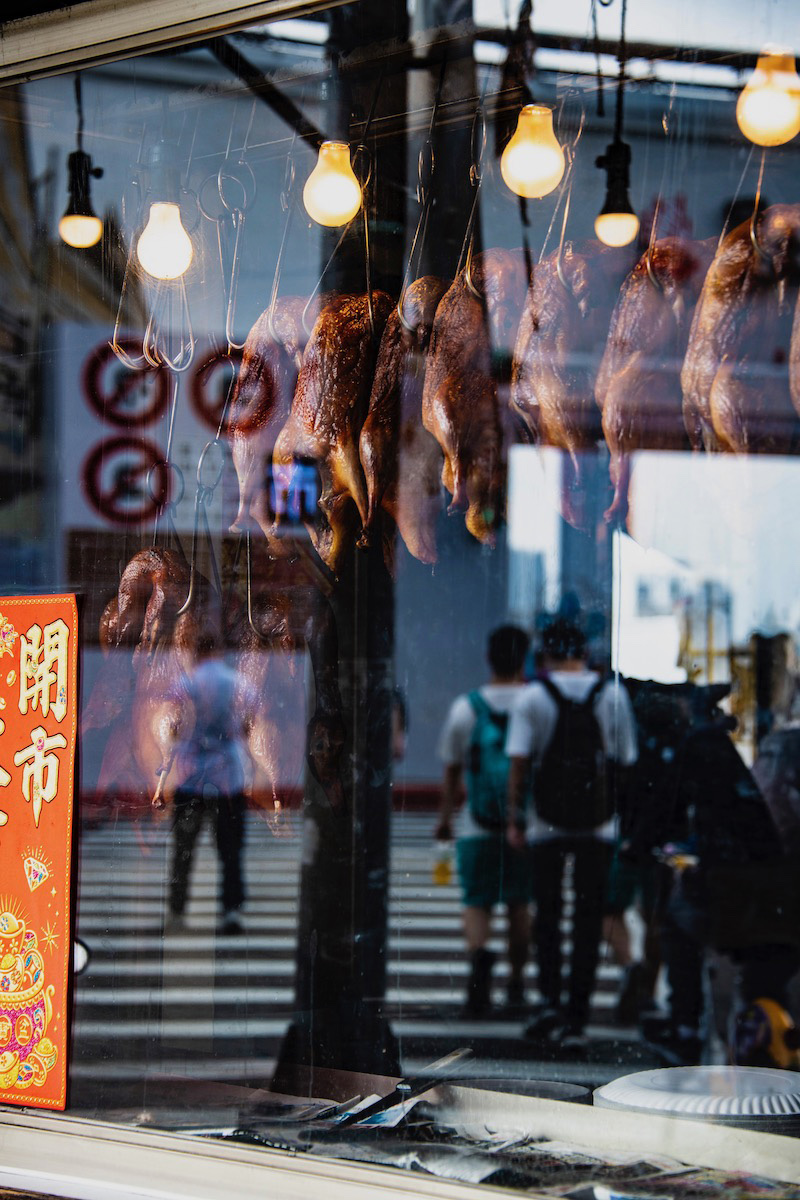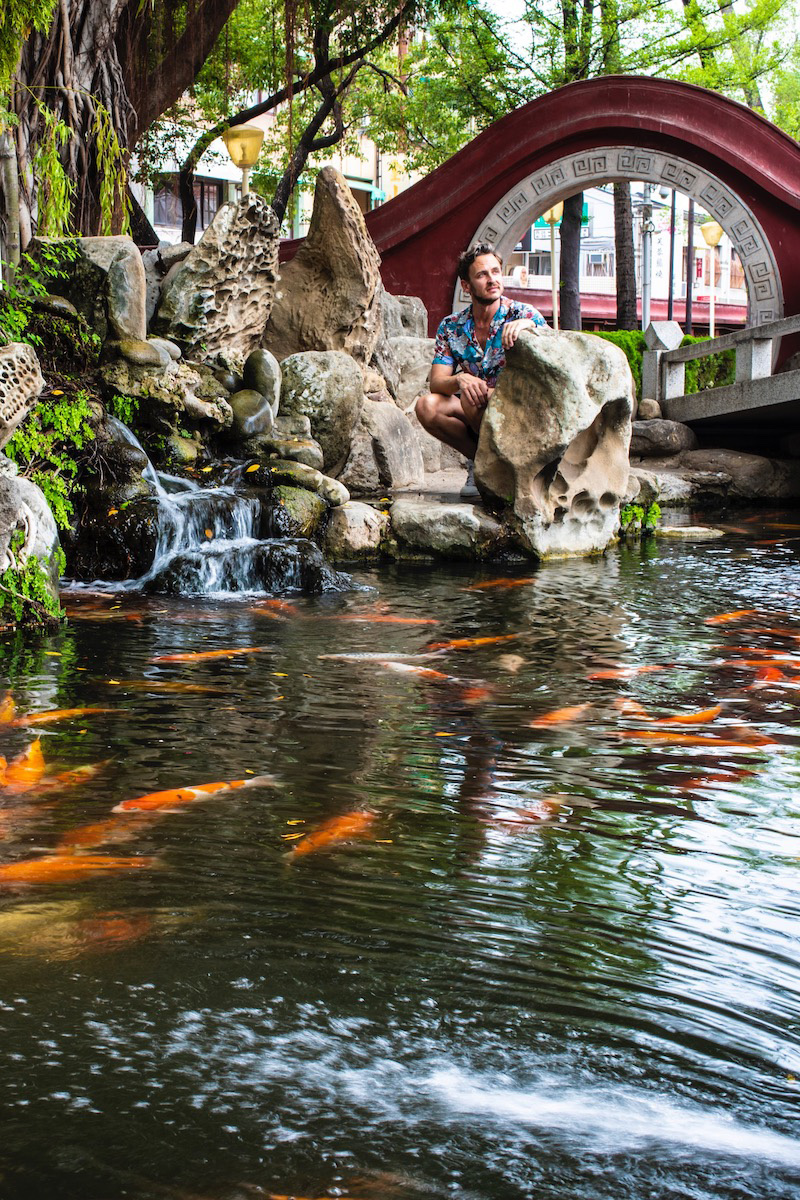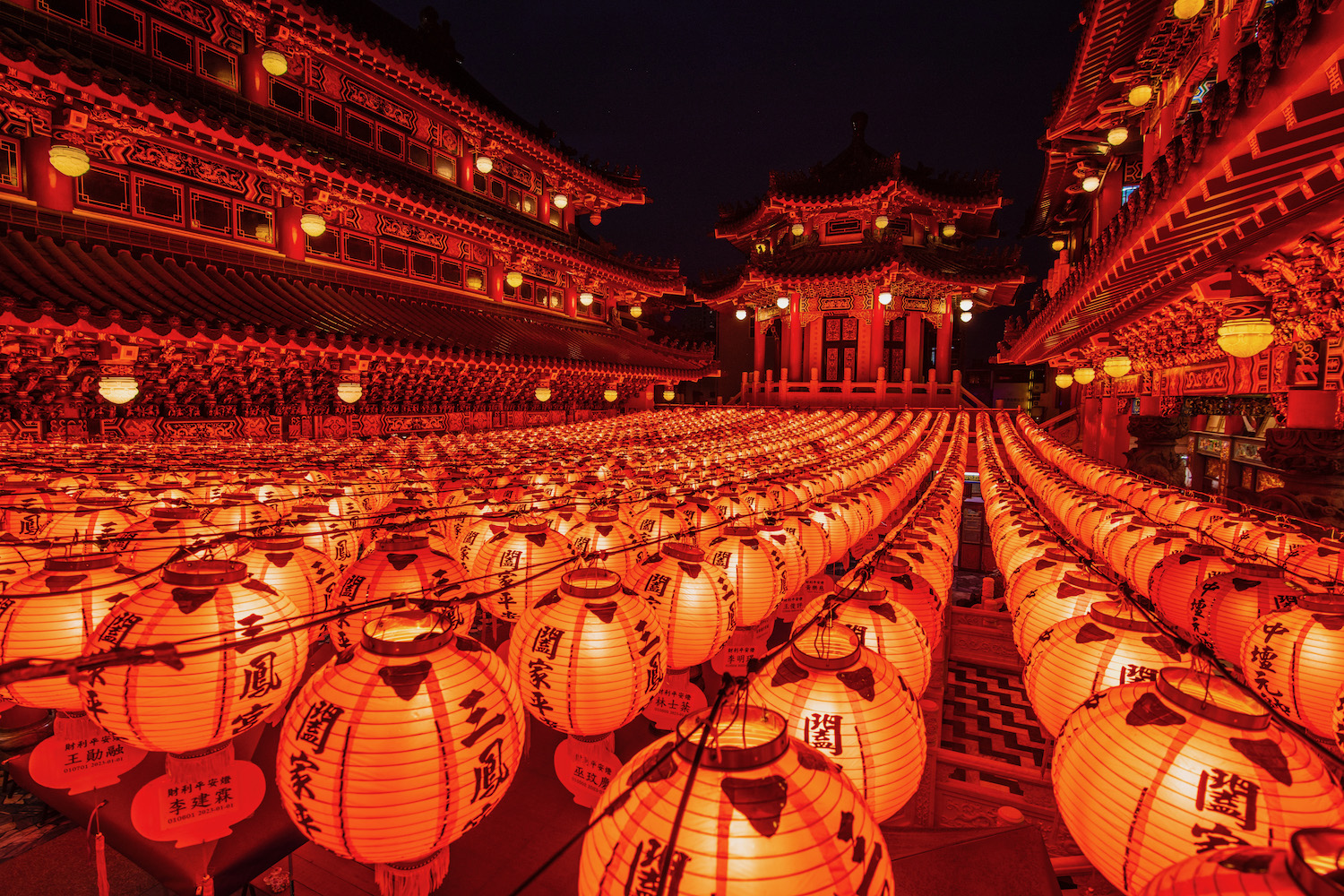 Hong Kong feels exactly like it did in 2019—except the parts that don't.
The city has woken up from its covid stupor, more so than anywhere else in Asia I've visited on this trip so far. I passed through Central Station during several different rush hours; in every case, far more people were unmasked than masked.
Virtually everywhere in the city seemed as packed as it's always been—or as it seemed, at least, looking back at the before times—the majority of businesses still open as they'd always been.
One big difference was the lack of FILTH.
"Failed in London?" An expatriate friend of mine (who has since left the city) once asked me rhetorically, as a means of explaining the acronym. "Try Hong Kong?"
She wasn't the only one. All the Hong Kong expats I knew used this phrase, but never about themselves. And all of them are gone now, actually.
No, there are no obvious failures in Hong Kong now. I've been amazed, in fact, by just how good-looking and obviously motivated everyone I've seen is—local and foreign; male and female. It's no wonder they aren't wearing masks anymore. Why would anyone with faces like these want to hide them?
It could be just me, of course—I was 34 the last time I was here; now I'm pushing 39. Maybe everyone I encounter in Hong Kong seemed so fresh-faced simply when compared to my own withered one.
Of course, I don't look that much older now, though I certainly feel much older than I look. This is especially true when I make the mistake of taking the stairs instead of the escalator while climbing up through the Mid-Levels, or complaining about a Hollywood Road happy hour scam and being called "Sir" by someone who, at least in my mind's eye, doesn't look much older than me.
But because of how uncannily 2019 the experience feels—I had an intense bout of déjà-vu cutting through the East Kowloon Bus Station; it seemed like I'd been there four minutes (not four years) earlier—there's an element of Netflix's Russian Doll in all of it. Everything that can decay is decaying, including me.
My last morning in Hong Kong, I woke up early (even for me) and after an overpriced dim sum breakfast, took the bus to Braemar Hill for a hike. Naturally, since this is Hong Kong, clouds had mostly filled in the previously clear sky over the city by the time I reached the viewpoint.
Not that I could've enjoyed much time there, even if conditions had been optimal. A single "murder hornet" was hovering right in a spot where I'd need to walk through if I wanted to reach the pinnacle, and refused to move even a millimeter as I advanced closer.
Maybe I was giving off a rotten smell. Maybe she was a scared mother, and had a nest nearby.
The warning was clear, regardless: Stop pushing, at least here—at least now.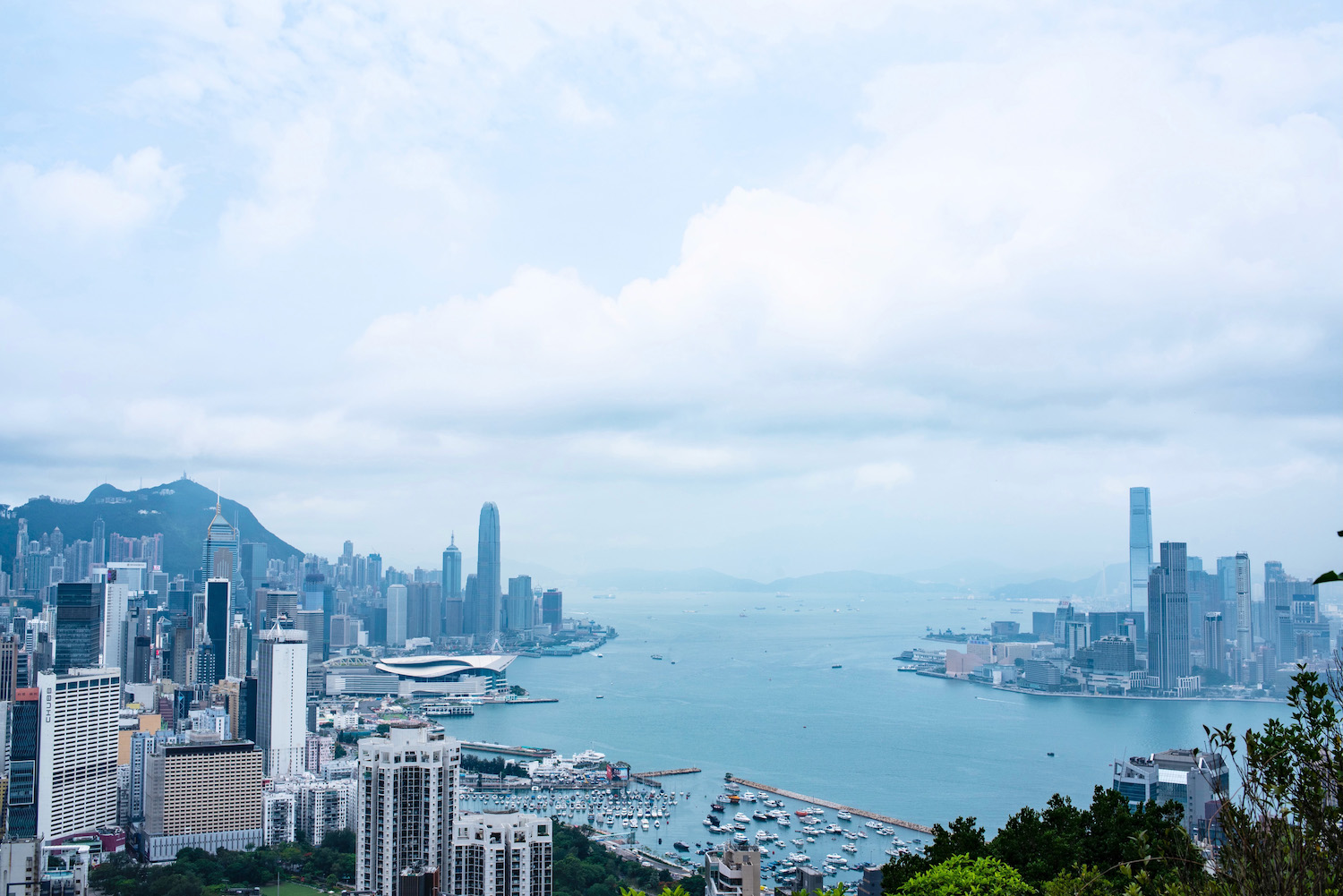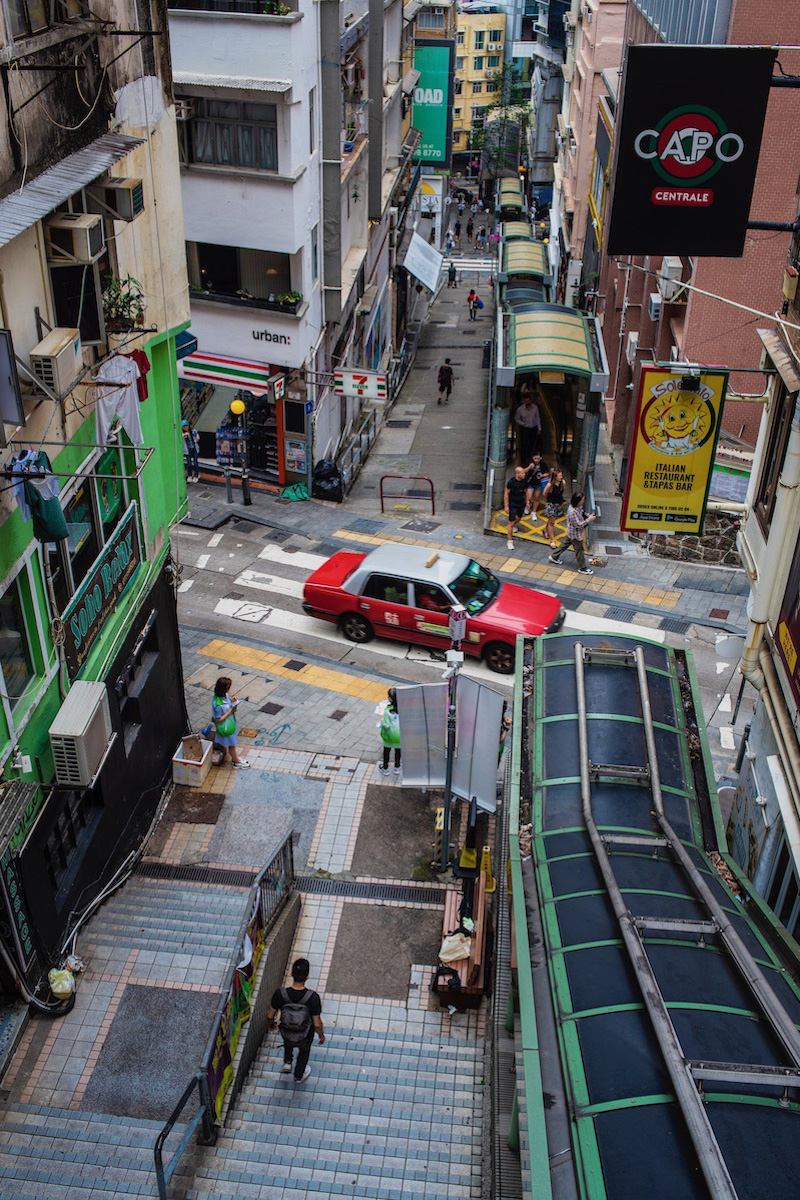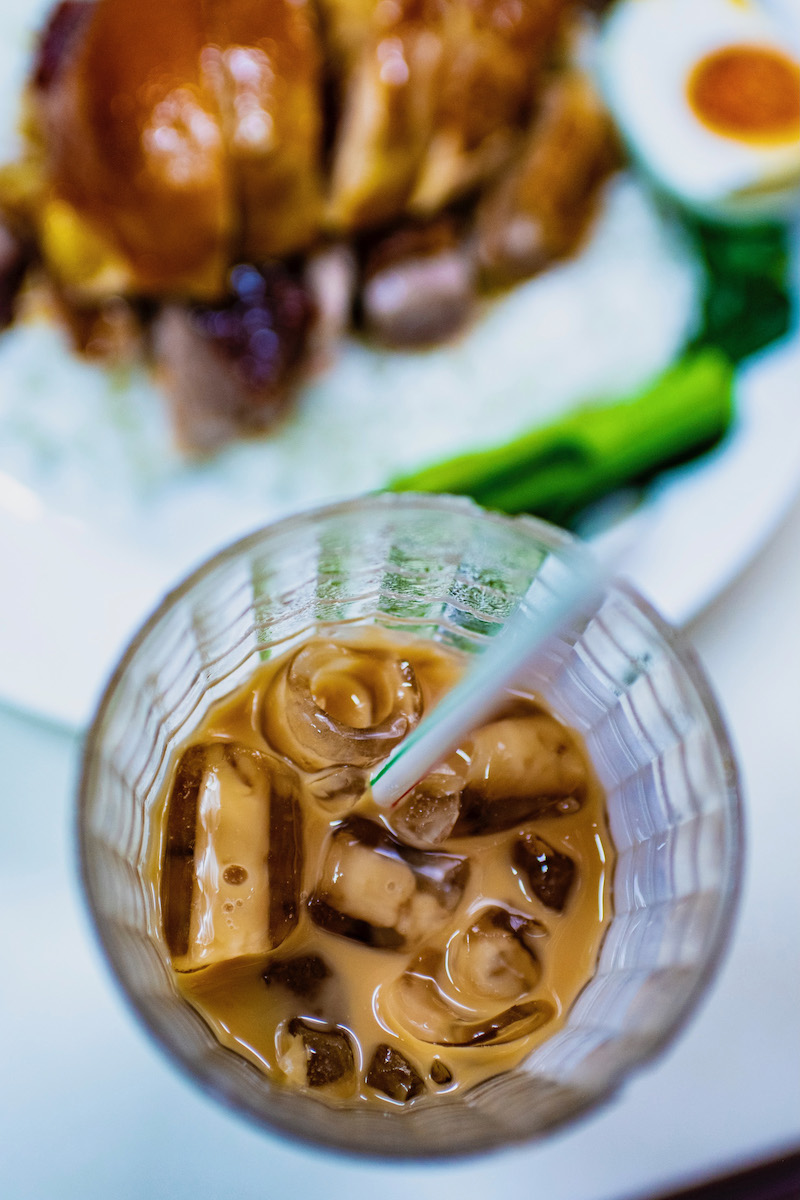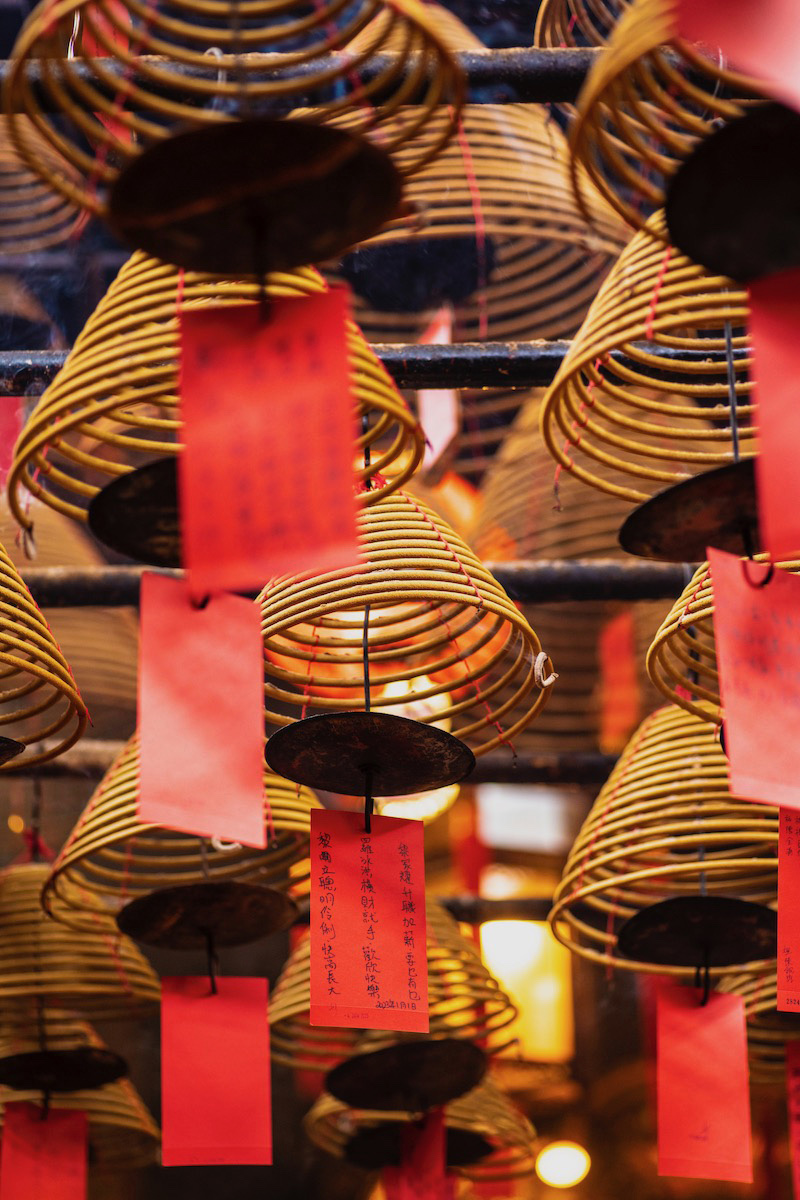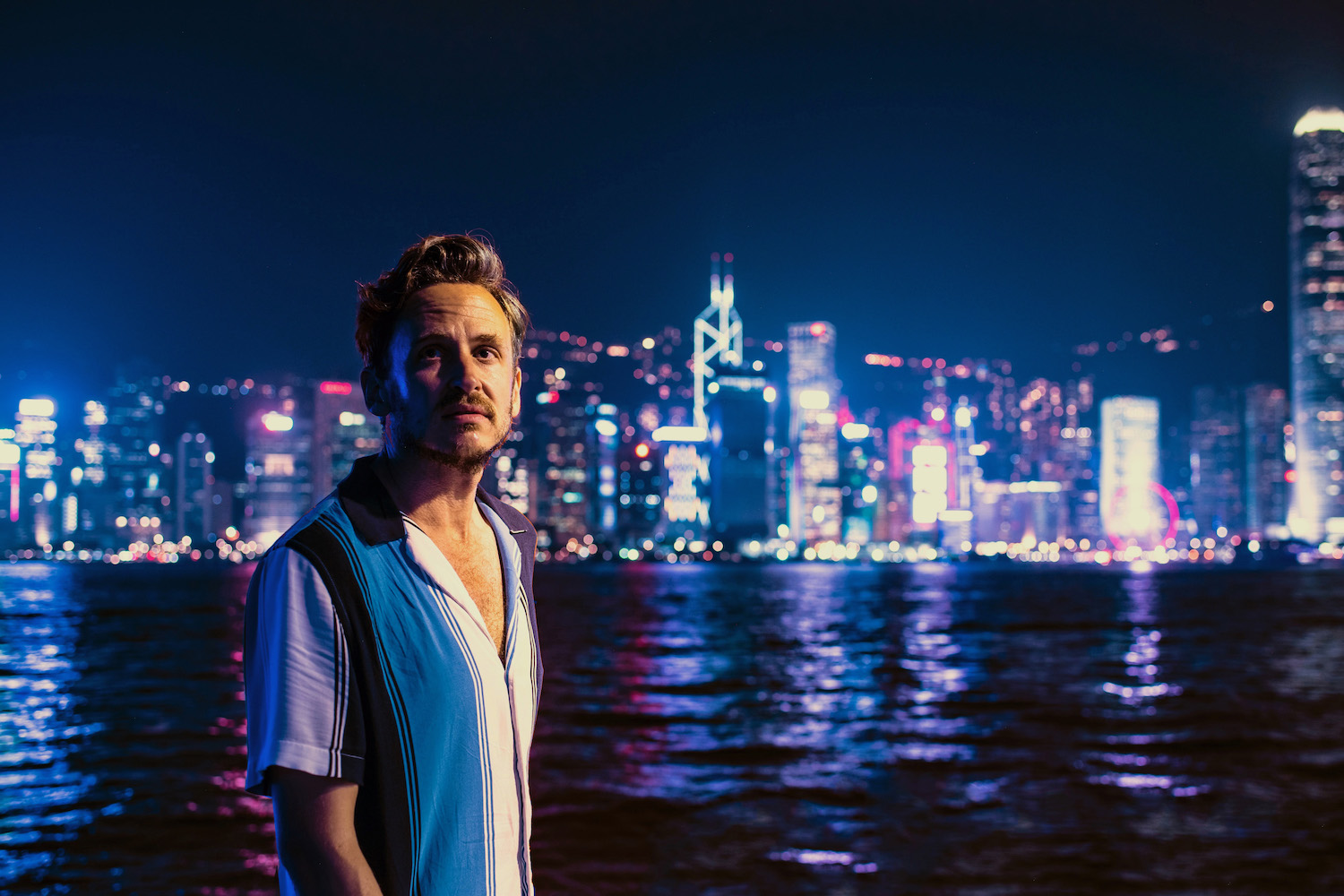 "For your hands," the woman explained as she dropped the bowl of water, with two calamansi halves floating inside, on my table at Maxwell Hawker Center in Singapore. She also gave me a set of chopsticks and a pair of plastic gloves.
Good luck, she'd seemed to say, without saying any additional words at all.
I'd need it, to be sure. Eating seafood in Asia—I'd ordered the city-state's famous chilli crabs—was always a humiliating, humbling experience for Americans. We're used to crustaceans being ready to eat when they reach our tables, no mess or effort necessary.
My only hope, as the aroma of scorched peppers and simmering basil leaves entered my sinuses, was that everyone else around would be too busy to watch me struggle.
I'd last visited Singapore in 2017, on a short layover from Bangkok (where I'd just moved) to Japan, where I'd soon learn just how fickle cherry blossoms were. Back then I'd met up with a former student of mine from when I taught English in Shanghai eight years prior; I focused more on her than on actual sightseeing.
This time, as a result, I got straight to being a tourist, lining up within minutes of checking in for an "original" Singapore Sling at the Long Bar of the Raffles Hotel.
It moved quickly, and while the S$39 price tag made me wince, the colonial architecture of the place was worth it. Even without the sweet and sour bite of the drink, in fact, or the crunch of discarded peanut shells crinkling underneath my flip flops.
By the time night had fully fallen, I'd traipsed amid the "supertrees" of Gardens by the Bay, an activity I bookended with not one by two stops at the Merlion statue. It wasn't even 9 by the time I sat down, can of Tiger in hand, waiting for my chilli crabs.
What struck me, when they arrived, was not how quickly I chewed off all the "easy" meat, but just how hot the sauce was on my hands, even through the gloves and even though I'd spent a good 6-7 minutes taking pictures before I even dug in.
I simply don't have the dexterity in my teeth, or whatever the oral analogue for the word "dexterity" is. While I could suck flesh out of the crab's little legs, seizing and freeing it from the various pieces of cartilage proved difficult. I mostly just chewed it all up, swallowed the meat and spat out the rest.
I started my second morning in Singapore on Arab Street, although the hour did little to counteract the heat, which was nearly unbearable even though it was so early most shops along the road to Sultan Mosque were still shuttered. Nor did my iced Americano at % Arabica, Singapore's local coffee brand that achieved global ubiquity seemingly overnight.
No, the heat just kept on getting hotter, to the extent that by the time I made my way to the Botanic Gardens—by foot to Little India and then by MRT from there—I had to sit down at the Bee's Knees Cafe for one of its namesake cocktails.
If I'm honest—and I'm not a weakling: I did live in Southeast Asia for more than two years—I wouldn't have made it through the entire National Orchid Garden, were it not for the air-conditioned dome exhibit at its center.
That respite, plus the sheer majesty (and magnitude) of the species within the vast collection, powered me all the way back to Little India, where my dal makhani reminded me that Singapore's Indian cuisine is just as peerless as its Chinese fare.
Which takes me back to my chilli crabs the night before. When I left, I brought my dishes back to the female half of the husband-wife pair that runs the stall; it was clear from her worried expression that she'd been unsure if I'd be able to make it over the finish line.
It was humiliating and humbling, but it was also deeply gratifying: Three weeks into a trip where I've hopped between more countries than I have for at least a decade, I'm reminded why I got on this horse in the first place. I live the most charmed of lives!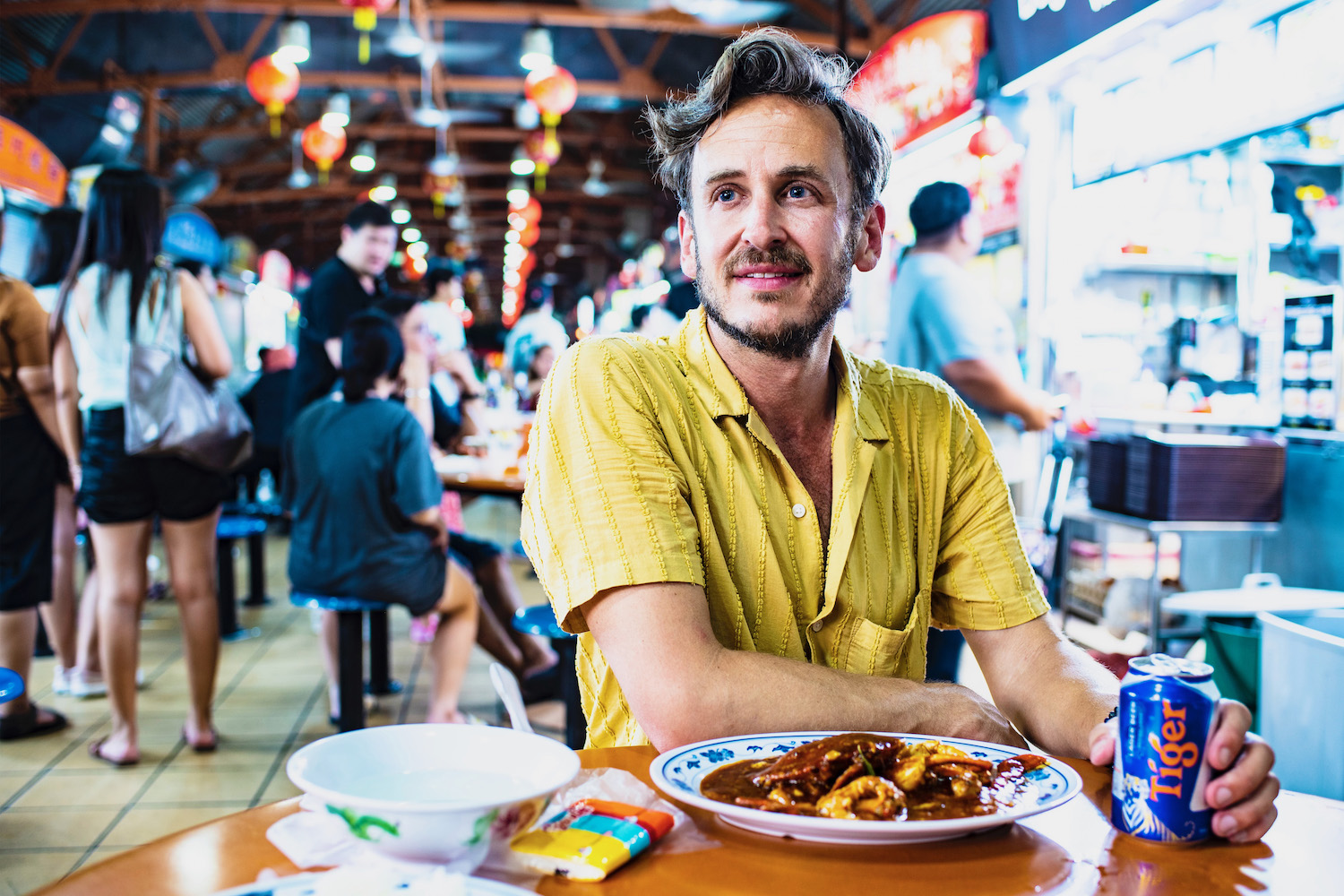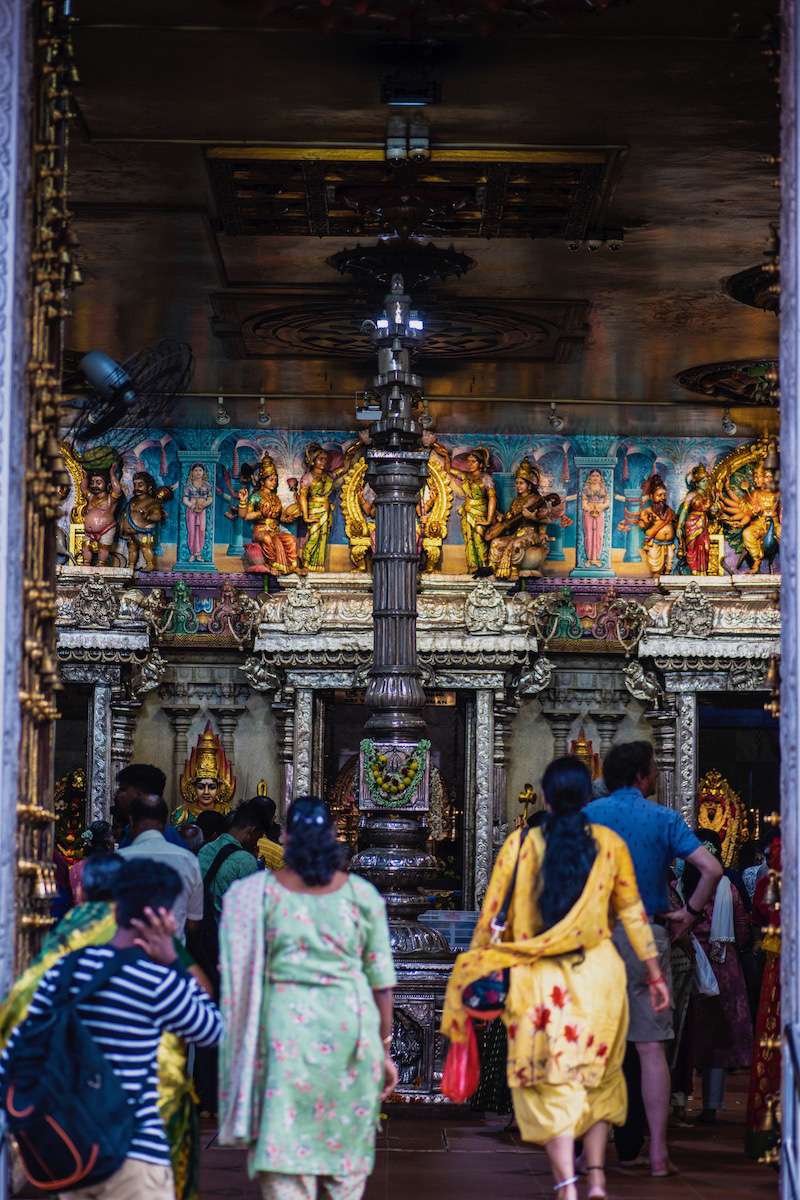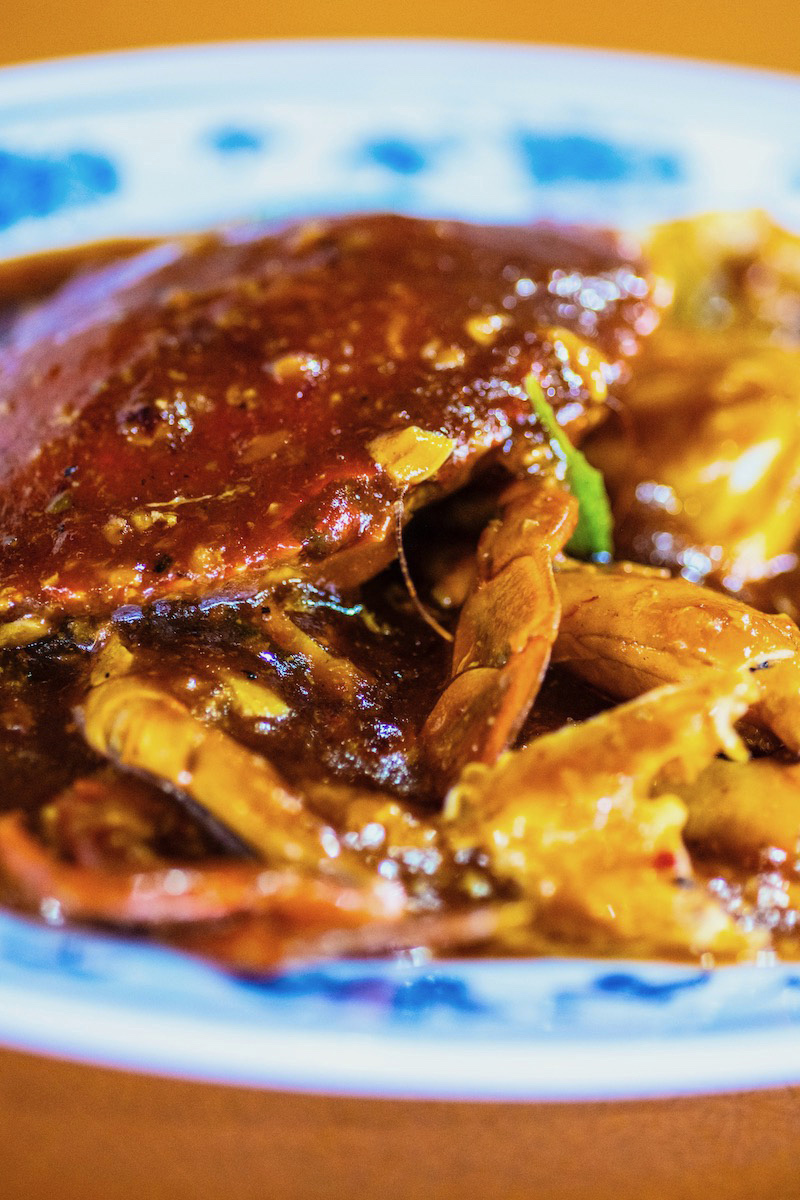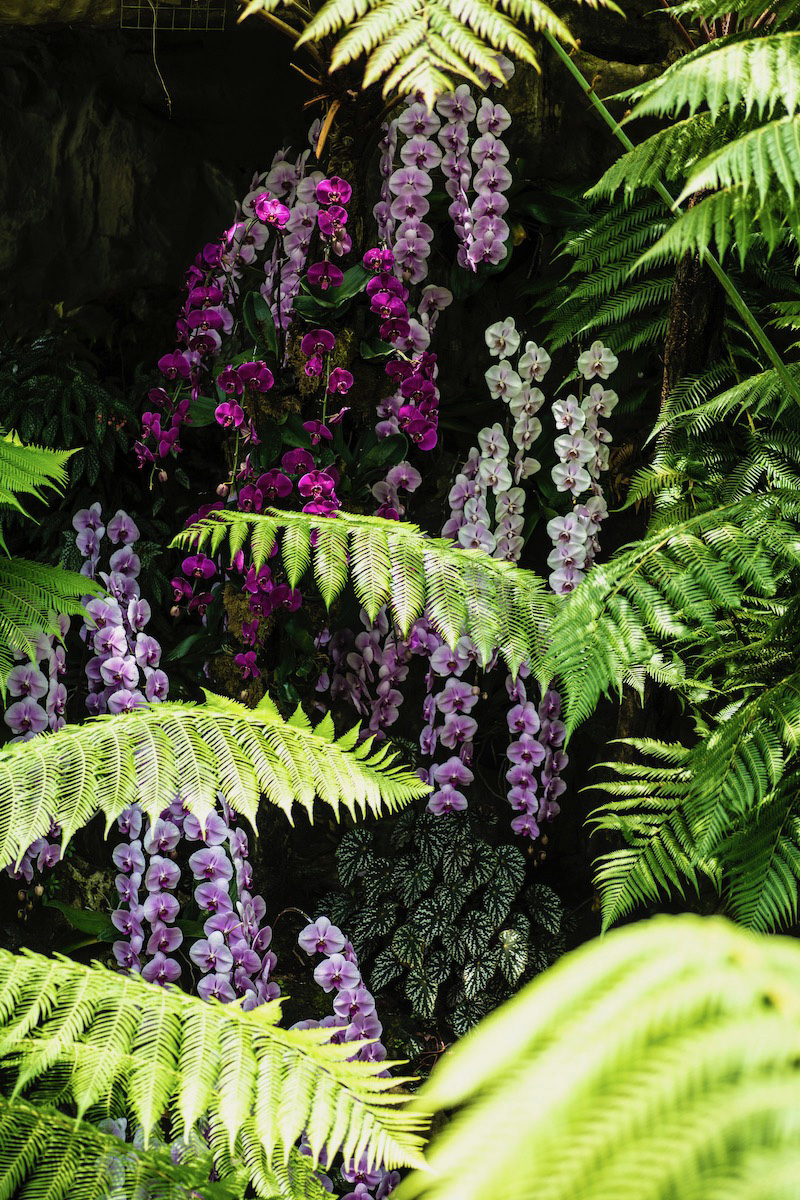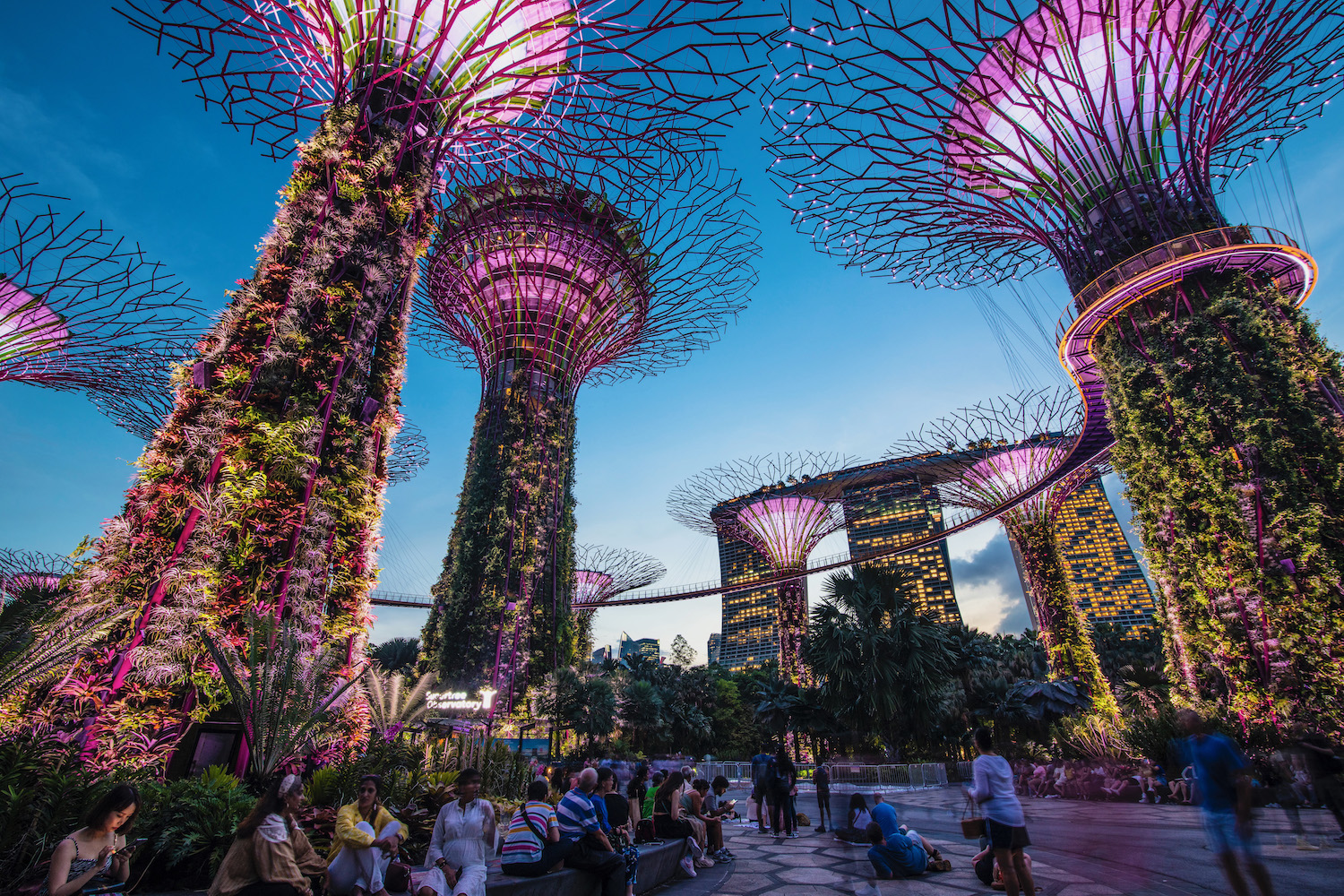 "He sure is flying high," I said aloud as the blue morpho fluttered by. I was at my Airbnb in Kuala Lumpur with my dear friend WeiLe, at the observation deck on the 34th floor, which was labeled "33A" on account of local superstitions. The Petronas Twin Towers were relatively near, but seemed even more massive than they otherwise would when compared to the butterfly, which summarily vanished.
Although WeiLe and I had briefly crossed paths in Barcelona the previous summer, my long weekend in KL was the first time we'd intentionally hung out since before the pandemic. Back in 2019, when I lived in Asia, we hung out so often—we traveled together in Vietnam and China; he visited me in both of my Asian homes (Bangkok and Taipei) and me him in Malaysia—that it almost felt like we lived in the same city.
The bad news is that when bureaucrats destroyed the world SARS-CoV-2, they kept friends like us separated for years on end. The good news is that some of us were close enough to overcome it, the sort of friends who can go years without seeing one another (voluntarily—I'm not talking about state-enforced coercion here) and then feel like no time at all has passed when they do finally reunite.
Certainly, that's how it was with WeiLe and me. We met a few hours after I landed; he picked me up and took me to one of his favorite spots for prawn mee, the only noodle soup I've ever eaten that manages to be just shrimp-y enough.
The stall, which was run by Cantonese in spite of being perched on a hillside in a predominately Muslim neighborhood, was far more ramshackle than you would expect in a country of Malaysia's relatively wealth, the food presented more elegantly than the caked mud and gravel under our feet would suggest it should be.
As I finished my lunch—WeiLe had ordered a small bowl compared to my medium, and was much hungrier and also more adept at eating noodle soups than me—we recounted to one another the trials and tribulations we'd faced during the travels we had managed to make in the interceding three years. Me learning Japanese in Kyoto and finding love on Thailand's Koh Tao; him leaving love behind in Catalonia and finding himself again in Turkey.
I'd first physically met WeiLe in 2018, after becoming acquainted about a year earlier under circumstances I can no longer remember. Our relationship has always been intimate but never romantic; our hearts seemed to understand one another, even when the given physical reality our bodies were moving through might otherwise have pitted us against one another, as would sometimes happen in later years when we traveled together.
It had been a scorching day (which WeiLe later told me also influenced the speed with which he slurped down his noodles) so that night, we cooled off with rum cocktails at a bar in quasi-suburban Damansara, which was inexplicably filled with Western dude-bros.
"Apparently," WeiLe said, when I asked him to confirm whether the bar's namesake cocktail (the jungle bird) was in fact Malaysia's answer to the Singapore Sling. "But don't ask them—I don't want to lose face."
In spite of being very busy in his professional life as a music transcriber, WeiLe would go on to spend several hours of each day I was in his city with me.
Saturday afternoon, we had a high-end lunch in cosmopolitan Bangsar, more street food (pork noodles, this time) in an unassuming alley near the upscale Sunway Velocity mall and satsuma-flavored gin cocktails at a bar in Chinatown, where the entire staff were masked, highly degrading what otherwise might've been a transcendental experience.
On Sunday, we headed northeastward to the Genting Highlands, although we neither gambled (which is the reason most local travelers head here—it's the Las Vegas of Malaysia) nor enjoyed outlet shopping.
In fact, while we did make a pass through the Skytropolis indoor amusement park and the fancy bar street adjacent to it, our main purpose (apart from eating at a Cantonese seafood restaurant WeiLe loves) was visiting Chin Swee Temple, a nine-tiered pagoda that must've obviously inspired the design of the aforementioned twin towers
Chronologically, this occurred after our evening with the butterfly, after whose departure the sky fluoresced one of the most shocking pink colors I've ever seen with my own eyes. As I recollect on the entire experience, however, I'd like to imagine myself having been able to astrally project through both time and space—humor me.
There on the observation deck, WeiLe had bestowed what I now regard as a huge compliment onto me. "Cin-cai," he said, explaining it was a Malay word reflecting someone laid-back and agreeable.
While he didn't come out and say it, I knew for a fact that WeiLe of four years earlier—let alone the Robert of four years earlier—would never associate such a term with me. Certainly, even since the pandemic, I'd had more than my fair share of Mariah Carey diva moments.
And yet it meant something to be with someone I so valued and, even if only for these three days, to be unburdened by demons that had once seemed to omnipresent in our interactions.
He sure is flying high.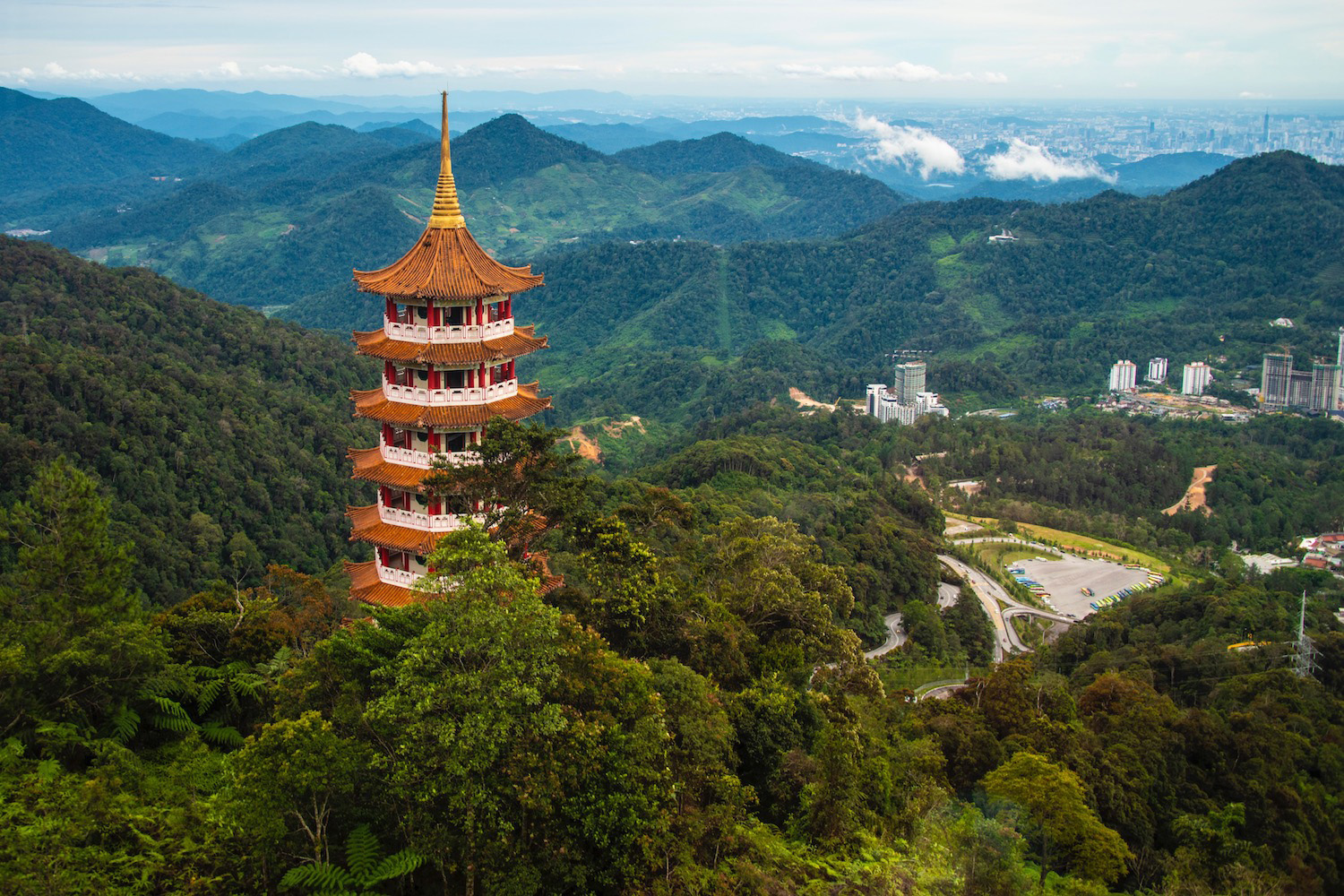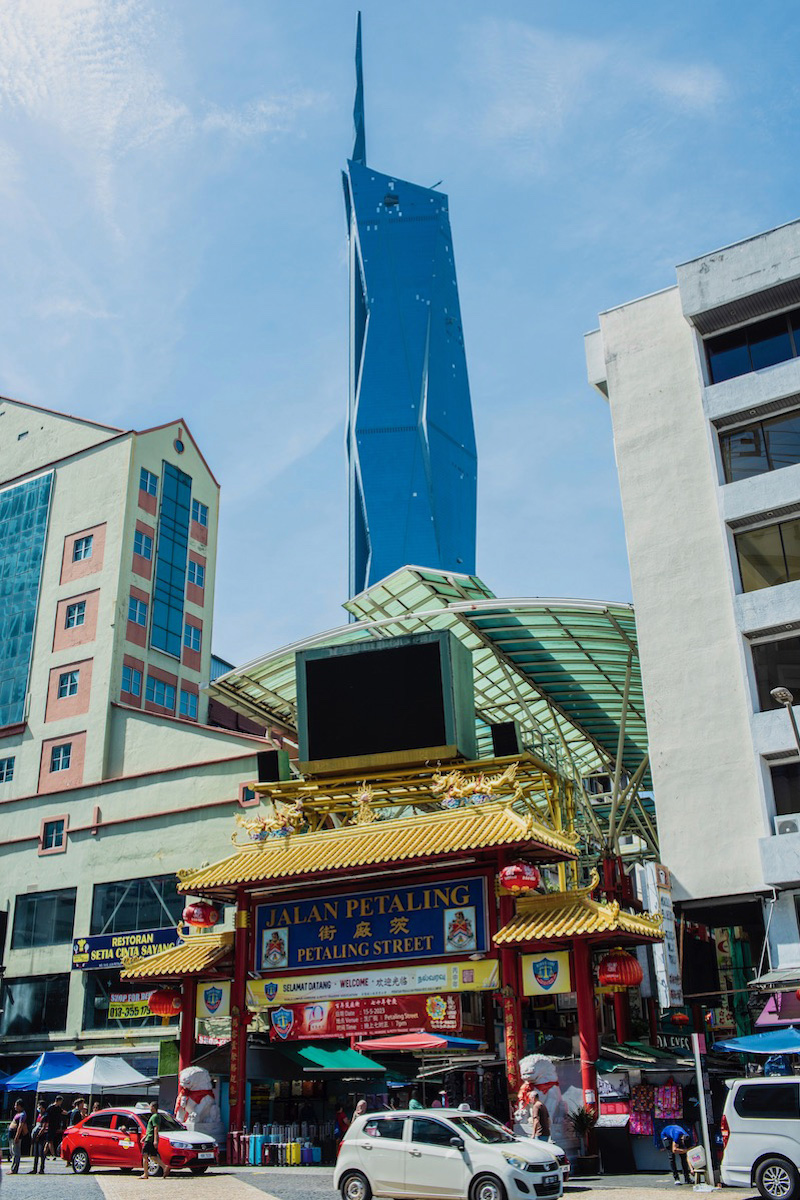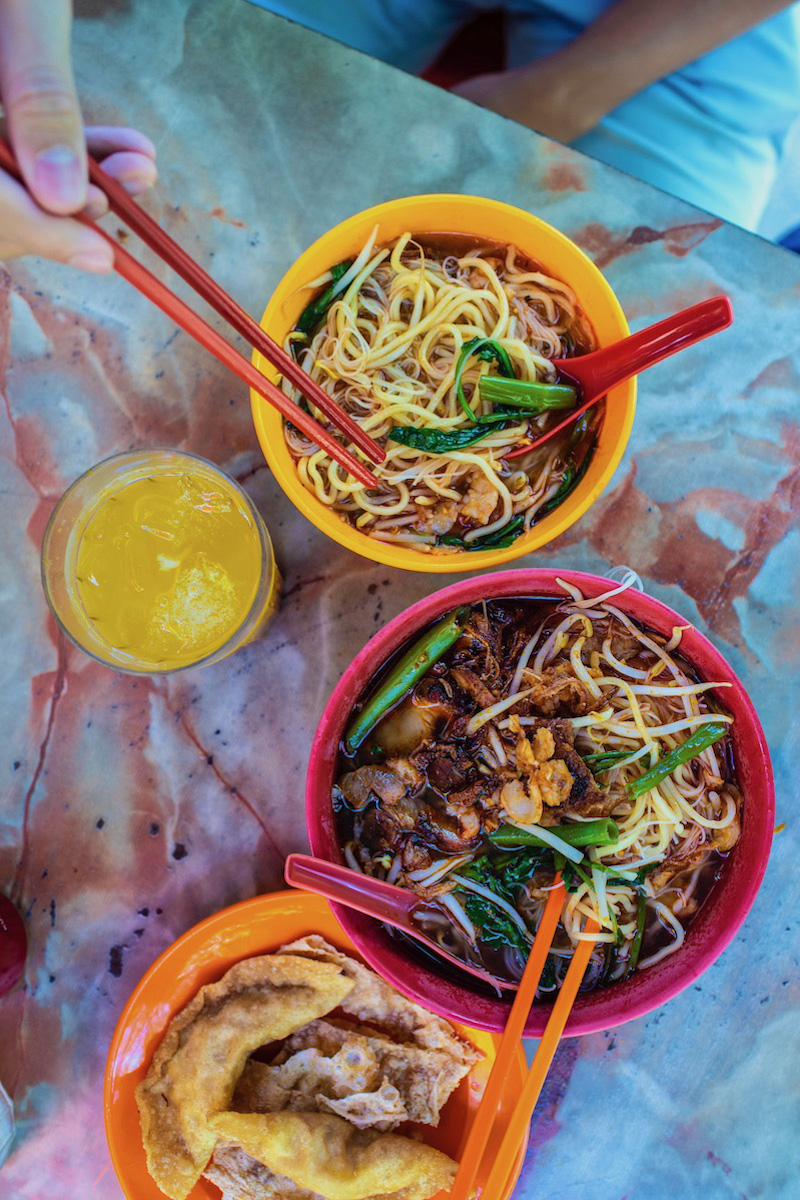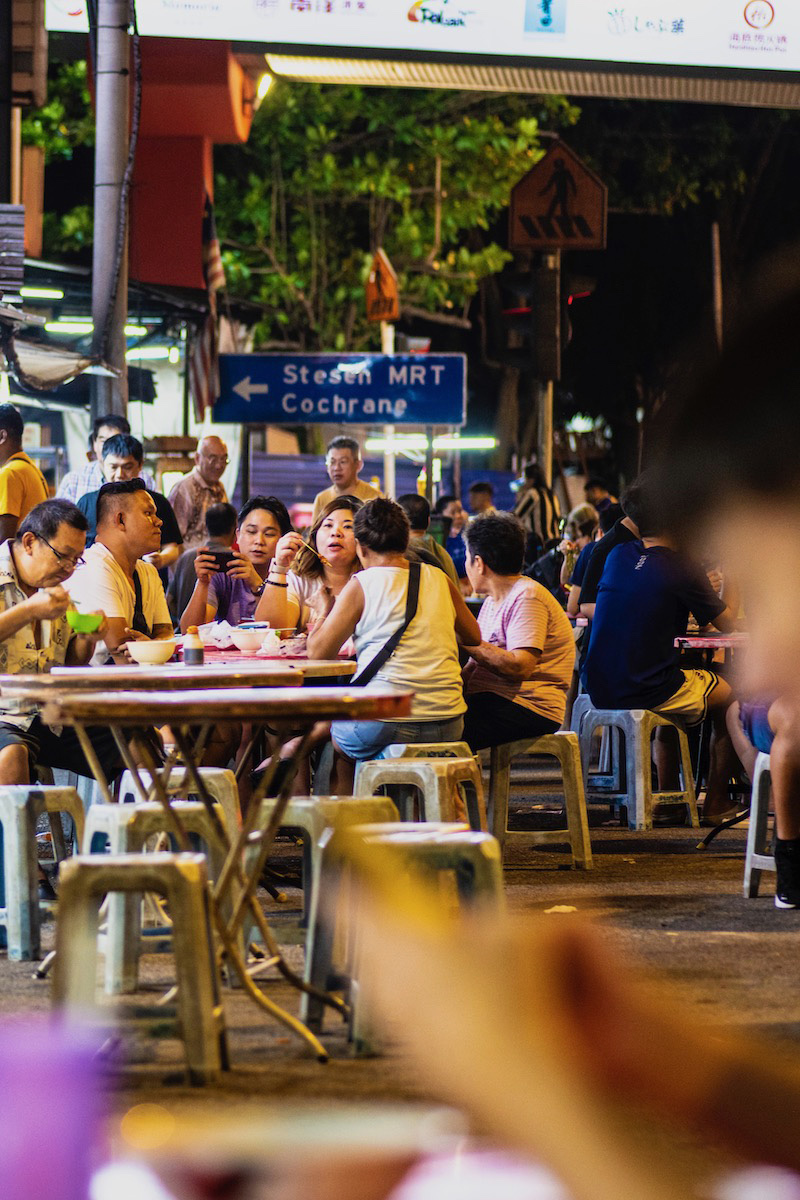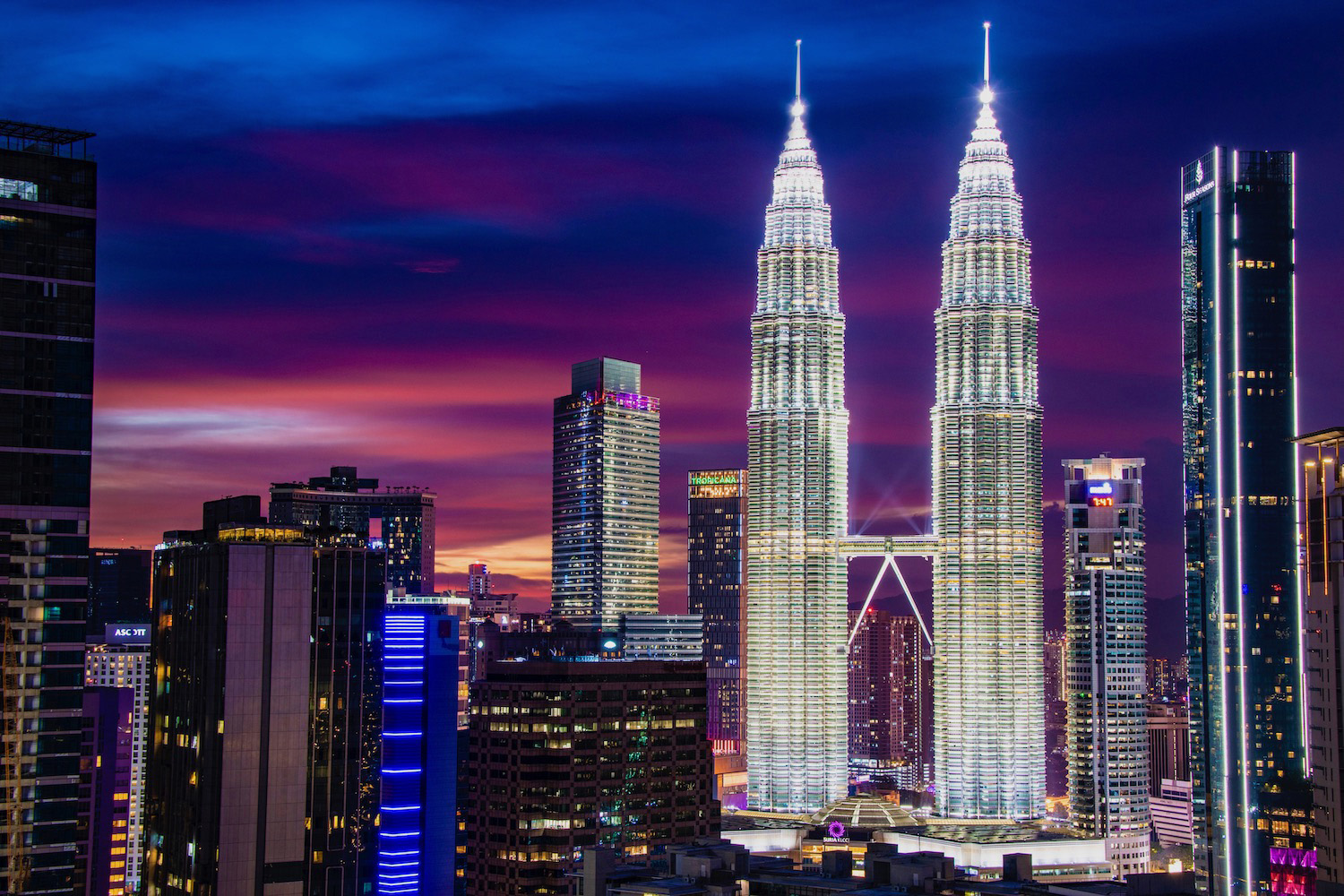 Before I left Bangkok, I'd spent an afternoon at Wat Benchambophit, the so-called "marble temple" in the Phra Nakhon royal city. There, after having taken all the photos I'd set out to capture, I walked slowly amid its dozens of Buddhas, which if I'm honest I'd never paid any mind.
The statues had been collected from all over Thailand—one from Phetchaburi, another from Phitsanulok—over a number of centuries, and in poses that ranged from standing with one hand held out (which was supposed to forbid hostilities between relatives) to the more standard lotus position.
It was too hot for me to make any sense of it all—it was too hot even to be there for more than a few minutes, even in the shade—so I left, and didn't think about the experience again.
At least not until I got back, having flown in from Malaysia to awaken into yet another dream. As I do every time I arrive in Thailand after being away, I make my way through what I can only describe as a walking meditation, or maybe even a walking rosary.
The mechanics of it are hopelessly boring. I ride the BTS SkyTrain to National Stadium Station and then, after having a meal of the food court of MBK Center, walk via the Siam Discover, Siam Center, Siam Paragon and Centralworld malls to Erawan Shrine, a Hindu Shrine nestled within central Bangkok's skyscrapers, where locals, tourists, faithful and heretics alike flock at all hours of the day and night.
I use the procession, which I've done so many times I don't even have to look where I'm going, in order to come to terms with whatever I'm going through at the time, to put it in the context of all the other rosaries I've recited using footsteps. Finishing this one, I was delighted to see that the dancers at the shrine were no longer covering their beautiful faces.
Yet as the xylophones plink-plonked underneath the click-clacking of the dancers' sandals on the stone beneath their feet, I wondered whether I might need to make another pass. My month bouncing between Asia's capitals had uplifted me, no doubt, but so too was the weight of its beauty dragging me down.
The impending truth: That the various dreams I'd woken up in, the realities I'd tasted and touched and felt, would soon be little more than memories, and maybe not long after that completely forgotten.
Yes, I needed a second or third procession to make sense of it—to make peace with it—to contort myself into as many poses as possible to try and happen upon the right one, if only as a composition, as an average of the rest of them.
As always, the only way to finish is to start again. The only way to hold something real in your hand is chasing chimeras through purgatory, and hoping you can clasp even an ounce of their essence between your fingers before they vanish into the haze, like the part of your life that has passed and the City of Angels itself.