Japan is a place where bullet trains sit close enough to some of the oldest remaining structures in the world to shake them as they pass; where the wildest porn is produced, but where genitals in said porn must be pixellated by law; where you can get a pedicure 24/7, but where ATMs have operating hours—the ultimate land of contrasts.
So, it came as no surprise to me to learn that 32 square kilometers of desert exists along the heavily-wooden northern coast of Honshu, Japan's main island.
Formed around 100,000 years ago by sediment deposits from the Chugoku Mountains being carried into the Sea of Japan via the Sendai River, the Tottori Sand Dunes now attract some two million visitors per year, most of whom are Japanese or from other nearby Asian countries.
The Japan desert the star attraction of the region surrounding their namesake city, a sleepy industrial town that's approximately three hours from Osaka by semi-fast train—the Shinkansen doesn't come here yet. But they're also awesome enough that I don't regret having made the trip up here just to see them.
NOTE: Japan's border remains closed to tourism due to Covid-19, but is expected to open during the first half of 2022. Click here for more information.
Where to Stay in Tottori
The Japanese desert notwithstanding, Tottori is far from a major tourist destination, so you shouldn't expect to find incredible hotels here. Indeed, I recommend staying in a simple "business hotel," whether you choose Tottori City Hotel or Hotel New Otani Tottori, both of which are located in the center of the city, close to the bus station where you'll embark on your journey to the dunes.
There are better hotels in Tottori prefecture than in the city (namely atop Mt. Daisen, which towers over the city), though I'll go more into detail about those after I describe the various ways you can enjoy your Japan desert adventure.
What to Do in the Japanese Deserts
Grab a Seat, and Take a Chill Pill
Although they constitute one of the smallest desert areas I've ever visited (the other possible contender being Vietnam's Mui Ne), the Tottori Sand Dunes have a peaceful energy that belies the number of people who visit on a daily basis. One of my favorite things to do in the desert in Japan is have a seat and look out in the sea.
Ride a Camel—or Don't
Plus, the desert Japan has tucked along its northern coast has camels—and you know how much I love camels. Pro tip: Unless you have a zoom lens like I do, don't attempt to photograph the camels if you don't purchase a ride on one. The men who sell them (the rides, not the camels) are pretty territorial about their profits!
Enjoy Hanami, But Be Wary of It Too
According to some scientist types I spoke with, the topography surrounding the dunes—sakura-speckled coniferous forest, a grass-filled lagoon that grows every time it rains and the massive Sea of Japan—threatens their very existence. But as is the case with many threatened places I've visited, these hugely contrasting, potentially dangerous elements actually enhance the beauty of one of the only deserts in Japan.
Visit the Sand Museum
Does Japan have deserts, in reality? Whether or not you classify Tottori Sand dunes as a desert, the Sand Museum is a work of art. Featuring rotating exhibitions of sand sculptures (a recent one depicted various important figures from Indian history), this is a great place to get out of the sun if you've had your fill of it in the Japanese desert.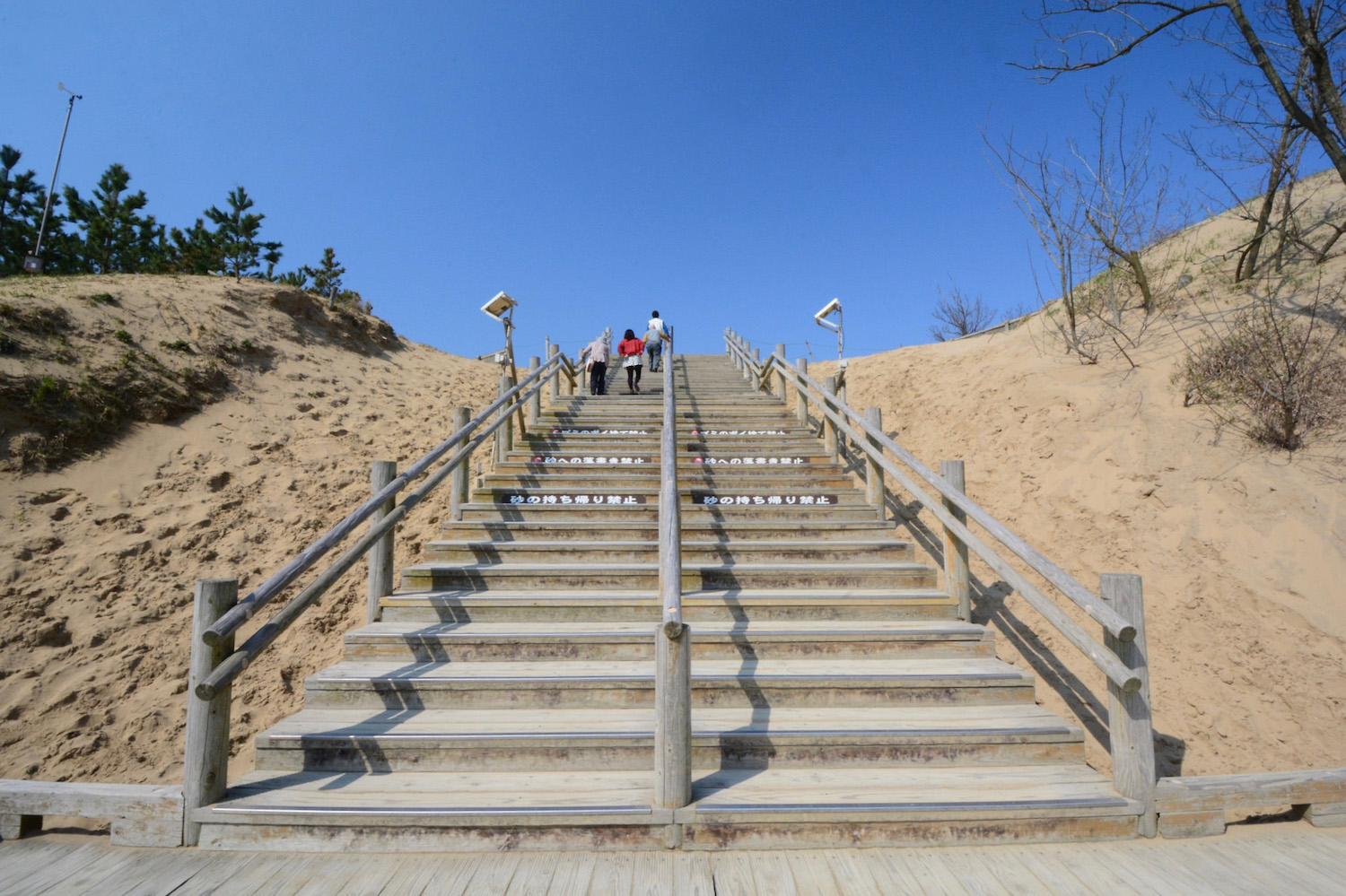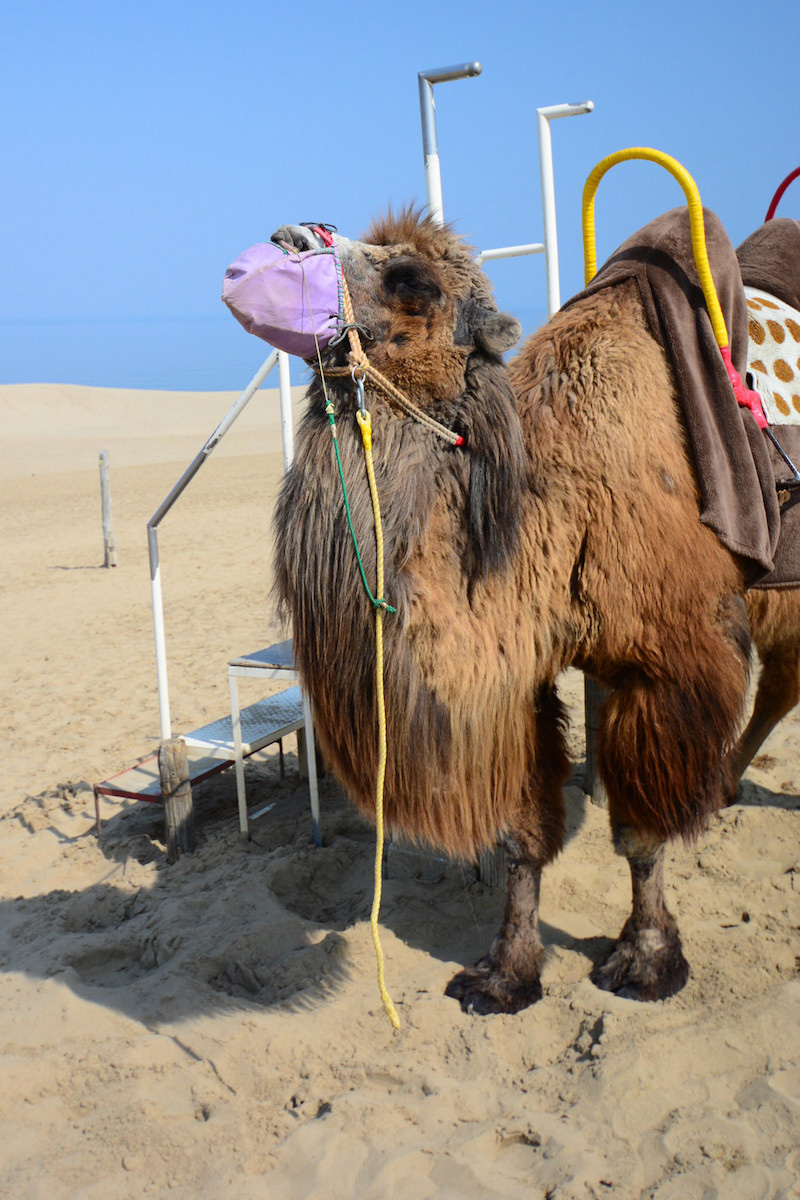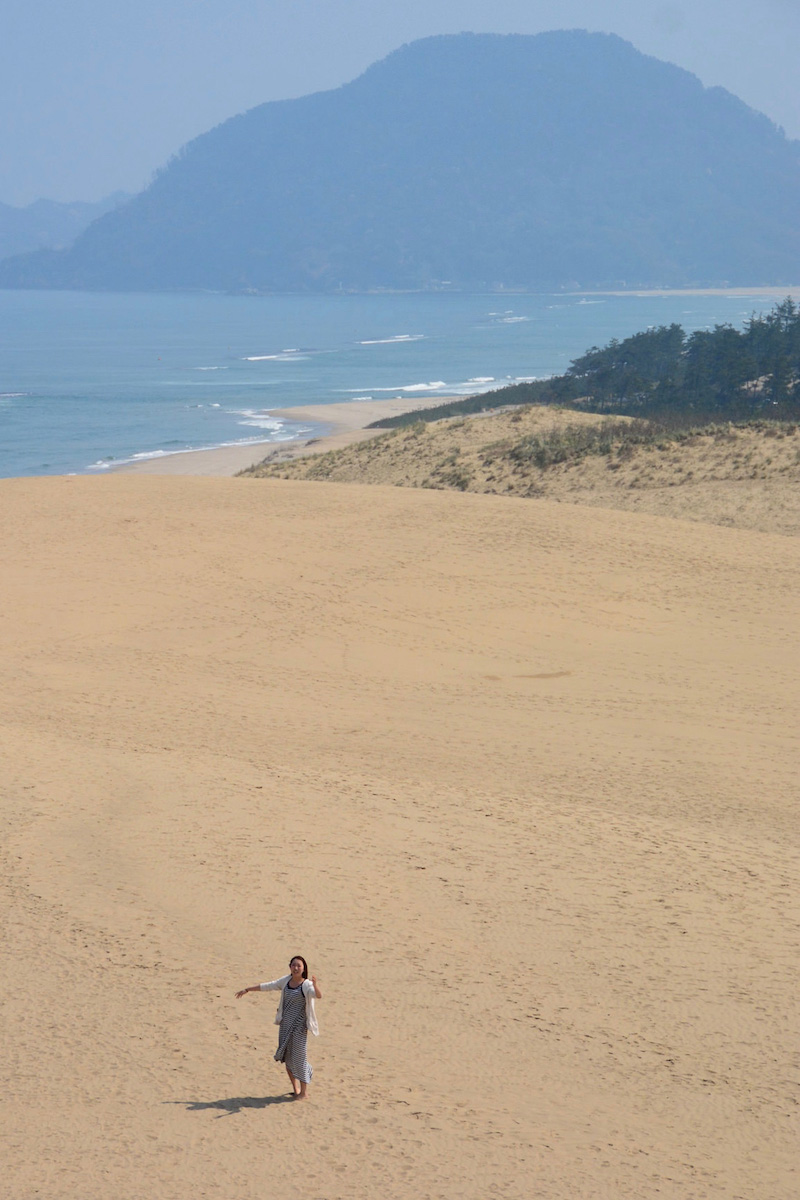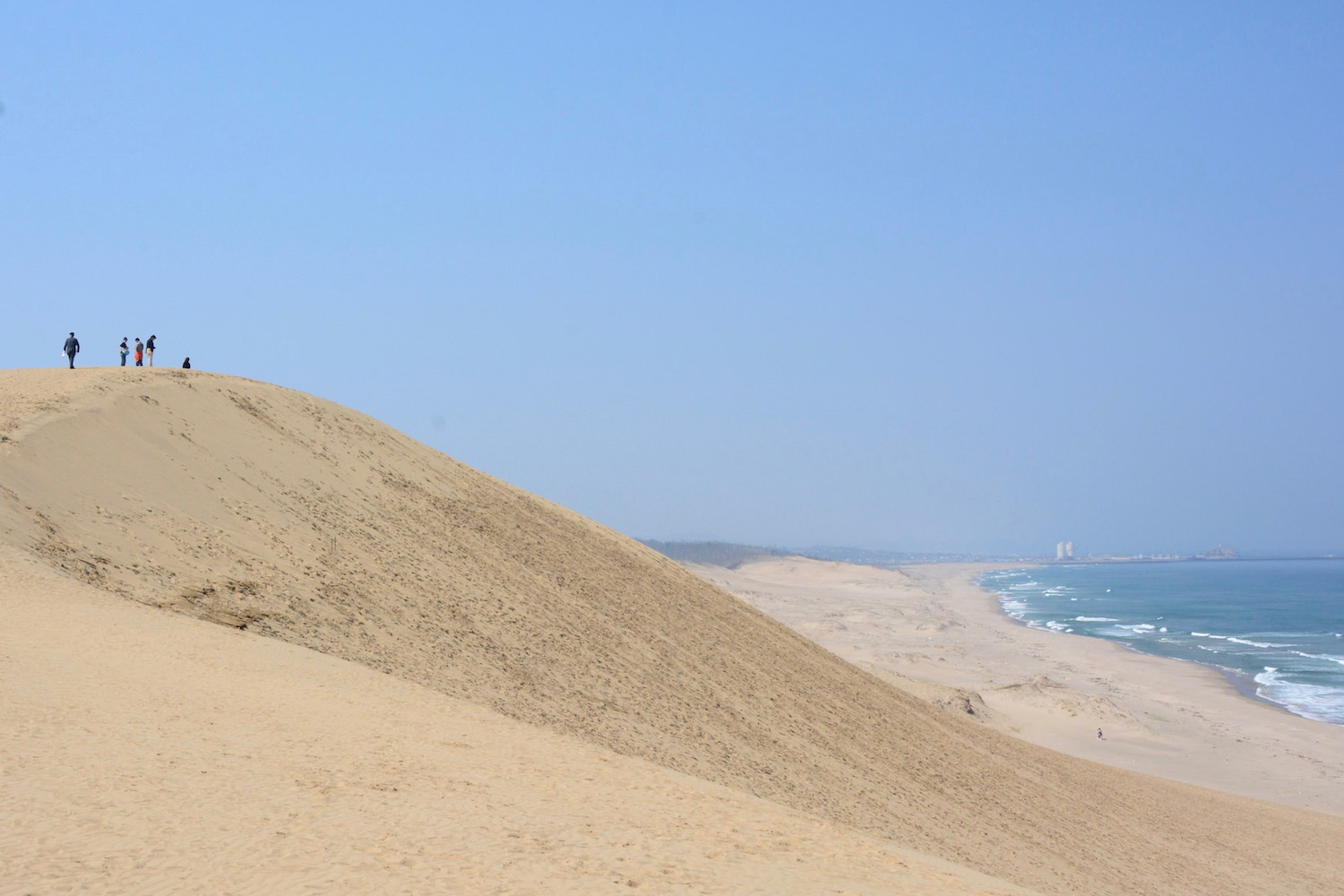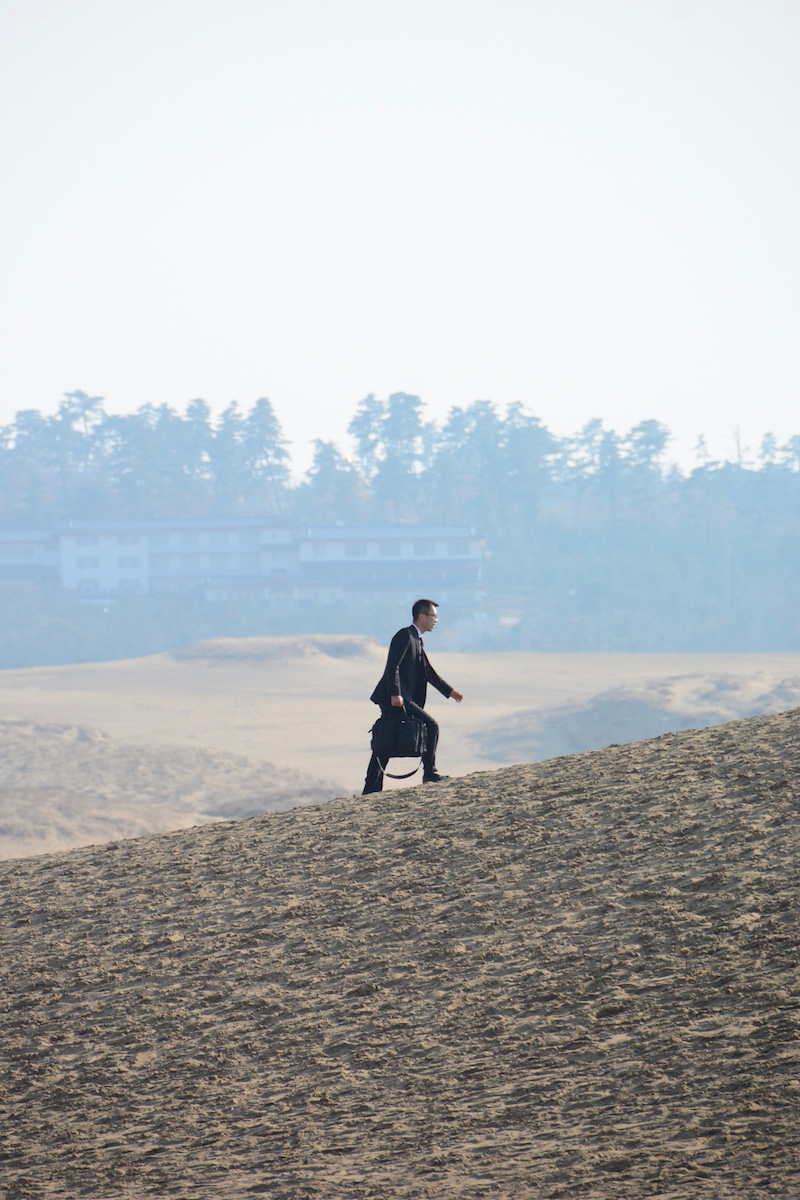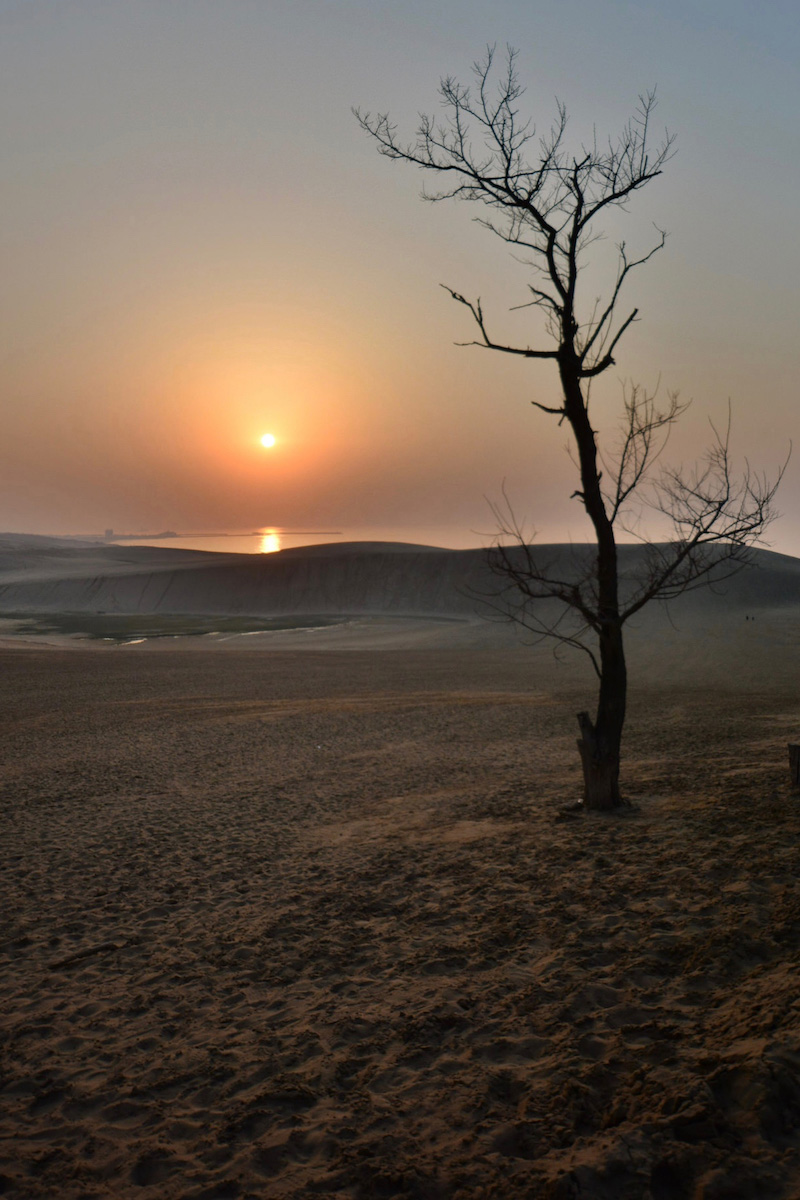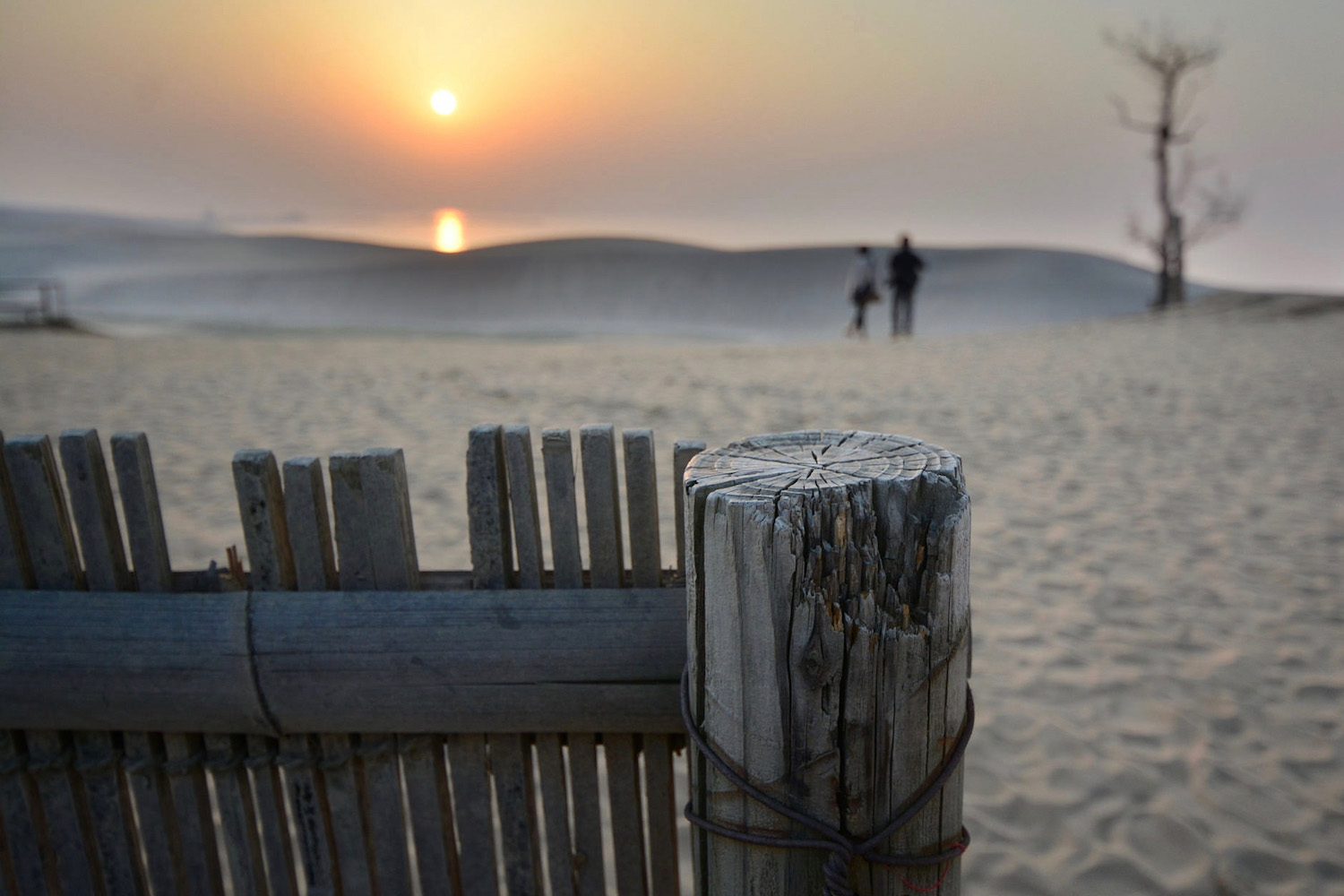 How Big is the Japanese Desert?
Prior to my visit, I'd psychologically set myself up for the desert in Japan being small—and Japan's only desert is small when compared, say, to the Sahara or even Israel's Negev Desert.
But 16 kilometers long by two kilometers wide isn't tiny when compared to the size of a human like you and I! Better still, most visitors to the Japanese desert stay along the same (easy) path up, down and around the dune, which means that it's easy to find a quiet place to lie and take in the silence, something I didn't realize I've been missing as I explored hectic Tokyo and tourist-infested Kyoto, as much as I genuinely loved both of those cities.
In fact, you might say the Tottori Sand Dunes are a "happy place" for me, which is ironic when you consider they inspired Kobo Abe's 1964 existential novel Woman in the Dunes:
It's useless. The sand can swallow up cities and countries, if it wants to.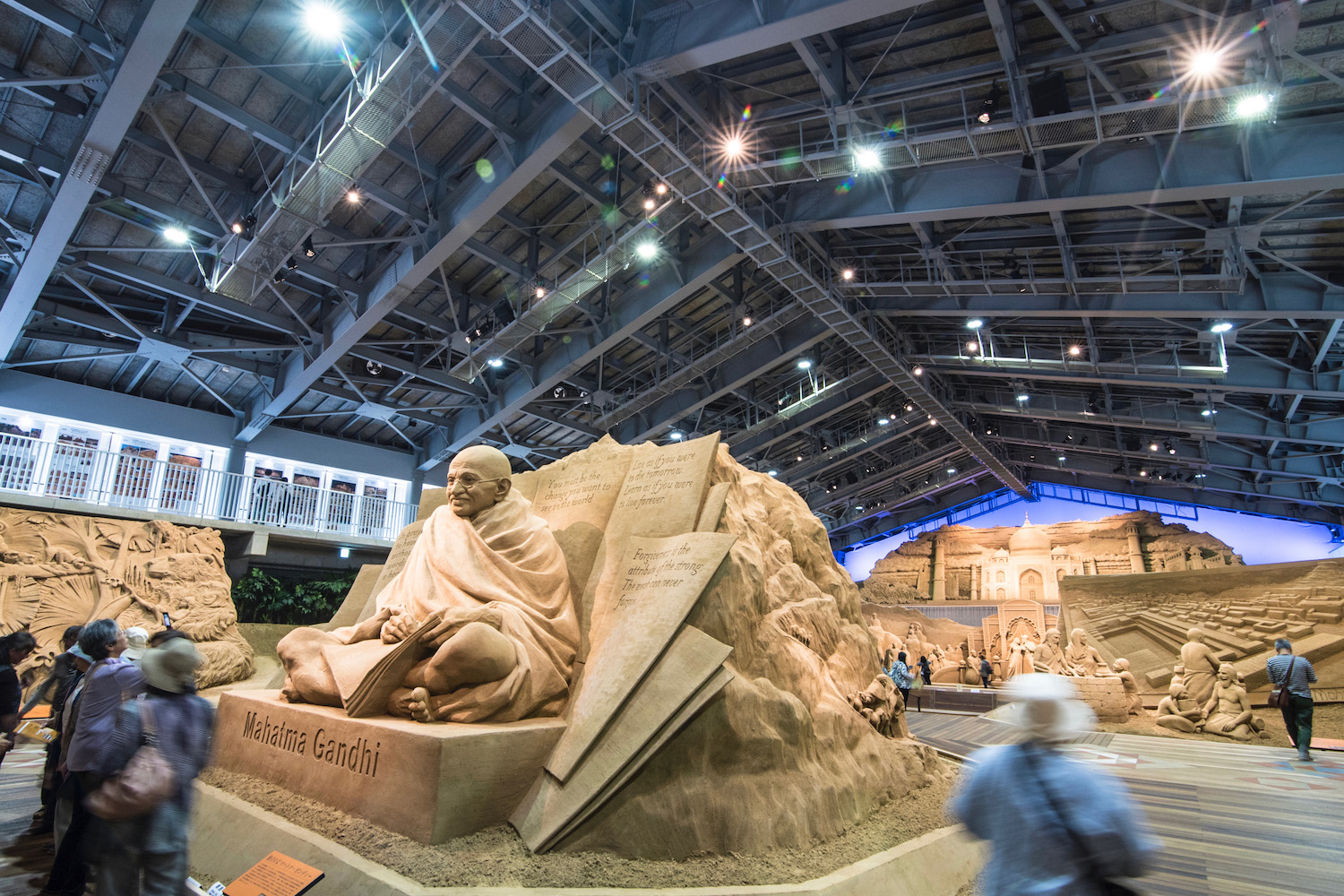 How to Reach the Japanese Desert
As I mentioned earlier, Tottori is about three hours from Osaka, a fact that is unlikely to change unless the Shinkansen comes here. If you're using a Japan Rail Pass, you should note that because the train you need, the Hakuto Super Express, travels partially on private tracks, you need to pay a supplement, which was ¥1,770 as of August 2019.
From Tottori Station, there are several buses bound for the dunes, the schedule for which varies depending on the time of year. Your best bet is to consult the tourist information stand for the updated schedule, to avoid disappointment. Generally speaking, however, the first bus leaves at around 9 a.m. and the last returns around 6:30. If you want to access the dunes more flexibly, you'll need to hire a taxi (~¥2,200 one-way) or rent a car.
Discover the Rest of Tottori—and San'in
Tottori is the eastern terminus of the underrated San'in region, which is the closest thing to Japan off the beaten path you're going to find. Some of my favorite San'in destinations and experiences include the following:
Other FAQ About the Japanese Desert
How do I get to Tottori Sand Dunes?
ANA flies daily from Tokyo's Haneda airport to Tottori, from which the Japanese desert is just a short bus, taxi or private car ride away. Generally speaking, I'd recommend spending on night in Tottori city, then heading to the dunes early the next morning.
Where are Japan's biggest sand dunes located?
Tottori Sand Dunes are located 30 minutes by bus or 15 minutes by private car from JR Tottori Station, in the Tottori prefecture of Japan's San'in region.
Are there camels in Japan?
Japan is home to some camels, but they are all imported. The are a few camels standing by in the Japan desert, for example, but these exist only to give rides to paying customers. If you attempt to photograph them and get caught, be prepared to run!
The Bottom Line
I knew I'd love the Japanese desert—I already mentioned the camels and I'm a sucker for juxtaposition, especially when nature does it. But I truly expected I would arrived on the scene, snap a few pictures and leave almost as if I'd never been there, a tendency that is unfortunately sometimes necessary in my fast-paced line of work. Instead, I stayed at the dunes for nearly nine hours, from early morning until the moment the sun set into the Sea of Japan, and if I hadn't been headed to Hiroshima afterwards, you can bet your sorry as I'd go back again.